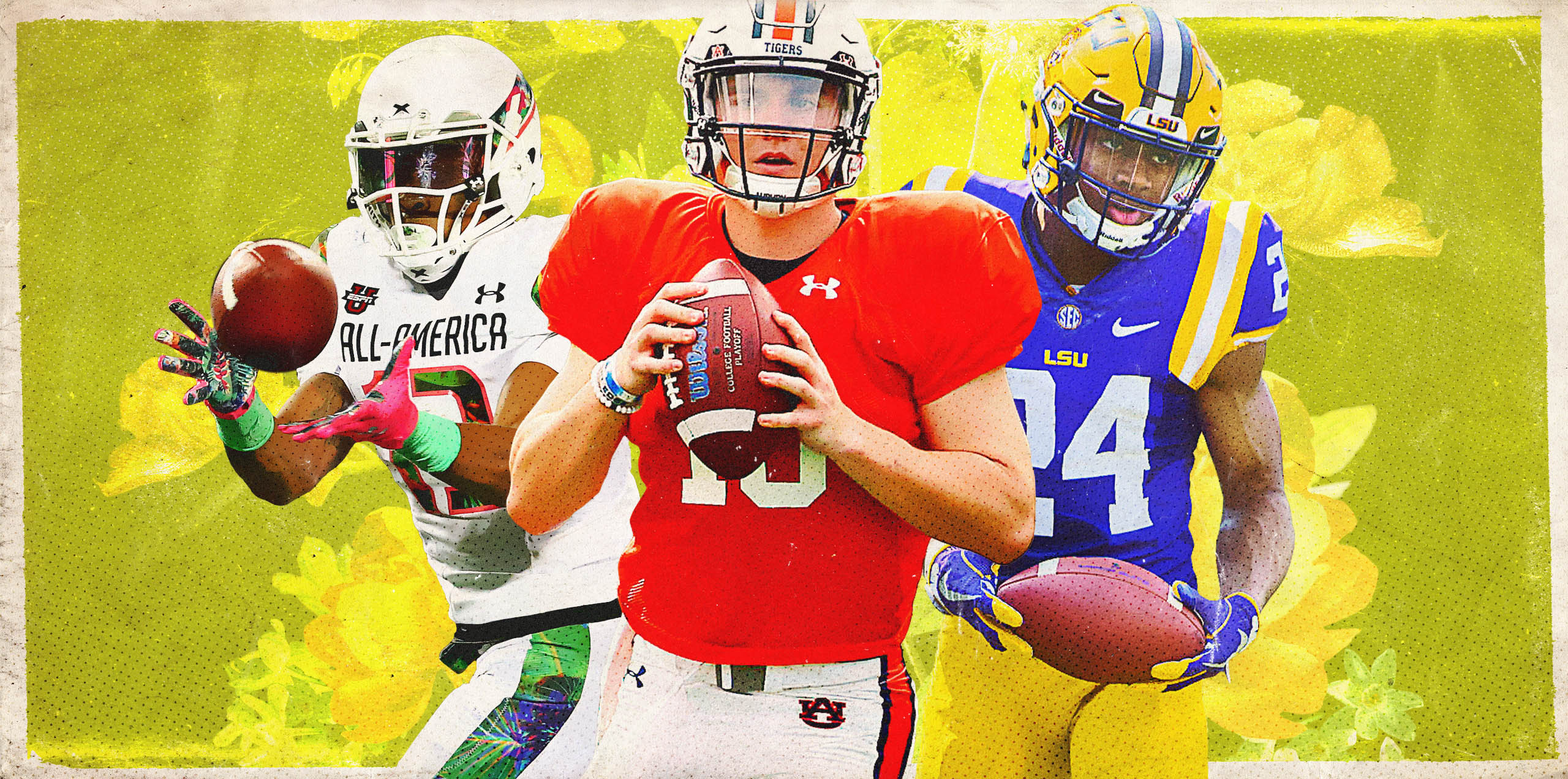 SEC
The SDS Top 25: Ranking the SEC's best impact freshmen in 2019
Editor's note: SDS Top 25 Week continues with a look at the SEC's best impact freshmen. Coming Saturday: Top 25 biggest moments of the decade and the Top 25 games of 2019.
The SEC absolutely dominated the recruiting rankings once the the ink was dry on the NLIs.
SEC programs signed 4 of the top 5 classes, led by Alabama. It didn't stop there, either, because 7 of top 12 and 11 of top 24 classes belonged to the SEC.
Needless to say, there's one heck of a crop of talent entering the fray in 2019, and you're sure to see plenty of talented freshmen making an early impact this fall. But not all of those 5-stars and Top 100 players have an easy path to playing time. Some are blocked by future pros.
As such, here are the 25 SEC freshmen I expect to make the biggest impact in 2019.
25. Treylon Burks, WR, Arkansas
A 4-star prospect considered the No. 2 player from the Natural State, Burks is a big target at 6-3, 225 who shows good body control and uses his frame well. He's coming off a torn ACL from early in his senior season of high school, but all signs point to a healthy return this fall. If he's healthy, he'll see time in an overhauled lineup.
24. Clay Webb, G/C, Georgia
An OT in high school, the 6-3, 297-pound Webb will be forced inside due to length at the college level, but it's where he has the highest upside. He's a tenacious run blocker with mobility, and his potential to play any of the three interior spots will allow him to see the field early on.
23. Greg Brooks, CB, Arkansas
An early enrollee this spring, Brooks played well enough to finish spring practice as the starting NB. He has 4-star talent and shows good instincts, short area quickness and the ability to tackle in space.
22. Nick Broeker, OT, Ole Miss
The Rebels lost 3 starters up front and signed 7 linemen in their latest recruiting class to help replenish depth. The Rebels will need one or two freshmen to make an impact right away, and it's likely Broeker, who has the length and footwork to play multiple positions.
21. Jared Casey, Edge, Kentucky
Casey, a 4-star, was the top-ranked prospect to sign with Kentucky in the 2019 recruiting class, and while the Cats appear to have their starting LB unit set, it'd be surprising if Casey didn't work his way into the rotation. He has the pass rushing prowess to play outside, but the frame and run stuffing ability to thrive inside.
20. Kaiir Elam, CB, Florida
The Gators' secondary is always deep and talented, but Elam's nose for the ball and natural length will make it hard to keep him off the field for long. Considered the No. 6 CB prospect in the 2019 recruiting class, his highest upside might actually be at S.
19. Nakobe Dean, LB, Georgia
The 5-star prospect needs to get bigger and stronger to hold up against the run, but his speed and instincts are SEC-ready. UGA has a loaded LB corps, but Dean's ability to cover and operate in space will likely get him on the field early.
18. DeMarvin Leal, DT, Texas A&M
He might start out at strong side DE, especially on early downs, but I expect him to see more time from the inside, especially in obvious passing situations. Given his strength against the run and ability to penetrate, he'll find his way onto the field for a defense trying to replace a lot of production up front.
17. Evan Neal, OG/T, Alabama
They don't get much bigger than this guy, a top 10 prospect who measures in at 6-7, 360. Alabama already has two very talented starting OTs, so Neal could start out at OG. Regardless, his overpowering run-blocking skills will be an asset right away.
16. Charles Cross, OT, Mississippi State
He's still very raw and the Bulldogs have some experience returning at OT, but Cross possesses rare athleticism and lateral mobility for his size. After struggling to protect the edges last year, the Bulldogs will need Cross to develop quickly so he can make an impact in the passing game.
15. Kenyon Green, OT, Texas A&M
The Aggies return both starting tackles in Dan Moore and Carson Green, but neither can match Green'sraw skill set or potential. Green was a top 15 prospect out of high school. At the very least, Green will provide rotational depth at OT and potentially inside at OG, too, in 2019.
14. Trey Knox, WR, Arkansas
A wrist injury to Mike Woods gave Knox a great opportunity for 1st-team reps this spring and he absolutely took advantage of it, securing a role in the passing game this fall. The Hogs are still trying to put the pieces in place for Chad Morris to run his offense, and Knox appears to be a big part of that.
13. Zacch Pickens, DT, South Carolina
The Gamecocks have depth and talent along the interior of their defensive line, but it'll be surprising if the Pickens, a top 10 prospect in the 2019 recruiting class, doesn't work his way into the rotation quickly. His positional versatility to play inside and outside is a plus, too.
12. Dominick Blaylock, WR, Georgia
Don't be surprised if Blaylock or George Pickens wind up making an impact in the Georgia passing game, especially with Jeremiah Holloman getting kicked off the team. I think Blaylock especially could have an early role considering his route running and ability to make plays after the catch.
11. Jerrion Ealy, RB, Ole Miss
Ole Miss fans breathed a sigh of relief when the 5-star tailback passed on pro baseball to tote the rock in Oxford. Incumbent Scottie Phillips will still get the lion's share of carries, but in the new Rich Rodriguez offense, you can expect multiple backs to share the work. Ealy should get plenty of touches.
10. Owen Pappoe, LB, Auburn
The Tigers are replacing a ton of experience and production at LB this year with Deshaun Davis, Darrell Williams and Montavious Atkinson off to the NFL. Pappoe, a 5-star prospect considered the No. 1 OLB recruit in the country, had a nice spring and should be a big contributor to the LB rotation this fall.
9. Darnell Wright, OT, Tennessee
One of 2 5-star OTs to sign with Tennessee this year, Wright wasn't able to go through spring ball, but there's still a good chance for him to win a starting job this summer on a very thin Tennessee line. At 6-6, 320, Wright should be an effective drive blocker from the start with his power and physicality.
8. John Emery, RB, LSU
Emery, considered the No. 2 tailback prospect out of high school, is a decisive, one-cut runner who can plant and go with excellent speed and burst. Don't be surprised when he becomes the latest highly-drafted Tiger tailback in a few years.
7. Nolan Smith, LB, Georgia
Smith is entering a linebacker unit that's absolutely loaded with talent, but it's hard to envision a scenario where Kirby Smart doesn't find a way to get him on the field, especially on passing downs. His burst and flexibility will make him lethal coming off the edge, and as he continues to improve hands he'll become even more effective.
6. Baylor Cupp, TE, Texas A&M
Jimbo Fisher isn't afraid to make athletic pass catching tight ends a focal point of the offense, evidenced last year with Jace Sternberger. Given the consistent hands and speed of Cupp, Fisher will want to take advantage of his playmaking ability this fall. At the very least, you can expect more 2 tight end sets.
5. Trey Sanders, RB, Alabama
Nick Saban is never afraid to throw young and talented tailbacks into the mix early on. Najee Harris will be the bell cow back, but Sanders' game-breaking speed and ability to help out in the passing game will allow him to contribute immediately.
4. Wanya Morris, OT, Tennessee
The 5-star signee likely secured a starting job after a solid performance this spring, though whether it's on the left or the right side remains to be seen until Darnell Wright straps on the pads this summer. The Vols are woefully thin along the offensive line and need the raw but talented Morris to mature quickly.
3. D.J. Dale, NT, Alabama
Many thought that if any of the early enrollee defensive linemen were to make an early impact, it would be 5-star Antonio Alfano, but Dale stole the show this spring. Alfano could see time this year, but Dale appears to be the favorite to be the starting NT for the Tide.
2. Bo Nix, QB, Auburn
Obviously, this is contingent on him winning the starting job, but I believe the 5-star early enrollee will begin to separate himself from Joey Gatewood in fall camp after a strong showing this spring. He'll certainly need some time to catch up to the speed of game and understand different reads and coverages, but he has quick feet and plenty of arm talent to go with a quick delivery.
1. Derek Stingley, CB, LSU
Shocking, I know, but LSU signed a lengthy 5-star DB with freakish athleticism (and legit 4.3 speed) who is ready to step onto an SEC field today and begin making plays. There's a very good chance he'll get the starting job opposite All-SEC candidate Kristian Fulton to give the Tigers one of the more talented cornerback duos in the country.