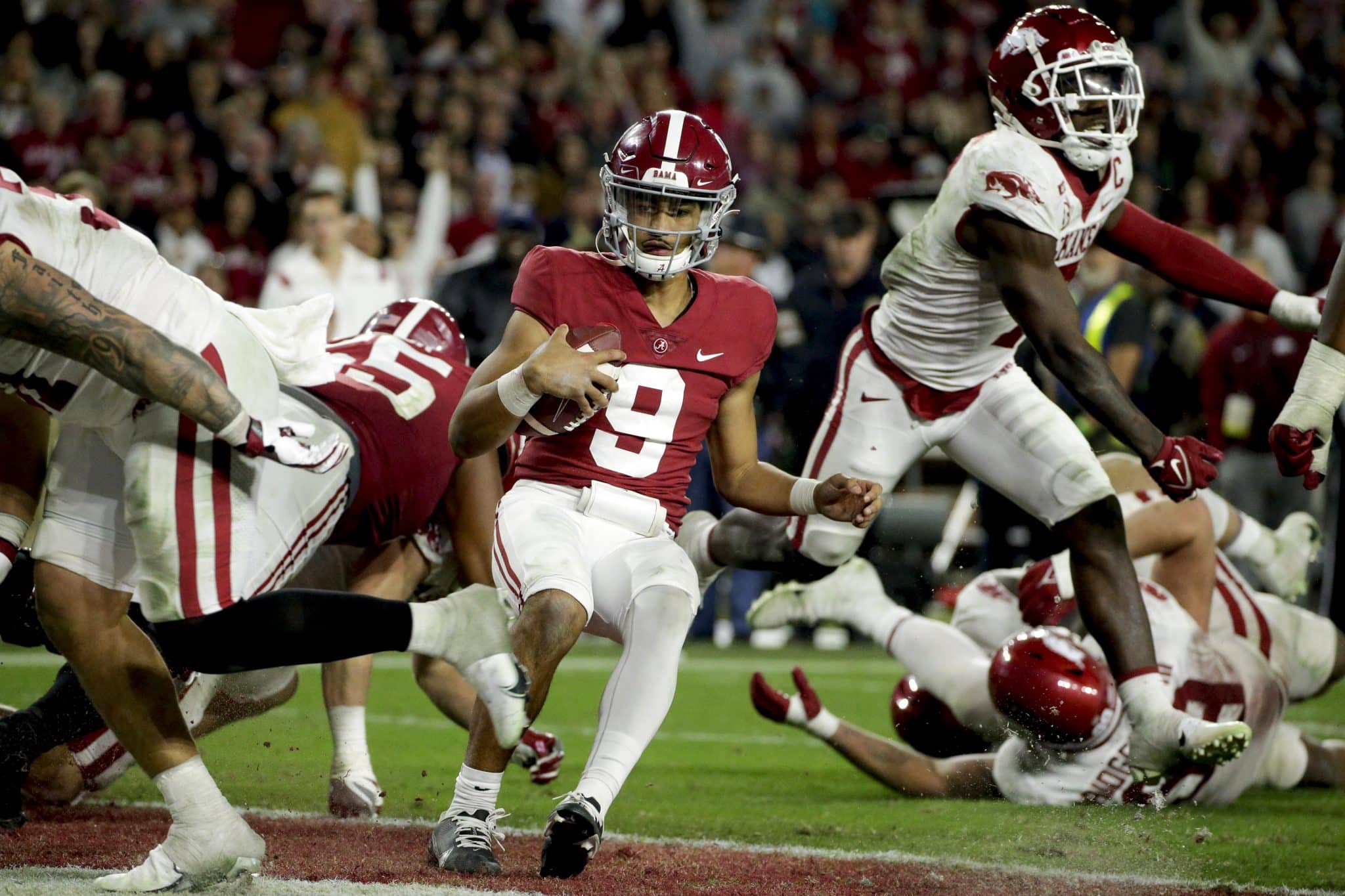 SEC
Trick-or-Treat: SEC Edition
The college football season almost seems like it has just gotten underway, but as it so often does has flown by as we arrive at Week 10. Several teams across the country have emerged and impressed in a way no one saw coming while others have faltered and largely fallen from relevance.
Here's a look into how things could play out in the SEC, complete with who will receive a "trick" and who will come up with a "treat" as teams continue through the back half of the season.
Texas A&M: Trick
There might not be another college football team in the country that has been more disappointing than Texas A&M in terms of what it looked like on paper before the season got rolling. Jimbo Fisher's offense hasn't looked the way some anticipated it to be, and the 17-14 upset loss to Appalachian State marked just the beginning of a total of now 5 losses — many of which were games that seemed like sure wins before the season. The Aggies are on a 4-game losing streak, most recently falling 31-28 to visiting Ole Miss despite a convincing 4th-quarter effort. Holding strong on defense is also going to have to be a theme moving forward, as the Aggies obviously allowed the aforementioned 31 points to the Rebels after previously surrendering 20 points or more to conference opponents Mississippi State and South Carolina. With a schedule that consists of Florida, Auburn, UMass and LSU, the season finale looks like the most glaring loss while Florida should be able to come away with the win, and Auburn and UMass (which is quite literally one of the worst teams in the nation, by all accounts) should project as A&M's next 2 victories.
LSU: Treat
LSU was sporadic at the start of the season, as quarterback Jayden Daniels showed the need for development as a passer and didn't exactly attract positive attention with the sloppy 24-23 loss to Florida State in a showcase of some of the sloppiest-looking football known to mankind. But Daniels has quickly ascended to one of the most respected quarterbacks in the conference with a little bit of national buzz as well, and the Tigers appear to be playing more cohesively with a pass rush that recently derailed Ole Miss' previously undefeated season. LSU has won its past 2 games against Ole Miss and Florida, with its last loss being a 40-13 home setback to Tennessee. The Tigers have a huge rivalry matchup against Alabama up next on the schedule that will likely result in a loss, as the Crimson Tide regained their footing against Mississippi State in a 30-6 victory. But the matchups against Arkansas, UAB and Texas A&M should all be stamped as LSU wins with the Razorbacks' recent struggles, the quality of opponent overall in UAB and how lackluster the Aggies have been … all season long.
Alabama: Treat
Alabama has long been one of the most-heralded programs in the country, at one time a team that you simply looked at as taking an "L" against if they were on the schedule, regardless of how things were going that season for any given team (though 2019 LSU would like a word there). Alabama has lacked overall physicality on defense in a lot of its matchups and simply doesn't have the luster it once had, even looking beatable in some of the games where Bryce Young was taking the snaps (and, really, more average than anything else in his absence). Ole Miss does have a chance against Alabama, though the Tide should come out on top as the better all-around team, and LSU could present an issue with its pass rush and the way Daniels is coming along. Still, between a slate of LSU, Ole Miss, Austin Peay and Auburn, Nick Saban's team has a good chance of winning out with maybe 1 surprise loss in there, at worst, after it seemed to be back to itself in many aspects against Mississippi State.
Tennessee: Treat
Quarterback Hendon Hooker projects as perhaps the most likely Heisman Trophy candidate, and wide receiver Jalin Hyatt could not be turning more heads as Josh Heupel's offense continues to roll in Knoxville. It's quite likely that Tennessee could be the best team in the country right now, and the Volunteers are very much on postseason watch. How well the Vols, who are currently one of the only undefeated teams in the nation left standing, continue through their final slate of games and just how dominant those victories are will have a lot to do with if they make it into the College Football Playoff. Much of where Tennessee truly stands will come down to the way it plays against Georgia, the only real question mark remaining on the schedule for this squad as Missouri, South Carolina and Vanderbilt are all but locked in wins — though the Tigers have shown their own special kind of upset potential this year, they just haven't been able to finish the job just about every time, and Tennessee won't let them get away with that.
Georgia: Treat
Between the Bulldogs and Ohio State, no team is more favored to be the No. 1 seed in the College Football Playoff in the eyes of most analysts. While Georgia has shown some shakiness at times — like when it squeaked by with a 26-22 win over Missouri in a game in which the Bulldogs were expected to blow the doors off the Tigers — the team has still looked solid overall with former walk-on quarterback Stetson Bennett appearing to take a step forward and even garnering some Heisman hype at certain points in the season. The game against Tennessee is going to serve as a big-time measuring stick and will be close. After the Vols, the Bulldogs face Mississippi State, Kentucky and Georgia Tech to round out the season. At least 3 of these final 4 games should be victories.
South Carolina: Trick
South Carolina was on a hot streak after winning 4 games in a row, but that was all spoiled by Saturday's 23-10 loss to Missouri. The Tigers seem to just be one of those teams that has consistently given the Gamecocks some trouble over recent history, and that was the tale of the tape on Saturday as South Carolina never truly got going in the passing game and was held to 32 rushing yards. When this team doesn't roll on the ground, most times, not much else works. Shane Beamer's team will face Vanderbilt, Florida, Tennessee and Clemson through the rest of the season. Outside of Vanderbilt, all of those final games look like tossups. But if the Gamecocks look anything like they did on Saturday, it's possible they only win 1 and 3 wins seems incredibly ambitious at this point.
Mississippi State: Treat
Mike Leach's team quickly ascended to No. 16 in the rankings, only to tumble out of them with 2 consecutive losses to bring the Bulldogs' record to 5-3. It's likely that Mississippi State bounces back against a lowly Auburn team that looks as bad as it ever has this season before it faces No. 1-ranked Georgia, East Tennessee State and Ole Miss. It's worth noting that Missouri did keep Georgia within 4 points and with some of the unpredictability that the Bulldogs have shown this could be a tossup, though the "other" Bulldogs will be rightfully favored. The cupcake opponent should be a surefire win and Ole Miss has played in some close games, including the narrow victory over Texas A&M, so that will be a close game that could go either way. With how strong the Bulldogs defense has proven to be and how good this Air Raid offense is when it really rolls, it's not unreasonable to believe Mississippi State will win 3 of its last 4.
Missouri: Trick
This Mizzou team has been so close, yet so far away all season long. The 23-10 victory over South Carolina on Saturday was something sweet, as the Tigers showed the true ability to play complementary football. This defensive unit has been underrated for the entirety of the season, sitting in the top 25 in the nation and as 1 of the best in the conference. But the unit hasn't gotten the credit it deserves because it has been overshadowed by a non-explosive offense that has failed to come alive largely due in part to play-calling issues. The Tigers' 4 losses have all come down to a single score. There's upset potential, as the Tigers take on a Kentucky team that got hammered by Tennessee. But that won't be an easy task, as the Wildcats have still been competitive with potential NFL Draft 1st-round quarterback Will Levis at the helm. Between the Tennessee, New Mexico State and Arkansas games, Tennessee is an expected loss, New Mexico State should be a relatively easy victory and Arkansas is the tossup here. How well Mizzou carries over its effort from South Carolina and if it looks like that same team will determine how well it finishes. But this has very much become a "believe it when you see it" team when it comes to getting the job done and coming out with the "W." Two more wins looks like the best-case scenario based on the overall body of work.
Vanderbilt: Trick
Clark Lea has brought this team a long way. But there's no denying the Commodores have been among the most lowly in the SEC for some time now, and it takes a long time to build up from that. Vanderbilt is still winless in conference play, making it the only team in the SEC to fit that description. The team is on a 4-game losing streak and next faces a South Carolina squad that was most recently upset by the same Mizzou team that most recently defeated the Commodores. That's followed by matchups against Kentucky, Florida and Tennessee. Kentucky and Tennessee project as sure losses and while Florida has been up-and-down, it has looked competitive and did put up a fight against the top team in the country. Barring something bizarre in the contest against the Gators, the Commodores lose out in the back half of the season.
Auburn: Trick
The winds of change are blowing over Jordan-Hare Stadium, and they aren't good ones by any means. It's easy to get the sense that Bryan Harsin is merely hanging on by a thread as head coach and that the program is going to clean house in multiple aspects with the anticipated hiring of Mississippi State athletics director John Cohen on the horizon (though no deal is done at this time). The Tigers are on a 4-game losing streak and face Mississippi State, Texas A&M, Western Kentucky and Alabama on the schedule. Reasonably speaking, it's not out of the picture for this team to not win a single game for the rest of the season, with a ceiling of 1 victory, most likely.
Florida: Treat
In Billy Napier's 1st season in The Swamp, the Gators currently have an overall record of 4-4 and are just 1-4 in conference play. Quarterback Anthony Richardson, who was expected to be a first-round draft pick before the season, has shown a lot of potential and brings all of the raw traits to the table with a high ceiling despite still showing some need for development. Florida has lost 2 of its past 4, with Texas A&M, South Carolina, Vanderbilt and Florida State left to play. Three of those final 4, save Vanderbilt, all project as potential tossups. But it's safe to say all 3 of those teams still do look beatable and that Florida is through the worst of its schedule. There's real potential for the Gators to run the table. This team has a lot of fight in it, as it showed when it stayed competitive with Georgia on Saturday before the Bulldogs pulled away, and UF also kept Tennessee within 1 score.
Kentucky: Trick
There was a lot of hype surrounding Kentucky before the season. At times, the Wildcats have lived up to it and other times … not so much. The most recent instance of the latter was the 44-6 loss to Tennessee on Saturday night. And while there is a lot of respect for the Vols and their potent offense, this shows a lot of reason for concern about how Kentucky's offense, led by a potential first-round draft pick at quarterback, was completely unproductive. This was by no means a game Kentucky was expected to win, but hardly anyone saw a blowout by a margin of 38 points. Whether or not this says more about the state of Kentucky or the strides Tennessee has progressively made on defense remains to be seen. Kentucky will be favored in its upcoming game against Missouri, but there are definitely some trap-game vibes, and this is the same Mizzou team that knocked off a South Carolina team that took Kentucky down on Oct. 8. This game could truly go either way depending on which Missouri team shows up, and while the Vanderbilt and Louisville games on the schedule look like victories, it would be nothing short of surprising to see the Wildcats take down Georgia.
Arkansas: Trick
Arkansas certainly looked like it was back last season, when the Razorbacks finished with a 9-4 overall record after previously serving as the laughingstock of the SEC. The team has won its past 2 games, putting up a total of 93 combined points in the victories over BYU and Auburn. While Arkansas opened the season with back-to-back victories over Cincinnati and South Carolina, the Razorbacks have yet to have a win over quality competition to write home about since. Liberty, LSU, Ole Miss and Missouri are the remaining opponents. Given the amount of points this defense has allowed this season and the 5 games in which the Razorbacks have put up 30 points or more, they're going to have to rely on outgunning the remainder of their opponents. Liberty should be an easy victory, but both LSU and Ole Miss will prove incredibly problematic. And while Mizzou should be the easiest of those to shove aside, in theory, the Tigers have shown just how competitive they can be against teams better than Arkansas. It's possible the Razorbacks lose as many as 3 games — certainly at least 2 — to end what will go down as a forgettable season despite the potential it once had.
Ole Miss: Treat
There was an expectation that the Rebels would play a close game against LSU, but they were instead blown out, 45-20. While the passing game has shown signs of life, like when developing dual-threat quarterback Jaxson Dart passed for 448 yards against Vanderbilt just 3 weeks ago, there is still work to be done. The Rebels have the best rushing offense in the SEC and among the best in the nation (No. 3 to be exact), with Quinshon Judkins emerging as a very real Heisman Trophy candidate. How well that rolls through the last 3 games on the schedule will determine a lot for the Rebels, who still have only 1 loss this season. They'll have to stay hot on offense, though, with a defense that has had a lot of tackling issues and has allowed a combined 107 points to its past 3 opponents. The Alabama game could go either way, though the Crimson Tide should be favored. The Arkansas game that follows looks like an Ole Miss win, while the Egg Bowl presents another tossup … but bank on the Rebels to get by in 2 of those 3 games.