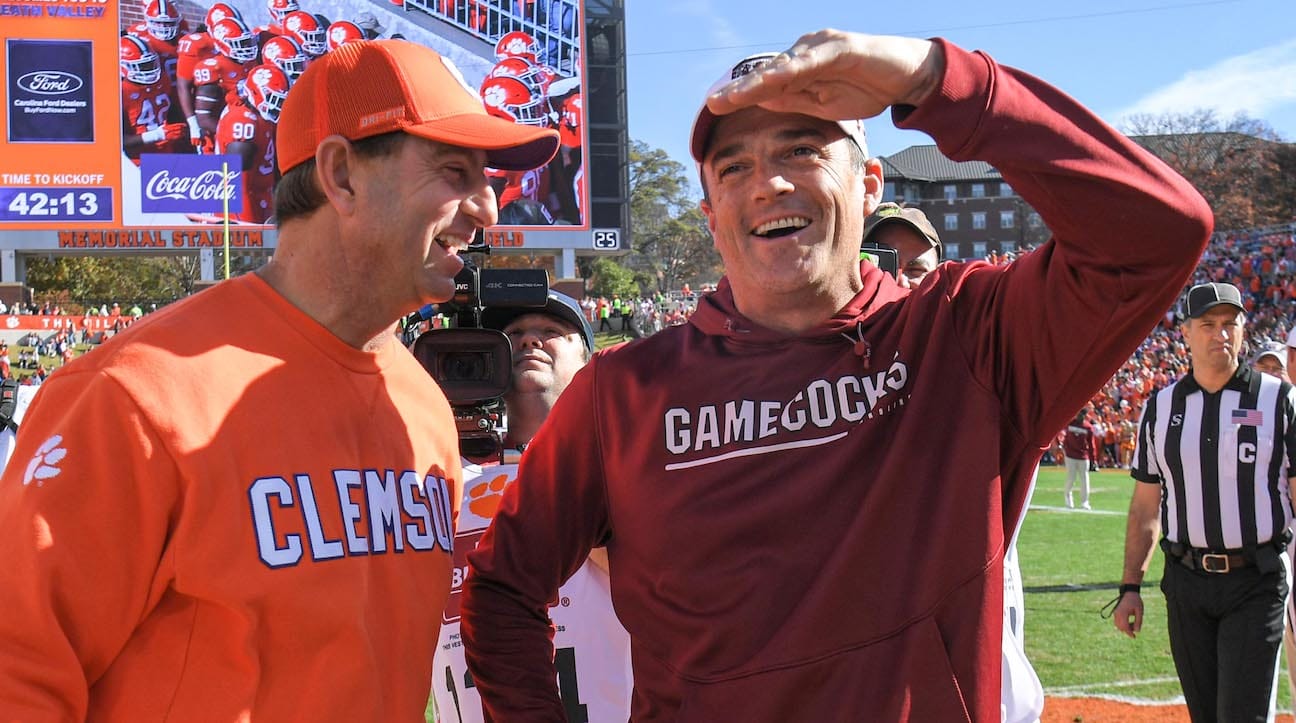 SOUTH CAROLINA
Rapid Reaction: South Carolina plays CFP spoiler once again, snaps 7-game losing streak to Clemson
South Carolina entered Saturday's rivalry game at Clemson looking to keep the good times going after dropping 63 points on Tennessee last weekend, ending the Vols' College Football Playoff hopes.
The Gamecocks would have loved nothing better than to also ruin the CFP dreams of the Tigers, but some early miscues proved too much to overcome for Spencer Rattler, Shane Beamer and South Carolina.
Clemson got on the board early when Rattler threw a pick-6 to Jeremiah Trotter Jr., who returned the interception 35 yards:
?CLEMSON PICK SIX!!!!? Jeremiah Trotter Jr picks off Spencer Rattler and returns it for the 35 yard TD! pic.twitter.com/j0Gazp96QJ

— ?????? @???????? (@FTBeard7) November 26, 2022
Rattler threw a second pick in the end zone in the second quarter to end a South Carolina scoring threat.
He did make some nice throws, though, including this one to Juice Wells for a score:
South Carolina's on the board! Spencer Rattler to Antwane Wells Jr for the 4 yard TD on 4th down! pic.twitter.com/puVP5yqD3S

— ?????? @???????? (@FTBeard7) November 26, 2022
DJ Uiagalelei went toe-to-toe with Rattler, though, making some big plays through the air of his own:
DJ Uiagalelei to Antonio Williams for the 11 yard TD! #Clemson https://t.co/I2hz0y2INd pic.twitter.com/AbOfM6EaT4

— ?????? @???????? (@FTBeard7) November 26, 2022
Uiagalelei even showed off his leg, punting for 48 yards at the end of the first half:
DJ Uiagalelei 48 yard PUNT!!! pic.twitter.com/FPAStcqA6J

— ?????? @???????? (@FTBeard7) November 26, 2022
The first half wasn't without some controversy, though, as this apparent backward pass was not ruled a fumble, even upon review:
Why is this play ever being blown dead??

If this is ruled a fumble, South Carolina was just robbed of a touchdown. pic.twitter.com/XjghBfhdcL

— The Transfer Portal CFB (@TPortalCFB) November 26, 2022
Clemson took a 23-14 lead into halftime. Neither coach was particularly happy with the effort of his squad.
South Carolina simply refused to go away in the second half. This 72-yard pass from Rattler to Wells cut the Tigers' lead to 30-28 late in the third quarter:
SOUTH CAROLINA! Spencer Rattler ➡️ Antwane Wells Jr for the 72 yard TD!! pic.twitter.com/KcNHjOiwVb

— ?????? @???????? (@FTBeard7) November 26, 2022
Clemson defenders started bickering on the sidelines at that point, according to reporter Molly McGrath:
Molly McGrath reported that the Clemson defensive players, mostly DBs, were all yelling at each other on the sideline and had to be separated by coaches. She also said she's never seen Clemson players go at each other that way in the games she's covered. https://t.co/8nOf80LzFJ pic.twitter.com/u2A3kDFOqc

— ?????? @???????? (@FTBeard7) November 26, 2022
South Carolina eventually took a 31-30 lead on a Mitch Jeter field goal and then the defense took over. The Gamecocks made life miserable all game long for Uiagalelei.
Dabo Swinney refused to go to backup QB Cade Klubnik, leaving DJU in to finish the game 8-for-29 for 99 yards.
Beamer Ball was huge down the stretch, as Pete Lembo's special-teams units, particularly the punt team, saved the day. Kai Kroeger pinned the Tigers inside the 10-yard line with 2 second-half punts. Then, on another key punt with 2 minutes remaining, the Gamecocks forced a fumble:
FUMBLE!!!!!!!!! SOUTH CAROLINA RECOVERS!!!!!!!!!!! pic.twitter.com/0dMgOYgqpM

— ?????? @???????? (@FTBeard7) November 26, 2022
South Carolina held on for the 31-30 victory, earning Shane Beamer's first win over Clemson and snapping a 7-game losing streak to the Tigers.
Next up for the Gamecocks is a bowl game. CFP contenders will be glad not to see the Gamecocks on their schedule moving forward!