BetMGM Review: A casual bettor's first look at BetMGM Sportsbook
BetMGM is one of the biggest sportsbooks in the country. According to the Market Monitor report by Vixio GamblingCompliance, BetMGM had just shy of 13% market share in U.S. betting share. This is good for third place in the U.S. market, and while DraftKings and FanDuel sit atop the sports betting market share, BetMGM's share is a good bit above the remaining contenders.
Moreover, when you turn to the igaming side of the business, BetMGM is dominant. Also from Vixio GamblingCompliance, BetMGM sits at a dominant no. 1 iGaming market share across the U.S. with 29.5% in 2022.
With the U.S. sports betting market in a bit of flux in 2023, BetMGM is one of the few operators that you can bank on being here for years to come.
But I wanted my own glimpse under the hood at BetMGM. As a fairly regular sports bettor that has yet to engage with the BetMGM sports betting platform and app for whatever reason, I decided it was time to jump in whole heartedly and document my findings along the way.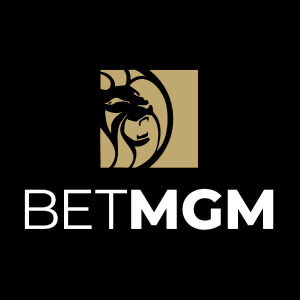 BetMGM Sportsbook App
States: OH, MA, MD, LA, NY, CO, MS, IN, IA, MI, NV, NJ, PA, TN, WV, VA, AZ
21+ and present in Participating states. Gambling problem? Call 1-800-GAMBLER.
$1,000 FIRST BET OFFER
How I'm approaching this BetMGM review
If you're reading this review, you've probably already engaged at least somewhat with sports betting or maybe even iGaming platforms. I'm a sports bettor that has been betting on sports off and on for over 20 years. I'm not a die-hard sports bettor. I'm more of a sports fan that occasionally bets.
In this review, I'm going to a walk through my experience signing up for the BetMGM sports betting app, what I thought worked well and what didn't work well. I'm going to share my thoughts on the BetMGM app itself. Does it work well? Is it intuitive for the user? Lastly, I'm going to discuss my betting experiences with the app and what I like and dislike about placing actual bets through the BetMGM app.
What we're documenting and discussing in this review is through the eyes of a fresh look at BetMGM. I have never used the BetMGM app before my recent experience here of signing up, making a deposit and placing some bets. And I went ahead and documented the journey for the benefit of new bettors or bettors that might be new to BetMGM.
Without further ado, let's get into the BetMGM sportsbook review.
Signing up and logging into the BetMGM App
When I signed up, I found a good BetMGM promotion to take advantage of, clicked through, and was greeted with the signup screen.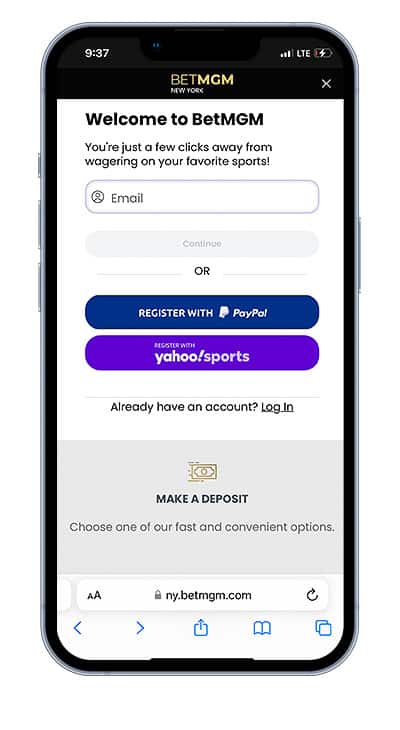 For whatever reason, I chose the PayPal route. "Register with PayPal." That seemed easy, so why not. This took me to a PayPal login screen. I logged into PayPal. Then I was taken to the PayPal screen where I had to approve the connection from my PayPal account to BetMGM US. i was notified that this will let BetMGM have access to my name, birth date, gender, email address, address and phone number. I agreed and connected. Let's get this moving!
Now, did using the PayPal route lead to a quicker registration process? I don't know, because even after logging into PayPal and connecting to BetMGM, it still took me to this screen where I had to enter in my name, last four digits of social and create a password.
So I filled it out. But then also had to fill this out. Some of this data got pre-populated from the PayPal hookup, so that's good! Efficiencies!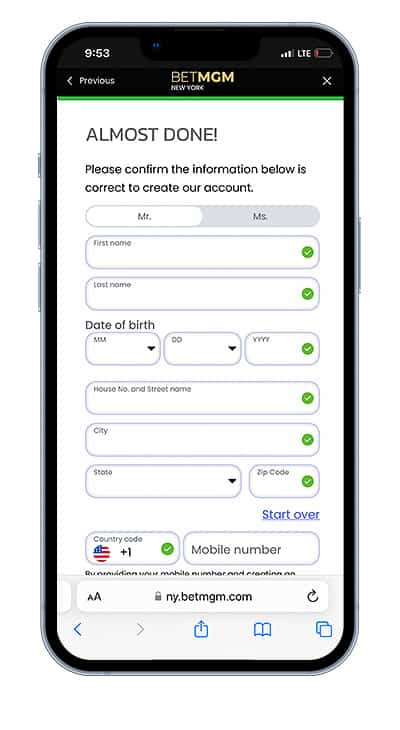 Ok, so I finally completed the signup process. How would I rate it? I'd say it was fine. It was good. Didn't knock my socks off, but wasn't too painful.
User Signup Grade: B
Making a deposit
Now that I had access to the app and platform, it was time to make a deposit! I went into the deposit screen, and was given the following options: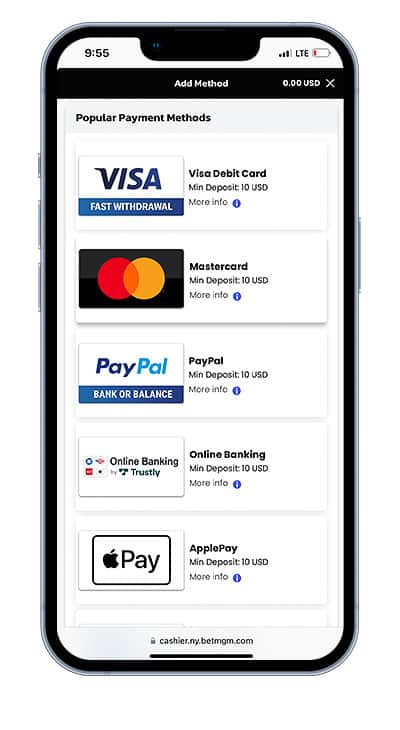 Since I registered with PayPal, that seemed like a no brainer to go ahead and use. Why add another payment method if I'm already hooked up via PayPal?
Unforunately, it didn't work. I got a screen that said "To comply with international regulations, this transaction has been declined." This was a PayPal screen to be clear. Not a BetMGM screen. So my PayPal connection and registration choice seemed completely pointless now. If it didn't really help me skip over many steps during registration, and it isn't working for me as a deposit method, what's the point? Ugh.
So, I went back to the deposit screen, chose the Mastercard option, and made a deposit. Note that this had to be a debit card, NOT a Mastercard credit card. This may have been specific to New York regulations, however. You'll have to check depending on the state you were in.
Good news is that my debit card Mastercard deposit went through very quickly. I'm locked and loaded!
User Signup Grade: B
The BetMGM App: First Impressions
I've previous talked with fellow sports bettors about the various apps out on the market. Some of them work extremely well. Others don't. Some are a bit intimidating. Others make you feel at ease with how they help you navigate around the myriad of betting options. I was very curious about my first gut-reactions to the BetMGM app.
Let's start with the good.
Upon jumping into the BetMGM app, I felt that the home screen was quite easy to understand. I was not disoriented or intimidated. Some competitor apps can feel intimidating and feel a bit more built for "power users" as in people who have been using the app for a long time. There's nothing wrong with this approach, but it can make the new user feel out of sorts. I didn't feel this way with the BetMGM app.
The home screen isn't overly busy. It featured simple and easy-to-understand navigation.
Two things I really like on the home screen.
First, the LIVE button on the upper left with the red dot with a number indicating how many live events are going on currently. It's a super easy way to always jump immediately to live games going on, then perhaps place a live, in-game bet.
Secondly, I love the "tomorrow" boxes you can see in the below screenshot. I can immediately see what games are on tomorrow, and even see some odds built into the boxes. You can see in the screenshot that the Twins will take on the Yankees tomorrow. I can modify the dropdown "Winning Margin" selection and it will change the odds. Very cool and handy for some who is consistently looking at who is playing tomorrow, and what the odds might be for any given match.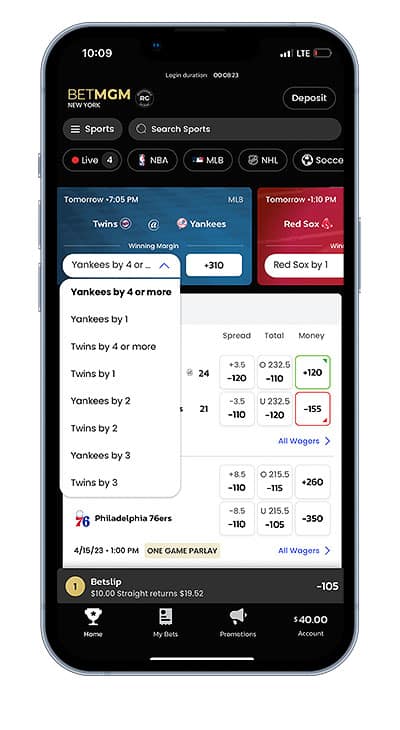 The only thing I didn't love is that the app didn't feel overly snappy to me. As in responsive. I love when an app immediately responds to a click or touch. If I want to click on NBA, I love it when the app fires up the NBA screen almost instantaneously. The BetMGM app isn't as "snappy" in this regard compared to some of the best sports betting apps out there. You might not notice it yourself. It's not awful. The app is QUITE useable. But I'm picky, and I'm just being honest.
The BetMGM App: A-
Sports Betting 101 Content
One of the nice features of the BetMGM app is the sports betting 101 content to help new bettors understand how to bet. It's a really nice interface and set of content built right into the app, and it covers topics such as understanding point spreads, understanding over/under point totals, understanding parlays and more.
Here's a look at how the sports betting guide content looks in the BetMGM app: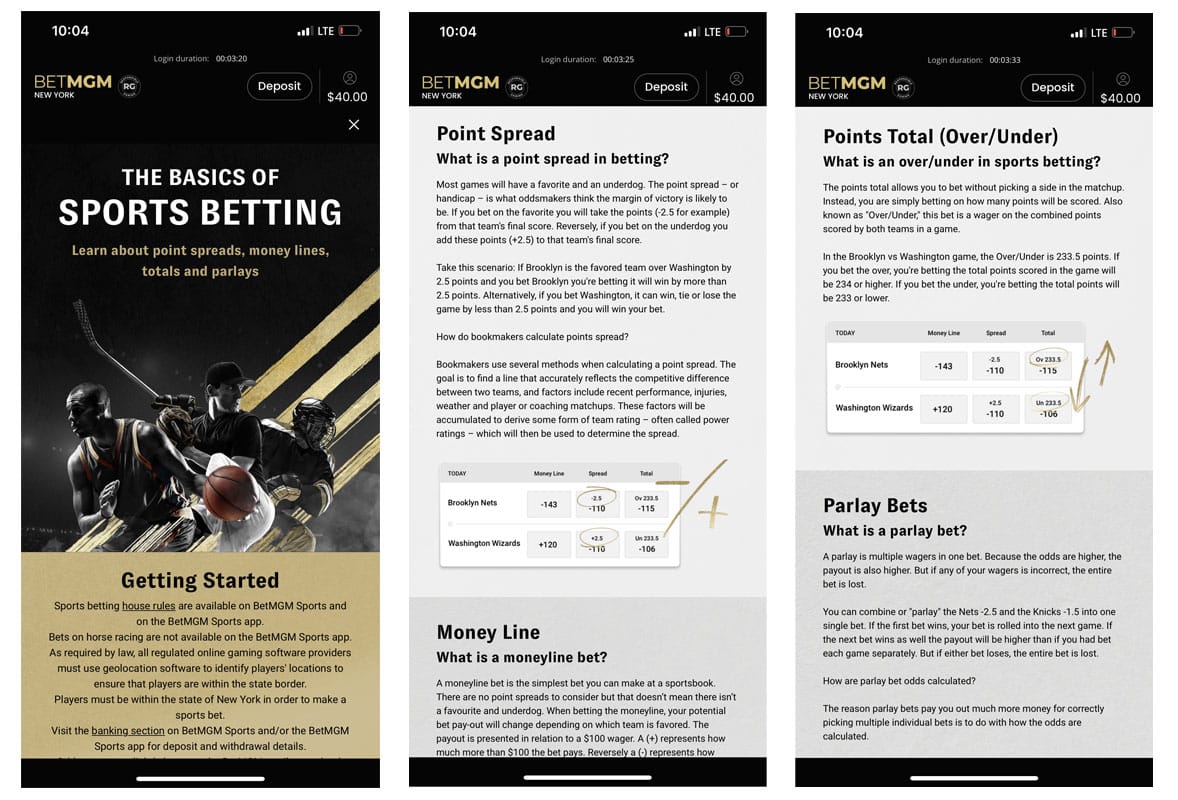 Placing Bets
The night I fired up the BetMGM app, there were some NBA games on. These were essentially the biggest sports games on during this evening, so they were featured right on the home screen. I went ahead and touched the +2.5 (-115) line for the Oklahoma City Thunder, and I saw a little notification popup at the bottom of the screen with the words "Betslip" indicating that my action had registered. It worked well.
Now, I noticed that if I clicked a few bets without always interacting with the "Betslip" notification that sometimes the app almost got confused a bit. It was just slightly buggy in the sense that sometimes the "Betslip" would popup as it's supposed to. But other times it wouldn't, and sometimes it would popup and not go away. Again, small things here, but it did lead to some slight confusion at times. Overall, even during moments of confusion, I was always able to get back to the right screen and it's easy to go check your betslip and make sure something didn't get messed up.
Next, I wanted to try setting up a parlay bet.
The interface for building a custom parlay is very clean and usable. The screenshot below shows the parlay build screen for the Hawks-Celtics game I was about to watch. It has some nice tab options starting with the most Popular components to this parlay as well as other options from the Game, Team legs and Player legs. Very nice.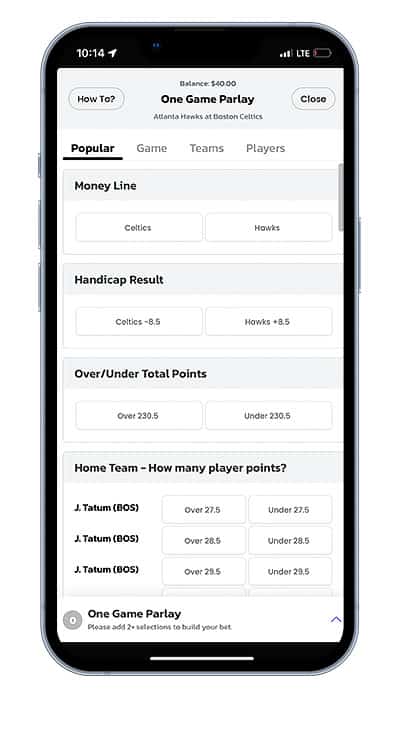 The "same game parlay" feature is a big one you've likely heard advertised by most of the major sportsbooks. BetMGM calls it the "One Game Parlay" as shown in the screen above. Parlays spanning different games are handled with the betslip functionality where if you select multiple bets, you can select in the betslip either to parlay the two together or bet them independently.
I did not see anywhere where BetMGM is offering suggested or "quick" one game parlays. This is pretty typical at some of the other sportsbooks, and likely pretty heavily bet since it's so easy for the user. For example, here's the "Quick SGP" options on the DraftKings app for the same Hawks-Celtics game shown above. DraftKings is basically giving you a variety of same game parlays to choose from and not have to build yourself. I imagine BetMGM will offer this type of feature at some point in the near future.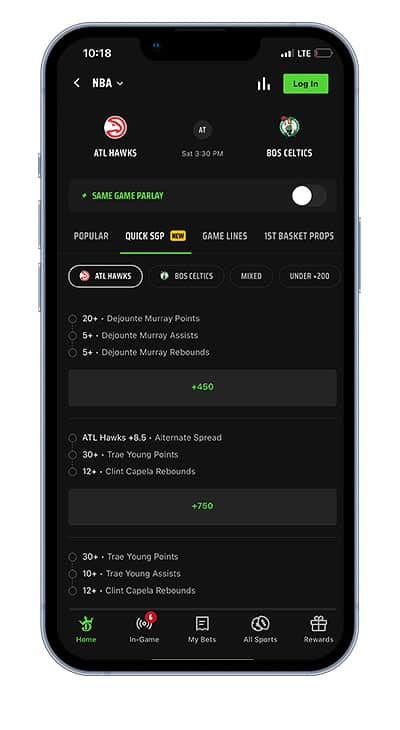 Overall, the betting experience in the BetMGM app is very good. It's super easy to find the bets you want, see a wide range of options, and place them quite easily. The only bumps in the road were when I was toggling several bets in pretty rapid succession, the betslip notification indicator got a little wonky. Nothing that detracted from my overall experience.
Betting Grade: A-
Withdrawing Money
With my debit card already hooked up for the deposit, withdrawing money from my account was quick and easy. The money showed up in my account the next day.
Withdrawing Money: A
BetMGM Sportsbook Review Grades
To conclude the review of the BetMGM Sportsbook app, here are the grades for the various aspects of the review process. I hope you found this review helpful as you decide what sportsbook apps and operators might be the best fit for you.
User Signup Process: B
Deposit Process: B
The App: A-
Betting: A-
Withdrawing Process: A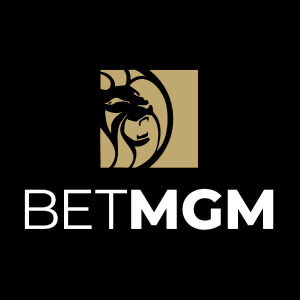 BetMGM Sportsbook App
States: OH, MA, MD, LA, NY, CO, MS, IN, IA, MI, NV, NJ, PA, TN, WV, VA, AZ
21+ and present in Participating states. Gambling problem? Call 1-800-GAMBLER.
$1,000 FIRST BET OFFER
More about BetMGM
The BetMGM sportsbook and casino app are a result of a partnership between MGM Resorts International and Roar Digital, two significant brands and companies in the gambling space. MGM has been a major brand and entity well known for casino properties in Las Vegas and other destinations. Roar Digital is well known for products such as Ladbrokes and Party Poker.
BetMGM is one of the largest online sportsbooks in the U.S. sports betting market, and is currently the market leader in the U.S. online casino market.
We do not target any individuals under the age of 21. We support responsible gambling. If you feel like you're losing control over your gambling experience, call 1-800-GAMBLER (NJ, PA, WV), 1-800-9-WITH-IT (IN), 1-800-BETS-OFF (IA), 1-888- 532-3500(Virginia) 1-800-522-4700 (NV, TN), 1-800-522-4700 (CO, TN), 1-855-2CALLGA (IL), 1-800-270-7117 (MI).
About Saturday Down South | Ethics and Editorial Standards | Privacy Policy | Terms and Conditions | Do Not Sell My Personal Information