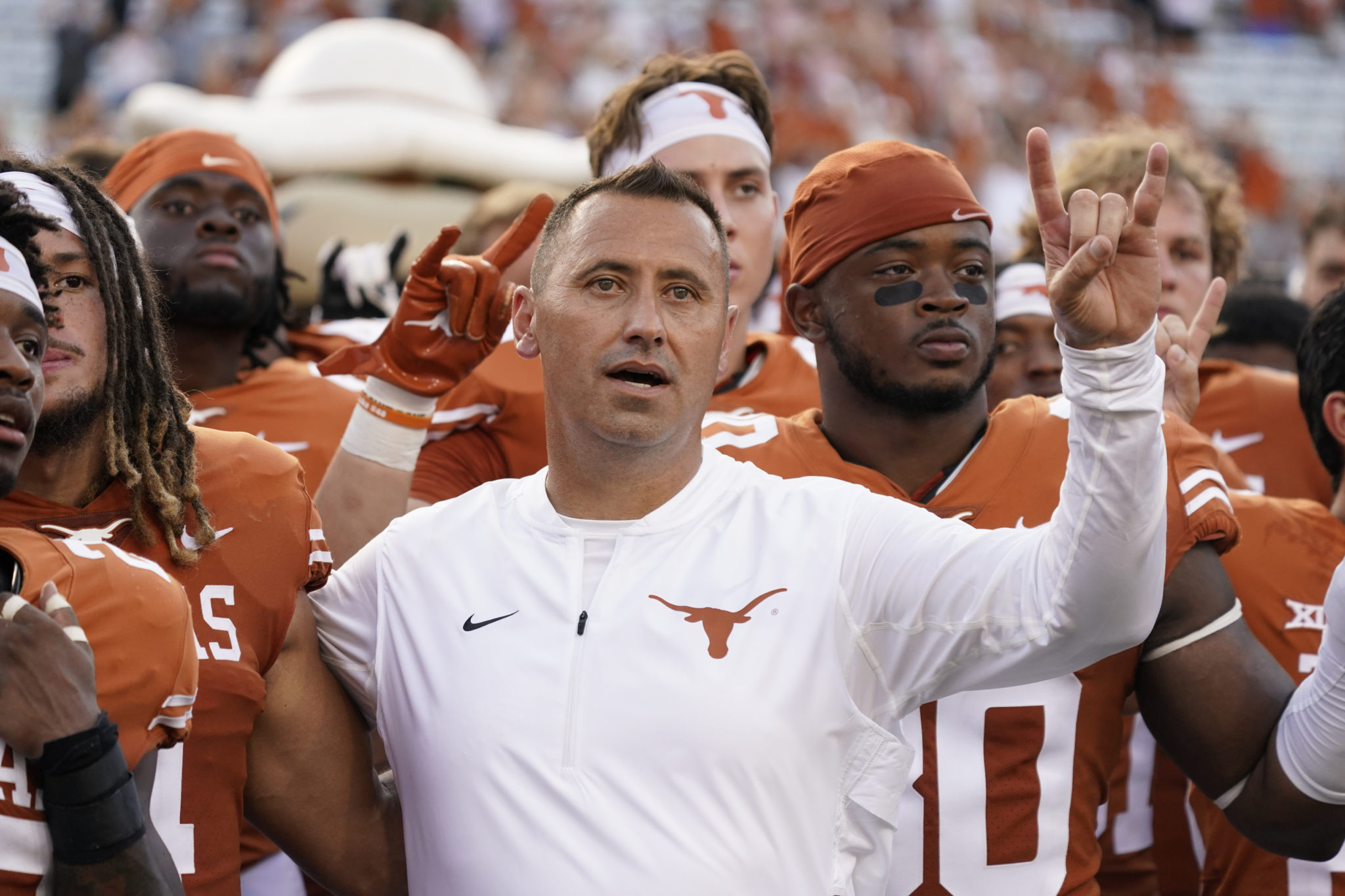 TEXAS
Arch Manning won't arrive until 2023, but he just set a win-or-else tone for Texas football in 2022
The curse of recruiting fandom is living in the future and ignoring the present.
Steve Sarkisian just received the most important news for the 2022 season at Texas: The job of playing quarterback just got real for Quinn Ewers.
That's where this story begins and ends.
Not with Arch Manning's commitment Thursday to Texas, or the impact that the No. 1 overall player in the 2023 class has on the future of the program.
The future at Texas for Sarkisian, in his second year at Austin after a shaky Year 1, and for Ewers, is right now. This season, this moment, this time.
If Texas has another sub-.500 season under Sarkisian, adding yet another black eye to more than a decade of underachieving, Sarkisian and Ewers both might not be around in 2023 to greet Manning.
Not with Texas potentially entering the SEC as soon as the 2023 season — where the stakes are greater and the competition is, too.
So when the "High School student" Manning — that's his Twitter bio: High School student — announced in the only tweet he has ever published (I love this kid already) that he had committed to Texas, Sarkisian's "All Gas, No Brakes" mantra took on new meaning for Ewers.
The 5-star transfer from Ohio State either plays well in 2022, or loses the job to Manning in 2023 — and will then proceed to find a new school for the third time in as many seasons.
But before we go further, it must be pointed out that 247Sports has had 3 perfect recruiting scores at quarterback in the history of its rankings. Two of the 3 were earned by Ewers and Manning (the 3rd was another Longhorn, Vince Young).
That's right, a perfect 1,000 score for Ewers and Manning.
Ewers played high school football about 4 hours north on I-35 at legendary Carroll High in Southlake, Texas, and would've signed with the Longhorns had the state of Texas passed an NIL law.
So he left for Ohio State, lost out on the starting job to a guy who could be the No. 1 overall pick in the 2023 NFL Draft (CJ Stroud), and came back home to Texas because Sarkisian was desperate for a quarterback.
And that, everyone, is the worst possible place to be as a head coach: with a quarterback who knows he's your only answer.
Will he compete in practice? Will he be humble and earn the trust and respect of his teammates? Will he work with his teammates over the summer and build critical chemistry that all championship teams have?
If there were ever any doubt about any of those questions, they ended Thursday afternoon when the "High School student" announced he was committing to Texas.
Manning did it with little fanfare, and was extraordinarily mature and respectful of the process. He didn't talk about NIL deals, or finding which school was best for his ability to earn while playing.
He didn't take the easiest road to play right away (Alabama), or to the program with the stocked roster (Georgia). He talked about ball, and how important the right "fit" was for him — much like his uncles (Peyton and Eli) did during their high profile recruitment.
He also left little doubt for Ewers. The consensus No. 1 player in high school isn't signing with a program unless he believes he can play from Day 1.
The only way Manning doesn't play Day 1 is if Ewers has a breakout season. If Ewers plays so well that Texas takes a significant step toward the elite of the Big 12 and nationally, he makes it nearly impossible for Sarkisian to move away from another year of Ewers as the starter.
Remember, Ewers was a perfect score QB recruit. As much as we all like to complain that recruiting isn't an exact science, the only other perfect score quarterback recruit won a national title at Texas and was one of the best players of his generation.
Sarkisian hasn't named an official starter for the 2022 season, but if it's anyone other than Ewers, that's a significant red flag — for Ewers and Sarkisian's ability to develop him.
Ewers hasn't played a full season of football since his junior year at Carroll High in 2019. He reclassified and graduated high school early, and skipped his senior season before enrolling at Ohio State in January of 2021.
He played well this spring but didn't separate from last year's part-time starter Hudson Card. Sarkisian, like most coaches, didn't name a starter because he wanted to keep Ewers on edge and constantly in competition mode throughout the summer.
But nothing Sarkisian could've said or done had more impact than Manning's commitment.
It's now or never for Quinn Ewers, the one-time perfect score quarterback.
The High School student is on the way.