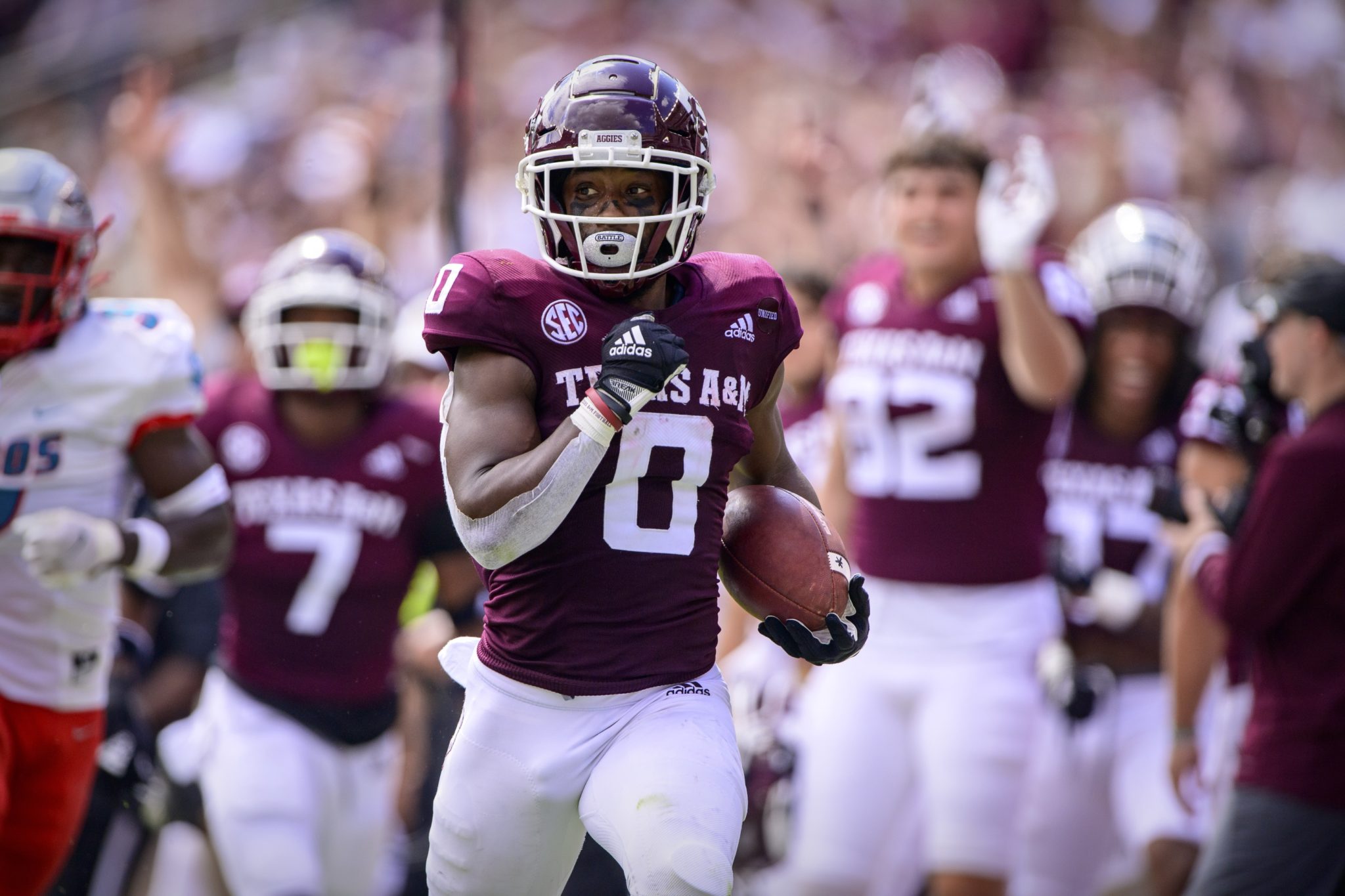 TEXAS A&M
Why Ainias Smith's arrest is a brutal blow for an A&M team that already had a small margin for error
Ainias Smith was expected to make his presence felt in Atlanta on Thursday.
The Texas A&M senior returned for another year to be a leader in that locker room, which was why Jimbo Fisher chose him to be 1 of 3 player representatives at SEC Media Days.
Unfortunately for A&M, Smith made his presence felt in Atlanta on Wednesday, and it was for all the wrong reasons.
The Houston Chronicle reported that the versatile Aggies receiver was arrested on DWI and weapons charges.
Texas A&M receiver Ainias Smith arrested on DWI, weapons charges: https://t.co/9IE9lo1sBv via @houstonchron

— Brent Zwerneman 📰 (@BrentZwerneman) July 20, 2022
Yikes.
Everybody makes mistakes. Some are felt more than others. That mistake will be felt for an A&M offense that already lost tight end Jalen Wydermyer (NFL), Caleb Chapman (transfer), Demond Demas (transfer), as well as pass-catching back Isaiah Spiller (NFL).
Smith is the only A&M receiver who had 20 catches last year. If he's out for any length of time to start the season — don't forget that Miami waits in Week 3 and Arkansas is in Week 4 — A&M's top returning receiver would be Devon Achane. As in, tailback Devon Achane, who had 24 catches for 261 yards.
Oh, and that's for a team that will have a new starting quarterback after it finished 12th in the SEC in passing last year.
If we were talking about a team hoping to end the season with a Florida bowl, that'd be one thing. But we're not. We're talking about a program with all eyes on it, especially after the offseason that's been for Jimbo Fisher.
Don't get it twisted. That's not a "Fisher's job is in jeopardy" suggestion. A&M isn't forking over $86 million to pay Fisher not to work (that's his buyout after this season). But this is still a troubling development for a team that many had in the No. 4-10 range in their way-too-early rankings. We'll see how the Smith news impacts that.
Let's back up a second because there are two points A&M fans will bring up. One is that rankings don't matter. I get that. We have a tendency to forget about preseason rankings once games actually start.
The other point that some might cite is A&M can stomach a potential Smith absence because of the emergence of Evan Stewart. Check that. The expected* emergence of Evan Stewart.
History suggests that Stewart, while extremely talented, is facing an uphill climb to become a legitimate factor as a Year 1 receiver in Fisher's offense.
Here are the 5 most prolific seasons for true freshmen pass-catchers in Fisher's offenses at Florida State and A&M:
Florida State WR Rashad Greene (2011), 38 catches for 596 yards
Florida State WR Travis Rudolph (2014), 38 catches for 555 yards
Texas A&M TE Jalen Wydermyer (2019), 32 catches for 447 yards
Florida State WR Ermon Lane (2014), 13 catches for 267 yards
Texas A&M WR Ainias Smith (2018), 22 catches for 248 yards
It has been 8 years since a true freshman receiver in Fisher's offense had more than 300 receiving yards. In fact, only 2 true freshmen receivers in Fisher's offense hit that mark. Since Fisher arrived at A&M, go figure that Smith posted the best season of any freshman receiver, and he had 22 catches for 248 yards.
Ja'Marr Chase, DeVonta Smith, Justin Jefferson, Jerry Jeudy and Treylon Burks are just a few of the star SEC receivers who didn't hit 600 yards as a true freshman in the SEC.
Getting separation at this level is no joke. That's why when you have guys like Ainias Smith who have proven they can actually do that, you'd want them playing every game. Nobody on A&M's roster does all the things he does. Smith lines up mostly in the slot, but he makes an impact getting carries out of the backfield and giving A&M a threat as a punt returner.
It remains to be seen what sort of suspension awaits Smith. Clearly, Fisher didn't want to go into SEC Media Days knowing he had to talk about one of his player representatives getting arrested. He has enough on his plate with the whole "trying to keep A&M afloat in the toughest division in America" thing.
Smith was supposed to be one of the steadying forces for A&M. He was supposed to be the offensive player at the top of every scouting report. Maybe he'll still be that, but that path just added a few untimely potholes.
The Aggies have turned into one of the most polarizing teams in America this offseason. Between the Fisher-Nick Saban war of words, the historic recruiting class that prompted said disagreement, the intriguing quarterback battle and now Smith's arrest, I can't imagine this is the way the A&M faithful drew things up.
When Georgia won it all, it was natural to ask "who's next?" Many pointed to the Aggies, who are searching for their first national title since 1939. Perhaps A&M will indeed be the answer to that question. Eventually.
For now, though, the Aggies' latest development might've just set the stage for yet another 8-4 season.