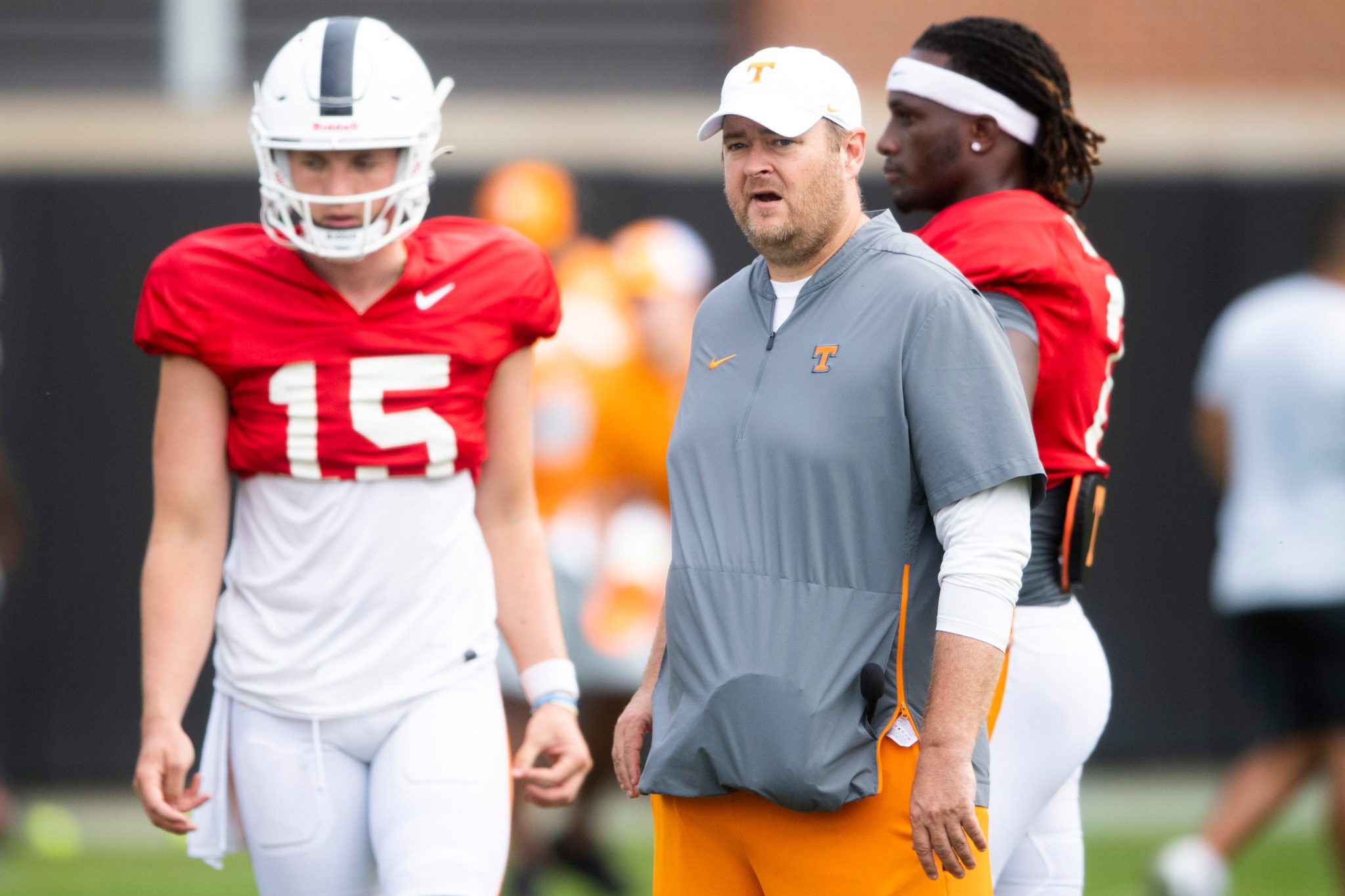 TENNESSEE
An open letter to Josh Heupel
Josh,
With the 2021 opener against Bowling Green almost here, I want to make sure that you are aware of what you are about to experience as the head coach of the Tennessee Volunteers. I'd also like to give you some friendly advice.
By now you have to know that things have been pretty lousy around here for a while. None of this is your fault, of course, but you should know that Vols fans have been through the ringer. Still, they've shown up, rain or shine, winning or losing. Heck, over 80,000 were at Neyland Stadium during a monsoon to see the Vols get their feet stomped against LSU in 2017, the worst season in the history of Tennessee football.
That all said, ignore the message boards, the call-in shows and especially social media. One of your predecessors simply couldn't take any type of criticism, and that helped end his tenure as Vols coach.
But at least Butch Jones tried a little bit to connect with UT fans, even if his cliches and slogans were brutal. The guy who replaced him, Jeremy Pruitt, never made much of an effort to get fans to support him or the program, so when things went bad in 2020, hardly any of them had his back. So sign some autographs. Speak at the local Rotary. It'll pay off.
I mentioned that it has been tough for fans around here lately. How tough? Well, those fans have seen the Vols lose 14 straight to Alabama, drop 15 of 16 to Florida, and fall in 9 of their past 11 to Georgia. These are Tennessee's 3 biggest rivals, and the Vols have struggled mightily against them for well over a decade.
Find a way to upset 1 of those 3, and the 2021 season will be considered a success. Case closed.
As for your team … you know those kids a heck of a lot better than any of us outside the football program. If your choice at quarterback doesn't set the world on fire right away, don't panic. I remember Jones throwing Nathan Peterman to the wolves in Gainesville for his first career start in 2013. In one half of action, Peterman went 4-of-11 for 5 yards, a fumble and 2 interceptions. He also broke his hand. It was one of the worst debut quarterback performances … ever. He was never the same at Tennessee. But Peterman rebuilt his career, eventually transferring to Pittsburgh, and he's still pulling in an NFL paycheck with the Las Vegas Raiders.
Jones did Peterman no favors. Don't make the same mistake.
This is probably going to be a rough season. Your roster simply isn't ready to compete for an SEC East title. Much of the talent from 2020's 3-7 squad bolted. You know this. And I think rational fans understand this reality as well. So if 9 wins are out of the question (and they are), do a lot of what you were brought to Tennessee to do. Be interesting on offense. That side of the football was a dumpster fire most of the time during the Pruitt era. But if you can pattern this season around what Lane Kiffin did at Ole Miss in 2020, blue skies will be in the forecast.
Kiffin's Rebels couldn't stop an old man pushing a shopping cart at Walmart last year, but they played an exciting style of football that opened a lot of eyes, including those of the recruits that you so desperately need. You can learn a lot from his recent success.
As for the media. Knoxville is a football town. There are three local TV stations, two full-time local sports talk radio stations and more websites dedicated to the Vols than you can shake a stick at. At Central Florida, you had a couple of beat reporters and the occasional interview request from a blog affiliated with Disney.
It's different here. The attention is all-encompassing, just like it was at Oklahoma when you led the Sooners to a national championship and almost won the Heisman in 2000. Just accept that and realize that there's not much you can do about it. It can grow tiresome, but it's part of the job, and a big reason you are commanding that $4 million salary this season.
And finally, if and when things go poorly this season, own it. It might feel good for a moment to publicly lay blame on the teenager who missed a block or dropped a pass. But that won't endear you to your players and especially the recruits.
Even with all the problems surrounding Tennessee football, this remains one of the top 20 head coaching jobs in the sport. You have championship-level donors, resources and facilities. The stadium is massive. The fan base is passionate. You can win here. It's happened before and it will happen again.
OK. That's about it. Good luck and for the love of Peyton Manning, beat Pittsburgh because if you don't … it could be a very long season.
Read More
Tennessee sportsbooks are live in the Volunteer state since November 1, 2020. Tennessee was the first SEC state to legalize sports betting.