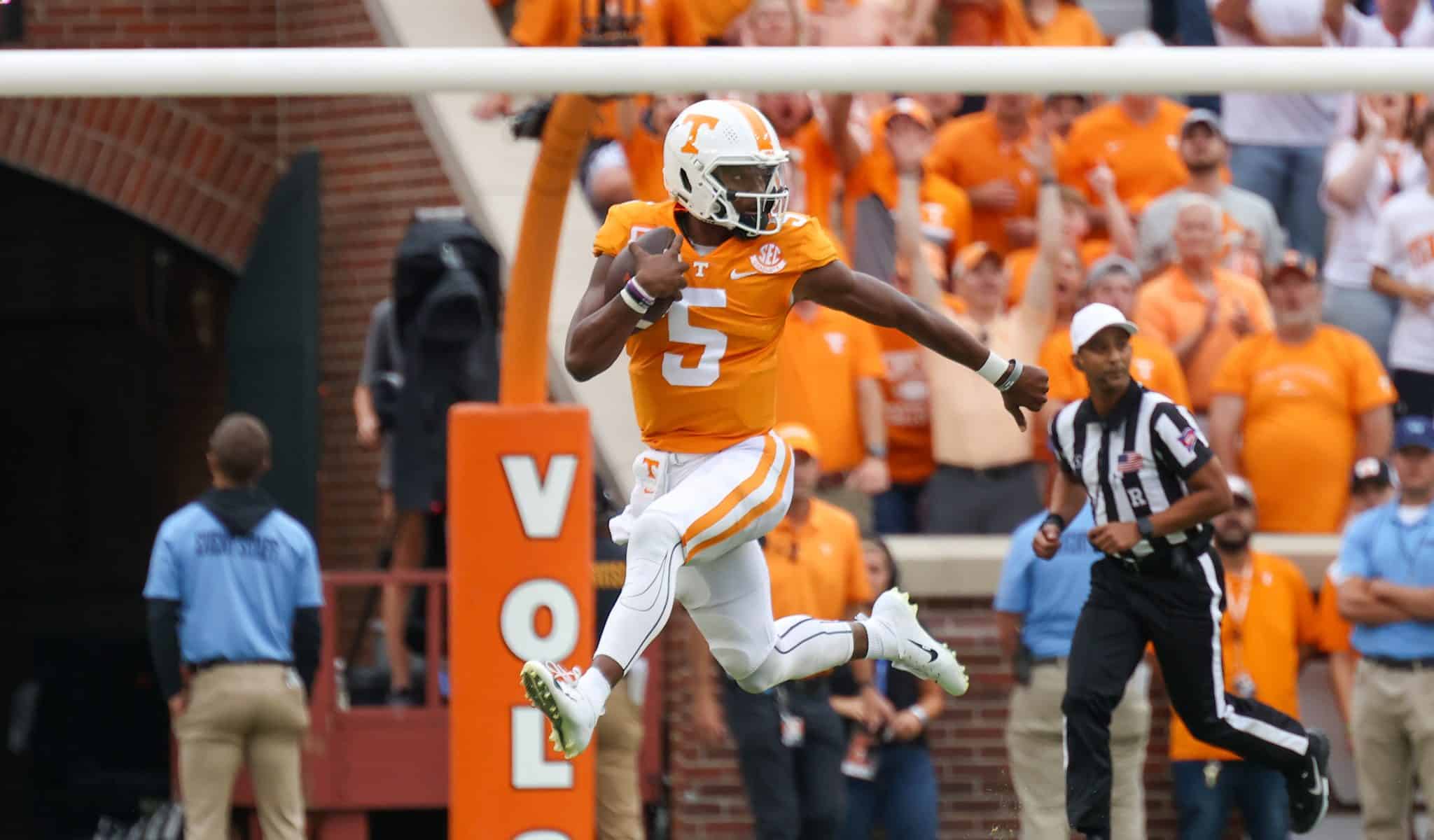 TENNESSEE
Hayes: Is Tennessee really a Playoff contender? We're about to find out
Here's the problem with arriving as a program: There's no such thing 7 days later.
Or in the case of Tennessee, 14.
"You're only as good as your next one," says Tennessee coach Josh Heupel.
Or as good as everyone believes. And in the Playoff perception world of contenders vs. pretenders — where there's always a qualifier — the Vols are straddling the line.
Snapping a 5-game losing streak to bitter nemesis Florida two weeks ago made everyone take notice. Snapping a 5-game losing streak to LSU in Death Valley on Saturday would be intriguing, too.
Because that, of course, leads to the Crimson elephant in the room the following week — and we're not going there yet.
Especially when we don't really know exactly what we've got with Tennessee. The celebration was fun two weeks ago against Florida, and it sure looked and felt like a program that had wandered in the SEC hinterland for years was crawling from the rubble.
A fresh, fast and dangerous offense, a Heisman Trophy candidate and a coach at the forefront of 21st-century ingenuity. Yet there was a teeny-weeny problem that has suddenly followed the Big Orange love into this weekend.
That wasn't exactly full-strength Florida, and it won't exactly be full-strength LSU. Both programs are in the middle of coaching changes, and talent on the roster isn't near what it could or should be.
To that, Tennessee says: Come talk to us when more than 30 players leave the program after a coaching change, including double-figure starters/potential starters.
That was Tennessee a year ago, and if the current state of the buildout is a year ahead of Florida and LSU, well, good luck chasing.
"I think last year, we had a pretty tough schedule," Tennessee tailback Jabari Small said. "Nothing is easy about our schedule. Nothing is easy about how we win. We have to earn everything."
Because despite what happened last year, despite what looks like a significant jump from Year 1 to Year 2 for Tennessee under Heupel, there still are plenty of questions in the here and now.
How will the Vols deal with suddenly surging LSU, which came back from double-digit deficits in their first 2 SEC games under first-year coach Brian Kelly and stayed unbeaten in conference play?
The same LSU that has found a quarterback in Arizona State transfer Jayden Daniels, who hasn't turned it over in 5 games and has LSU playing smart and balanced. So balanced, in fact, that Kelly said he has had to force Daniels out of his safe play cocoon.
LSU has left points on the field, and Daniels isn't taking an extra second or 2 to throw the ball downfield. He's escaping too quickly, and going off schedule and trying to make scramble plays.
That means wideout Kayshon Boutte, a preseason All-American, isn't getting involved. He has 11 catches, and is averaging 8.8 yards per catch — or about 10 yards less than what his average should be.
More to the point: LSU believes it can throw on Tennessee and produce explosion plays. Pitt did it, and Florida quarterback Anthony Richardson threw for 453 yards on the Vols — without the advantage of any semblance of a deep threat that could further stress a shaky Vols secondary.
"There's a difference in being on the edge aggressively and being reckless," Kelly said. 'We're way too conservative right now. With the skill players we have, we've got to get that ball down the field."
Especially when the Tennessee secondary is still a work in progress. The Vols gave up explosion plays of 44, 39, 38 and 22 yards to a Florida team that doesn't have a true No. 1 receiver, and more than that, doesn't have the team speed of the LSU offense.
The same LSU team that dropped 6 passes last week against Auburn and was down 17 points in the first half. An LSU team still trying to find an identity and still dealing with a lack of elite production on both sides of the ball.
Heupel spoke earlier this week about being ready every week, every new chapter. Georgia has struggled in back-to-back games.
Texas A&M escaped in back-to-back games, then got blown out by Mississippi State. Florida nearly lost USF.
"You can continue to look at college scores," Heupel said. "Your preparation, your competitive spirit all week, but then also on game day. There's no way in this game you can just flip a switch on Saturday, show up and play the way that you want to."
Especially when — here's that qualifier, again — we really don't know what we have with Tennessee, and may not until next week when Alabama arrives in Knoxville.
So let's start with LSU and go from there.
"Now we're in the thick of it, going into a stretch of conference play," said Tennessee guard Jerome Carvin. "We're ready to rick and roll."
No more straddling on midline.
Read More
Tennessee sports betting officially launched on November 1, 2020. Tennessee was the first SEC state to legalize sports betting.