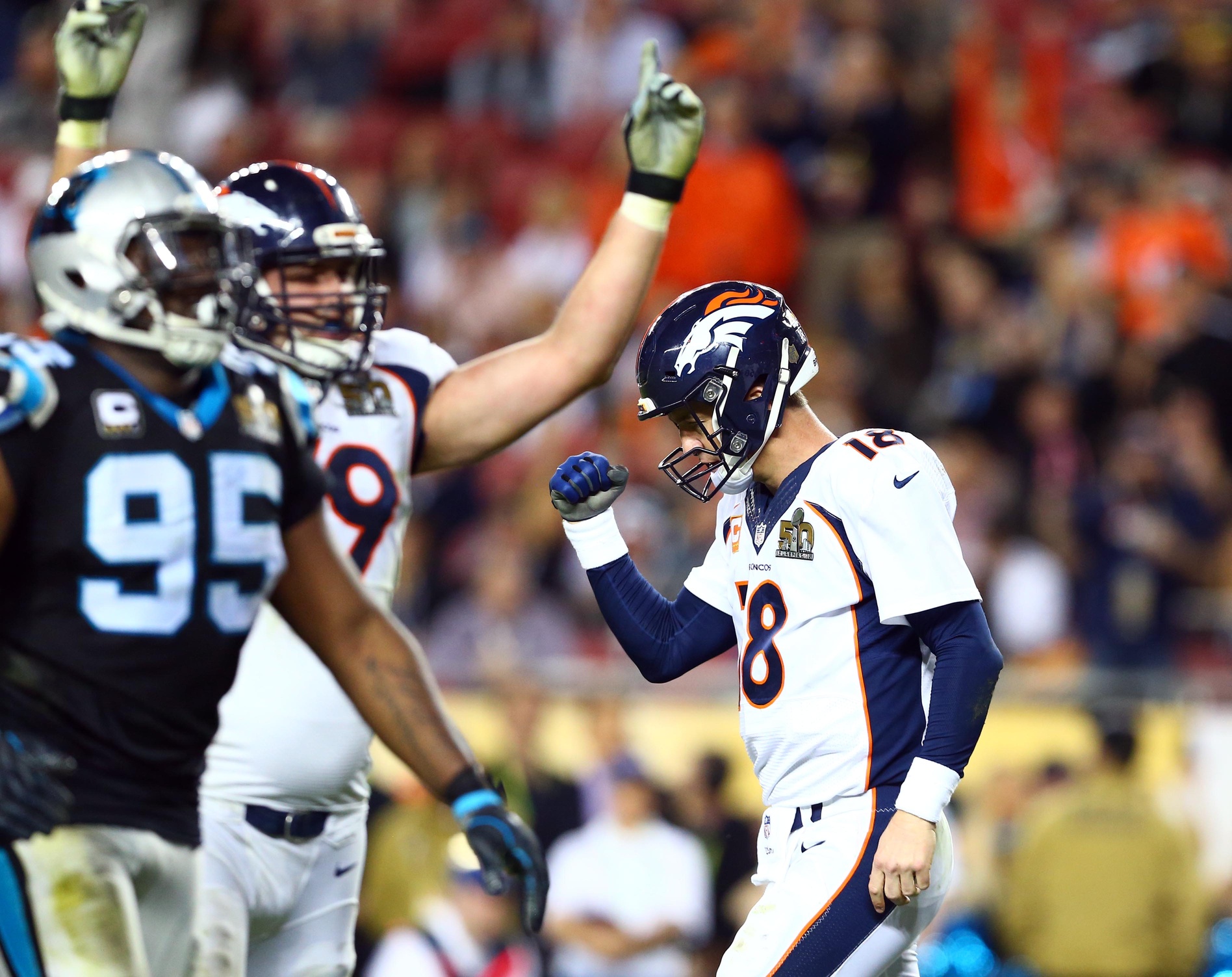 TENNESSEE
How Peyton Manning came to choose Tennessee over Ole Miss
The final moments of Super Bowl 50 are winding down and, some 2,500 miles east of Santa Clara's Levi's Stadium, the town of Knoxville kicks its celebration up a notch. Adopted son Peyton Manning has just won another Super Bowl.
Vol for life.
Manning finally won another "big one" in what will likely be his final game as the Denver Broncos dismantled Cam Newton and the Carolina Panthers between Super Bowl commercials. It's a fitting end for the NFL's all-time passing leader, if indeed he's pulled off the pads for the last time.
Manning is still very much revered in the Great Smokey Mountains of Tennessee, thanks to a seismic decision he made as a senior at New Orleans Isidore Newman High School. Rather than follow in father Archie's legendary giant footsteps at Ole Miss, Manning was heading to Tennessee.
An amazing salute to Peyton Manning and the @Broncos by @PaytonMarie03. #SB50#PeytonManning#VFLpic.twitter.com/VUs0IlUwir

— Vol Photos (@Vol_Photos) February 8, 2016
That Archie and Peyton's homecoming-queen mother were both Ole Miss royalty made the choice all the more bewildering to those on the outside of the decision looking on with a skeptical, if not critical, eye.
Michigan and Florida also unsuccessfully courted the services of Manning. The Gators repaid him by beating him all four years he was at Rocky Top, thus planting the first seeds of the doubt that Manning "couldn't win the big game." He disproved that theory in Super Bowl 50, as well as in Super Bowl XLI over the Chicago Bears.
Michigan, not Tennessee nor Ole Miss, was a strong contender for Manning early on in the recruiting process.
"At one time I thought he was going to Michigan," Archie Manning said via MassLive.com — who shared a charming story about how Manning would kick out the rock that held open the locked door to the UT football facilities, locking out Branndon Stewart, the other freshman Peyton was competing with for the Vols' job.
"I thought the Ole Miss thing was weighing really heavy on him, and he's thinking, 'Alright, if I don't go to Ole Miss, I don't want to play against Ole Miss," Archie continued. "I'm getting away from the whole thing.' And I really think (Michigan) was his getaway. At some point, the (Tennessee) coaches convinced him or he convinced himself that by going to the other side of the conference, he wouldn't have to play (Ole Miss) every year."
Just 200 NFL wins……..That is all!

….Oh, AND #SB50 Champion!

….@Vol_Football #VFL Peyton Manning 🍊🍊🏈💯 pic.twitter.com/2sZYCBxWap

— Josh Dobbs (@josh_dobbs1) February 8, 2016
Cam Cameron was a big factor in Manning's proclivity toward signing with the Wolverines, but when the offensive coordinator split for the NFL's Washington Redskins, an opening was created for David Cutcliffe at Tennessee — whom Manning was also particularly fond of. Eventually, the new staff at Michigan had other quarterbacks, including a year later adding a kid from Junípero Serra (Calif.) High School named Tom Brady.
Peyton Manning is everything you want in a football player, ambassador/spokesman and role model. VFL and 🐐 pic.twitter.com/B7uncmG9ZU — Matthew Hibbs (@matt_hibbs) February 8, 2016
Manning's famous meticulous nature wasn't something that developed in college or later in life with maturation. The quarterback is famous for organizing his peers from the 1994 recruiting class in a network — which included Hines Ward of Forest Park, Ga.— of fellow recruits who could share notes and thoughts on the often-times grueling, fast-paced process.
Eventually, Manning became comfortable with his choice.
Manning was unrefined at first at Tennessee, but his famous preparation stood out from the onset and any rawness quickly went out the window. When starting quarterback Jerry Colquitt and back-up Todd Helton went down with injuries, Manning had an opening as a freshman.
The irony being that one of the reasons why he chose the Vols was because he could absorb the offense as a freshman and learn, according to knoxnews.com. Tennessee coach Phillip Fulmer also gave Stewart a look under center, but it was Manning who finished his freshman season in 1994 with a team-high 1,141 yards and 11 touchdowns.
He finished his career in Tennessee with 11,201 passing yards, 89 touchdowns and just about every passing record in Vols history. Manning also guided the Volunteers to their first SEC title in the divisional age. The success spilled over into a Hall of Fame career that now appears to be coming to a close.
Manning goes out on top playing for Denver Broncos head coach Gary Kubiak, a man that Manning also spurned on the recruiting trail in 1994 when the coach was at Texas A&M. Some 21 years later, Kubiak finally got his man.
Read More
Tennessee sportsbooks are live in the Volunteer state since November 1, 2020. Tennessee was the first SEC state to legalize sports betting.