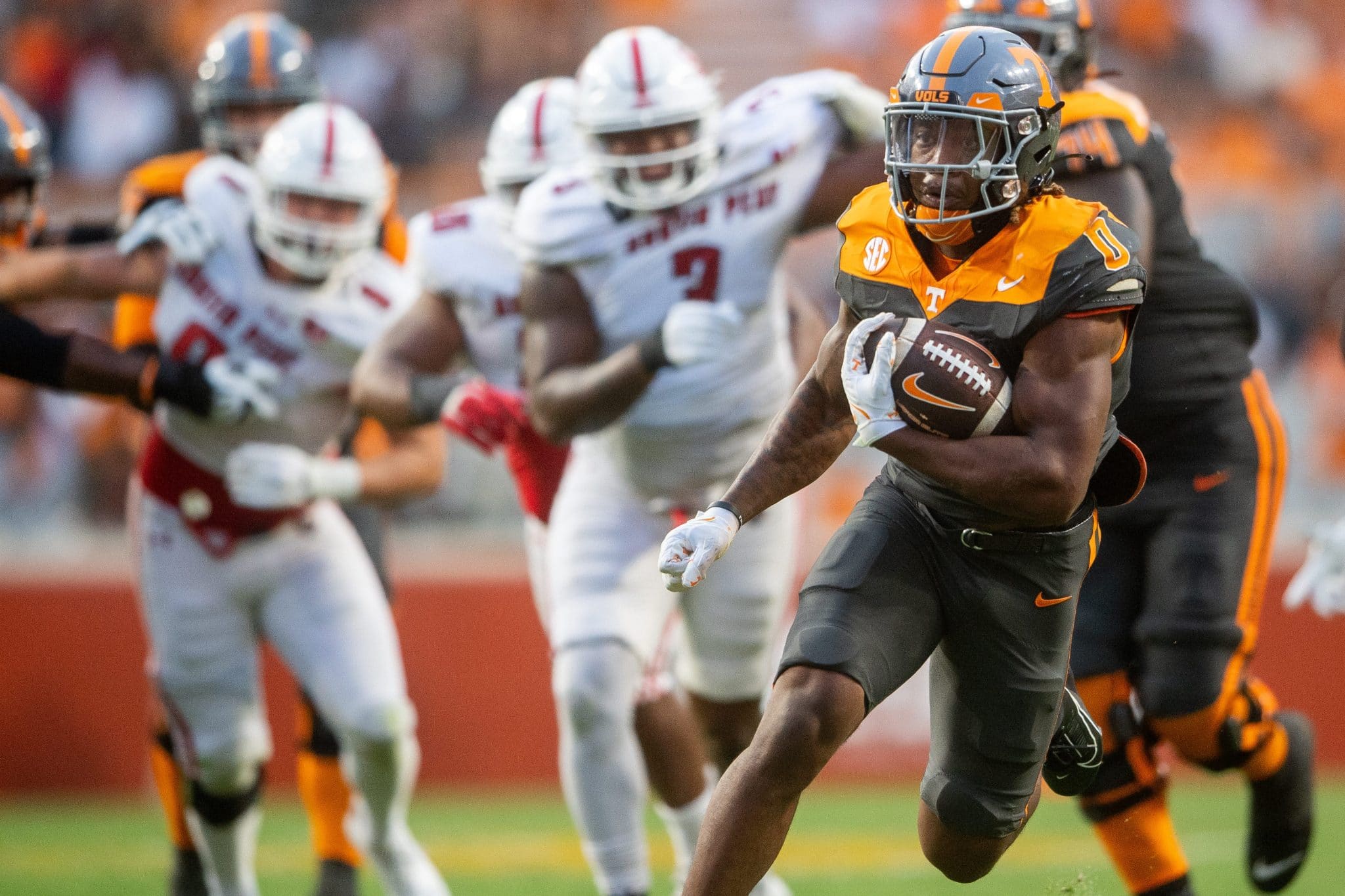 TENNESSEE
Tennessee football: Stock report after week 2
Did Tennessee look good in their 30-13 win over Austin Peay? No. Did they look … okay? Not really.
Something felt off all day. It was like the Vols never adjusted to a 30-minute weather delay before kickoff.
For as much talk as there has been about Tennessee's rebirth, there is no reason why Austin Peay should have been within a couple of scores in the 4th quarter. Even if UT was trying to be as vanilla as possible, this should not have been close.
Tennessee head coach Josh Heupel probably is not having a lot of fun watching this game film.
Player of the Week: Jaylen Wright
For the 2nd straight week, Wright had a terrific game for the Vols: 13 carries for 118 yards, an average of more than 9 yards per carry.
Yes, Jabari Small gained 95 yards on the ground against the Governors. And while Dylan Sampson only got 3 carries, remember that he's only a week removed from a 4 TD afternoon against Virginia. UT certainly has an embarrassment of riches at the running back position. Wright has emerged as the Vols' best option among them for running downs.
Freshman of the Week: Jeremiah Telander
He might not be as well known as some other freshmen on the roster, but the 4-star LB out of Gainesville, Georgia, had a solid game with 6 tackles.
Telander's performance is yet another sign of how much Tennessee's depth has improved from Year 2 to Year 3 in the Heupel regime.
Biggest surprise: The entire game
This contest was supposed to be a laugher. An opportunity for the Vols to get their key guys a lot of rest. Instead, the Vols allowed Governors QB Mike DiLiello to complete 29 passes. UT didn't lead for the first time until the final seconds of the opening half.
That blowout win over Virginia in Nashville feels like a lot more than a week ago.
Biggest concern: Penalties
Last season the Vols were one of the most penalized teams in the country. It doesn't look like very much has changed in that respect.
Against the Governors, the Vols were flagged 10 times for 88 yards. And while the 101,915 in attendance voiced their displeasure with the referees, the reality is that pretty much all of those calls were just.
Developing trend: Where's the long ball?
For years, Tennessee's fans have talked about Joe Milton's seemingly effortless ability to throw the football deep. It's no secret that he has a thunderbolt for a right arm.
But through the first 2 games of this season, we haven't seen it very much. Maybe they are saving those big plays for SEC games.
Key stat: Better punting
One of the positives for Tennessee was a much better looking punting game. After a brutal debut against Virginia, Jackson Ross bounced back with 4 punts for 172 yards, an average of 43 yards. Two of those punts landed inside the Govs' 20.
The Vols ambidextrous punter still has work to do, but he's not the lost cause that he looked like against the Cavaliers.
First impression about Florida: Who knows?
I could start writing here about how Florida has bounced back from their debacle at Utah with a 49-7 win over McNeese State. But all due respect to the Cowboys, I'm not sure that we can take a lot from that game.
That said, the Gators offense might have found something with Montrell Johnson Jr., who carried the ball 15 times for 119 yards and 2 TDs.
Tennessee has lost to Florida in 16 of their last 18 meetings, and the Vols haven't won a game at The Swamp since 2003. There are a bunch of players on this Vols roster who weren't even born yet.
The current players may or may not know about that history, but you can be sure they'll hear all about it this week.
Read More
Tennessee sportsbooks are live in the Volunteer state since November 1, 2020. Tennessee was the first SEC state to legalize sports betting.