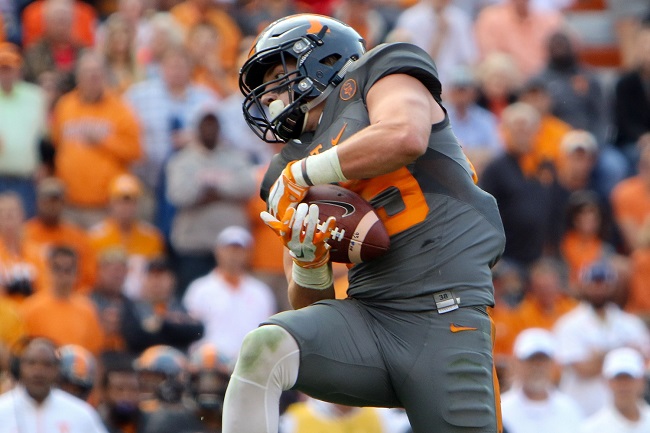 TENNESSEE
Tennessee could have a thin receiving corps entering 2016
Here's the truth about Tennessee's receiving corps heading into the Volunteers most highly anticipated season in years: It's thin. Very thin.
Von Pearson — Tennessee's leading receiving target in 2015 — is departing after his senior year. And Marquez North — who was fairly productive during his first two seasons in Knoxville — recently decided to enter the NFL Draft after an injury-plagued 2015 season.
Who's left?
The core group of Tennessee's wide receivers heading into the offseason consists of Josh Malone (31 catches in 2015), Josh Smith (23 catches), Jauan Jennings (14 catches) and Preston Williams (seven catches).
The depth behind this core is even thinner. Vincent Perry was a redshirt freshman in 2015. And Jason Croom — a medical redshirt last season with 39 career catches — could be moved to tight end next season.
The Vols have signed junior-college transfer Jeff George and hope to sign three-star recruits Brandon Johnson and Corey Henderson next month, but they need more talent at the position.
Tennessee may have trouble convincing receivers that they will indeed receive the ball. This past season, Tennessee's wide receivers' primary job was to block for Jalen Hurd, Alvin Kamara and QB Joshua Dobbs. That's a sad fact, especially considering that Tennessee used to have a reputation as "Wide Receiver U."
Another problem is that Tennessee's current offensive game plan isn't expected to change in 2016. Under offensive coordinator Mike DeBord, the Vols will continue to be a run-first offense because it's the most effective way for Tennessee to move the ball with the talent on its roster. Dobbs, Hurd and Kamara are the Vols' best offensive weapons. In fact, Kamara was second on the team in receptions with 34.
Tennessee can try to sell wide receiver recruits that its offense will pass more in two years with a change at quarterback. And Vols coaches can tell recruits they would have a chance to earn playing time immediately.
Read More
Tennessee online sports betting officially launched on November 1, 2020, and many of the largest sportsbooks are live and operating in the volunteer state. Tennessee is only one of a handful of SEC football states with legalized sports betting.