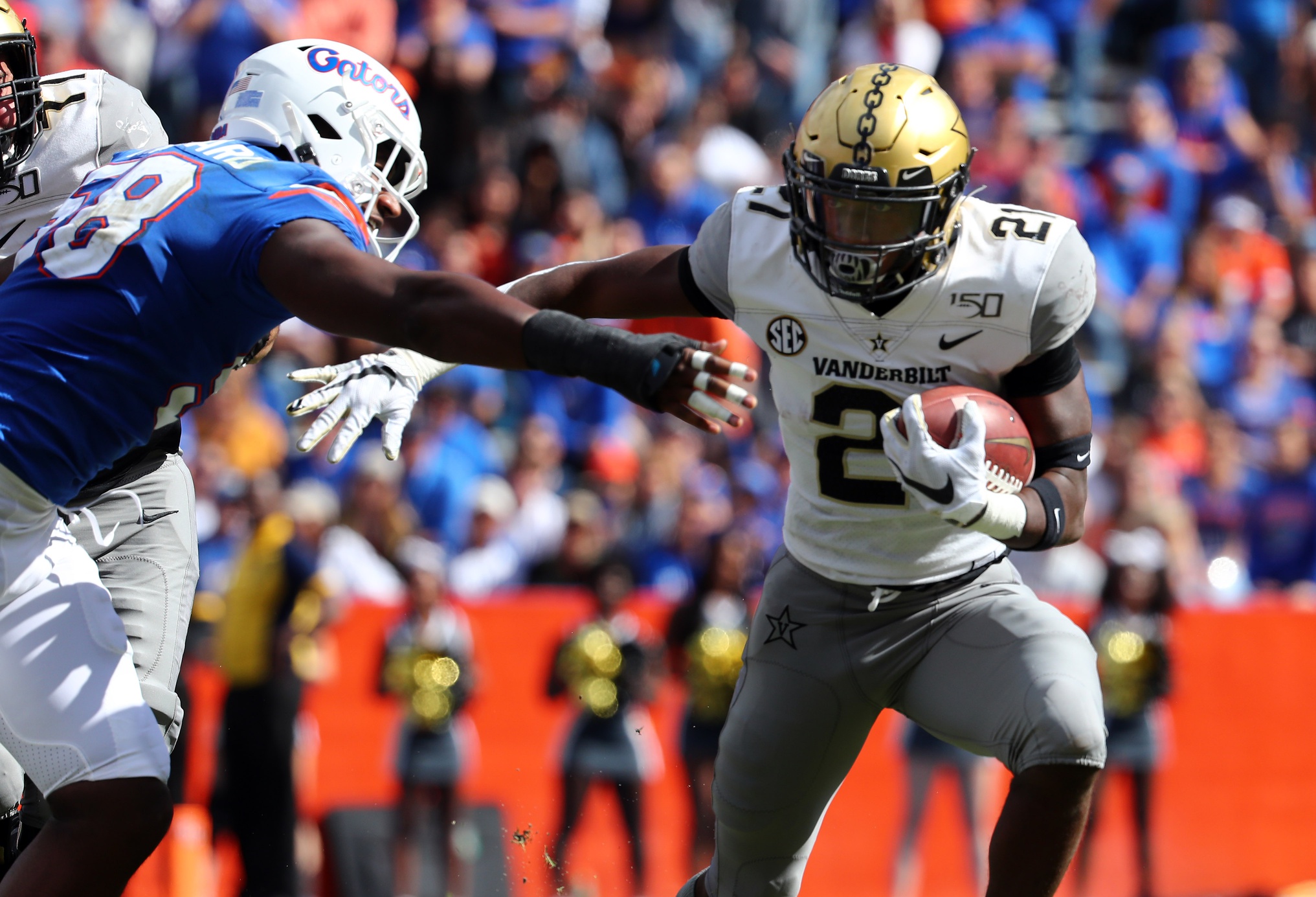 VANDERBILT
Why these SEC teams should line up to get Keyon Henry-Brooks out of the transfer portal
I'd like to think that a bunch of SEC teams did a little happy dance Wednesday when they saw Keyon Henry-Brooks hit the transfer portal. Well, maybe just the smart ones. It's not every day that a skill player with a proven track record against SEC competition suddenly becomes available.
If you haven't heard of Henry-Brooks, that's likely because you haven't spent much time watching Vanderbilt football. Henry-Brooks was, for my money, the best returning player on the roster. A month ago, I put him on my "10 offensive names to know" in the SEC. He was absolutely in the camp of "dudes who would thrive playing for a better team." It appears likely he'll get that chance now.
Before we dig into where he'd fit, let's first break down why Henry-Brooks was better than people realized in 2020.
The cumulative numbers aren't there because he only played in 6 games for a Vandy team that was decimated by COVID-related depth issues for seemingly the entire season. And yet, Henry-Brooks averaged 125 scrimmage yards per contest.
Of his 752 scrimmage yards, 494 came on the ground and 258 came in the passing game. That's a 12-game pace of 1,504 scrimmage yards with over 500 through the air. Even with that limited 2020 sample size, Henry-Brooks was the only SEC back with 2 games of 80-plus receiving yards. He also had PFF's second-best receiving grade among SEC tailbacks.
He's not necessarily a home-run play guy — only 1 of his 148 touches went for more than 30 yards — but he's versatile and capable of being that between-the-tackles back for a bunch of SEC teams.
Keyon Henry-Brooks now with 16 carries for 85 yards (5.3 ypg) at the start of the fourth quarter pic.twitter.com/HEsnaU9d96

— Chad Bishop (@MrChadBishop) November 7, 2020
It's a brutal loss for Vandy, and not just because Clark Lea needs playmakers to surround Ken Seals. Lea actually made a smart move by bringing in Louisville running backs coach Norval McKenzie, who was previously at Arkansas State. Up until Vandy came in at the last minute and offered Henry-Brooks, he was committed to McKenzie at Arkansas State. But apparently that move wasn't enough to keep Henry-Brooks in Nashville.
Will he be eligible immediately? It remains to be seen, though considering he had a new coach, one would think his odds are favorable. He could steer clear from an intra-conference transfer given the league's history of delayed decisions on immediate eligibility (Cade Mays, Joey Gatewood, Otis Reese and plenty of others know about that).
Either way, I have to think there's going to be a market for the guy. These 4 SEC teams would make a lot of sense.
Mizzou
Who did Mizzou just lose? Larry Rountree, AKA the guy Eli Drinkwitz said was the only back he ever coached who was capable of ripping off 30 carries in a game and then going through full practice the following Tuesday. Rountree was a workhorse and a darn good one. Drinkwitz built his pro-tempo offense around the senior. Tyler Badie is back, but he's more of a shifty, pass-catching back. He's not built for 20 carries a game.
But Badie and Henry-Brooks would be a perfect pair. Mizzou's goal is to stretch the field more this year with Connor Bazelak. Henry-Brooks would force defenses to keep more defenders in the box. As pass-catchers, PFF had Badie and Henry-Brooks ranked No. 1 and No. 2, respectively, among SEC running backs. Drinkwitz loves to be multiple, and with that up-tempo system, he could have the luxury of keeping Henry-Brooks on the field as a pass-catcher.
Schematically, it makes sense. There's also the history of Drinkwitz developing NFL backs. He worked with the likes of Jay Ajayi, Jaylen Samuels, Nyheim Hines, Darrynton Evans and of course, Rountree, who should get drafted after a bounce-back season in Drinkwitz's offense.
Henry-Brooks might not think of Mizzou first as a possible destination, but it would make a ton of sense for both parties.
Tennessee
Henry-Brooks might not want to even leave the state considering the Vols should put on the full-court press to get him. Eric Gray and Ty Chandler are gone, Tennessee doesn't return a running back who:
A) Ran for a touchdown in 2020
B) Had 30 total carries in 2020
C) Had a carry of 20 yards in 2020
D) Had 5 total catches in 2020
E) All the above
It's "E." It's always "E."
With all due respect to Jabari Small, who returns as Tennessee's leading rusher after he had 26 carries for 117 yards as a true freshman, the Vols need help in the backfield. Yes, the Vols signed No. 1 JUCO back Tiyon Evans, though he wasn't recruited by this staff. That's not to say Josh Heupel is going to bury Evans on the depth chart, but the last staff probably had visions of him eventually being the guy with Gray and Chandler initially expected to return.
Either way, the Vols need depth. Heupel should be chomping at the bit to land someone who can actually run in between tackles (and break them) in this league. Henry-Brooks' pass-catching ability makes him a high-floor guy, too. Even if Evans becomes an instant star, Henry-Brooks would still pair nicely with him.
And for Henry-Brooks, yes, Tennessee is a bit of a mess right now. There are major questions on the offensive line. But Heupel's offense at UCF did have rushing offenses that finished No. 8, No. 19 and No. 26, and all of them ranked in the top 25 nationally in carries per game. In other words, the running game is certainly prioritized. If Tennessee makes a push, that'll be Heupel's sell.
Auburn
Wait a minute. Why would Auburn want to go out and get Henry-Brooks when Tank Bigsby returns as one of the top backs in America? And why would Henry-Brooks go there knowing that was in store?
I know, I know. Hear me out.
There are a few reasons this could happen. One is Derek Mason. As in, the man who swooped in at the 11th hour and gave Henry-Brooks his first and only Power 5 offer. When Henry-Brooks announced his transfer, who was the first person he mentioned? God. But who was the second person he mentioned? Mason.
Again, it didn't matter that Lea brought in the running backs coach who recruited him. It also didn't matter to Henry-Brooks that he was set to get a ton of work. Hence, why he might be interested in sharing more of the carries.
There's also the Mike Bobo angle. Last year, Kevin Harris took off running in Bobo's offense at South Carolina. Harris, like Henry-Brooks, was a lightly recruited back who was told he wasn't fast enough. All Harris did was finish No. 7 in FBS in rushing in 2020. Now at Auburn, Bobo could work well with a between-the-tackles back like Henry-Brooks, who would also get the benefit of working with running backs coach Cadillac Williams.
Auburn needs depth at tailback. Badly. Part of that is because Bigsby takes on such a pounding with his running style. Durability is a question moving forward. Shaun Shivers is back, but as we saw when Bigsby went down, he's not a feature back. The offense fell apart when Bigsby wasn't at full strength for that 3-game stretch in the latter half of 2020. Harsin commented on the need to add depth at the position, which was addressed somewhat by Devan Barrett switching back to running back after working with the receivers last year.
Harsin has been active in the transfer portal by getting the likes of West Virginia cornerback Dreshun Miller and top Tennessee signee Dylan Brooks. It would make sense if Harsin went out and landed another coveted Power 5 transfer.
If there's a strong possibility he has to sit a year … Georgia could be a fit
This isn't just because Henry-Brooks is a Georgia native, though if there is a desire to play closer to home, Athens is 90 miles from his hometown of Powder Springs (Ga.).
Keep in mind that we don't know if Henry-Brooks is going to be eligible, but technically, he has 3 years of eligibility left (the 2020 season doesn't count against him). Let's say Henry-Brooks is playing the long game and he doesn't go somewhere under the impression that he'll play immediately. That would create a scenario in which Zamir White and James Cook are both gone after 2021, and suddenly, there are a whole lot of carries up for grabs.
Yes, there are also a whole lot of talented backs at Georgia who will likely still be around at this time next year. Kendall Milton, Daijun Edwards and Kenny McIntosh are all patiently waiting for their chance to claim that backfield. All 3 of those dudes averaged north of 5 yards per carry in 2020. That group doesn't include incoming freshman Lovasea Carroll or the blue-chip running back that Kirby Smart will inevitably sign in 2022.
But since when has a crowded position room stopped Smart from adding more talent? It hasn't. Smart could say to Henry-Brooks, hey, come play close to home and let's see what happens. If preventing Henry-Brooks from going to Tennessee or Mizzou is part of that motivation for Smart, well, that wouldn't be the craziest thing, either. And those aforementioned 3 underclassmen backs have a combined 13 career catches. Smart might look at Henry-Brooks and see someone who can catch passes out of the backfield like Cook.
Does Georgia make the most sense for Henry-Brooks? Probably not given the depth at the position, but let's never rule Smart out when he comes to stockpiling talent.