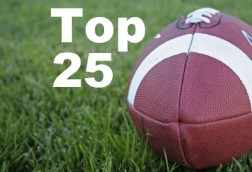 Related Articles:
The second AP Top 25 was released today on account of the Labor Day weekend. You can view the preseason top 25 here.
Related: SEC week 2 burning questions
Alabama is still the top team in the country, followed by five other SEC teams in the top 25. Four SEC teams make up the top 10, and Georgia finished above Florida, who fell out of the top 10.
Related: SEC Week 1 Bowl Projections
1. Alabama
2. Oregon
3. Ohio State
4. Clemson
5. Stanford
6. South Carolina
7. Texas A&M
8. Louisville
9. LSU
10. Florida State
11. Georgia
12. Florida
13. Oklahoma State
14. Notre Dame
15. Texas
16. Oklahoma
17. Michigan
18. UCLA
19. Northwestern
20. Washington
21. Wisconsin
22. Nebraska
23. Baylor
24. TCU
25. USC
Photo Credit: Daniel Shirey-USA TODAY Sports