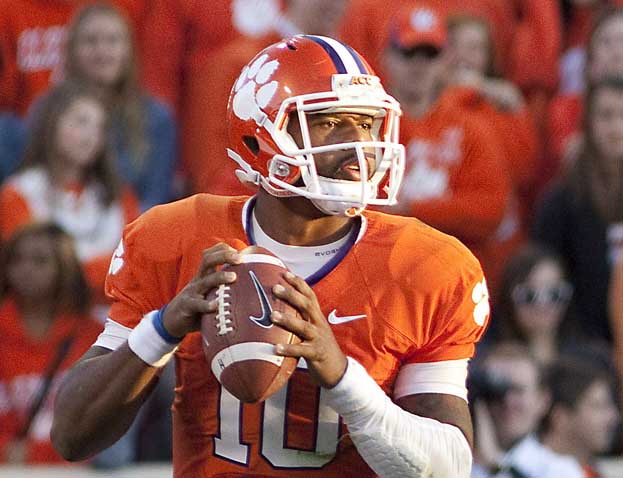 Leading up to Week 1 season openers, SDS' Brad Crawford breaks down the opponents battling SEC squads and what makes them click in marquee out-of-conference matchups.
Aug. 20: TCU (vs. LSU, Aug. 31, 9 p.m., ESPN)
Aug. 21: Washington State (at Auburn, Aug. 31, 7 p.m., ESPNU)
TODAY: North Carolina (at South Carolina, Aug. 29, 6 p.m., ESPN)
FRIDAY: Clemson (vs. Georgia, Aug. 31, 8 p.m., ABC)
SATURDAY: Virginia Tech (vs. Alabama, Aug. 31, 5:30 p.m., ESPN)
SUNDAY: Oklahoma State (vs. Mississippi St., Aug. 31, 3:30 p.m., ABC)
CLEMSON TIGERS
Opens Aug. 31 vs. Georgia
THE SKINNY: Coming into the 2012 season, Clemson faced immense pressure after being embarrassed by Tavon Austin and West Virginia as the ACC Champions in the Orange Bowl. Coach Dabo Swinney said changes had to be made, accountability was accepted and the Tigers responded with an 11-win season that culminated with a clutch bowl victory against LSU in Atlanta. What's in store for Clemson's encore? The Tigers are imagining a finish that's even better, a legitimate shot at the BCS Championship Game in Pasadena should Clemson get past Georgia, take care of business in conference play and win a difficult road game to end the regular season at South Carolina. It'll take a bunch of big plays and some luck, but the Tigers have a assembled a collection of talent capable of greatness.
KEY PLAYER: Sammy Watkins. Maybe you've heard of him? He's the uber-talented, dreadlocked Clemson wide receiver who burst onto the college football scene as a true freshman with a 1,219-yard, 12-touchdown season in 2011. Then, last season happened. Injuries piled up and an offseason marijuana charge put him back on the front page for all the wrong reasons. Swinney said recently that his team's success centers around Tajh Boyd and Watkins staying healthy. The pair could be the ACC's best 1-2 punch on offense and should hook up for a ton of scores this season. A clutch performance in the opener against Georgia would push Watkins, who's on the Biletnikoff short list, back to the forefront of premium pass-catchers.
Related: Sammy Watkins trash talked Georgia this summer
WHAT TO WATCH: Clemson's tempo vs. Georgia's inexperience on defense. The Bulldogs must replace eight starters on Todd Grantham's side of the football, but that could be a good thing from a unit that ultimately underachieved in 2012. The list of spots with questions include two holes up front and the secondary. Keep an eye on freshman ballhawk Tray Matthews who enrolled early in January. He'll be under the microscope early against the Tigers. Finding a pass rusher off the edge similar to Jarvis Jones' productivity will also be difficult, but the Bulldogs have tabbed sophomore linebackers Jordan Jenkins and James DeLoach as the next athletes in line.

FINAL SAY: I've gone on record to say this is probably Georgia's toughest game this season back in our season prediction series and here's the reason: The Tigers are coming off an 11-2, return a ton of talent and perform on another level under the lights in Death Valley. Facing a similar scenario last season, the Bulldogs were whipped in Columbia, S.C. by a South Carolina squad with comparable playmakers and rabid fans. Can Clemson's defense suffocate Aaron Murray and Todd Gurley the way the Gamecocks did? Likely not, but as far as road challenges go this season, the opener is Georgia's toughest contest in 2013 and a solid effort in all three facets will be needed to return to Athens 1-0.
Photo Credit: Joshua S. Kelly-USA TODAY Sports