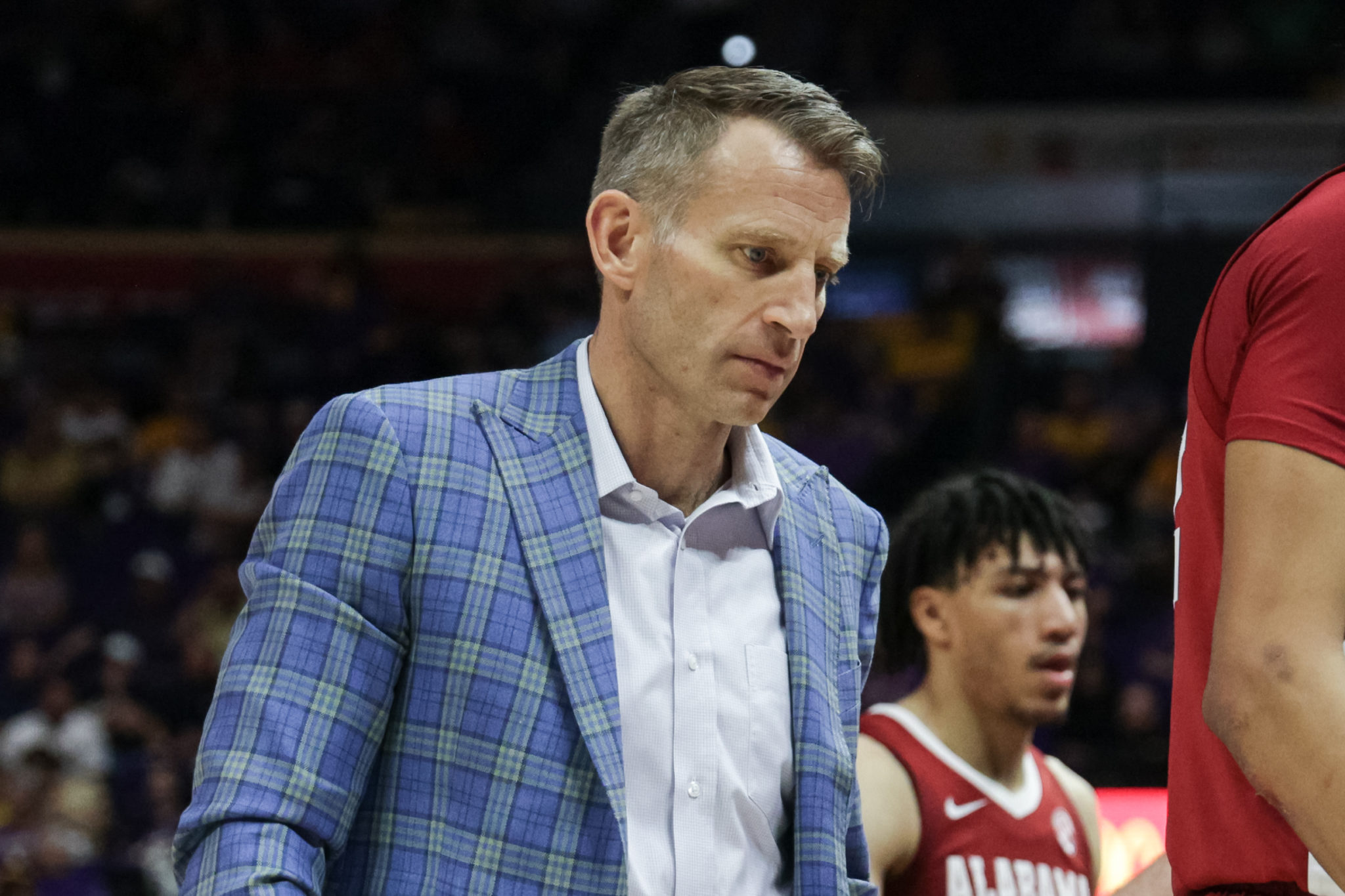 ALABAMA
Alabama basketball: After limping to finish line, where do Nate Oats, Tide go from here?
Alabama's loss to Notre Dame on Friday meant one thing for fans who enjoy crimson hoops. The frustration is over.
There's certainly reason to be disappointed that Bama's NCAA Tournament run is done right about the time it was getting started. However, Bama was a team that, despite its No. 6 seeding in the NCAA Tournament, seemed bound to disappoint. It was either going to happen on Friday or it was going to happen soon, most likely this weekend. An early exit in the NCAA Tournament seemed like the most likely end to Bama's season leading up to March.
Alabama has had drastic ups and downs all season. That's not a good way to build a successful tournament run. Alabama's inconsistency has been about the only consistent aspect of the Tide's performance this season. The Crimson Tide beat Gonzaga … and lost to some of the worst teams in the SEC, like Georgia. College basketball's one-and-done nature in the NCAA Tournament can be disheartening, but it doesn't necessarily have to define a season. Kentucky is still a really good basketball team despite losing in the first round to Saint Peter's. A hot team can eliminate most any opponent when it just takes one win to jettison a contender. Bama didn't just slip up when it lost to Notre Dame 78-64 on Friday. It continued its slow-motion fall that had plagued the Tide for weeks.
Bama was never going to be a contender in this NCAA Tournament. Alabama coach Nate Oats had consistently expressed concern about his players' effort and execution leading up to Friday's loss. That's a dangerous plank to walk. It ended up getting Oats soaking wet. His players never really responded to criticism. They just continued to bumble through the season. That was evident when Alabama lost in the first round of the SEC Tournament to Vanderbilt. That, along with what happened on Friday and the culmination of the regular season, seemed to send a clear message that Bama's players were ready for the season to be over. The Tide lost their last 4 games of the season and seemed content with the fact that they just weren't going to play up to expectations.
There's no reason to offer clarity on why Bama (19-14) was so inconsistent throughout the season and so inept when the calendar rolled to March. The season is over and Oats can mercifully look toward next season and hope his team has better chemistry than they displayed in 2021-2022. However, Oats decided to take the high road after the game. He promoted his players and program despite the disappointing loss.
"It was a successful season by a lot of standards," Oats said. "Obviously we're a little disappointed. We thought we could have been a lot better. We were looking forward to making a deeper run than we made. We were the top No. 6 seed. The tournament committee had us as the 21st-best team in the country, which 3 years ago, when we got here, we would have taken that."
Tone-deaf? Absolutely. Wait, there's more.
Oats also pointed out that Alabama is the only team in the NCAA Tournament that has beaten two No. 1 seeds: the Zags and Baylor. In doing so, he was trying to defend his program. However, Oats' comments were more damning than he intended. If Bama had the talent and wherewithal to beat some of the most talented teams in the nation, then why didn't they have the same mentality against lesser opponents? Where was that competitiveness?
Oats' players may well be responsible for Bama's disappointing season. However, it's his job to find out what is wrong with a program that had as many low points as it did high-water marks in 2021-22. Maybe Oats was trying to save some fan equity by saying that there was some success in a first-round loss. Surely, that was his intent. That goal was not accomplished. (Now, those fans who are are calling for Oats to be fired need a quick program history less. That's an obvious overreaction.)
Oats' team did nothing but frustrate his fans because he showed them just what his crew could be. Oats is quick to note that Alabama made consecutive runs to the NCAA Tournament for the first time since 2005-2006. I guess that's something. However, it doesn't take long to rebuild a program in college basketball. Oats is in his third season at Alabama. There was reason to believe that he and his team would achieve new heights after making the Sweet 16 last season. It became obvious that any such hope about making another step in the program's ascension upwards was false.
Alabama's basketball season ended in the worst way possible, and not simply because it ended with a first-round defeat. The Tide floundered. Sure, Kentucky is massively and probably even more disappointed by its early, historic exit in the NCAA Tournament, but upsets happen. The most elite programs in the nation can attest to that. Alabama's grand finale didn't feel like an upset. It felt like something that was inevitable. The Crimson Tide were in no position to make a deep tournament run. Despite how Oats may have characterized the season after Alabama's loss to Notre Dame, this season was an utter flop overall. Oats didn't say as much, but the final score on Friday said it all. So did Bama's final 19-14 record.