ALABAMA
Alabama C Landon Dickerson announces 2021 season plans
The typical college football career involves playing four seasons in a window of five seasons. Landon Dickerson's fifth season at the FBS level came to a close after Alabama's victory in the national championship game, but due to the unique circumstances of 2020, he had a decision to make. The NCAA is allowing all seniors to come back and be able to play in 2021, but Dickerson won't be taking advantage of that opportunity. The Crimson center shared a note to his Twitter account Wednesday stating he will be going pro.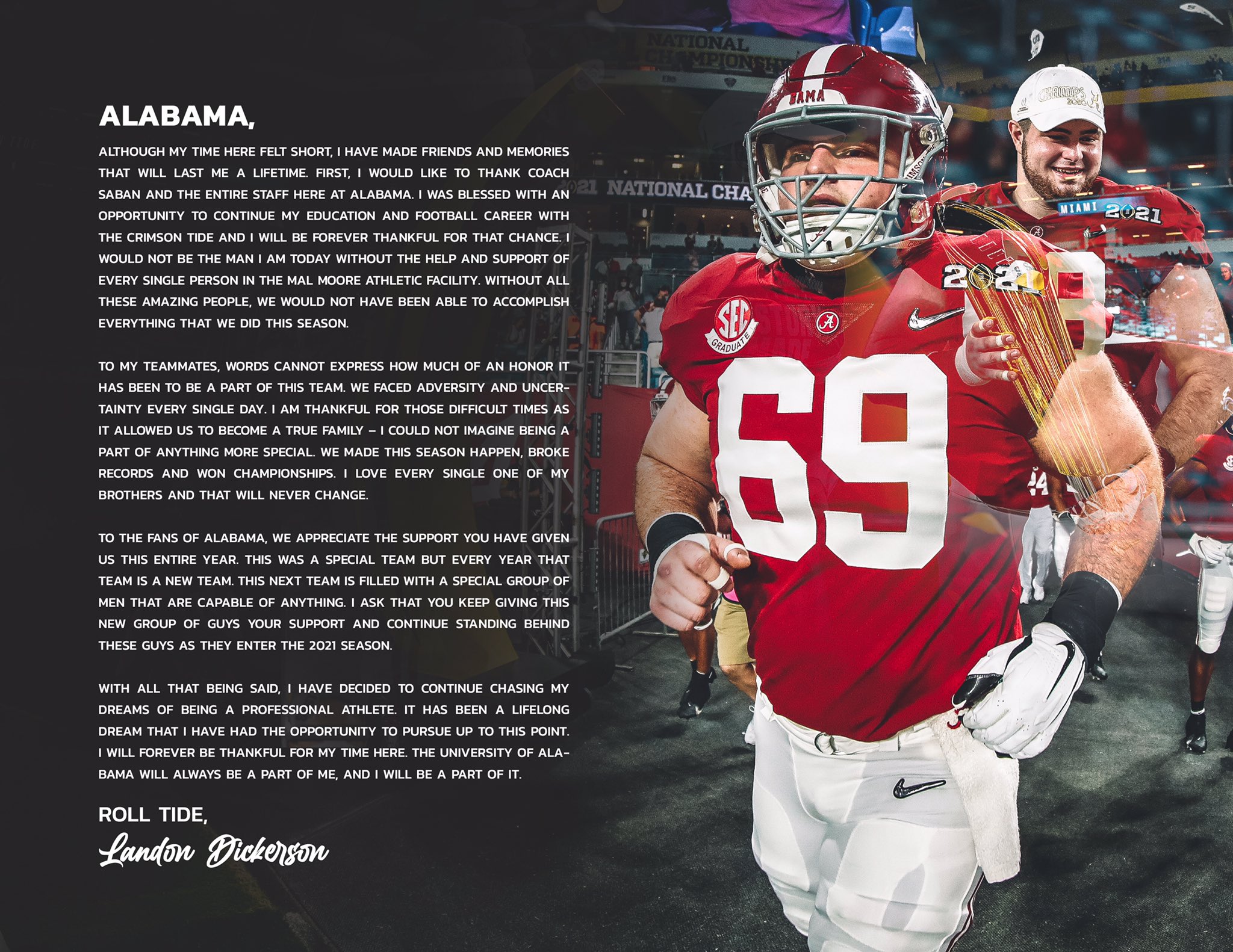 Dickerson spent the final two seasons of his college football career at Alabama, becoming a Crimson Tide fan-favorite. He began his career at Florida State, signing to Jimbo Fisher's program as part of the class of 2016.
Dickerson leaves Alabama with All-American recognition and the 2020 Rimington Trophy for most outstanding center.
"The Rimington Trophy could not have selected a more deserving winner," Nick Saban said in a released statement. "Landon has a great personality and plays with a lot of toughness. He is someone who has made a tremendous impact on our team in a very positive way relative to his outstanding play on the field and his tremendous example of leadership. He's a very smart football player who made our line calls and helped the guys around him player better."
Pro Football Focus ranked Dickerson as the top-rated run-blocking center with a grade of 92.8 while ranking No. 2 among centers in the FBS with an overall offensive grade of 91.5 entering the College Football Playoff Championship. He also had PFF's highest WAR (wins Above Replacement) rating of any offensive lineman in college football this year.