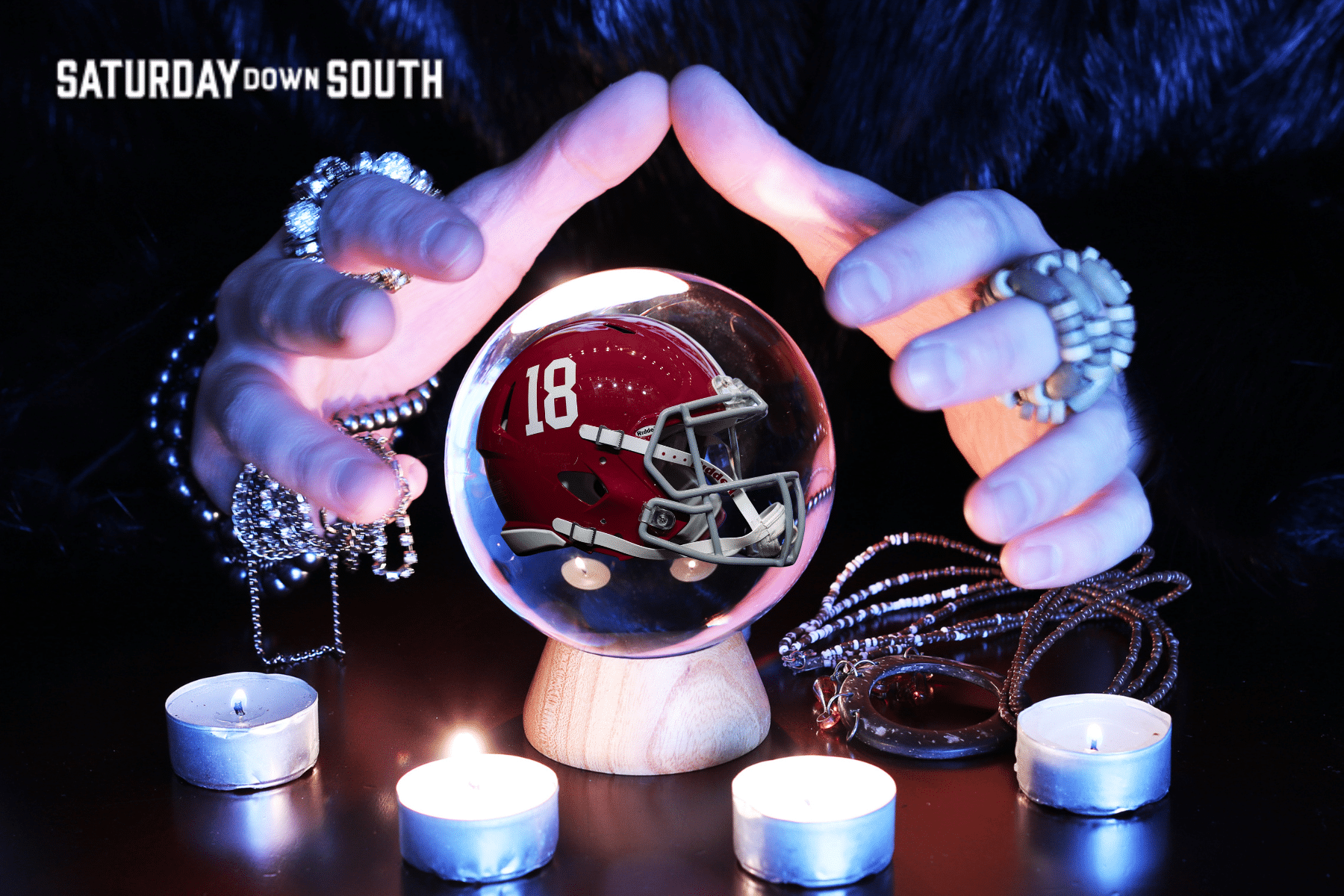 ALABAMA
Alabama Crystal Ball: Predicting every game for the 2023 season
Editor's note: Saturday Down South's annual Crystal Ball series begins today with Alabama. We'll stay with the SEC West all week. Next week, we'll predict every game for every SEC East team.
So you still think Alabama is boring, huh?
For the first time since 2010, Alabama suffered 2 pre-Iron Bowl losses. Sure, one could try to spin the narrative that the Tide were 2 plays from going unbeaten in the regular season and perhaps continuing on a path to another national championship.
Another person, a realist, would point out that Alabama went 3-2 in 5 games that were decided in the final minute. A realist also would point out that of the 9 Power 5 games that Alabama played in 2022, 6 were 1-score games in the 4th quarter. The last thing that a realist would mention is that Nick Saban's team was among the 10 most penalized squads in America.
No, Alabama didn't get robbed of a Playoff berth last season. When your best win is against a 4-loss team and your losses are to the 2 best teams on the schedule, no, you don't deserve to waltz into the Playoff, even if you would have been favored to beat 3 out of the 4 teams.
A realist also would point out that's in the past. For the first time since 2015, the Tide didn't get picked to win the SEC. That went to 2-time defending national champion Georgia. A year removed from being the overwhelming preseason No. 1, it's a much different vibe in Tuscaloosa.
A new starting quarterback, 2 new coordinators and perhaps a renewed chip on the shoulder will follow Alabama into 2023. Will that produce a "dynasty isn't dead" run to another national title? Or something less?
Let's dig into the not-so-boring Tide:
So it's back to "joyless murderball," but can Tommy Rees do that with this personnel?
Bill O'Brien's inevitable departure led to a drawn-out search for his successor and a hope that Alabama shift back to a more balanced approach. It wasn't that Alabama couldn't run the ball in 2022; it was that it didn't run the ball often enough. The Tide ranked No. 4 in America in yards/carry, but just No. 82 in rushing attempts/game.
So in steps Rees, who was a surprising hire from Notre Dame. The 31-year-old offensive coordinator made a pledge to get back to a more run-heavy approach. Does that mean Alabama will run the ball like it's 2009? Most likely not. But it seems extremely likely that it'll rank in the top half of FBS in rushing attempts per game for the first time since Jalen Hurts was the starter in 2017.
Alabama will have a mobile starting quarterback (more on that in a minute) and a deep backfield to run behind a talented offensive line. Jase McClellan has the chance to be special if he can stay healthy. There's a world in which he's the SEC's leading rusher while true freshman Justice Haynes flashes All-American upside. The Tide return 3 starters on the offensive line (Tyler Booker started in the bowl game).
Will that game plan keep Alabama out of so many close games? Or will it be a struggle to recreate the dominance of old in an era that lends itself to more explosive opportunities in the passing game? Don't be surprised if this year yields a bit of both.
A true 3-way quarterback battle will lead to _________ being named the starter
"Ty Simpson."
I've been banging that drum since the offseason began. Well before Rees came on board, I liked the idea of the former 5-star recruit getting the nod behind center.
I question the ball security of Jalen Milroe. Saban hasn't has a QB throw more than 10 interceptions in a season since Year 1. Will Saban trust Milroe?
Saban's mantra with deciding this battle has been that it'll go to the guy who "stops making the plays that beat us." Milroe, in that extremely limited sample size in 2022, allowed A&M to have 3 strip sacks on him, and he turned the ball over 3 times in the first half.
After an underwhelming spring game showing from Milroe and Simpson, Tyler Buchner was brought in from Notre Dame. Some saw Buchner's familiarity with Rees as a sign that he was about to win the starting job, but in his limited sample size — he only started 3 games because of a shoulder injury in 2022 — he still threw an interception once every 14 passes in college. He's not a game manager yet.
Simpson has fewer reps than both of Alabama's third-year quarterbacks, but he's the best fit to run the Rees offense. He's mobile — he had 1,200 rushing yards as a high school senior — and he can make the throws necessary to keep the offense on schedule. It feels like that's what Saban is looking for in a post-Bryce Young world.
When will we find out Alabama's starter? Don't hold your breath.
Kevin Steele, show us you're still elite
After the 2019 season, Steele signed an extension that made him the highest-paid defensive coordinator in America. He was considered as rock solid as there was running a defense after leading 4 consecutive top-20 defenses at Auburn. Since then, though? It's been a strange run for the well-traveled assistant:
2020 season

As Auburn DC, leads No. 38 scoring defense

Post-2020 season

Gets interim head coaching job at Auburn, then doesn't get hired
Gets interim head coaching job at Tennessee, then doesn't get hired

2021 season
2022 season

As Miami DC, leads No. 67 scoring defense

2023 season
Strange, right?
Steele's atypical path the past 3 years made him a surprise hire at Alabama, where he'll replace the heavily scrutinized Pete Golding. During the 5 years that Golding was at Alabama, the Tide never produced a top-8 scoring defense. Mind you, that was after a run of 10 consecutive top-7 scoring defenses.
The task is pretty simple for Steele — get back to that.
Maybe the offensive approach will go hand in hand with the Tide getting back to being an "impose its will" defense instead of the one who let up at least 26 points in half of its SEC games. Dallas Turner said at SEC Media Days that Steele is teaching "the true Alabama standard."
Time will tell if Steele's return to Tuscaloosa delivers on that promise.
Game-by-game predictions
Week 1: vs. Middle Tennessee (W)
It's all about the quarterback situation. Over/under 2.5 of how many we see the field? My guess is that we get a true starter and not a 2016-like rotation to kick things off. Or if we do get a rotation, we'll see the best of the bunch get to stay in for the rest of the game like Jalen Hurts once did. But yeah, this is all about finding that quarterback answer and staying healthy before Texas.
Week 2: vs. Texas (W)
I do believe that if Quinn Ewers had stayed healthy, he would've been the difference last year. So why then will an even more talented Texas team come up short in Tuscaloosa? Let's take a moment to list the teams that have beaten Alabama at Bryant-Denny Stadium since the start of the 2008 season:
2019 LSU, won a national title
2015 Ole Miss, won 10 games, finished No. 10
2012 Texas A&M, won 11 games, finished No. 5
2011 LSU, won 13 games, finished No. 2
2010 Auburn, won a national title
I don't think Texas is ready to ascend to that level while also becoming the first team to defeat Saban in nonconference play since Louisiana-Monroe in 2007. Alabama's defense will make life difficult on Ewers and that highly regarded group of receivers. It might not be some banner offensive day for the Tide, but Rees flexes with the "murderball" philosophy that was promised and Alabama pulls away for a 31-14 victory.
Week 3: at South Florida (W)
I'm an Alex Golesh fan, but in Year 1 of that rebuild, the Tide will waltz into Tampa like it owns the place with plenty of time left to explore the fertile recruiting ground.
Week 4: vs. Ole Miss (W)
Last year was Lane Kiffin's chance, and he came up short. This year, I don't think Jaxson Dart has the chops to go into Tuscaloosa and string scoring drives together against that Alabama defense. Hopefully he's not subjected to another egregious hit from Dallas Turner, but I do believe Steele will ramp up the pressure on the Ole Miss quarterback. That leads to some early turnovers and allows a run-heavy Alabama approach to wear down Golding's defense in his return to Tuscaloosa.
Week 5: at Mississippi State (W)
Here's something: Did you know that the last Mississippi State quarterback to throw a touchdown pass against Alabama was Dak Prescott in 2014? True story. Another true story? Three different offensive-minded Bulldogs coaches — including the one with the most pass-heavy offense in the sport — have struggled immensely against Alabama during that stretch. Only 1 of those past 8 games saw Mississippi State hit 10 points. That trend continues.
Week 6: at Texas A&M (W)
A&M is no longer the pushover for Alabama that it was from 2014-20, which is surprising considering how lackluster the Aggies' offense was the past 2 years. With Bobby Petrino on board, they should be significantly better offensively, so then why won't A&M pull off the upset? Haynes has his biggest game to date. A pair of long rushing scores from the true freshman help the Tide keep A&M at an arm's length and prevent any down-to-the-wire drama like the past 2 matchups.
Week 7: vs. Arkansas (W)
This will be the point in Arkansas season in which it had a true alpha dog No. 1 receiver to take some pressure off KJ Jefferson. But nobody who lines up across from Kool-Aid McKinstry and the Tide secondary can break free. On the other side of the ball, WR Malik Benson has the breakout game that Alabama has been waiting for. It leads to a continuation of the SEC's longest annual rivalry winning streak, which will be at 17 by game's end.
Week 8: vs. Tennessee (W)
It's not an Alabama revenge tour if there's not, you know, revenge. I don't think it's realistic to expect Alabama to totally flip the script on the high-scoring Josh Heupel offense, but I see this becoming a big Malachi Moore game. Instead of letting the slot receiver dominate all game like Jalin Hyatt did last year, Saban makes sure those mismatches aren't there and Joe Milton ends up forcing throws. Turnovers kill the Vols' chances of becoming the first team to beat Alabama in consecutive years since 2014-15 Ole Miss.
Week 9: Bye
Week 10: vs. LSU (L)
Remember when I said Alabama hasn't lost to anybody in consecutive years since 2014-15 Ole Miss? Yeah, that changes in 2023. This time, it's gunslinger Garrett Nussmeier who leads LSU to a thrilling victory in Tuscaloosa, where Alabama hasn't lost since a certain Joe Burrow did his thing in 2019. Instead of this being a revenge game, we're reminded that the Alabama offense isn't quite as explosive as it has been. LSU's loaded front 7 gets home and it's a day to forget for Simpson. The good news for Alabama? It still has a path to Atlanta.
Week 11: at Kentucky (W)
Kentucky fans might be thinking that the Tide will be on the ropes, but history suggests it'll be anything but that. In regular-season games following a loss since 2008, Alabama is 10-0 with 7 of those wins coming by at least 3 scores. Alabama rectifies the secondary issues that it had the previous week against LSU, and UK QB Devin Leary struggles to keep drives alive in obvious passing situations. There'll be no field rush in Alabama's first trip to Lexington since 2013.
Week 12: vs. Chattanooga (W)
We'll get a heavy dose of Milroe and Buchner, who have taken a back seat to the emerging Simpson. The only drama in "Cupcake Week" is how those 2 look.
Week 13: at Auburn (W)
Each of the past 3 trips Alabama made to The Plains, it trailed in the final minute of the 4th quarter. Does that happen again? No. Alabama leans on that ground game against a revamped but still thin Auburn defensive line. Depth issues hurt the Tigers up front, and after a slow start, McClellan takes over in the second half to prevent that trend from continuing. What else does that win do? It clinches the West for Alabama.
2023 projection: 11-1 (7-1), 1st in West
#RTR
If Alabama goes into Atlanta with a Playoff spot up for grabs, that's about all you can ask for. Of course, anything less than a title is considered a disappointment. After all, Alabama is in jeopardy of its first 3-year national title drought under Saban. If this is a true revenge tour, that'll be avoided.
History tells us that doubting the Tide always ends up in regret. I sound like a broken record bringing this up, but it bears repeating. The past 3 times Alabama wasn't picked to win the SEC — 2009, 2012 and 2015 — the Tide won an SEC title and a national title. If that trend comes to a screeching halt this year, yes, it'll be fair to wonder if this is indeed the end of Alabama dominance as we know it.
But man, it feels a bit premature to say that Saban will have a team with its lowest preseason expectations since 2009 and it won't find a way to win the West. The "Alabama is going 9-3" crowd is looking too deep into the quarterback situation and ignoring the fact that when that ball is kicked off, it'll still be 1 of the 2 or 3 most talented rosters in America with the best coach in the history of the sport.
The dynasty ain't dead yet.