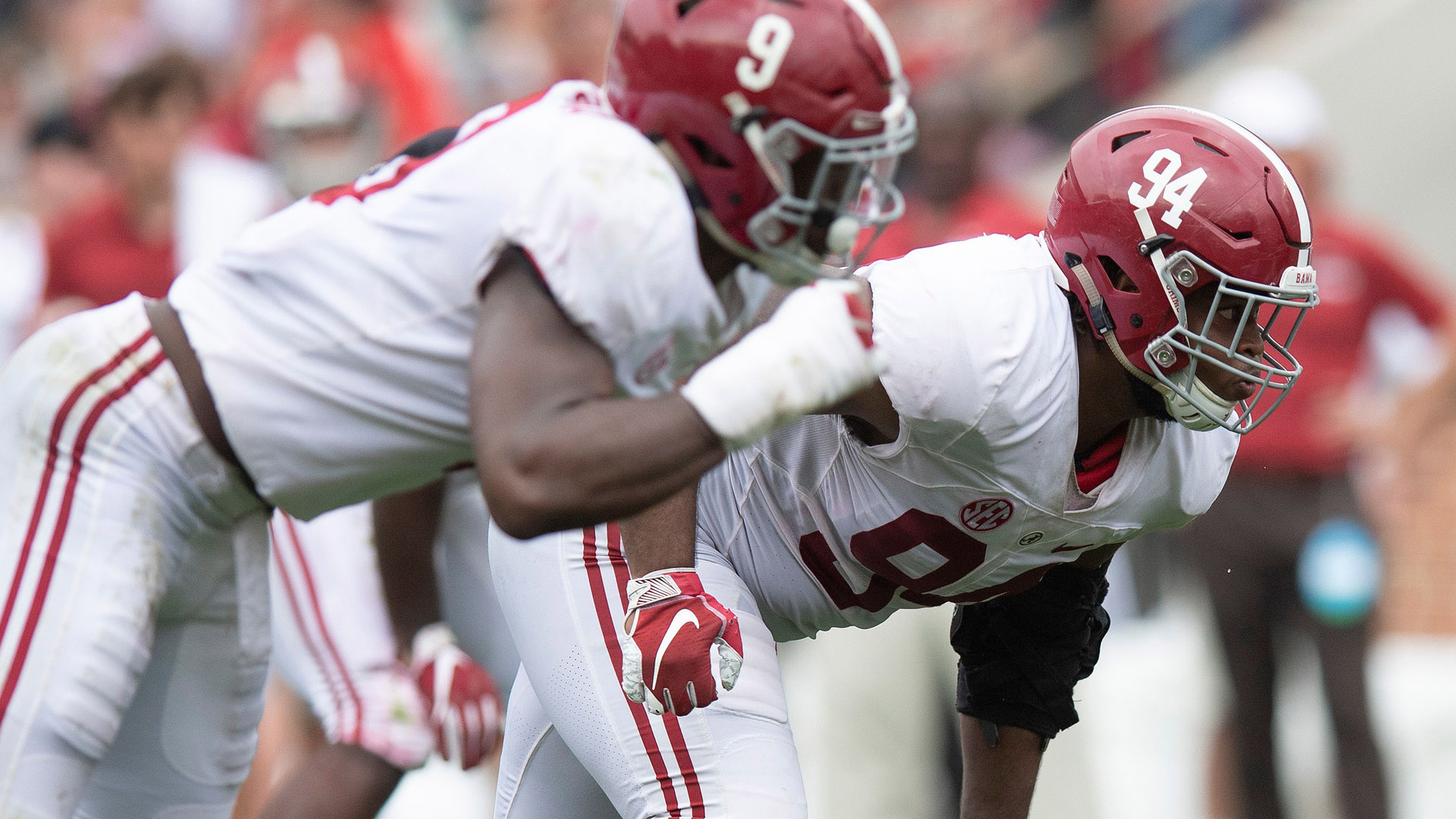 ALABAMA
Stymying but not satisfied: Alabama's young defense played well in opener, but ...
A cursory glance up and down Alabama's defensive depth chart would seem to suggest inexperience and ample question marks.
Watch Saturday's 38-19 beatdown of Missouri back and you'll see anything but.
There were breakdowns, yes. A program obsessed with perfection always has room to improve.
But the Crimson Tide's below-standards 2019 season allowed for the rapid ripening of defensive talent. It's just one game against a lower-tier SEC foe, but so far the lads thrust into early action have earned the trust of their head coach.
If you know Nick Saban, you're aware that's no small feat.
"The good news is all those guys were freshmen a year ago, so they gained a lot of knowledge and experience," the Bama coach told ESPN's College GameDay the morning before his group's season-opening triumph. "We're excited to see if we can make improvements on defense."
Consider:
The Tide started 6 true freshmen or sophomores Saturday.
The 4 sophomores — defensive end Justin Eboigbe, nose guard DJ Dale, Will linebacker Christian Harris and safety Jordan Battle — combined for 28 starts in 2019.
Four of the 5 starting defensive backs are new to a full-time starting role this season.
Part of that's just the sheer luxury of recruiting elite talent year after year. But while injuries last fall decimated the Tide's defense en route to its first College Football Playoff absence since, well, ever, they paved the way for the youngsters to be even further ahead this year.
That has a ripple effect, affording Saban and defensive coordinator Pete Golding the confidence to start a pair of true freshmen in Star linebacker/defensive back hybrid Malachi Moore and Jack linebacker Will Anderson Jr.
"After all this time, as a coach, you really just want to find out where your team is," Saban said. "Who are we? What's our competitor spirit?"
The Tide found out quickly Saturday. So did Mizzou.
No. 2 Alabama held the Tigers to 69 yards rushing and 322 total yards of offense. It forced 3 fumbles and recovered 2 of them. It sacked Missouri's quarterbacks 3 times and rarely let them get comfortable.
Most important, it made sure a contest against an overmatched opponent was never in doubt.
Tougher tests than Tigers coach Eliah Drinkwitz's debut with a rebuilding team await. But what we saw Saturday bodes well when more polished offenses come out of the tunnel.
Perhaps the best part? Bama's players weren't satisfied with their performance in Columbia, particularly a couple of late scores allowed with the outcome already decided.
"I feel like we have a really special defense," said linebacker Dylan Moses, the only senior in Alabama's starting 11 on defense and the unit's unquestioned on-field leader. "I wasn't impressed with the way we played tonight. We played very well our first half, but in the second half, I just feel like we need to finish. It's our first game, so we just need to improve."
If they do, it could be a frightening proposition for the rest of the SEC. Then again, that's nothing we're not used to.