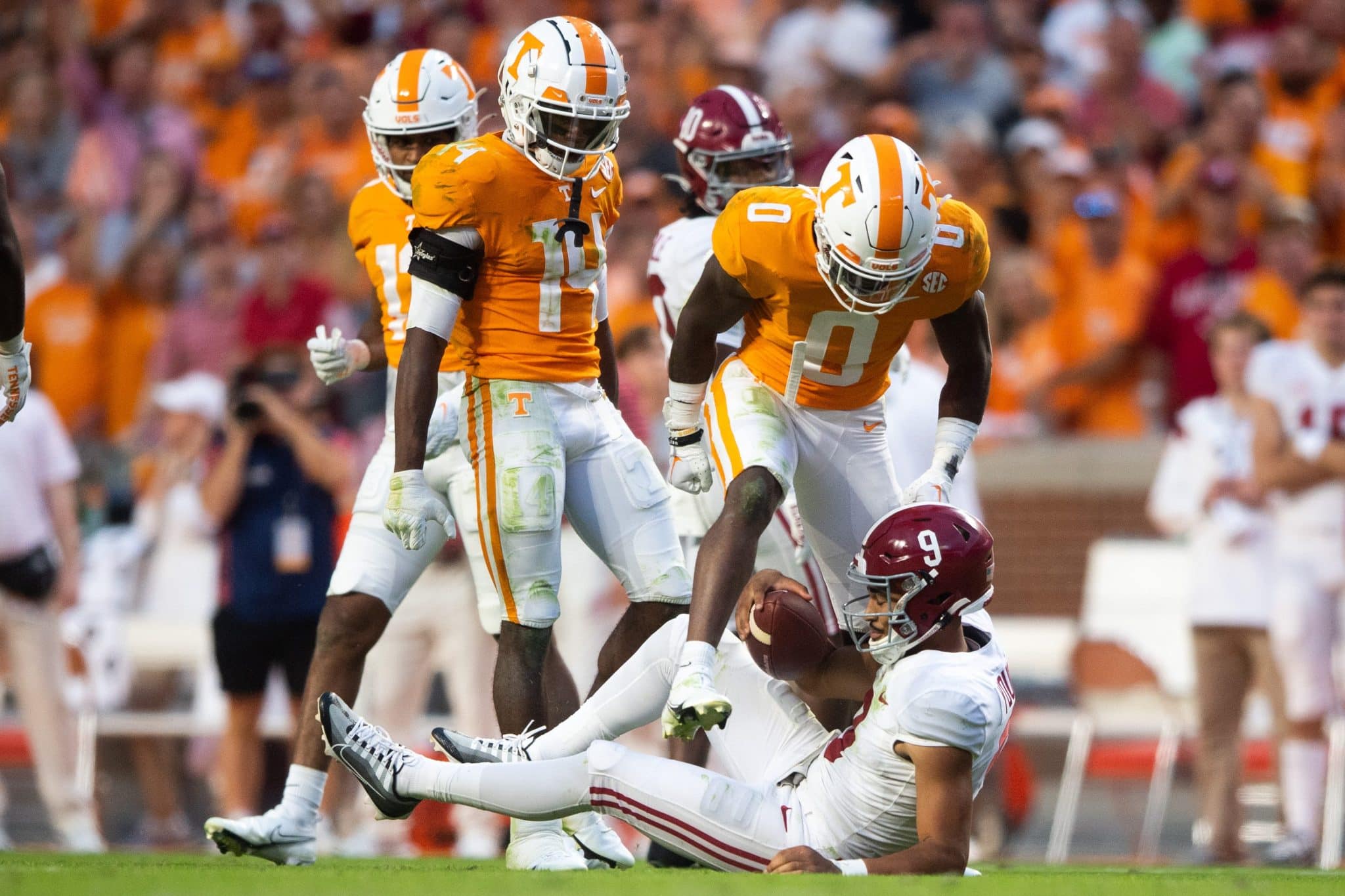 ALABAMA
Alabama football: 3 things the Crimson Tide must do to get their mojo back
Now, there is no margin for error.
Now, there is a loss next to Alabama's name.
Now, there is also a No. 6 ranking next to it, because the Crimson Tide aren't even in the AP top 5 anymore, which is blasphemy in Tuscaloosa.
So now is where the real work begins, because Bama finally got its comeuppance on Saturday in Knoxville by the new "it" team in college football.
All the preposterous penalties on the road, the lack of attention to detail on defense (hello, Jalin Hyatt?), the lack of killer instinct in failing to put Tennessee away when the Vols were teetering.
It all caught up to the Tide in an enormous wave of orange that covered the stands at Neyland Stadium and then covered the playing field when a lot of the 102,000 fans stormed the field, tore down the goalposts and celebrated like it was 1998.
On a day when Alabama got its rock-star quarterback back, it lost that Crimson Tide mojo that makes most teams melt before the national anthem.
And now it returns to Tuscaloosa a flawed 6-1 team that still has all of its big-picture goals in front of it, as Nick Saban said after Saturday's loss, but is searching a bit for that bully-type mojo that has helped produce 6 national titles since 2009. Right now, for the 1st time in a long time, the Tide are on the outside looking in to the College Football Playoff party.
So how does Alabama get its Alabama Mojo back? How does it get back into the AP top 5, the top 3 and No. 1? How does it get back to the Playoff party that it has been the life of for so many years?
Here are 3 things the Tide must do, starting this Saturday night against Mississippi State in Tuscaloosa, to start paving their alternate path to Atlanta and beyond:
1. Start getting to the quarterback
Saturday's loss in this department was simply embarrassing for a defense with so much talent, with so many difference-makers and with so much on the line. That wasn't an Alabama defense out there. The Crimson Tide were a step or 3 behind all day, and the problems all started because Bama wasn't getting its mitts on Hendon Hooker. The Tide had 0 quarterback hurries, which is unheard of and unfathomable.
When you combine the explosive talents of the Tennessee offense, even without injured wideout Cedric Tillman, and Alabama's inability to even hurry Hooker once, you get what everyone saw — a disastrous defensive performance that deep-sixed the Tide even on a day when they scored 49 points. The Crimson Tide had a giant total of 1 sack on Saturday, by defensive lineman DJ Dale, and that 1 play was a footnote by day's end.
The week before against Texas A&M in Tuscaloosa, Bama's defense piled up 14 quarterback hurries, including 8 alone by Will Anderson Jr., and added 3 sacks. It helped save the day on a night when Bryce Young was out and Jalen Milroe was giving the Aggies short fields with turnovers. The defense was all over A&M quarterback Haynes King all night, harassing him into a 69.4 QBR.
Hooker's QBR on Saturday? A shiny 94.3 that is a first-class ticket to a loss for the defense that let it all happen.
Is Tennessee's offensive line so good that players the caliber of Anderson, Dallas Turner, Henry To'o To'o, Jordan Battle and Byron Young couldn't so much as get 1 single quarterback hurry in a 60-minute showdown of SEC powerhouses?
Come on.
It's as perplexing as it is frustrating, since Bryce Young returned from his sprained right shoulder and the offense was churning out the points — eventually — and yards, and Jahmyr Gibbs was continuing his progression into a certified backfield nightmare for Bama. There was hardly any stopping the Tide's offense once it got rolling, but there was no stopping Hooker and the Vols, either, and there was nothing even getting in his way as he tore apart Bama's defense. It was like a hockey goalie who doesn't get screened from the puck. He sees the puck, he stops it.
For Hooker, he saw the field, he attacked it, and the Tide were defenseless. This has to change consistently going forward against the elite offenses, or else there will be no annual pilgrimage to Atlanta and Playoff points beyond.
2. Stop those floodgates of flags
You would think the Tide would've learned their lessons from Austin and Fayetteville, where they littered the field with 15 and 10 penalty flags, respectively, and it cost them everything but the game. But as it turned out, those road acts were just warmup acts for what happened at Neyland Stadium, where Bama committed a school-record 17 penalties for a whopping 130 yards.
At one point during the 1st half, as the Tide were spiraling out of control and the Vols were surging and feeling their time in this 1-sided rivalry had finally come, it seemed like there was a penalty on Bama on every play. It was downright embarrassing. There were shots of a fuming Saban on the sideline, but you didn't have to see Saban to know what he was feeling, and how much he was seething. It truly was a sight to behold, for Bama fans an agonizing spectacle on national TV and for longtime suffering Vols fans a slice of yellow-colored heaven.
For a program like Bama that prides itself on showing up large on the largest stages, particularly in big road games, these flag-filled meltdowns are as baffling as they are infuriating for Saban and his coaching staff. They just can't happen, ever, at home or on the road, but particularly on the road where the fans and the home team feed off every mistake that produces every flag. It's a snowball effect, and the avalanche of flags on Saturday finally cost the Tide a win, even if they almost survived yet again like those days in Austin and Fayetteville.
You just can't keep giving the other team "an extra out" as they call it in baseball when an error is committed. You can't keep giving a team as talented as Tennessee, in its rocking stadium with 102,000 fans hell-bent on breaking a 15-game losing streak to you, extra yards in the football case, extra downs and, worst of all, extra momentum as the game goes on and the drama builds. The momentum adds up, and the flags are so darn deflating for whatever unit is out there for the Tide.
The truest sign of a good team, of a great team, of a championship-caliber team is being able to play a clean game, of making very few mistakes, of keeping the game simple so the other team is the one that makes the mistakes, that gets flagged. That means that right now, Alabama is a very solid team, an extremely talented team, but not a team that can win an SEC championship let alone a national championship because it continues to hold itself back with these flag fests in the big spots.
It's not a good look, at all. It's a horrible look, actually, and so unlike a Saban-coached team that prides itself on perfection, or being as close to it as possible. That's not the 2022 Alabama Crimson Tide so far. And to get that mojo back, to become a team that can win at the highest level, it's got to get cleaned up, starting Saturday against Mississippi State. And it especially has to get cleaned up in Bama's 2 remaining road tests this season, at LSU on Nov. 5 and at Ole Miss on Nov. 12.
3. Start forcing more turnovers and capitalize on the ones you force
Saturday was OK, but not good enough, and the whole season in this department, especially in the big games, just hasn't been good enough.
Against the Vols, the Tide forced Hooker into his 1st interception in 262 pass attempts, with DeMarcco Hellams picking Hooker off late in the 3rd quarter with Bama already up 35-34. But what could've been a soul-crushing turnover for Tennessee only turned into an Alabama punt, and soon after, Hyatt was in the end zone yet again and the Vols were back in front.
After the Tide responded with a touchdown to tie the game at 42-42, Turner provided a glimpse of what Bama used to do to teams, returning a fumble 11 yards for a touchdown and a 49-42 lead with 7:49 left that, again, should've been the dagger that carried the Crimson Tide to victory. Instead, the Vols responded themselves with an 11-play, 75-yard march that tied the game again at 49-49 and set up the final moments of chaos that didn't end well for the Tide.
The point is that even Saturday, when Alabama finally got some key turnovers at key times, in the 2nd half of a tight road game, they couldn't turn those turnovers into turning points of the game. Instead, the turnovers were just preludes to more missed opportunities and a big, fat loss at the end. The Tide teams of old would've turned 1 or both of those Vols turnovers into the moments that helped them break the hearts of the home team and its fans.
But that's not what this Alabama team does. This Bama team doesn't force enough turnovers on a consistent basis, not even close, and when it does it leaves the window open for the opposition, like it did on Saturday. It doesn't crush the opposition. Itt doesn't make them pay the ultimate price.
The sad truth is this: Through 7 games, more than halfway through the season, despite forcing those 2 turnovers on Saturday and committing only 1, Alabama sits with a minus-5 turnover margin, one of the worst in the country and totally unbecoming of a Saban team and an Alabama team and a team that is dead serious about winning a title.
Had Bama capitalized fully on either of the turnovers it forced on Saturday, won the game, extended The Streak to 16 games and got out of Knoxville at 7-0, the whole Turnover Narrative that has haunted the Tide all season would've been altered. Instead, it's all still there for everyone to see, and Bama isn't undefeated anymore and isn't in control of that Playoff party anymore.
Right now, Bama isn't invited to college football's top-tier inner circle because it hasn't played well enough to be there. This has time to change, of course. There are 5 regular-season games left, and maybe an SEC title game.
But the mojo isn't there right now, not like it usually is. And if the Tide doesn't clean up the areas they need to clean up, they won't be playing meaningful football games in December, let alone January.