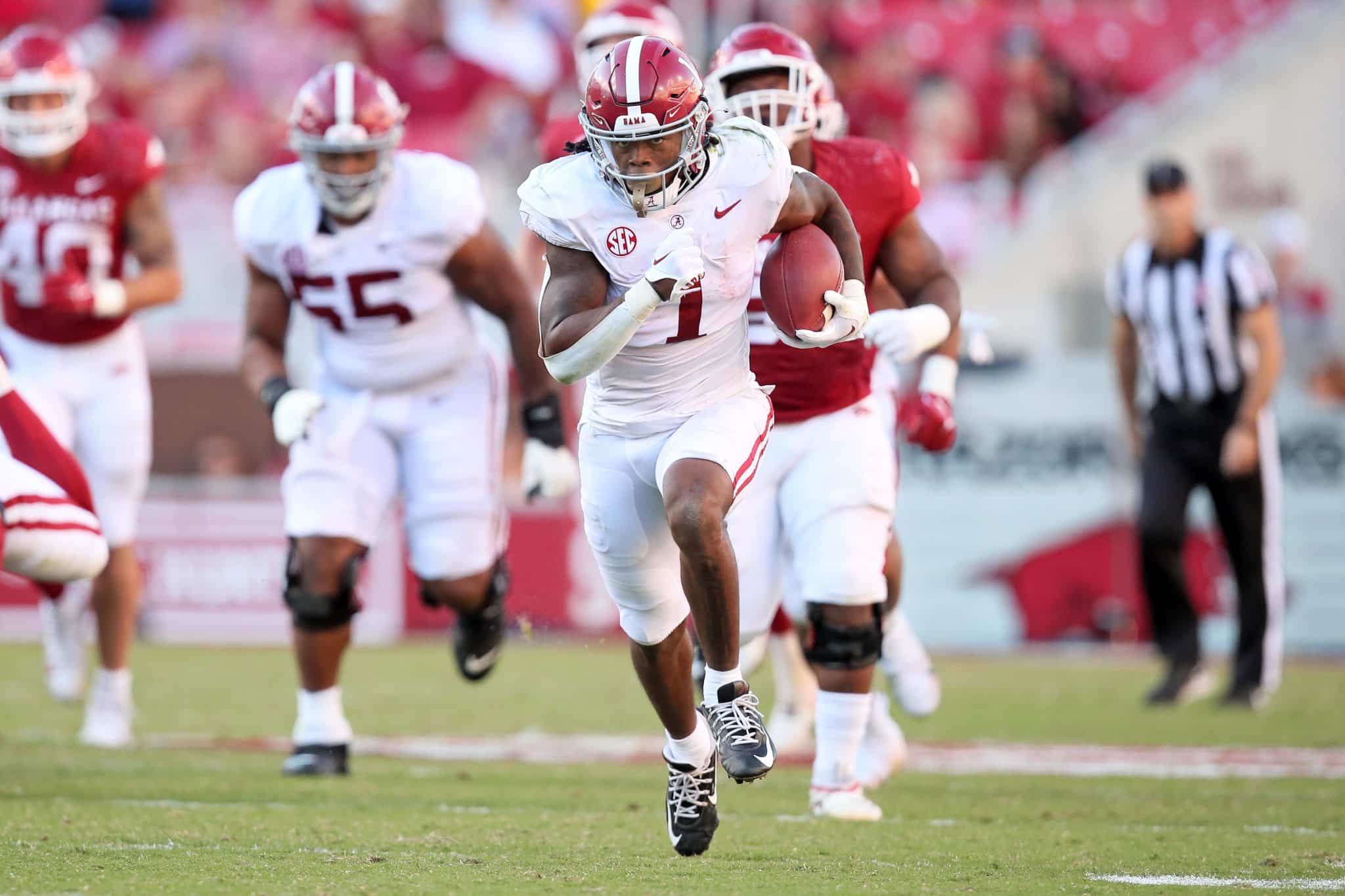 ALABAMA
Alabama football: 3 things I liked, 3 things I didn't like about the victory at Arkansas
Bryce Young winced and entire fanatical fan base was worried.
Deeply worried.
Alabama's Heisman Trophy-winning quarterback had injured his right shoulder early in the 2nd quarter and was sprinting to the medical tent.
It was the ultimate nightmare scenario that every Crimson Tide fan prays never happens.
But it was happening, and with uncertainty suddenly everywhere and a sea of red at Razorback Stadium ready to pounce, the 2nd-ranked Tide had 2 choices — overcome this dose of extreme adversity or be swallowed whole by it.
They led 14-0 when Young went down, they somehow led 28-0 late in the 2nd quarter despite Young going down and they teetered at the end of the 3rd quarter when that big lead became 28-23. The Tide did a little bit of everything on Saturday afternoon against the 20th-ranked Razorbacks.
Ultimately though, they survived, 49-26. The Tide are 5-0 heading home to play Texas A&M in primetime with everything intact except a clean bill of health for their star quarterback. Young's status going forward remains to be seen. Head coach Nick Saban said afterward that Young was day-to-day with a sprained AC joint in his shoulder, that he's had this issue before and always responded well in a few days.
We probably won't know if Young will play this Saturday against the Aggies until later this week. What we absolutely know after the Tide escaped multiple layers of adversity in Fayetteville is that this team might not play perfectly on the road but they show enough heart and grit to survive, having done a similar escape drill at Texas last month. There was plenty to like about the Tide's performance on another Survival Saturday, plenty to admire, and we'll highlight the 3 things we liked most and go over the 3 things we didn't like so much.
3 things I liked
1. Jalen Milroe
In the Tide's hour of need, Milroe was there. The redshirt freshman from Katy, Texas, answered a lot of questions about what he could provide when it wasn't garbage time, when the game wasn't decided a while ago, and he did it on the road against a ranked team in front of that Red Out. Not only did Milroe not shrink from the moment, he rose up and rescued Bama from the cliff when it looked like it was surely falling over.
That point of no return came early in the 4th quarter with Bama clinging to a 28-23 lead in a game it once led 28-0. The Hogs had scored on their past 3 possessions in a big 3rd quarter, and they looked like they were about to get the ball back. It was 3rd-and-15 at the Tide 20 and, just like most everything in that 3rd quarter, the play looked like it was going nowhere. But Milroe found a crease in the Arkansas defense and took off. He faked a few defenders out of their cleats and rumbled for 77 yards all the way to the Hogs' 3.
It was certainly a game-changing play, and it might've been a season-saving one, too. Two plays later, Jase McClellan was in the end zone and the Tide suddenly had some breathing room. They never let go of the rope after that, owning the 4th quarter in every way.
Milroe was heroic in the 4th but also a poised leader in the 2nd quarter when he came in for Young. Instead of playing scared, he shined, scoring on a 3-yard TD run on the Tide's 1st possession after Young departed. After a Hogs punt, Milroe went back to work, leading a 10-play, 59-yard drive that he finished off by connecting with JoJo Earle on a 22-yard touchdown pass. It gave the Tide a short-lived 28-0 cushion, but Bama needed all of those points in the end to stave off the Hogs.
Milroe's pedestrian passing stats (4-for-9, 65 yards) didn't begin to tell the calming influence he had on the game. He didn't throw an interception and his QBR was a stellar 98.5, dwarfing his high-profile counterpart KJ Jefferson, who finished with a 57.2 clip. Milroe added 91 yards on the ground, with 77 of them coming on the biggest play of Alabama's season, for now at least.
2. Jahmyr Gibbs
If Milroe was the Tide's savior, then Gibbs was their finisher. The Georgia Tech transfer exploded for 206 yards on 18 carries on Saturday, giving the Tide their first 100-yard rushing game — never mind 200 — by someone not named Young.
But 148 of those 206 yards came on 2 electrifying touchdown runs in the 4th quarter, the first a 72-yard scamper that busted the game open and gave Bama a 42-23 lead with 12:17 left. After a Hogs field goal got them within 2 scores at 42-26, Gibbs finished them off once and for all with a 76-yard TD run that looked a lot like the 72-yarder with 6:55 remaining to provide the final margin.
Gibbs' explosiveness as a runner and receiver out of the backfield has been bubbling at the surface all season, with moments of brilliance here and there but not enough consistency. On Saturday, it all exploded into one insanely memorable 4th quarter when Gibbs helped turn a close game into a comfortable one. Gibbs also caught 2 passes for 20 yards, but on this day his damage was done on the ground.
If Young misses any time with his shoulder injury, especially in the next few weeks against tough SEC foes Texas A&M and Tennessee, then the Tide will likely lean on Gibbs and the running game with the passing game hampered by Young's absence. Even if Young doesn't miss a snap though, Gibbs looks like a player gaining confidence by the week in his new surroundings.
3. The whole defense
Somewhat lost in all the emotion of losing Young and the wild momentum swings this game had was the rock-solid performance turned in by the defense. In fact, it was those factors that made what the defense did on Saturday that much more impressive.
When Young went down, Pete Golding's unit could have, too.
Then when the 28-0 lead became 28-23 with 1 full quarter to go, it could've folded then, too.
But it did no such thing. Instead, the Tide defense stiffened as the stakes — and nerves — got higher. It allowed just 3 points in the 4th quarter, and even that was a huge win because it came on a 13-play drive when the Hogs desperately needed a touchdown. Alabama had just scored TDs on back-to-back possessions to go up 42-23 with a little over 12 minutes left, and so holding Arkansas to that field goal while it ate up almost 5 minutes of the clock was a tradeoff the Tide were happy to make.
And after Bama scored again on Gibbs' second long, electrifying gallop to make it 49-26, the defense locked things down with a 3-and-out.
Even in that 3rd quarter when the Hogs made their furious push with 16 points, a lot of it wasn't the defense's fault. There was the onside kick that Arkansas successfully converted to give itself a short field at its own 46-yard line, which led to a field goal, and there was Bama's botched punt that set the Hogs up at the Tide 3-yard line, leading to a touchdown on the next play. Both times, bad special teams killed the defense.
But Bama was able to overcome Arkansas because its defense was able to overcome everything. It held Jefferson, who came in as the SEC's leading rusher among QBs, to a measly 38 yards rushing on 17 carries. Jefferson only had 155 yards passing and 1 touchdown, and he finished with that poor 57.2 QBR. And it largely contained Raheim Sanders, who came in as the SEC's leading rusher, holding Sanders to 101 yards, with 26 of those coming on 1 run.
The Tide finished the day with 3 sacks, had 9 tackles for loss and had 6 players with 7 or more total tackles — Henry To'o' To'o (10 tackles), Jaylen Moody, Jordan Battle, Dallas Turner and Jaheim Oatis (8) and Will Anderson Jr. (7). Collectively, this was a man's defensive effort on a brutal day in hostile territory when the star quarterback was injured. This was exactly what the Crimson Tide needed.
3 things I didn't like
1. Those penalties, again
The Tide finished with 10 penalties for just over 100 yards, and though all those flags didn't factor into a loss, it's setting a troubling trend on the road. Go back to last month in the nail-biter at Texas when Bama had a whopping 15 penalties for exactly 100 yards. The Tide escaped on that day, too, but tough road games become really tough road games when you throw in double-digit penalties.
It might not be a coincidence that Bama had just 6 penalties in each of its 3 home games, although that could also be because of the lesser competition the Tide faced there against Utah State, Louisiana-Monroe and Vanderbilt.
Either way, the flood of flags on the road has to stop or else somewhere along the way Bama could finally pay the price.
2. Jermaine Burton
Sure, the Georgia transfer wasn't helped by Young's injury in this game. For as much as Milroe made the difference, it was with his legs and mind, not his arm. So Burton can't be totally blamed for his 1-catch, 14-yard performance on Saturday, but he certainly has to be better going forward, no matter who is throwing the passes.
Saban didn't come calling for Burton at the transfer portal for production like this. After Burton awakened last week against Vanderbilt with 4 catches for 94 yards, he drifted away again in Fayetteville. Take away his solid day against the Commodores and Burton has a measly 9 catches in 4 games, and he still doesn't have a touchdown catch since he caught 2 TDs against Utah State in Week 1.
There's still time for Burton to find himself in crimson and white, but after the Texas A&M game we'll be halfway through 2022. In other words, it's no longer early.
3. Special teams
Special teams nearly cost the Tide the game and maybe a shot at the SEC West title during one gruesome 3rd-quarter stretch. First came the onside kick, when Bama's kick return team fell asleep at the wheel following a Hogs touchdown that made it 28-14. It was only midway through the 3rd quarter, but the Tide should've at least had 1 eye on the kicker and a possible onside kick, knowing Arkansas might want to capitalize on some newfound life and a suddenly roaring home crowd.
It didn't, the Hogs executed the kick perfectly and added a field goal to make it 28-17, and now the crowd was really roaring.
Then the roof almost caved in when after a 3-and-out, Bama totally botched the punt. The snap was so off it veered to the right and hit one of the backfield blockers who are protection for the punter. The official loss on the play was 24 yards, setting the Hogs up at the Bama 3-yard line, and 1 play later Arkansas was in the end zone and within 28-23.
Of course, the game swung back in Bama's favor after all of this ugliness. It didn't cost the Tide. It didn't prevent Milroe's magic from happening. But it easily could have, and that's the sad truth.
Onto A&M.