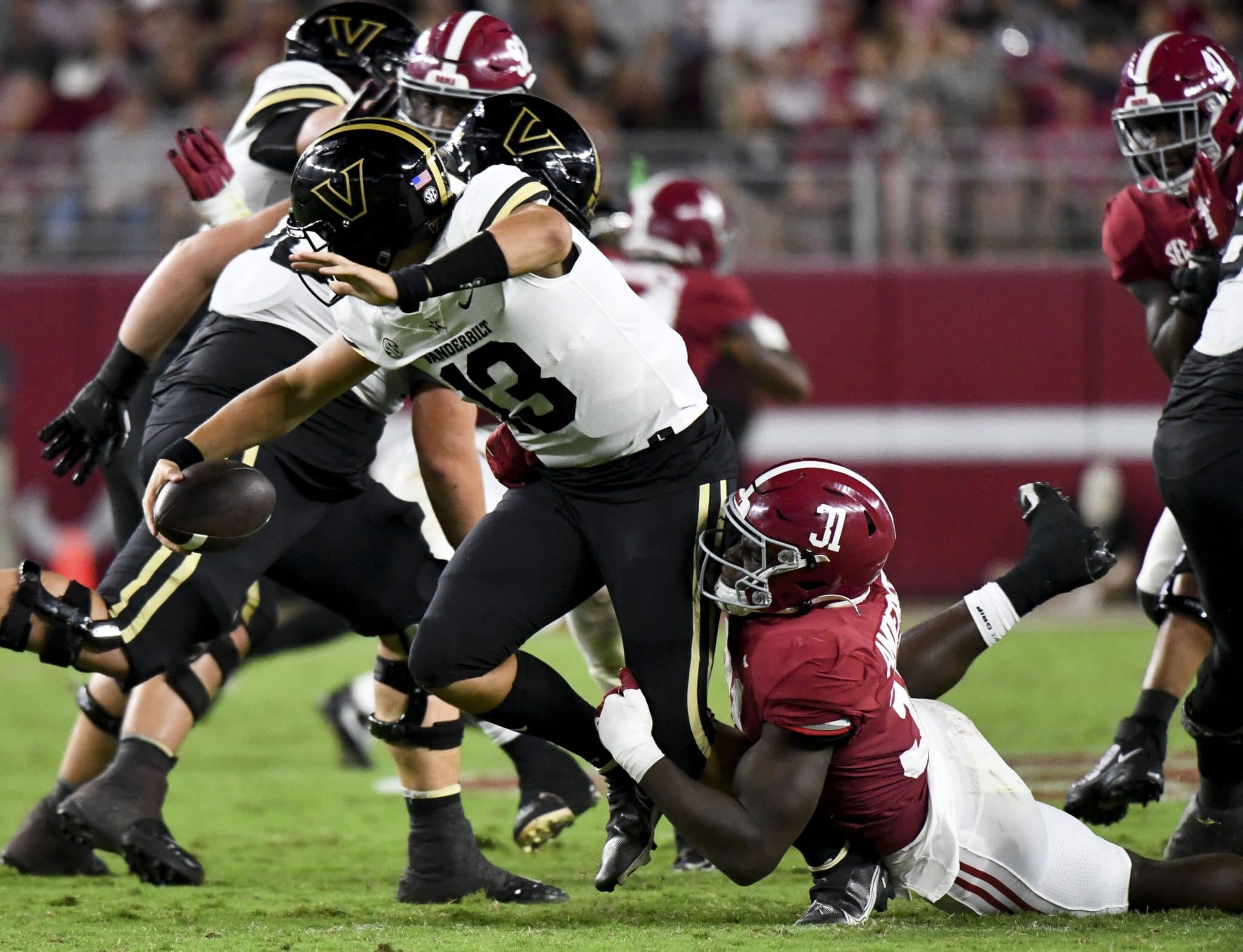 ALABAMA
Alabama football: 3 things I liked, 3 things I didn't like about blowout win against Vanderbilt
Alabama is 4-0 for the 7th year in a row, the longest current streak in college football's top tier.
It has outscored its opponents by a combined 193-29 and allowed all of 10 points in 3 home games, albeit against lesser foes.
It is No. 2 in the nation, behind only Georgia, which suddenly looked underwhelming against Kent State on Saturday.
Yet the Crimson Tide still have plenty to prove as they say goodbye to Vanderbilt and say hello to the meat of their Southeastern Conference schedule.
October is coming so now the real work starts, starting next Saturday on the road against an Arkansas team that will be angry after losing to Texas A&M and desperate to avoid its season coming undone.
Bama had 1 more warmup game on Saturday night at a rocking Bryant-Denny Stadium against Vandy, and it undoubtedly aced its final pre-gauntlet test. There was a ton to like and not much to dislike about the 55-3 beatdown of the Commodores.
So as we do every Sunday morning, we'll pick out 3 things we liked most and 3 things we didn't like so much, with a trip to frenzied Fayetteville, Ark., beckoning.
3 things I liked
Will Anderson Jr.
Anderson seemed to be everywhere on this night. It was a heck of a place for Vandy's freshman quarterback AJ Swann to make his first SEC start and the 2nd start of his career. Alabama's all-world linebacker made his life miserable for most of Saturday night.
The preseason All-American from Hampton, Ga., finished with 5 total tackles, and it felt like double that. Same with his 3 solo tackles and 3 tackles for loss. Not that Anderson hadn't made his presence felt during Bama's first 3 games, but Anderson seemed rejuvenated and determined on Saturday to put his stamp on the Tide's conference opener.
He did.
Anderson stopped Swann on a 4th-and-1 run at the Vandy 34-yard line early in the 2nd quarter, handing the ball back to Bryce Young, who threw a touchdown pass on the next play to make it 21-3 and really open things up.
The junior linebacker lived in the Vandy backfield. He had 2 1/2 sacks, surpassing the 2 he had in the first 3 games combined. Again, it seemed like double that, especially to Swann. Anderson's 2022 coming-out party brought his career sack total to 29, which leapfrogged him past Jonathan Allen (28 sacks) to 2nd place on the Tide's all-time list behind only Derrick Thomas' ridiculous 52. He might not catch the legendary Thomas but he continued to carve out his own legend on Saturday.
Jermaine Burton
The highly touted transfer from Georgia, who helped beat Bama in last season's national title game, was mostly a dud during his first 3 games in crimson and white. He had just 8 catches for 61 yards and 2 touchdowns, and both scores came in the opener against Utah State.
But things changed Saturday on the Tide's first play from scrimmage, when Young hit Burton on an 8-yard out pattern. It was pretty obvious that offensive coordinator Bill O'Brien was trying to get Young and Burton in sync, and right away. While that 1st possession ended with a punt, it got Burton going.
The junior from Calabasas, Calif., emerged on the Tide's 2nd TD drive late in the 1st quarter, catching a 24-yard pass from Young and a 14-yarder on the next play to get Bama to the Vandy 38. Six plays later the Tide reached the end zone again, the score was 14-3 and Young was heading toward his most productive half in an already spectacular career. Burton was a big key, which calmed whispers about the duo not having chemistry.
Burton put an exclamation point on his breakout during Bama's final possession of the half, catching a 48-yard strike from Young that set up a last-second field goal by Will Reichard. It was 31-3 Tide and while the night would belong to Young and Anderson, Burton had done his part with those 4 catches for 94 yards. He suddenly has a new lease on life in Tuscaloosa.
Jamarion Miller
There were more than a few Tide players who could've gotten this mention, such as linebackers Henry To'oTo'o and Deontae Lawson, each of whom had 6 tackles. But a deeper look turns up Miller, the freshman who came in after the dogs were called off and ripped off 2 4th-quarter touchdown runs that capped the rout.
Miller's late exploits were what made this a complete effort by the Tide. Bama didn't stop playing when Young and Co. departed, and Miller showed he might be a factor in the running game in this season, not next. His 1-yard TD run with 5:11 left capped a 15-play, 87-yard drive directed by backup QB Jalen Milroe.
That would've been enough for this night but Miller wasn't done. After Vandy's 10th punt of the game, it was the Miller Show on Bama's final possession of the night. He carried 3 times for 8 yards before busting loose on a 40-yard touchdown run that finished things off with 32 seconds left.
The late touchdowns likely were just the start for Miller at Bama, and he finished with a career-high 63 yards on 9 carries. He served notice. Perhaps soon he'll feature before garbage time hits.
3 things I didn't like
Those fumbles …
Let the nitpicking begin.
The Tide fumbled 4 times on Saturday night, which is never a good thing, even when you win by 52 points. The bottom line was they only lost 1 of the fumbles. The culprit on that one was Kool-Aid McKinstry, who coughed it up only after a brilliant 40-yard punt return to the Vandy 29-yard line.
So even the one lost fumble came after a positive play for the Tide, one of the highlight plays of the night, even. That's the kind of evening it was at Bryant-Denny. McKinstry's mistake happened late in the 1st half, with the Tide already comfortably in front 28-3, and the Commodores punted after regaining possession, so it cost Bama nothing except another shot to score.
McKinstry also fumbled on another punt return early in the 2nd quarter but recovered it. Things were not pretty for him in that quarter but no damage was done by Vandy. Still, you know coach Nick Saban will be all over this in film sessions leading up to the Arkansas game.
Injury on the D-line
The Tide couldn't avoid the injury bug, even in a feel-good blowout. Starting defensive end Byron Young had to leave the game on a cart in the 2nd half. Afterward, Saban revealed that Young has a sprained ankle.
"That's the only update I've got," Saban told reporters.
Young didn't return to the field until late in the game and wasn't in uniform. He used crutches to get around on the sideline and after the game.
On a night when the defense shined, it couldn't manage a clean bill of health going into Fayetteville. It remains to be seen if Young will miss time and if so how long he'll be out.
No takeaways
OK, this is really nitpicking, but we'll go ahead anyway. On a night the defense allowed just 129 total yards – including a microscopic 14 yards rushing – and 9 first downs, it did not have a single takeaway. It's pretty astonishing but also pretty meaningless, and it wasn't for lack of being everywhere the Vandy offense didn't want Bama's defense to be.
Sometimes turnovers happen in bunches. Sometimes they never do, even on a spectacular night like Saturday.