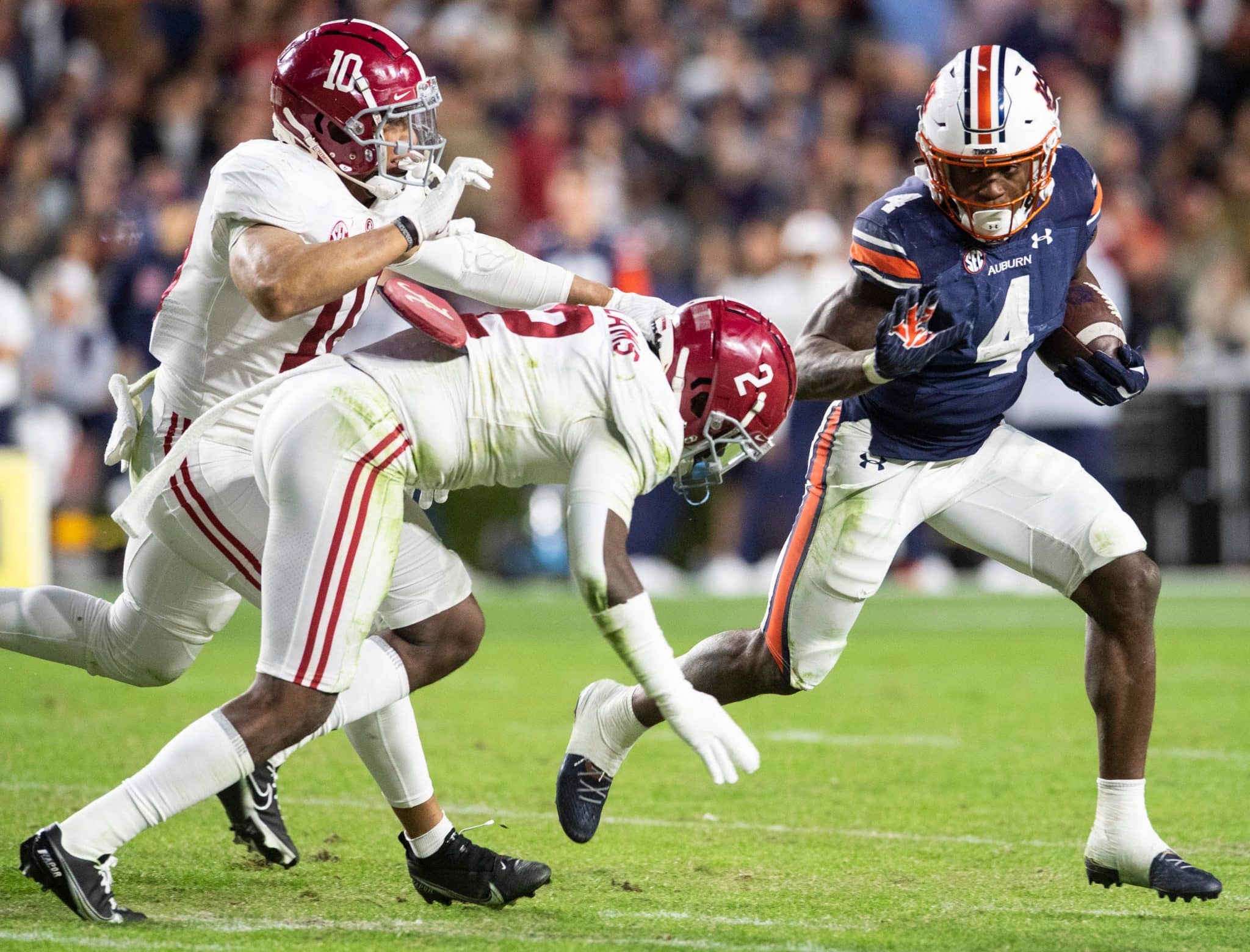 ALABAMA
Alabama football: The Crimson Tide are supposed to win, but beware of Iron Bowl's unexpected
Alabama has other football rivalries, great ones in fact.
Legendary ones.
Tennessee is incredible. Ole Miss is always memorable, even if the Crimson Tide always win.
LSU is always a dogfight between 2 programs gunning for the same thing.
Don't forget about Florida. And the neighboring one with Georgia, which we were reminded of well last season — twice.
But the Iron Bowl is just different. Everything about it is, in fact.
It is Alabama's Rivalry of All Rivalries. To say it means everything isn't an exaggeration.
It really does mean everything. To both programs and to 1 state.
Every move Nick Saban and Cadillac Williams — Auburn's head coach, for now — make for 365 days centers around trying to win at the highest level. But ultimately, in the end, in the biggest of ways, coaching college football in Tuscaloosa and on The Plains always comes back to winning that last game of the regular season against your most hated rival.
In the end, it's always about the Iron Bowl.
On Saturday afternoon, the 87th edition of arguably college football's best rivalry will be staged at Bryant-Denny Stadium. As usual, it will be on national TV, a country getting a close look at the immense passion that 1 Southern state can create for 1 60-minute football game.
It will be played between 1 program (Alabama) trying to grind through a down regular season — because only at Alabama and a few other places could a 9-2 record going into the Iron Bowl mean it's a down regular season — and another program (Auburn) that's in transition, that fired its head coach on Halloween, appropriately, because it has been a spooky season on The Plains.
The Tide are trying to get to 10 wins when they're usually a little better than that by the time Thanksgiving weekend rolls around.
The resurgent Tigers are trying to become bowl-eligible after winning their past 2 games under Williams, who has lit a fire under the program since he was named interim head coach in early November.
Alabama is a little more than a 3-touchdown favorite, which is no surprise, because Alabama is much better and because Alabama is at home.
But this is the Iron Bowl, and the Iron Bowl is different, as a football-mad state knows and college football fans watching around the country are reminded of every late November. Just because Bama is supposed to win and supposed to win big on Saturday doesn't mean it will, especially during this zany and slightly off-kilter season for both programs.
You can look at a lot of years as examples of Iron Bowls that didn't go down like they were quite supposed to based on the records of the 2 teams, the location of the game or the beefy point spread that told you that 1 team should win and win comfortably. That's just 1 of the 200 things that make the Iron Bowl beautiful — its unpredictability.
Alabama has won 48 Iron Bowls, but Auburn has won 37 of them, too, and there has been 1 tie. The Crimson Tide have controlled this rivalry, but they've hardly owned it. The Tigers have more than held their own behind legendary names like Bo Jackson and Cam Newton.
You can go back to … just last year as an example. It was an Auburn team that finished 6-6, like this year's Tigers team is trying to, in Bryan Harsin's 1st and, it turned out, only full season as head coach. The 2021 Tigers had lost 3 games in a row coming into the Iron Bowl and were flailing after a 6-2 start. They would go on to lose the Birmingham Bowl a month after the Iron Bowl to finish 6-7.
So what do you think happened smack in the middle of that 3-game skid going into the Iron Bowl and the loss to Houston in Birmingham in which the Tigers managed only 13 points?
What do you think happened with an Alabama team that was ranked 3rd in the country, that still had College Football Playoff aspirations despite its 1 loss to Texas A&M, that would go on to throttle Georgia in the SEC Championship Game 7 days after the Iron Bowl and that would play for the national championship about 6 weeks after the Iron Bowl?
An Iron Bowl for the ages happened at Jordan-Hare Stadium.
Yes, the Crimson Tide escaped.
They won.
But it took everything.
It took 4 overtimes for eventual Heisman Trophy winner Bryce Young to get Bama to the finish line, and the Tide limped out of Auburn with its Playoff hopes barely intact.
This entire scenario, with what you knew going into the Iron Bowl and what you knew happened after the Iron Bowl, tells you what this pressure cooker of a rivalry can produce even when in a year when it's not supposed to produce it.
When you lose the Iron Bowl, your world is crushed, from the head coach of the losing team to Joe Fan who lives and breathes this rivalry year-round.
When you win the Iron Bowl, no matter what it took to do it, you're like a 9-year-old kid who got what he really, really wanted for Christmas. Your world is made.
"Wow, what a game," were the child-like words Saban spoke after last year's game.
Because even Nick Saban, who often seethes when things don't go perfectly, understands that the Iron Bowl is different, it behaves differently, and you behave differently when you win it — or lose it.
The Iron Bowl also makes Alabama and Auburn play like they haven't played the entire season. It brings out the very best from both, no matter the records going in, the momentum of the programs going in or the implications of a win or a loss coming out.
Again, look at last year's classic on The Plains.
And, once again, take a listen to Saban's gleeful and complimentary words after his team survived it.
"After halftime, it just seemed like everybody was all in, and we were fighting like I've never seen us fight all year long," he said. "Our players were as happy as I've ever seen them after the game."
You hear Saban's words — that his team fought like he's never seen them fight and that they were as happy as he's ever seen them — and you grasp the full scope of what an Iron Bowl brings out in players, in both programs.
Auburn had no business being on the same field with Alabama last year, based on all the numbers and the momentum or lack thereof coming in. Except that Auburn knew that beating Alabama would make its season and ruin the Crimson Tide's, and the Tigers were at home and, well, it was the Iron Bowl.
And that is exactly what makes the Iron Bowl different. Different from even the rest of Alabama's amazing rivals and rivalries.
That old saying, about saving the best for last?
Well, for the 2 big schools in the state of Alabama, their regular seasons always end with the best rivalry on their schedules.
For Alabama and Auburn, the best is truly saved for last.
It might even be the best college football rivalry of them all.
You can listen to Saban's reaction after last year's win or from the other side, from the losing side, and the heartache that follows that day and in the days and weeks (and months) ahead.
It tells you exactly what the Iron Bowl means.
It means everything.
Yes, in the end, for the schools separated by a mere 160 miles, it's always about the Iron Bowl.