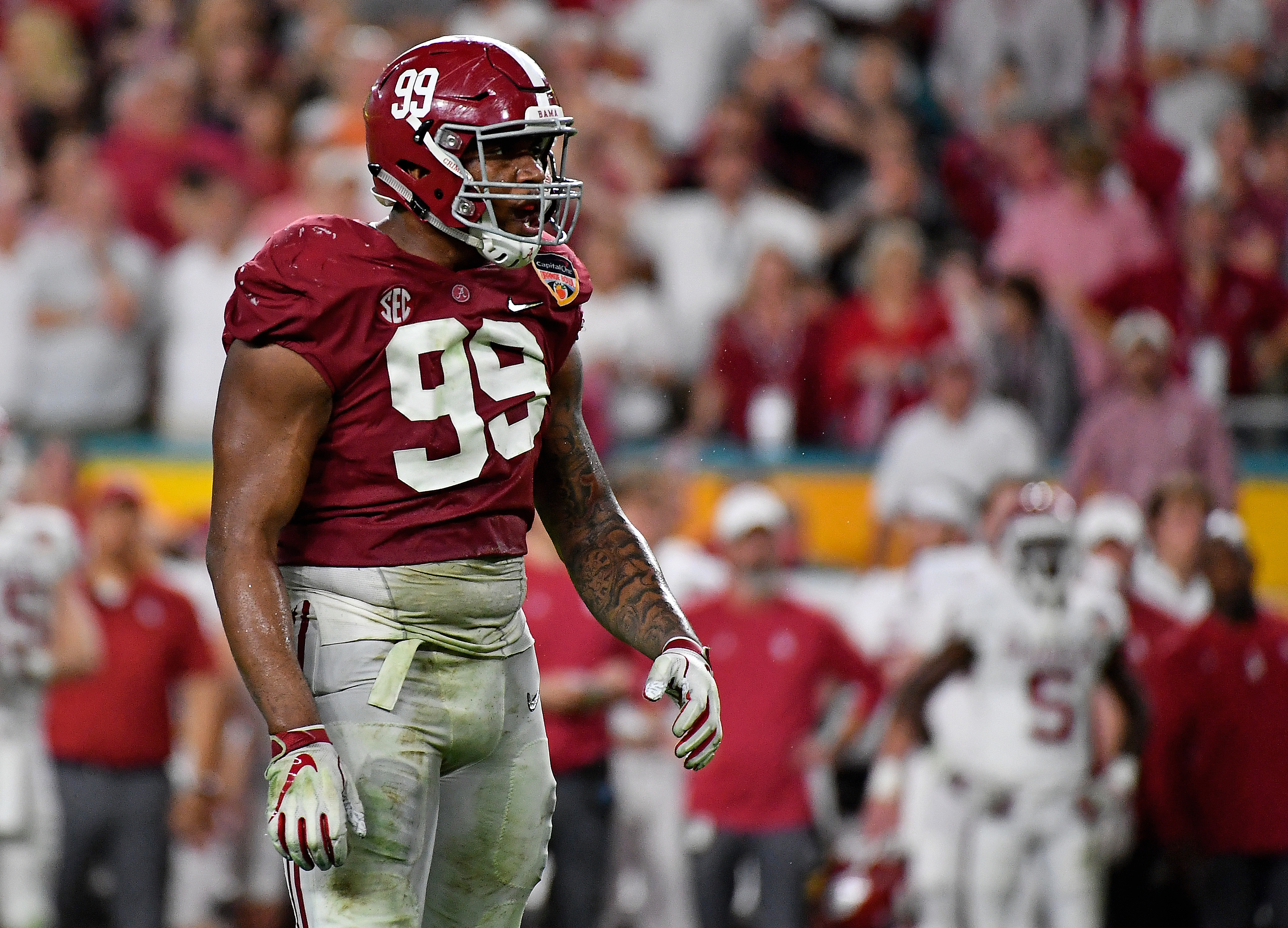 ALABAMA
Alabama football: The 5 biggest concerns I have heading into the season
Let's face it, there's probably not a scenario in which Alabama does not make the College Football Playoff. The Crimson Tide are just that good and that deep.
However, there are certain things that could derail Bama from another national title. No championship is guaranteed no matter how good a team might be. Just ask Clemson if the Tide are beatable.
So let's pencil in Alabama into the College Football Playoff bracket. As a matter of fact, you can use a pen with permanent ink. There are 2 teams that can truly challenge Bama in the SEC West. LSU is the closest in overall talent. Auburn has proven it can play with Bama, and given the nature of that series, there are no guarantees in the Iron Bowl, especially when it's on The Plains. Texas A&M is still at least a year away. As for Ole Miss, Arkansas and Mississippi State, Bama fans shouldn't fret.
Despite elite coaching and talent, things could still go awry. All things are relative. Alabama doesn't have the normal concerns that keep coaches awake at night, but here are the 5 biggest I have about the Tide heading into this season.
1. Tua's health
Bama has a decent backup situation behind quarterback Tua Tagovailoa with Mac Jones in place. However, the Crimson Tide very likely can't win a national title with Jones and no Bama fans want to test that theory.
Tagovailoa, a junior, is already being mentioned with some of the all-time Alabama greats. He's masterful at throwing receivers open and making explosive plays. He's not so great at staying healthy, which raises concerns. Tagovailoa has suffered a variety of minor injuries last season, which makes people wonder if he might be injury prone. He clearly wasn't himself in the final stages of 2018, and ultimately, that cost Alabama.
To win a national title, he has to be in the fold.
2. Injuries
Sure, this could derail any team's season, but we're talking about ways Goliath could be defeated. Every team will have injuries this season, but imagine if the Crimson Tide had a rash of injuries at just one position. That could be devastating — but admittedly unlikely.
Here are the players that Bama can least afford to lose:
Linebacker Dylan Moses: By all accounts, Moses is on the verge of being Alabama's next great linebacker. He's a playmaker that any NFL team would hate to lose. He's been charged with being the leader of Bama's defense. His loss would be tough to overcome.
Safety Xavier McKinney: Injuries negatively impacted Alabama's secondary last season, and forced freshman into the lineup probably sooner than Nick Saban would have preferred. McKinney is a fantastic safety. If he went down, it would be a tremendous blow, especially since his backups still are underclassmen. If McKinney went down, Bama may have to rework its secondary.
Defensive Raekwon Davis: Davis good last season, but he was expected to be great. Instead, Quinnen Williams emerged as the breakout star, stealing much of Davis' thunder. Davis decided to return to school. He should be great in 2019 with Clemson revenge and an NFL Draft position on the line. Bama has players who could step in, and most expect LaBryan Ray to become this year's breakout star, but Davis is on another level compared to what Bama has upfront defensively.
3. Youth in the middle
Alabama will be young at a couple of key positions on defense: middle linebacker and nose guard. Sophomore Ale Kaho is set to be the middle linebacker. Kaho was mainly a special teams player last season. Is he ready for a bigger role?
Bama is also young in the middle of its defensive line with sophomore Phidarian Mathis expected to be the starter at nose guard. Mathis has more experienced players around him on the line but his backups are very young. (Admittedly, the reality of Alabama recruiting is that the young guys were 4- or 5-star recruits.)
Alabama is also young at one cornerback position with Patrick Surtain II likely starting as a sophomore. He struggled late last season, most notably in the Playoff run. However, something tells me he'll be just fine. He was named a Freshman All-American by several publications last season.
4. Coaching changeover
The annual coaching turnover in Tuscaloosa is always a cause for concern. Bama coach Nick Saban said his coaches from last season became distracted by other potential job opportunities. That's just an annual issue fans have learned to live with.
Why the constant revolving door? Either Saban is too tough to work for, Bama's success provides more opportunities or Saban grows tired of coaches not reaching his high standard. Whatever the reason, Saban's staff is less recruiting-oriented and likely much better at actual game planning. However, there is always concern with turnover. What happens if some coaches don't get along? What happens if Saban has to essentially take over the defense as he did last season? What happens if coaches are thinking about other jobs as they did last season? All of those are real challenges that Saban has faced before and managed to handle most years.
So why does Saban manage coaching changes so easily. It's because none of the terminology, scheme or approach changes. Coaches don't come in and "take over" the offense or defense. They manage the Saban way.
5. Armageddon
I don't mean that there could actually be a football armageddon in Tuscaloosa. Saban would never allow that to happen. However, what if an asteroid the size of Texas was blazing toward the Earth at 2-million miles per second? What if Bruce Willis and Ben Affleck just couldn't stop it? What if Robert Duvall isn't willing to fly directly into an asteroid? If it's unavoidable, a catastrophic event could actually keep Bama out of the College Football Playoff. Maybe.
Scientists say it's just a matter of time. That might be what it takes until Saban retires.