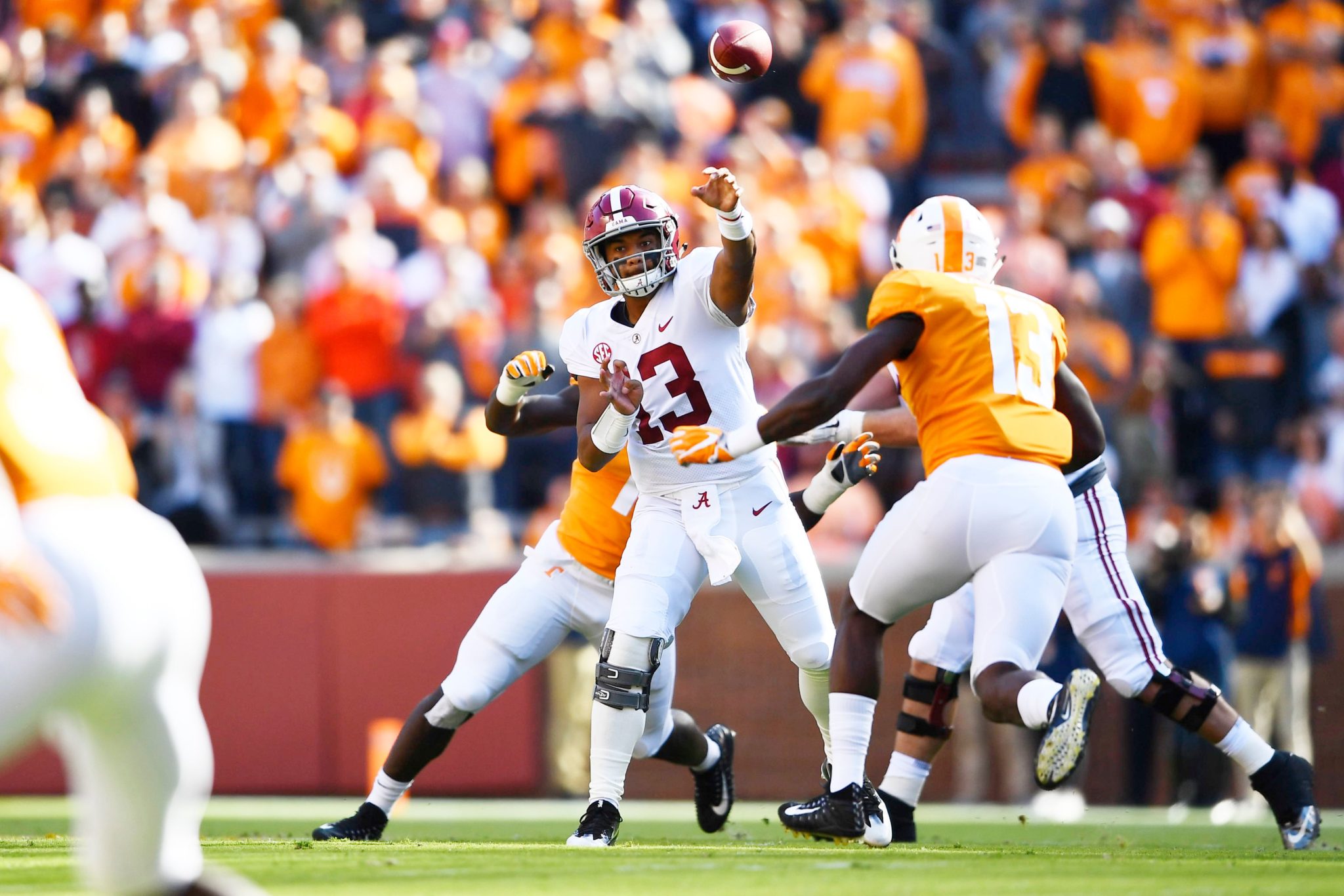 ALABAMA
Sweet Homer Alabama: Top 10 favorite moments from winning streak vs. Tennessee
When I was growing up, I always hated hearing my parents say, "Kids have it easy nowadays." Now that I'm older, I know it's true. Especially for Alabama fans.
Bama fans/kids today will never know the pains of constantly adjusting rabbit-ear antennas to try to watch the Jefferson Pilot 12:30 p.m. game against Southern Miss. They'll also never have to read about 4- or 5-star recruits in a Forrest Davis magazine they got from a Piggly Wiggly because Rivals and 247Sports weren't around. And, they sure haven't had to endure the pain of losing 7 straight games to Tennessee while Peyton Manning or one of those Clausens threw for 123,907,429,703 yards on your defense.
The 1995 @Vol_Football game against Alabama meant a lot more to Peyton Manning than a historic rivalry win over the Crimson Tide.

📺: Saturdays in the South: Part 6 pic.twitter.com/SluGjgW5UP

— SEC Network (@SECNetwork) October 9, 2019
A lot of "normal" or "rational" fans of other teams wonder why Tide fans even care about this game, or why Bama always "runs up the score on them." Some say it's not a rivalry anymore (which isn't true). All I know is, I still haven't forgotten that 7-year streak or Peyton leading the band in Rocky Top at Legion Field. And sportsmanship went out the window the day Phillip Fulmer became a secret witness for the NCAA.
That's why this 13-game winning streak against the Vols is so sweet. Here are my Top 10 homer-filled moments from the streak.
2014: Kiffin & Amari
Lane Kiffin made his triumphant return to Rocky Top, a place he helped destroy just four years earlier. This game was forgettable, but the first series wasn't. Everyone in the country knew that Amari Cooper was getting the ball. Everyone. Tennessee even said all week that they couldn't let "9" beat them. Cooper scored on an 80-yard TD on Bama's first play, and he went on to set a school record for receiving yards in a game with 224 on 9 catches with 2 TDs. It was the third time in eight years that a Bama player set a school record for receiving yards in a game, and they all came against Tennessee.
2018: Butch Jones flex game
This is such an underrated moment, y'all. Butch Jones spent most of his time on Rocky Top making up corny cliches and cleaning up Derek Dooley's mess. Then in 2017, he was fired after five years of underachieving, and he was hired by Bama as an "analyst" shortly thereafter.
I'm not going to sit here and tell you that Butch Jones is a great coach, or even a key member of Bama's staff. To be honest, I don't even know what he analyzes. Regardless, how much of an absolute flex it was by Nick Saban to take a second former head coach from Tennessee, parade him around Neyland Stadium during another third Saturday skull dragging and then let him finally smoke a victory cigar in the shadows of his old office.
If that doesn't seem like a big deal to you, imagine if Mike Shula or Dennis Franchione were analysts in Baton Rouge and you had to see them in that "Roll Tide what?" video after the LSU game last year.
SMOKE EM IF YOU GOT EM COACH JONES #RollTIde pic.twitter.com/iQa11oN42F

— Chris Owens (@BGChrisOwens) October 20, 2018
2013: Joyless murderball
This is hands down the least entertaining game on this list for the average viewer, but as you guys already know, I don't really care about sportsmanship. I care about winning. Bama won this game 45-10, and the joyless murderball that Saban's teams became known for was on full display.
The best moment came at the end of the first half. With the Tide up 28-0, Tennessee was actually putting together a good drive and was near field-goal range before Landon Collins took an errant throw 89 yards to the house for a pick-6.
The game got so out of hand that Bama actually put in their backup kicker in the second half. What a flex.
2017: Double birds
Okay, this is technically not a great moment for Bama, and I think most of the boomers and sidewalk alumni hated it. However, Rashaan Gaulden's pick-6 of Tua Tagovailoa followed by him giving a giant double-bird middle finger to Bama fans in the end zone was hilarious. That may honestly be the hardest I've ever laughed during a non-Big Ten game. Bravo, sir. Bravo.
It also says a lot about where this rivalry is that this may actually be Tennessee's best moment against Alabama in the past 13 years. Daniel Moore should do a painting of it just to bless their 5-star hearts, to be honest.
Rashaan Gaulden giving double birds to Bama fans is his greatest highlight https://t.co/gFRdXTRgGi pic.twitter.com/Sb5dhp1gIS

— Zerocric (@LiveCricket_0) April 28, 2018
2008: They low down, they dirty, and they some snitches
I know a lot of people, especially Tennessee fans, are tired of this clip and think it has been played ad nauseam. I don't care. It's hilarious, and it always will be. It captures the depths of disdain that each fanbase has for the other. As someone who has performed standup comedy for nine years, I can tell you right now that the last comment he makes about pumpkins is the funniest thing I've ever heard.
2019: JG goes rogue
This game is great for a number of reasons. I know most fanbases are ridiculously biased toward their own teams, especially in the heat of the moment. But rarely will you ever see a group as white-knuckled and clinging to delusion as Tennessee fans last year insisting that they almost won this game. A game they lost by 22 points.
The peak of the hilarity came in the fourth quarter, when Bama, up 15 points without their starting QB, picked up a 100-yard fumble recovery for a TD after Tennessee's Jarrett Guarantano went rogue and called his own number on a QB sneak. The meltdown that ensued was fantastic, and Vol Twitter was a treasure trove of anger.
Guarantano went ROGUE on this QB Sneak. Jim Chaney had a great play call dialed up — A G Lead Power Run that would've WALKED into the Endzone and made it a one score game.

Watch this 👇🏽 pic.twitter.com/qzqoLyfjkx

— Jordan Rodgers (@JRodgers11) October 21, 2019
2015: A'Shawn Robinson: What. Just. Happened.
This game happened five years ago, and to this day I still have no idea how, or why, this game was so close. It came at the end of a roller-coaster month in which "the dynasty was dead" after a loss at home to Ole Miss, followed by a 38-10 win at UGA in which the Tide was an underdog, and finishing with the nail-biter against the Vols that the Tide should've lost. Thank God for Derrick Henry.
The moment came with 2 minutes left in the fourth and Bama leading 19-14. On 2nd-and-24, Josh Dobbs dropped back, and Ryan Anderson bull-rushed off the edge and finished with a strip sack. As the ball came out, A'Shawn Robinson — a 6-foot-4, 320-pound defensive lineman — caught it with one hand out of mid-air and called game. That defensive line was absolute ridiculous, with freaks everywhere, but I remember thinking at the time, "That's the most athletic thing I've seen a 320-pound man do."
Then two weeks later against LSU, Robinson jumped over the long snapper during an extra point, landed and jumped back up to block a kick. Good. God.
2018: Peak Tua
This was the absolute peak example of just how ridiculous that offense and Tagovailoa's start were. Tagovailoa had 21 touchdowns and 0 interceptions in the first seven games. Bama was simply humiliating teams from the jump, and this game was no different. After each team's first 3 possessions, Bama led 21-0 and Tennessee had minus-27 yards of offense. The Tide scored at will and routed Tennessee 58-21.
The moment that stands out most, though, came just 6 minutes into the first quarter. Up 14-0 already, Tagovailoa dropped back and threw, and I'm not exaggerating (I probably am), the most beautiful pass I have ever seen, to Jaylen Waddle for a 77-yard TD. It could not have been placed more perfectly behind the two defenders, and you know absolutely no one was going to catch Waddle. It was beautiful.
Alabama QB Tua Tagovailoa to Jaylen Waddle 77-Yard TD #Bama #Vols #Cbs pic.twitter.com/qNK6q5zOD6

— InsideBamaRecruiting (@RTRnews) October 20, 2018
2016: Flop 10 showdown
This is by far my favorite game of the 13-year streak, and it's not even close. Why? Of course it's fun to win in dramatic fashion with a blocked field goal or a late fourth-quarter drive. But those games came against bad teams. Unranked teams. And what's the merit in beating a basement-dweller by single digits? No. The 2016 game is the only one in the past 13 years in which both teams were ranked in the Top 10. Granted, everyone who watched that Tennessee team knew that No. 9 ranking coming in was a joke, but it was fun to listen to Vols fans talk themselves into thinking that these teams, or that game, were ever going to be remotely close.
It was a "top-10" matchup, and Bama's defense and special teams outscored Tennessee themselves. My favorite memory (and stat ever) from that game, and that team, was that Bama scored in all three phases — offense, defense and special teams — in the 49-10 win. And that team made that seem almost routine.
Jalen Hurts' grin to the camera after scoring is great pic.twitter.com/e9gU0uLKej

— Chris Kirschner (@ChrisKirschner) October 15, 2016
If you had to pick a favorite moment, there are several to choose from: the Eddie Jackson punt return for a TD, Ronnie Harrison's pick-6 and/or Jalen Hurts' TD/camera stare going viral. It may not have been the best moment, but the funniest and favorite one for me was the locker room pic, with several players smoking victory cigars in celebration while Reuben Foster unapologetically ripped a heater after playing a full SEC football game. Incredible.
Reuben Foster is a mood. 😂😂😂 pic.twitter.com/x3bDqxNCQw

— Chris Marler (@VerneFUNquist) October 21, 2020
2009: Rocky block & NSFW viral Vol meltdown
What I remember most about this game wasn't the blocked kick — either of them. It was the 2nd-and-15 completion from Jonathan Crompton to Luke Stocker to get Tennessee into field-goal range, because whatever blitz package Saban and Kirby Smart called forced Marcell Dareus, a defensive lineman with his hand in the dirt, to cover the tight end. I was irate. Everyone knows what happened next. Mount Cody, pandemonium and the loudest Rammer Jammer in the history of that stadium.
I was bartending at The Brick in Millledgeville, Ga., and I'll never forget spending every single dollar I made that day on shots for the bar as soon as I saw Terrence Cody's hand block that kick. And I won't forget my boss coming over and telling me, "Every national champion always has a game like this. Bama just had theirs. I got your tab."
The moment, by the way, wasn't in the game. It was watching this viral YouTube video of an angry Tennessee fan yelling, "God, I hate Alabama." *Chef's kiss* (Warning: NSFW.)