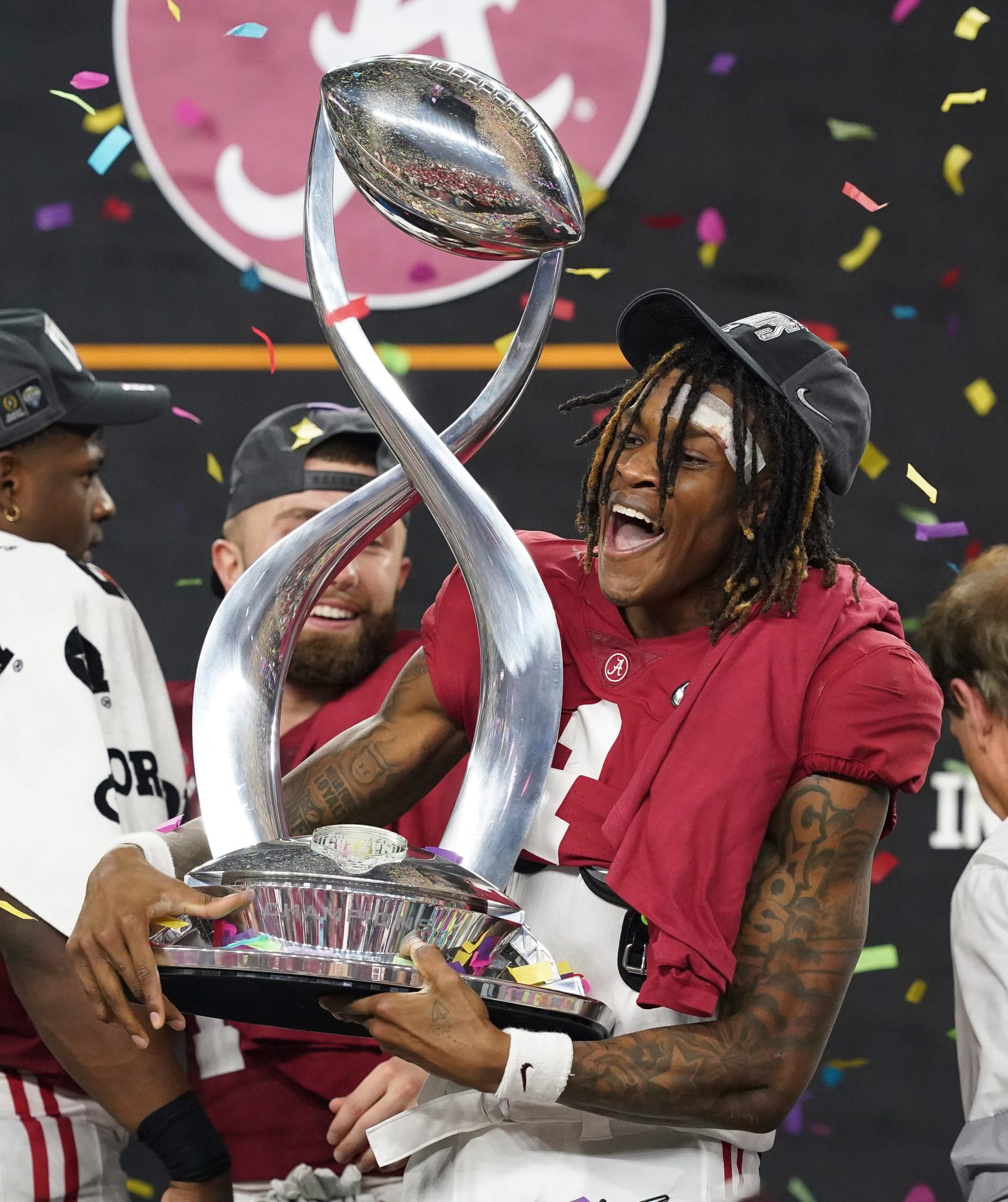 ALABAMA
Alabama is so good it's ridiculous. And boring. Will Nick Saban's dynasty ever end?
I think I can speak for everyone not bathed in Crimson when I say this is getting ridiculous. Alabama is so good, so indestructible, it's boring.
That's right, sheer boredom.
Only Alabama can make reaching the College Football Playoff national championship game for the 6th time in the 8 years as exciting as watching your uncle clip his toenails.
Hey look, everyone! Alabama just meticulously and methodically disposed of another pretender in the Playoff.
This time it was massive underdog Cincinnati – which looked a whole lot like Michigan State, Washington, Clemson, Oklahoma and Notre Dame.
You know, those other massive underdogs of the past in the Playoff.
"I was really pleased with the way we played," Tide coach Nick Saban said moments after the final seconds mercifully bled off a 27-6 bludgeoning Friday in the Cotton Bowl semifinal.
Imagine that, the greatest coach of all-time says he was pleased about a victory. Pleased that everything went as planned, everyone did their job, and no one imploded in the enormity of the moment.
I'm gonna puke.
This is so predictable, so devoid of drama, it's becoming counterproductive to the game of college football to even play Alabama's side of the semifinal.
Alabama has played in 7 semifinal games, and other than Ohio State's shocking upset in the first year of the Playoff in 2014, the margins of victory have been 38, 17, 18, 11, 17 and – I know this is going to shock you – the 21 to Cincinnati.
Because this is the way it works more times than not in the world of we recruit better than you, we develop better than you, we have better coaches than you, and we play better than you.
The postseason arrives and Alabama runs on the field, pulling an 18-wheeler of the inevitable behind it and daring anyone to get in the way.
This time it was Cincinnati, the Group of 5 darling who, let's face it, didn't deserve to be in the Playoff (no Group of 5 team does, inherently) but got a shot because, what the hell, what has anyone else done against Alabama?
Cincinnati's grand plan of upsetting Goliath? David kicking field goals.
There's a simple plan for beating Alabama in the Playoff (or preventing Alabama from reaching the Playoff), and it begins and ends with a generational player (Deshaun Watson, Trevor Lawrence, Joe Burrow), or an uber-talented team (Ohio State) catching Alabama with a wide receiver playing quarterback (no offense, Blake).
At this point, we shouldn't be surprised when Alabama plays without its best cornerback (injured star Josh Jobe), and another starting corner (Jalyn Armour-Davis) can't go, and Cincinnati star QB Desmond Ridder is forced into the worst game of his career.
The one player who has defined the Bearcats' rise under coach Luke Fickell completed 17-of-32 passes (53%) for 144 yards and no TDs. He was sacked 6 times.
Cincinnati had 218 total yards, and Alabama had 8 tackles for loss and 5 passes knocked down. The Bearcats were 2-of-15 on 3rd- and 4th-down conversions.
But at this point, are we really surprised? This could've been Baylor or Utah or Ohio State or Oklahoma State – and the same ugly beatdown was happening. It's inevitable.
This is an Alabama team that lost its No. 1A receiver (John Metchie III) to a season-ending injury in the SEC Championship Game, and just inserted another 5-star receiver (Ja'Corey Brooks) who had 4 catches for 66 yards – including a 44-yard deep ball that he caught and lunged inside the flag for a momentum-swinging touchdown.
Brooks and Jameson Williams ran a combo route, and as soon as Brooks saw the Cincinnati safety break toward bracketing Williams – and leaving him in man coverage – his hand went up for Tide QB Bryce Young to see (of course Young saw it, anyway).
Midway through the play, everyone in Crimson knew it was a touchdown, and there wasn't a damn thing Cincinnati could do about it. Sort of like the old days, when former Tide offensive coordinator Lane Kiffin would signal touchdown before the ball left (insert QB's) hands.
Again, it should come as no surprise that Alabama lost its starting (and most consistent run blocking) guard Emil Ekiyor Jr., in the first quarter, and by the second half, the Tide was running behind a shuffled offensive line (OT Chris Owens was injured late in the game) for 301 yards on 41 carries.
Cincinnati came into the game giving up 137 rushing yards a game. Tide tailback Brian Robinson – coming off a hamstring injury that hampered him late in the season – had 204 yards on 26 carries.
"We love it when B-Rob gets rolling," Saban said – and frankly, he could've said that about anyone on the team in this very situation. They were all rolling, because this is the time Alabama smells a championship and tightens its grip on everything and everyone.
Will Anderson, Christian Smith, Phil Mathis. Young, Williams, Robinson.
Play after play, moment after moment, an unrelenting onslaught from the first snap of the game. Who was Cincinnati – or anyone else – to stop it?
Look, we're long past comparing Alabama to other programs in college football. We thought Georgia could be the team to change the trend this fall – and then got spanked by 17 in the SEC Championship Game.
Clemson twice won national titles over Alabama and had its time at the top of the hill. LSU did it with one magical, meteoric season.
But after last season's perfection in the middle of a COVID-stained season, and after this year's surge from the midseason loss to Texas A&M eventually left Georgia and Cincinnati in its wake, we're left with comparing Alabama to other Alabama teams.
And frankly, it's boring.