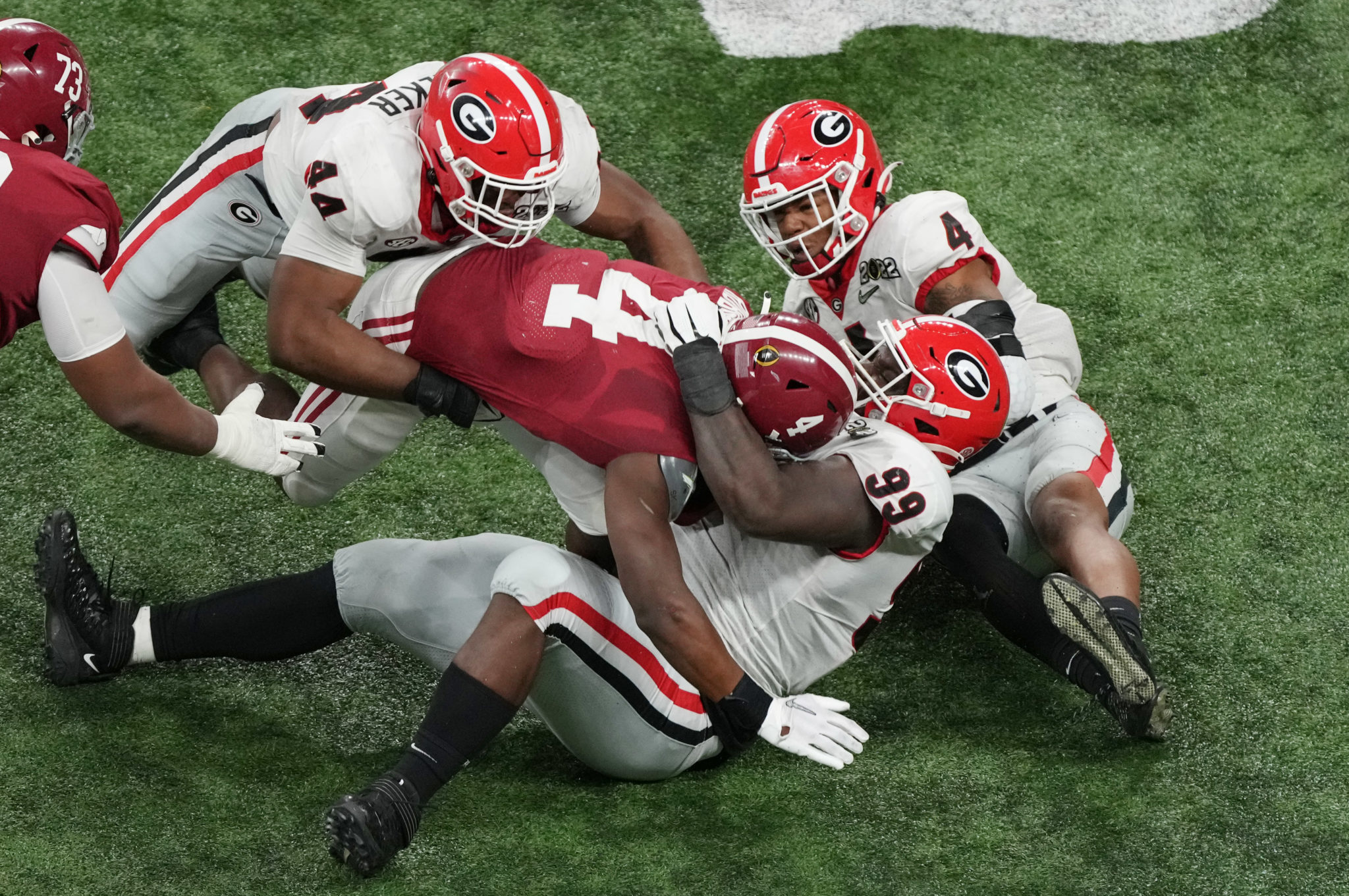 ALABAMA
Alabama's biggest lament? All of those squandered red-zone opportunities in CFP loss
Never look a gift horse in the mouth. Or in this case, a gift Dawg.
If you somehow manage to get the ball near Georgia's goal line, you better turn it into a touchdown. Or else.
There are many reasons for Alabama's 33-18 defeat to Georgia in the CFP national championship game Monday night in Indianapolis. Obviously, attempting to win a title game without Jameson Williams or John Metchie III available tied an arm behind the Crimson Tide's back.
But even minus its top 2 receiving targets, Alabama did a better job moving the ball on Georgia than just about anybody this season. Bama's 399 total yards were second only to its own 536-yard effort on the vaunted Bulldogs defense in the SEC title game.
Much like the SEC Championship Game, the scoring opportunities were there for Alabama. Against a defense that came in allowing 9.5 points per game, that's no small feat. But unlike the first meeting, the Tide were unable to cash red-zone opportunities into touchdowns.
In 4 trips inside the Georgia 20 Monday night, Alabama settled for a single touchdown. And that came on the lone possession that started inside the 20 thanks to a wild Stetson Bennett fumble that Alabama somehow recovered before it hopped out of bounds.
Opportunities squandered
Early in the game, Bennett and the Georgia offense looked to have a major case of nerves. If Alabama struck decisively in the first half, a rout seemed likely.
Instead, the Tide's drives kept petering out.
Alabama's opening 14-play drive had all the markings of a classic Nick Saban tone-setter. But Heisman winner Bryce Young missed on a couple of throws, and the Tide stalled at the 19 yard-line. Will Reichard's ensuing field goal put Alabama ahead, but it also felt like Georgia's first win of the game.
In many ways, Alabama's next visit to the red zone felt like one of the game's decisive turning points.
Young's 61-yard connection with Cameron Latu in the second quarter set Bama up with a 1st-and-goal from the Georgia 8 and an opportunity to take a 10-point lead. Instead, Bama went backward. Young took a 13-yard sack on 3rd down, and the Tide settled for a second 37-yard Reichard field goal.
Though Alabama was very much in control of the game at that juncture, it only led 9-3.
Bama settled for 3 one more time in the fourth quarter.
Once again, Bama found itself in the shadow of the goal line after a long Young completion — this time a 28-yard Agiye Hall reception that set the Tide up with a 1st-and-goal at the 5.
But a pair of incompletions sandwiched around a 2-yard run prompted Saban to take the points on a 21-yard field goal to cut Georgia's lead to 13-12.
Given how things were going for Alabama in the red zone all night long, it absolutely felt like the correct decision.
It would certainly be fair to question offensive coordinator Bill O'Brien's play calls in that red-zone sequence — perhaps a pair of Brian Robinson runs would have been more effective than 2 passes. But given how Georgia's defensive front was shoving around Alabama's offensive line, that likely would have proved equally futile.
This is what Georgia does
The nature of the past provided a skewed expectation of what might happen Monday night in Indianapolis.
Kirby Smart was 0-4 lifetime against Saban, including the unforgettable overtime loss for the 2017 national title. The dominant nature of Alabama's 41-24 SEC Championship win made it look as if Saban might have his protege's number forever. Or that these were paper Dawgs who had been waiting all season to be exposed.
Not so much.
Georgia's red-zone defense was extraordinary all year, and the championship game ended up providing the perfect validation. Heading into the game, the Bulldogs only allowed touchdowns on 28.5% of opposing trips into their red zone, which was easily the best mark in the country. Following Bama's 1-for-4 showing at Lucas Oil Stadium, that mark improved to 28.1%.
That's the lowest percentage of red-zone touchdowns allowed by any college defense since Dave Aranda's 2016 LSU unit limited opponents to touchdowns on 24.2% of red-zone trips.
In order to take advantage of red-zone opportunities against the Bulldogs, a team must be darn-near perfect in its execution. Alabama was nowhere near perfect in those situations, and hence denied its second consecutive national title.