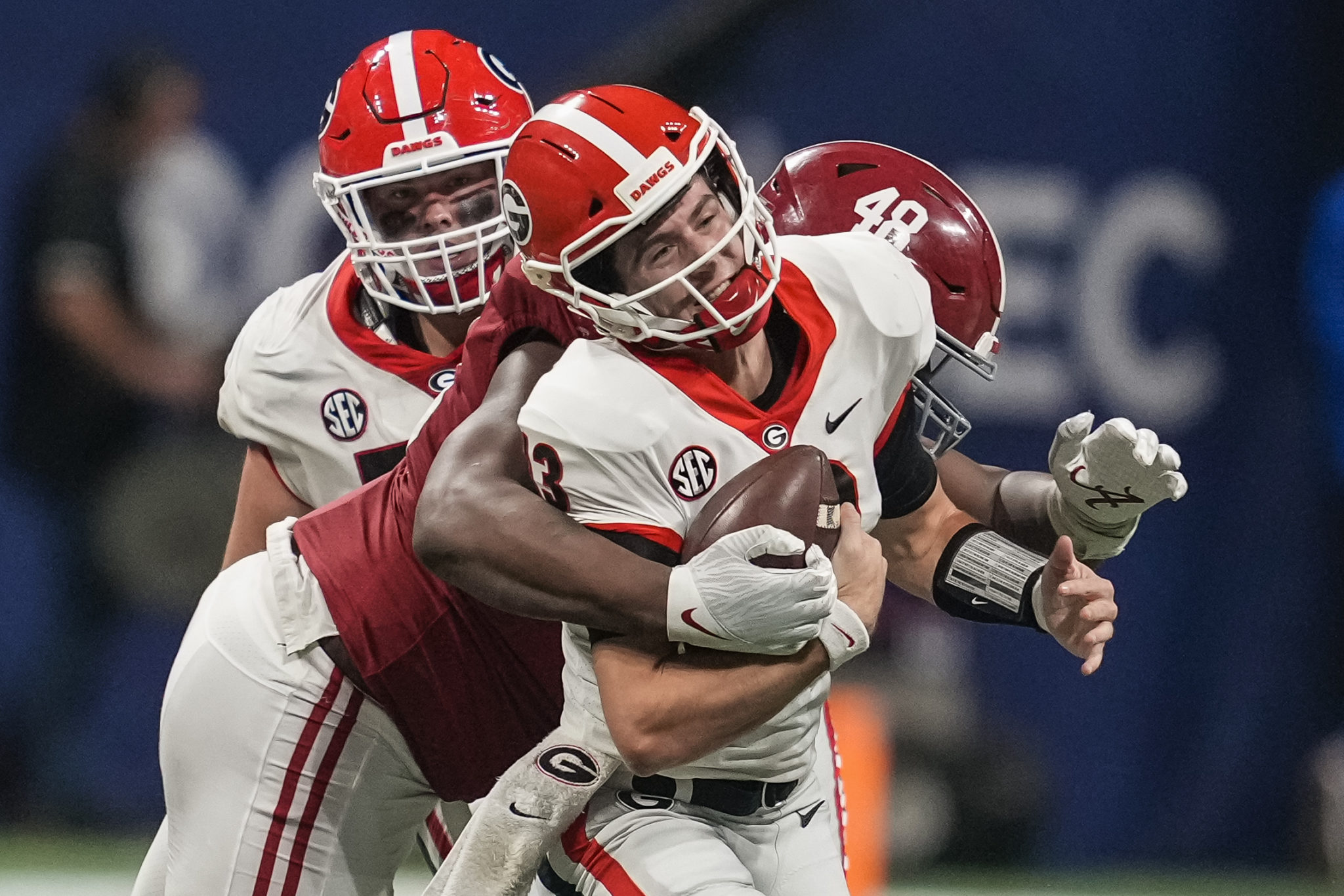 ALABAMA
Alabama's goal is simple: Force Stetson Bennett to beat them. Is he elite enough to do that?
Georgia's last national championship was based on an old-school, ground-and-pound offense. That same approach could undermine the Bulldogs' chances at another title when they play Alabama in the National Championship Game next Monday night in Indianapolis.
Herschel Walker was the focal point of Georgia's last national championship, which the Bulldogs won in 1980. The running back was practically unstoppable and considered one of the best tailbacks in the history of college football. Walker set up the Bulldogs' play-action, passing attack. As much as football has changed since then, Georgia's offense has a similar attack this season. That didn't work the last time Georgia played Alabama. The Crimson Tide beat Georgia 41-24 in the SEC Championship Game, which really wasn't contested after the first quarter.
Alabama knew Georgia's game plan well because the Crimson Tide once relied on the same sort of offense. Bama is now known as more of a fast-paced, passing offense. Unlike Georgia, Bama typically doesn't pin its offensive success on its rushing attack. Bama doesn't rely on a lead to allow its defense to cause havoc against a passing game that is trying to keep up. The difference in style could make the conclusion of the game predictable early if something doesn't change. It could also make things very difficult for quarterback Stetson Bennett.
Again.
Bennett is the feel-good story of the century for Georgia, especially if he can win a national title to culminate this season. He's the longtime Bulldog fan who walked on to play for the Bulldogs, transferred to a junior college, returned to Athens and then became the starter. Alabama could provide a very unhappy ending to the Bennett story if history is any indication.
Despite being the second-highest rated passer in the SEC this season and proving himself against the rest of the competition he has faced, Bennett has played at his worst against Alabama. Bennett was 29-of-48 for 340 yards against Alabama in the SEC Championship Game. That's not a bad stat line. It looks better on paper than it played out on the turf. He also threw 2 interceptions, one of which Bama returned for a TD, which is nearly impossible to overcome when playing a team as good as Alabama.
It wasn't an outlier, either. Last season, in a 41-24 regular-season loss at Alabama, Bennett was 18-for-40 and threw 3 interceptions.
So if you're keeping score, Bennett is 0-2 against Alabama. The Dawgs have been outscored 82-48 and he has thrown 5 interceptions.
Is there a magical elixir to besting Bennett and beating Georgia or is Alabama just that much better than the other defenses that Georgia has faced? It's a bit of both — without the magic. There's no questioning that Alabama has an elite defense. However, the Crimson Tide coaches also know how to beat Bennett's Bulldogs. It's simple: contain the run.
Alabama doesn't have to completely stop Georgia's strong rushing attack. That's probably not going to happen. However, when Georgia can't run the football, it has a monstrous effect on its offense.
"Georgia's passing game is play-action based, not drop-back based, which means that everything in the passing game is based on making the defense defend the running game first," said Chris Landry, who has coached in the NFL and scouts college talent. "The biggest key to Alabama's success (in the SEC Championship Game) was how their offense got a lead on Georgia forcing Georgia to play from behind and reducing the play-action element."
With no threat of play-action, Bennett suddenly finds himself staring at a defense ready to focus on him. That's not good. When Georgia can't fake a running play that threatens Alabama, then Bennett is left to his own devices. Not even the most ardent Georgia fan would argue Bennett is elite. He's good, but Georgia has had several quarterbacks that were more talented since they last won that national title in 1980.
The key to stopping Bennett is also stopping his timely scrambles that keep Georgia's offense moving. Bennett's rushing ability doesn't keep coaches up at night. However, those runs can keep drives alive. They just weren't there in the last tilt against Alabama. Bennett ran 7 times for just 11 yards. Against Michigan, he ran 3 times for 32 yards.
Bennett certainly didn't just decide to stay in the pocket purely by choice. Bama didn't allow Bennett to scramble outside the pocket where he is most comfortable. Instead of scrambling to his left or right, Bennett could only step up against a defensive front that was disciplined in maintaining a consistently solid pocket or just pressuring Bennett altogether.
Alabama ran high-tempo at times and stretched the field horizontally, Landry said. That added some fatigue to Georgia's defense and, subsequently, put more pressure on Bennett and Georgia's offense to score or at least hold onto the ball a bit longer, which it just couldn't do.
Bama will have some adjustments, but the same game plan that worked in the SEC Championship Game would seem like the best choice overall. Contain the run, get a lead and make Bennett win the game.
"The big question is whether Georgia can win a shootout if it comes to that," Landry said. "That is not their strength and we have not seen them do that as they have not had to this season except for the SEC Championship Game."
If the National Championship Game gets to a point in which Georgia's offense has to win a shootout, then things could get dicey. That could prompt Georgia coach Kirby Smart to consider a change at quarterback. Backup JT Daniels was supposed to be the captain of Georgia offense before he suffered an oblique injury in September. Since then, Bennett has managed to hold onto the starting role. That might not be the case if the Bulldogs find themselves trailing Monday night.
That would be a bold move, but we've obviously seen it before. Nick Saban twice went to the bench to rally the Tide past Georgia — most famously when Tua Tagovailoa replaced Jalen Hurts and scripted "2nd-and-26" for a walk-off TD to beat Georgia in the 2017 National Championship Game.
Could Smart follow suit if this matchup against Alabama looks like the last? It could be a wise move.
"I believe that JT Daniels gives (Georgia) a better chance to go 2-minute out of shotgun and work the ball vertically," Landry said, "but he has not had a lot of reps this season. On the downside, he is not very mobile and edge pressure from Bama could give him even more trouble. At least Bennett has escape speed and quickness."
Landry, who has coached alongside Saban, knows that Smart has less equity to make such a change. Saban had plenty of championships in his pocket when he made the controversial quarterback change from Hurts to Tagovailoa. Smart is still looking for his first.
Smart, however, may not have a choice. The same ol' approach could keep Georgia from a national title once again.