ALABAMA
Bama shouldn't discount five-star QB Blake Barnett as '15 starter
There's a precedent already set in major college football that to truly be a challenger for the national championship, a team must be quarterbacked by a player at least one season removed from high school.
While freshmen QBs have guided Power 5 conference teams to the big game, most notably Jameis Winston (Florida State) and Everett Golson (Notre Dame), and even claimed the prestigious Heisman Trophy, as Winston and the mercurial Johnny Manziel (Texas A&M) did, those players were all, indeed, of the redshirt variety.
But plenty of true freshmen have had a great deal of success for well-rounded teams who possess the ability to put the QB in favorable situations.
Ohio State University, in the 2008-09 season, meshed former super recruit QB Terrelle Pryor's elite athleticism with a potent rushing attack piloted by talented junior running back Beanie Wells and supported by a very talented defense.
As it pertains to the perennial powerhouse University of Alabama, anything short of procuring the national title is deemed a complete and utter failure — no matter the circumstance.
Most expected last season to be a rebuilding one as the Tide were to replace some of the best talent in the program's history — most notably longtime starting QB A.J. McCarron and, perhaps, the best defensive player of head coach Nick Saban's tenure in C.J. Mosley.
But all the Tide did was prove it was a factory built on sound coaching and roster depth on their way to a berth in the College Football Playoff.
Behind fifth-year senior QB Blake Sims, and newly-minted offensive coordinator Lane Kiffin, Alabama mastered the quick game by finding a plethora of ways to get the ball to the greatest receiver in Alabama history, Amari Cooper.
But it was undoubtedly Sims' ability to manufacture first downs that put the Tide's offense over the top where most traditional QBs may have been led into making poor decisions resulting in turnovers.
This style of offensive wizardry was met with a ton of skepticism from fans who were used to a certain way of operating in Tuscaloosa. But even the staunchest of critics had to agree this style took a relatively green unit and made it one of the best in the country.
As we scan Bama's current roster, the 6'5″, 230-pound senior Jacob Coker looks to be the clubhouse leader at the QB position — mostly due to experience — in my not-so-humble opinion. While he's a decent athlete, he certainly has more of the traditional makeup of his predecessors — excluding Sims, of course.
The former Florida State transfer was the penciled-in starter this time last season after Sims had a horrific showing in the spring game. But once the bullets started flying in the regular season it was apparent Sims was the right man to lead Kiffin's attack.
And although Sims showed us the spring game means very little in the grand scheme of it all, I was less than impressed by Coker's showing in this season's game.
While his stats look decent on the surface — 14-of-28 for 183 yards with one touchdown and one interception (a pick-6) — I didn't get the impression that the offense would be moved in the efficient manner in which Sims worked.
Don't get me wrong; the vertical concepts in the offense could take a step up behind Coker's live arm, but his ability to work the quick game leaves a lot to be desired. One thing Sims didn't get credit for was his tight, compact delivery which was beneficial in the quick game.
When your offense possesses a ton of Smoke and Tunnel concepts, it's imperative that the throws come out quick and accurate to allow for yards after the catch. It's also paramount that decisions be made swiftly on the basis that it's about rhythm and timing, schematically speaking.
One of the reasons for Sims procuring the job over Coker was due to the latter's inability to quickly assimilate the base concepts of the scheme. Here we see a prime example of that; Coker needed to get through these progressions fast enough that his outlet would have time to make yards after the catch.
He not only stared down his primary and secondary, he was late to the outlet enough that the underneath linebacker almost had himself a pick-6 for his efforts. It's little things like this that go unrecognized when fans are enamored by arm strength.
This particular play stood out to me as it was a Sims special. On this play-action rollout, Coker had Foster in the drag portion of the play open early, and all he needed to do was set his feet and lead him upfield for an explosive play.
Him being tardy on the decision, and the throw being slightly behind the target, rendered the play to just a moderate gain.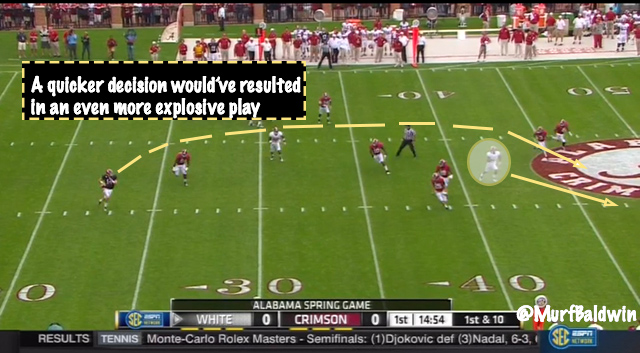 Here's a still of how much room Foster had behind him.
However, we must not gloss over his ability to stretch the field vertically.
In fact, I wouldn't underestimate Kiffin adjusting the base concepts to have the vertical game open up the underneath stuff; we certainly saw a lot of that during A-day.
But going to a vertical-based scheme, with a traditional QB, may mean for a lot less efficiency for a team aligned with nothing but talent on both sides of the ball. I don't know about you, but I have a tough time thinking about the Tide reverting back to the old school way of operating prior to last season.
Especially when the Tide went out and recruited the perfect prospect to step right into the Sims role.
Blake Barnett
I realize that I'm not operating from a position of power, especially from those who are prisoners of the moment, but I still believe this offense is better tailored to fit freshman Blake Barnett's skill set than not.
As the No. 1-ranked pocket-passer in the country, according to 247Sports, Barnett was somehow rebranded as a traditional QB late in the process — much to my chagrin.
We were originally introduced to him being labeled one of the top dual-threat signal-callers in the country, but sometime around his decommitment from Notre Dame, an ol' switcheroo was performed.
The fact that Notre Dame head man Brian Kelly saw a fit for Barnett in his spread-to-pass scheme, which operates best with an athlete at the position, let's you know the type of athlete the 6'5″, 200-pound Barnett is.
He's the best athlete among Bama's QBs and can replicate a lot of what made Sims so effective in Kiffin's scheme. I feel as though his skill set is conducive to the type of small ball that minimalizes the growing pains associated with inexperience.
Hitches, slants, drags, pivots, digs and curls are staples in Kiffin's offense and are also right in the wheelhouse with what Barnett can excel at. He has a good arm, but certainly not to strength of Coker's, though, but he has some aspects that will eventually exceed what Coker has to offer.
He excels with the anticipatory throw and can mirror his eyes with his feet. He didn't get much of a chance to perform behind the starters along the offensive line during the spring game, and his first few series weren't with the top skill players.
I'm also convinced that spring games aren't meant for dual-threat QBs as it observes the two-hand touch rule, which is one of the reasons Sims didn't look so hot in last season's game.
Receivers ArDarius Stewart and Robert Foster showed they could be dynamic in the stretch-vertical game, but they also displayed they have what it takes to bolster the quick game.
Barnett threw two egregious INTs, which is to be expected from a freshman, but there's no doubting that with his skill set, he's a scheme-specific fit on a team that will function at its best with a QB of the play-making variety.
On his TD pass, seen in the above sequence, he showed the ability to quickly get rid of the ball and made an anticipatory throw. Getting the freshman out on the edges via rollouts and waggles would cut down on the difficulty of the reads and would allow him the option to use his feet to manufacture plays.
The defensive front seven will be tremendous and so will the rushing attack behind superstar junior RB Derrick Henry. When you factor in the plethora of weapons a QB will have to throw to, all the offense will need is an accurate signal-caller to manage the game by way of quick decisions.
Having a QB who can manufacture plays with his feet would only enhance the situation and Barnett can certainly be that guy.
The future looks bright in Tuscaloosa; the future could be the present