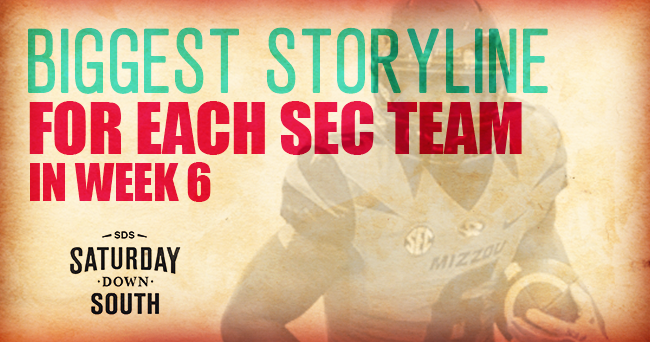 ALABAMA
Biggest storyline for each SEC team in Week 6
Tennessee and Texas A&M, the only two undefeated SEC schools left that aren't named Alabama, meet in a Week 6 showdown in College Station. Both arrived in the top 10 in vastly different ways.
One took the conventional route.
The other took the miracle path and turned a devastated fan base delirious in a matter of a few frantic seconds. The No. 9 Vols and No. 8 Aggies will be the high-stakes headliner on Saturday following a Week 5 when everybody else sort of did what they were supposed to.
After October dawned with a Joshua Dobbs sling and a prayer, it's time for a Week 6 that features six all-SEC matchups while Chad Kelly ices his arm with Ole Miss off and Drew Lock and idle Missouri ponder how to recover after a beating from an LSU team that kicks off Saturday's action at The Swamp:
LSU at No. 18 Florida, noon: The Tigers took out their early season frustrations on Missouri and also played sky-high for Ed Orgeron, like a lot of talented but underachieving teams do when a new coach takes over. They rolled up 42 points while Leonard Fournette sat again with an ankle injury.
Will Fournette be ready in Gainesville? Reports say yes. But LSU showed last week it can survive and thrive on the ground without him, with Derrius Guice and Darrel Williams. The question is: Can the Tigers run it with close to that level of success against a really good Gators defense, and at The Swamp?
Logic says Danny Etling, who was mistake-free last week while his running backs did the heavy lifting, will have to make a few plays this time. But Etling's offense might not have to produce many points, with the Gators having scored just 20 in the past six quarters, including 13 against Vanderbilt. Luke Del Rio has a shot to return Saturday, but either way this feels like one of those 17-13 SEC slugfests.
It also feels like an elimination game for two teams with SEC title aspirations, with both already having a conference loss.
Auburn at Mississippi State, noon (ET): The Bulldogs are coming off a bye week. The Tigers must have felt like they are, too, beating Louisiana-Monroe by 51.
Auburn didn't need Daniel Carlson to rescue it last week, as Sean White finally got the offense in the end zone and got the vertical passing game going. So after five games, we know the Tigers can score against bad teams. But they've combined for 47 against Clemson, Texas A&M and LSU. So Auburn has to show it can actually put up at least 20 against an SEC foe, and on the road, where the Tigers will be playing for the first time after a five-game homestand to start the season.
The Bulldogs have recovered quite well from their embarrassing season-opening loss to South Alabama, and Nick Fitzgerald has done a decent job, showing he can beat teams with his arm and legs.
This is one of those swing games for two middling SEC teams, with the survivor being able to boast a winning record in the league and the loser seeing bowl eligibility fade already.
No. 9 Tennessee at No. 8 Texas A&M, 3:30 p.m. (ET): The Tennessee Thrill Ride stops in College Station, and what can the Vols possibly have left emotionally after the past two weeks of survival? We asked the same thing last week though after the comeback against Florida — how can the Vols possibly get their feet back on the ground and win at Georgia?
Well, they did, but it took a Hail Mary (and a few penalties), which covered up the Vols' own meltdown against Jacob Eason in the final minute. Now Tennessee will take the stage for the 3:30 SEC showcase game for the third consecutive week, a rarity, and do it on the road for the second straight week, a brutal challenge.
Then again, the Vols are back in the Top 10 and probably thinking they can do just about anything at this point. They'll have a real shot to distance themselves from Florida and Georgia in the SEC East. But the Aggies are supremely confident, too, with a 5-0 start for the third consecutive season and a 3-0 league record for the first time since they joined the SEC. They also could get the four injured starters who sat last week, including star wideout Ricky Seals-Jones.
This one looks like a shootout on paper between Dobbs and Trevor Knight. But will the dizzy Vols have enough bullets left?
Vanderbilt at Kentucky, 4 p.m. (ET): Both are perenniel SEC doormats but both also think they have a shot to get to six victories and bowl eligibility. Both also scored a measly six points last week against Florida and Alabama, although the Vandy defense made the Gators sweat it out.
Let's be real: The Commodores and Wildcats are also both 2-3, and the loser will have an extremely difficult time navigating the rest of its schedule and getting to six wins. So make this another elimination game of sorts. Kentucky has the home field. But Vandy actually has some momentum after its stingy defense dominated the Gators, and if Ralph Webb can run for 110 yards against UF, he can do a lot more against the Wildcats.
No. 1 Alabama at No. 16 Arkansas, 7 p.m. (ET): Alabama has done what it's supposed to, but look closer: It's played three warmup games, including the past two weeks, as well as a USC team that's turned into a major disappointment and an Ole Miss team that led the Tide 24-3 until collapsing.
In other words, it's time for Bama to go to Fayetteville and prove that it's ready to win another national title, as a four-game SEC gauntlet begins. The good thing is that freshman Jalen Hurts does have big-game experience on the road, having quarterbacked the comeback at Ole Miss.
But Bama won't be able to ease its way into this one like it has too often this year, on the road and at night, and we'll find out quickly if that championship-level sense of urgency is there.
For Arkansas, up to No. 16 in the AP poll, this one means everything. It's a chance to slay the Tide at home on national TV. It's the dream scenario. The question is, can a so-so Hogs defense that got shredded by Texas A&M and late in the win over TCU get enough stops? Because a so-so defense could turn the dream into a nightmare.
Georgia at South Carolina, 7:30 p.m. (ET): The Bulldogs arrive in Columbia shell-shocked after the Tennessee Hail Mary put their SEC East title dreams in serious peril. This is where Georgia either saves its season or sinks, and we'll begin to find out a lot about Kirby Smart as a head coach and not a coordinator by how his team performs against a solid Gamecocks defense that will be energized by a night Williams-Brice crowd.
The good news for Georgia: Will Muschamp doesn't even know who's playing quarterback yet for his struggling offense. He'll be evaluating Perry Orth and Brandon McIlwain this week.