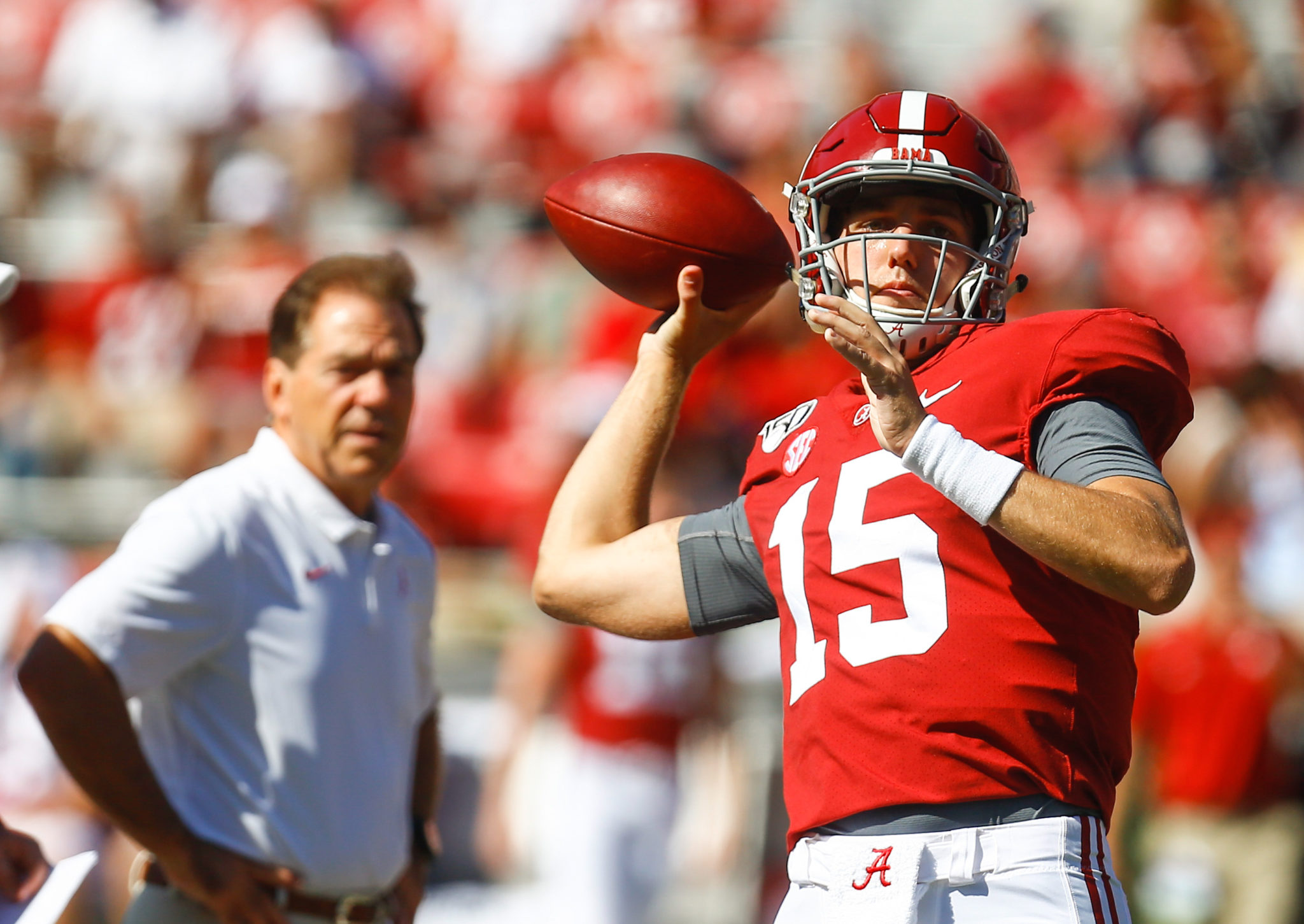 ALABAMA
Bryce Young is QB1, but here's why Paul Tyson will be fascinating to watch
If you're reading this, you probably already know why Paul Tyson is going to be fascinating to watch at Alabama.
In the state of Alabama, his bloodlines are untouched. Show up on campus as the great-grandson of Paul "Bear" Bryant, and yeah, you're basically the ultimate legacy. When Tyson was a rising recruit at Hewitt-Trussville (Ala.), elderly women came from out of town to see him play in a preseason intrasquad scrimmage in hopes of meeting him and taking a picture with Bryant's descendent. They also made sure to get Tyson's autograph … on a picture of Bryant.
(Tyson's grandmother was Bryant's only daughter. Hence, why they have different last names.)
Tyson is fascinating for that obvious, unescapable reason. But somewhat quietly, he's now in position to be QB2 in Alabama, which has proven to be plenty fascinating in its own right. You know, considering it was a QB2 named Tua Tagovailoa who delivered 2nd-and-26, and it was the perceived holdover Mac Jones who went from Tagovailoa's backup to the leader of one of the most dominant seasons in the sport's history.
If you aren't intrigued by Tyson's next step, you should be.
Remember that this is someone who was buried on the depth chart not too long ago. Tagovailoa, Jones and Taulia Tagovailoa were all ahead of Tyson in 2019. Now, he's battling Bryce Young for the starting job.
Let's be honest, though. The starting job is Young's to lose. He was the backup last year, and all signs out of camp so far are that the former 5-star recruit is off to a blazing start.
Tyson, entering Year 3 in Tuscaloosa, is suddenly the elder statesman in the Alabama quarterback room, which also includes early enrollee Jalen Milroe. Taulia Tagovailoa's transfer last year and Jones' early NFL departure set up that scenario.
According to Nick Saban, Tyson's improvement has been "tremendous."
Saban: "I think Bryce (Young) has shown he's a very talented guy. He's just got to get more knowledge and experience to be able to be a little more consistent in terms of his execution. And Paul (Tyson) has made a significant amount of improvement, as well."

— Charlie Potter (@Charlie_Potter) September 8, 2020
(He also reportedly threw a pick-6 in Alabama's scrimmage. Take that for what you will.)
At 6-5, 228 pounds, Tyson is built differently from his fellow quarterback competitors. Getting the ball downfield isn't an issue for Tyson, who now wears No. 17 because of the guy he models his game after, Philip Rivers (Tyson was originally No. 15 at Alabama because Jaylen Waddle wore No. 17).
When Tyson was a senior in high school, Trent Dilfer told me that after watching him at Elite 11, he thought he had more Ben Roethlisberger in him because of his ability to grow into his frame.
"(Paul) is gonna be one of those 22-year olds that goes into the weight room and goes, 'Holy crap, I'm the strongest guy on the team and I didn't even know it,'" Dilfer told SDS in 2018. "We see it all the time. These kids are tall and long, and they don't really know how to control it all yet, and all of us are sitting there going, 'This kid's gonna be a monster.'
"And that's what he's gonna be."
Tyson is now up to 228 pounds, and though he might not be getting the "monster" distinction just yet, we're still in the early stages of watching what he can become. He should get significant reps in Alabama's spring game, which is set for April 17. Without a 2020 spring game because of COVID, we'll see more of Tyson in live action than we have during his entire Alabama career to date (his lone action was a handoff at the end of the Western Carolina game in 2019).
Can he make those "wow" throws deep down the sideline? Will it look like the game has slowed down for him? Is he the best decision-maker in the quarterback room? We should hopefully get an answer to those questions soon.
Tyson, despite all the name recognition he had, has been allowed to develop in a way that few blue-chip quarterbacks do these days. He quietly spent 2 years watching and learning behind a pair of all-time great Alabama quarterbacks. That was to be expected because if he was ever going to become a legitimate starting quarterback without that key mobility needed, he was going to have to become exceptional with his footwork and reads, just as Jones did last year.
At this time next year, Alabama commitment Ty Simpson is expected to be in Tuscaloosa, which would mean a pair of 5-star quarterbacks could be on the roster. Consider that all the more reason why 2021 feels like a massive opportunity for Tyson.
If Young stays productive and healthy like Jones did, there might not be much of an opportunity at all for the redshirt sophomore. It could only be garbage time work. Or perhaps if the mobile but somewhat undersized Young suffer an injury, the door will open for Tyson. If that happens, suddenly he would become one of the most intriguing quarterbacks in college football.
Once upon a time, an injury to Tagovailoa gave Jones the opportunity he needed at the end of the 2019 season. He established himself against a pair of top 25 defenses away from home, and it gave him a massive leg up in the quarterback battle last offseason. Granted, it helped that he wasn't competing with Tagovailoa anymore, which would theoretically be different than Tyson and Young battling for the job again in 2022.
Still, though. In a weird way, Tyson will remain intriguing because until we see him actually get real game reps, we really won't know how we should feel about his potential. We can watch all the high school and Alabama practice clips of him and not really know what he's like until it's a true game situation.
He might show up to the spring game and make people question if Jones threw on a No. 17 Alabama practice jersey. Or he might look like a raw, ineffective signal-caller who'll make Saban hit the transfer portal for a grad transfer backup.
More times than not in this era of the transfer portal, one would expect a third-year, former 4-star QB who loses the starting quarterback battle to a player his junior to bounce. Assuming Tyson doesn't win the starting job, it would still serve as a surprise if he left Alabama before the start of the 2021 season. Maybe subconsciously, part of that assumption is related to the bloodlines. There's also something about being one twisted ankle from taking over at Alabama that would be appealing to anyone given the recent history at the position.
Tyson is now as close as he's been to getting that chance. If he continues to make "tremendous" improvements, who knows how we'll be talking about him a year from now.
Keep your eye on the new No. 17, and not just because of his DNA.