ALABAMA
Key to Tide's dynasty: Can Alabama still own the trenches in 2017?
There are many dimensions to Nick Saban's process, all of it intended to maximize all of the vast resources within the program. You can summarize a great deal of that process as working toward the strategy of controlling and winning games at the point of attack in the trenches.
Saban's Bama has had 22 players drafted in the first round over the past nine years, over half (12) of whom were linemen, linebackers or tight ends. The primary utilization of those players was of course to help the Tide control events in the box. Earlier in the Saban era things were a bit simpler, Alabama was just looking to run the ball and stop the run with the assumption that everything else would largely work itself out from that point.
Run the ball and they could dictate the tempo of the game and set up opportunities to land kill shots in play-action. Stop the run and Saban could force third-and-long where his defense could mix tight, pattern matching coverage with blitzes. In recent years Saban has had to evolve the process to include more base pass-rush and the 2015 and 2016 Crimson Tide squads were groundbreaking for their ability to bring a devastating pass-rush from the defensive line. The 2016 front in particular was an all-time great unit.
DL Jonathan Allen, Ryan Anderson and Tim Williams combined for 50.5 tackles for loss and 28 sacks while inside linebacker Reuben Foster led the team in tackles and added another 13 tackles for loss and five sacks. Those players are all gone now, due to be replaced from Saban's bottomless coffer of 5-star talents.
On the other side Alabama is replacing second round draft pick and LT Cam Robinson along with TE O.J. Howard, a first-round draft pick. The 2016 Tide offense did not stand out like previous units, but it did achieve the impressive task of putting three ball carriers over 800 rushing yards only to falter when they couldn't throw the ball well enough with a true freshman QB to match a modern offense like the Clemson Tigers.
The replacements in these two fronts have to be ready to step up in a major way for the process to roll forward with enough momentum to bring the championship trophy back to Tuscaloosa.
Balance on defense
For as talented as the Tide are at every position, Saban prefers to try and use his front to do the heavy lifting, particularly when he has a front like the 2016 squad. You can see how that worked out against Clemson these two examples.
Here's Alabama vacating the box of linebackers or safeties to take away Clemson's quick passes and screens while still successfully stopping the run: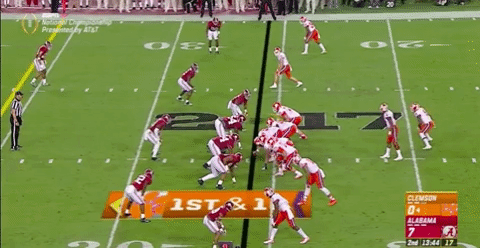 But then here's Alabama leaning on a four-man pass rush to allow them to play tight coverage with two deep safeties over the top and still yielding a crucial pass.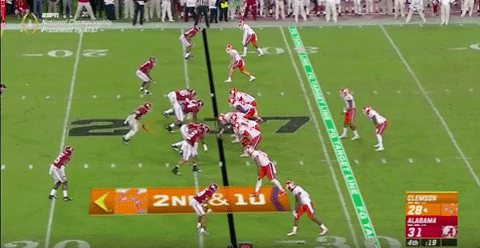 A key figure for the Tide in continuing to own the trenches with all of those losses will be LB Rashaan Evans, who will be leaned on both to replace Reuben Foster at inside linebacker as well as playing on the edge in the Tide's "rabbit" pass rushing package. With nose tackle Da'Ron Payne returning and big DL like Da'Shawn Hand and Raekwon Davis stepping in the Tide figure to be as stout as ever on the inside, but their ability to balance fielding run-stopping with pass-rushing will depend heavily on multi-use guys like Evans.
Owning the middle on offense
Alabama's in better shape on offense, where it returns the strongest feature of the 2016 team: its ability to run the ball behind well executed zone blocking from LG Ross Pierschbacher and C Bradley Bozeman. There were two main dimensions to the 2016 run game, one involved running zone-read schemes in which Jalen Hurts would often be the ball carrier running behind the Pierschbacher-Bozeman tandem while RB Damien Harris took the edge: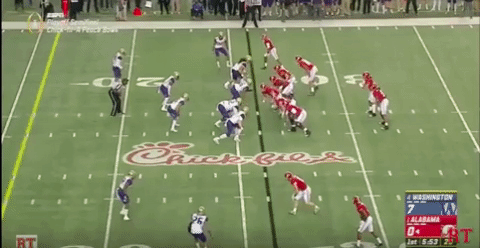 The other was the more traditional Alabama approach in which it would just run a straight hand off to RB Bo Scarbrough so that he could pick out creases behind those blockers: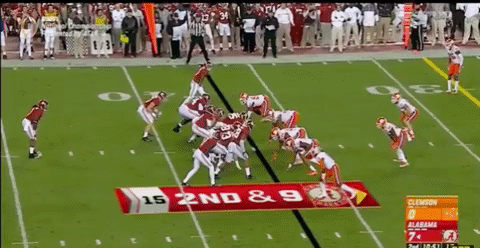 This is textbook zone blocking on the play side with Pierschbacher effectively trading the nose tackle (No. 90) off to Bozeman before picking off LB Ben Boulware and sealing him off as well.
There really aren't any questions regarding whether Alabama can continue to run the ball at a very high level in 2017 with three starters back along the line and two of them being guys who do exceptional work together. The entirety of the Alabama offense will be built off how defenses try to deploy their players to account for the ability of the Tide to pound the ball behind "Boze-bacher" on the left side of the line.
If they can add a more dangerous passing dimension to that, the Tide will field one of the very best offenses in the country.
Nick Saban wants to control the game up front and he has some pieces to make another very good go of it in 2017. Whether they can plug in yet another cast of NFL-caliber players to their defensive front while building on a sturdier foundation on offense will determine if that's still enough to make for another playoff run.