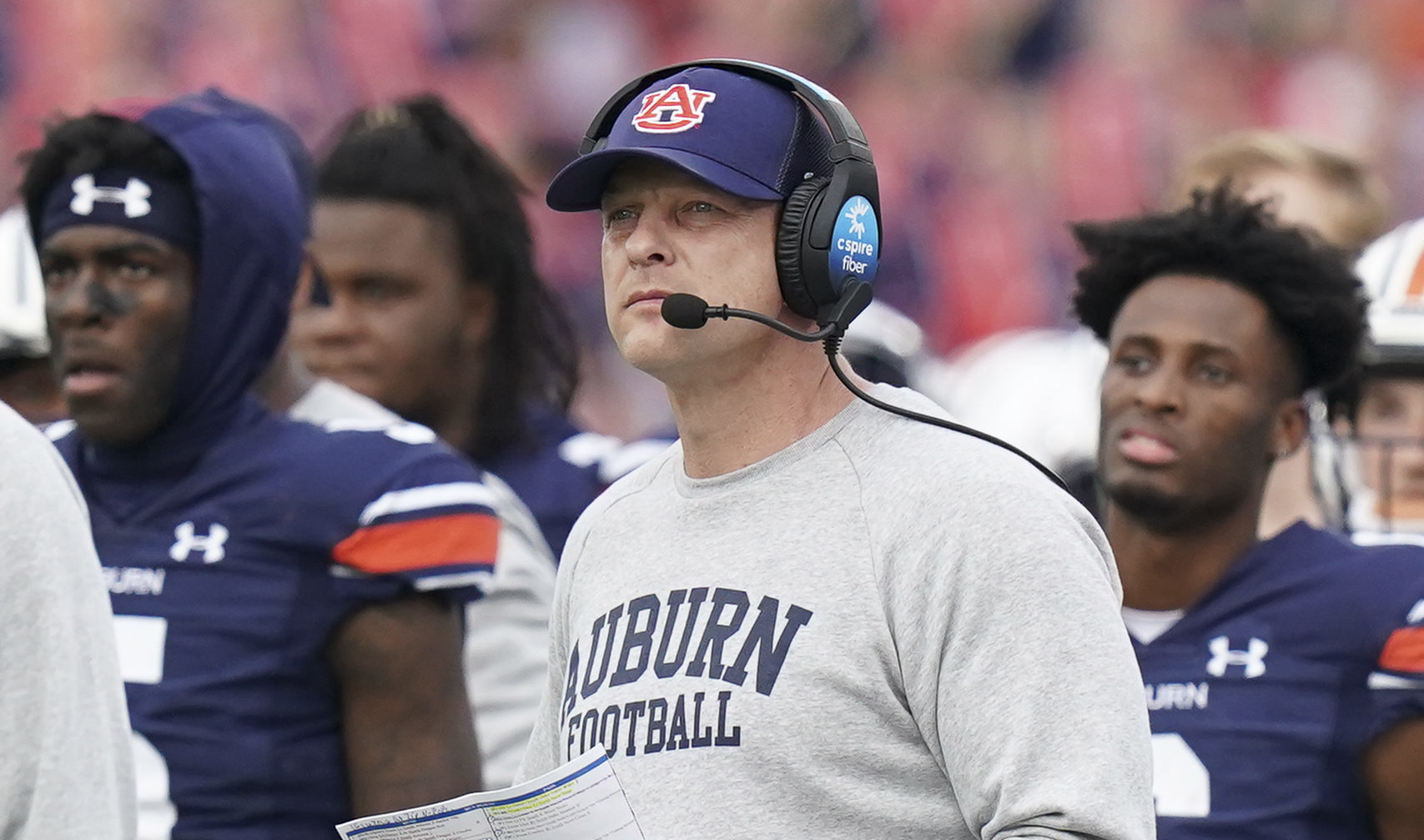 ALABAMA
Congratulations, Auburn. Alabama still has the worst SEC coaching hire of all-time
Alabama is a tough team to beat. Auburn knows that all too well.
The Crimson Tide have mostly dominated the Tigers and everybody else since Nick Saban arrived. But Bama also holds the all-time record for worst coaching hire in the history of the SEC — if not all of college football. Bryan Harsin, keep on trucking. You have nothing on former Alabama coach Mike Price.
When you take a look back at the worst coaching hires of all time in the SEC, hiring Price can stand toe-to-toe with anyone. Price's short history at Alabama makes Harsin look like Pat Dye or Paul "Bear" Bryant. Harsin had Auburn in contention to win the SEC in October. No one thought the Tigers could actually win a championship at that point, but there they were. The Tigers were 4-1 after an impressive win over Ole Miss and controlled their fate. As we know, the rest of the season didn't go so well but let's not get hung up on that.
Harsin went 6-7 in Year 1. Price was 0-0 in zero seasons at Alabama despite being hired in December of 2002. Harsin has never been seen in a strip club. Price partook in such entertainment shortly after spring practice. Let's all thank our lucky stars that there wasn't social media and camera phones back then. I'm just fine going the rest of my life without seeing any coach, but especially Price, receive a lap dance.
Price wins the national title for questionable behavior. While playing golf with boosters at a tournament, Price had an unknown woman order $1,000 in room service.
I was assigned to come up with a list of the top 10 worst coaching hires in SEC history. Let's go there for a moment. Tennessee has the market cornered on bad hires since 2009. You know the list of lame: Derek Dooley, Butch Jones and Jeremy Pruitt. However, Lane Kiffin will be mentioned because he left after only 1 year. Kiffin, however, has proven to be a very good — if not great — coach with a national championship in his pocket as an offensive coordinator and a rebuilt career that is something to admire.
Kiffin left for his dream job at Southern California. Had he stayed at Tennessee, he would have had success. That whole mess was Tennessee's fault for not writing a massive buyout for Kiffin if he left after a year or two. Kiffin wanted the Tennessee job. He would have agreed to a buyout. It's not his fault.
There are others who could battle for the crown of worst coaching hires. Kentucky's Joker Phillips didn't do so well, but, in all fairness, he was at Kentucky. Other than Bryant and Mark Stoops, there isn't much history of success at Kentucky. Speaking of, if Auburn eventually fires Harsin, wouldn't it be wise to call Stoops immediately? I digress.
Ed Orgeron wasn't ready to be a head coach when he was hired by Ole Miss. In no time at all, Orgeron ripped his shirt off during a team meeting and challenged his team to a fight. You won't find that in any coaching handbook. Things didn't work out for Orgeron at Ole Miss, but he has since proven he can coach. He won a national championship at LSU. Price won a spring game at Alabama.
Jack Crowe was fired 1 game into his 3rd season at Arkansas when he lost to The Citadel in 1992, the year the Hogs joined the SEC. However, he was 9-15 overall at Arkansas and actually had the program trending the right way. The Razorbacks were 3-8 in his first season and improved to 6-6 in 1991. He's no Price — although, like Price, he was fired before he coached in his first SEC game.
The simple fact is there is no other hire in SEC history more disastrous than Price. Congratulations Alabama. Comparing the Price hire to any other is like comparing Tom Brady to every other quarterback in the history of the NFL.
Price is simply the GOAT of bad hires and it's not even close.
Congratulations to all Auburn fans for not beating Alabama in a very exclusive category: worst coaching hire of all time. Now, the next step is beating Alabama consistently on the field. Something tells me Harsin won't be a part of that.