ALABAMA
Decade of Dominance: Nick Saban awoke Alabama, put rest of SEC to sleep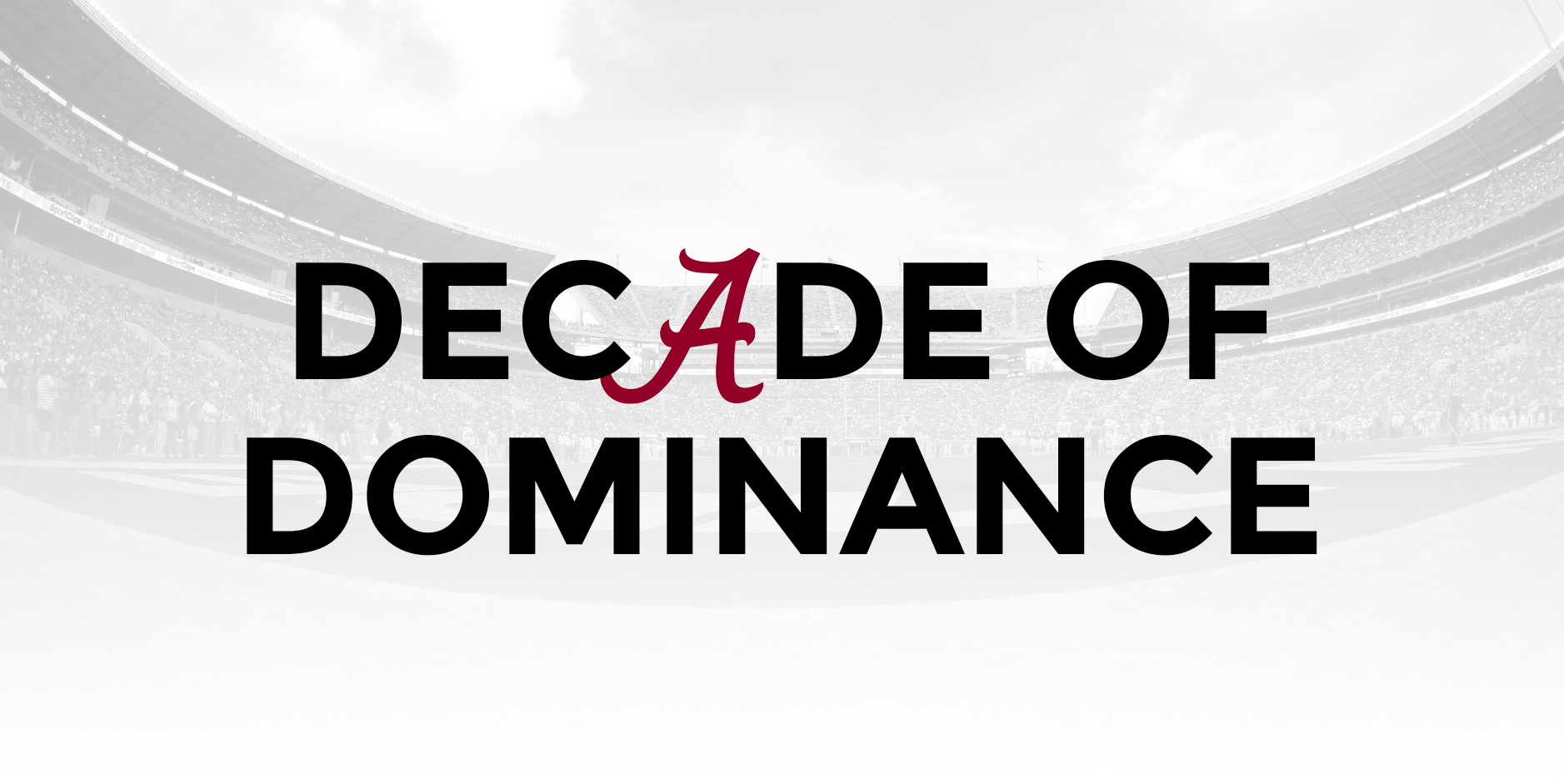 How Nick Saban awoke Alabama, put rest of SEC to sleep
By John Crist
//

August 29, 2016
"When they got Nick Saban in, the world changed. So the degree of excellence that we've seen out of Alabama since Nick came in is almost unequaled. He refers to it as 'the process,' and no one has the process down quite like him."

— Verne Lundquist, CBS Sports
TUSCALOOSA, Ala. — Alabama walked off the field for the final time in 2006 following a loss in the lowly Independence Bowl.
It was the Crimson Tide's fifth defeat in six games, with the one victory being a dismantling of Sun Belt cupcake Florida International. At no point that season did 'Bama show up in the Top 25.
The Tide had faced four ranked opponents, each one an SEC foe. But Florida, Tennessee, LSU and Auburn — it was the Tigers' fifth consecutive win in the Iron Bowl — were all superior. UA finished 6-7, under .500 for the third time since the turn of the millennium.
Come NFL Draft time, fullback Le'Ron McClain was picked in Round 4. Tailback Kenneth Darby and cornerback Ramzee Robinson went in Round 7. That was it, though. Big Al hadn't had a first-rounder since 2000.
Mike Shula, who produced a total of 26 wins in four years as head coach, was mercifully shown the door. Somewhat surprisingly, his successor was finishing up a last-place finish in the AFC East.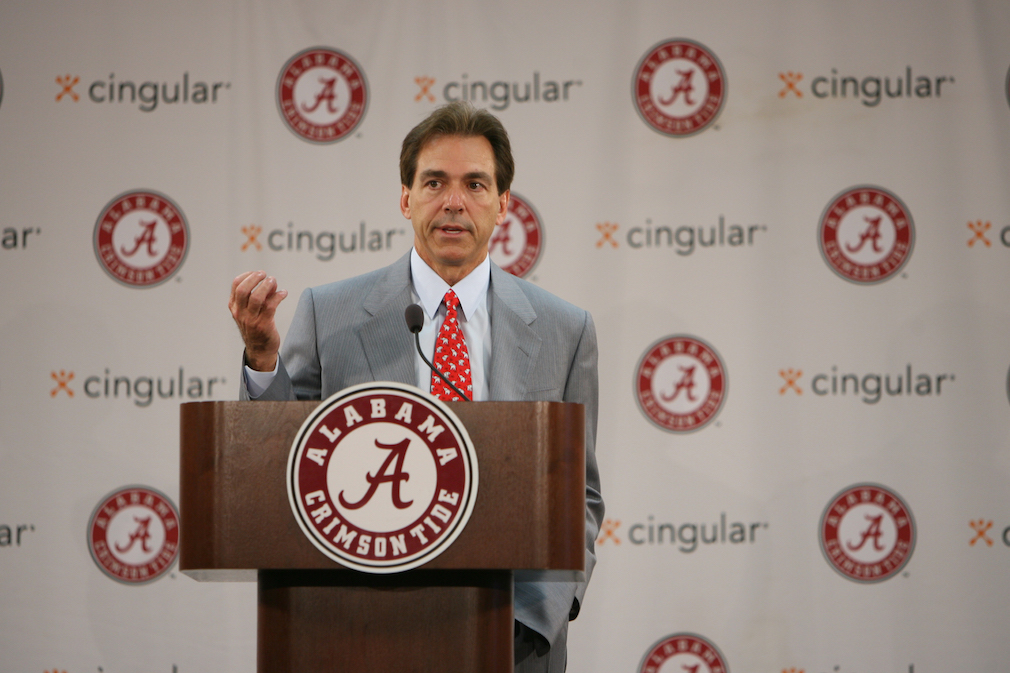 Photo Credit: University of Alabama
"I'm not going to be the Alabama coach" — those words came out of Nick Saban's mouth several times while with the Miami Dolphins. But he had been lured away before. Miami owner Wayne Huizenga was hardly the first to try to bring him back to the NFL. It takes a certain amount of money, control and, frankly, begging to get Saban's attention.
Following a promising 9-7 debut in 2005, the Dolphins fell to 6-10 in Year 2 under Saban. He had started five quarterbacks, and none was the answer going forward. Off the field, it was no secret that his wife, Terry, was a bigger fan of small college towns than the bright lights of the big city.
Eventually, after weeks of speculation and an awkward press conference or two, Saban put pen to paper for UA.
The late Mal Moore, director of athletics, set out to hire a coach with championship pedigree. It took money. It took giving up some control. It took a bit of begging, too. But Saban would usher in a new era of Alabama football.
"Coach Saban brings that proven record of accomplishment and leadership to our program," Moore said in a school release.
Despite the messy exit from South Beach, Saban was a home-run hire. There wasn't a better job in the country, and yet it had been given to a couple of men who didn't seem worthy of the position.
The Crimson Tide were a sleeping giant at the time, having burned through three coaches — four, actually, when you count the drunk-and-disorderly Mike Price era — in the decade following the retirement of Gene Stallings, who authored the school's last national championship in 1992.
Considering what 'Bama looks like today entering Saban's 10th season, it's easy to forget what kind of program he inherited.
Six consecutive years starting in 2002, the Tide weren't in the preseason Top 25. Shula, Dennis Franchione and Mike DuBose combined to assemble more losing records (four) than 10-win seasons (three).
Alabama may have been the team of the '60s and '70s, but the '80s and '90s belonged to the likes of Miami and Florida State. While the Tide were perhaps prisoners of their own tradition, the 'Canes and 'Noles had fancy uniforms and fancier passing attacks. Three yards and a cloud of dust just wasn't sexy anymore.
The onset of the 2000s were no better to 'Bama. USC, a West Coast traditional power, was the "it" team.
However, one SEC squad managed to push its way to the forefront: LSU. The Tigers won a national title in 2003, the first in Baton Rouge since 1958. And it was Saban who made the Bayou Bengals fierce again.
Following a five-year run at Michigan State, Saban's half-decade stint at LSU was something to behold. He had seemingly unlimited resources, access to elite recruits and a fan base hungry to be relevant again. Alabama could provide everything the Tigers did — only so, so much more.
"Everybody knew he was a great coach when he got there from Miami," said Dre Kirkpatrick, who was a defensive back at Alabama from 2009-12. "He previously won the championship at LSU, so there were a lot of expectations. A lot of players were excited, and a lot of fans were excited. He got guys to play for him again."
"It all starts with recruiting," said Greg McElroy, a Crimson Tide quarterback from 2006-10. "He was able to get the best players from all over the country to begin considering Alabama. When I got to school, we had many guys from the state, but not nearly as many from out of state. Now guys from Georgia, Tennessee, Florida and Louisiana litter the roster. It's also become a national program bringing guys in from California, Maryland and Texas. They even have a QB (five-star prospect Tua Tagovailoa) committed from Hawaii."
To the fair-weather types in Miami, he will always be a deserter. But to the worshippers in Tuscaloosa, Saban soon would be their savior.
"Nick Saban can't be given enough credit for what he has done in his nine years as Alabama football coach, but he had some help. In Crimson Tide lore, Rita Rodriguez gets a big assist. Legend has it that Rich Rodriguez was about to accept the 'Bama job, but his wife Rita didn't want to go to Tuscaloosa. The second assist goes to Mal Moore, who was athletics director at the time. Moore had put all the infrastructure in place, including an upgrade of Bryant-Denny Stadium, practice area, academics center, etc., and he had the determination to bring Saban to Alabama. It proved to be a perfect marriage of traditional football blue blood (four Hall of Fame coaches, including Paul 'Bear' Bryant, preceded Saban at 'Bama) and a tireless, effective leader of the program."

— Kirk McNair, Scout.com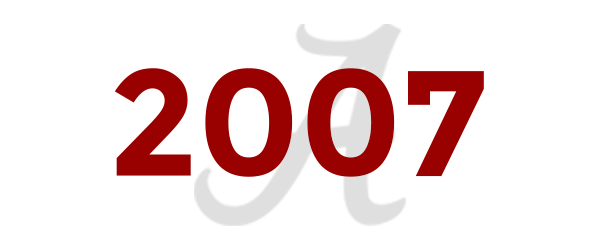 It's hard to remember, even with the benefit of hindsight, but Saban didn't win at UA immediately.
His first year in Tuscaloosa wasn't unlike Shula's last, as the regular season resulted in a mark of 6-6. A September shocker over Arkansas was immediately followed by losses to Georgia and Florida State.
A late-October upset of Tennessee again failed to manufacture any momentum. Despite getting back in the polls (No. 17), Alabama lost four consecutive to LSU, Mississippi State, ULM — yes, Louisiana-Monroe … at home — and Auburn. Shipped to the Independence Bowl again, this time the Tide took out Colorado.
However, there were signs of life. Two victories over ranked opponents were two more than the year before. None of those six defeats was by more than seven points, either. 'Bama appeared to be on the rise.
Recruits were beginning to take notice, too. On signing day, Saban inked a handful of future first-round draft picks. "The process" had begun.
"From a recruiting standpoint, Alabama fans were not used to a tremendous amount of success. There would be some excitement with some four-star commitments. Alabama hardly saw many five-star commitments during the Mike Shula years, and it was tough to land the elite prospects from other regions of the country. Nick Saban's first full year on the recruiting trail, he signed Rivals' No. 1 class in the country, which featured players like Heisman Trophy winner Mark Ingram, Julio Jones, Dont'a Hightower, Marcel Dareus, Barrett Jones and Courtney Upshaw. It helped lay the foundation for the recruiting classes to come. Schools are chasing Alabama each year for the No. 1 class. Coach Saban is able to land the best players from all regions of the country: South Florida, California, Texas, Virginia, New Jersey, Ohio and so on."

— Andrew Bone, Rivals.com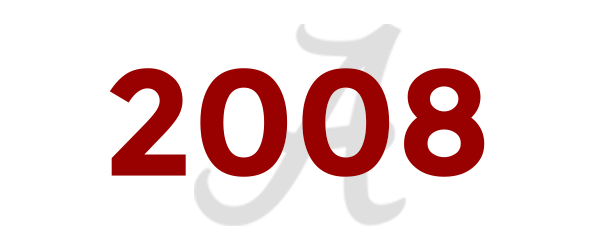 Ranked No. 24 at the start of the year, Alabama opened with No. 9 Clemson in neutral-site Atlanta.
Behind three touchdowns from John Parker Wilson — two passing, one rushing — the Tide tore apart the Tigers 34-10. By mid-September, they were comfortably in the Top 10 for the first time since 2005.
'Bama swept through its conference schedule an unblemished 8-0, including an upset of No. 3 Georgia by double digits between the hedges. The Crimson Tide finished the regular season by goose-egging Auburn in Tuscaloosa. The balance of power was ready to be recalibrated in the Yellowhammer State.
Ultimately, Florida and reigning Heisman Trophy winner Tim Tebow proved to be too tough in the SEC title game, as Urban Meyer and Co. were on their way to a second crystal football in three seasons.
Utah topped the Tide in the Sugar Bowl to the delight of many. But Saban was about to unleash hell.
"The only thing worse than not challenging for championships at Alabama is being irrelevant to the discussion altogether. That was the situation he inherited in January 2007. Twenty-three months later, he had the Crimson Tide six quarters away from winning its first national title in 16 years. Just being in position to win it all in 2008 signified that UA, this time, was truly back among college football's elite. That year fueled a run of greatness that not only restored Alabama to what the fan base believes is its team's rightful place, but it started an explosion of growth at the university the likes of which I've never seen."

— Travis Reier, 247Sports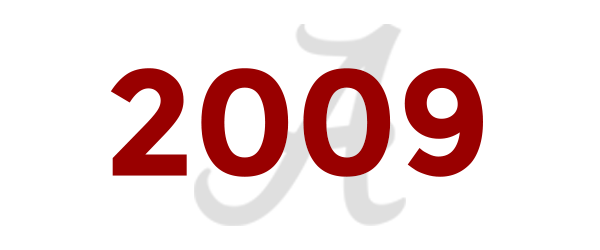 No. 5 to begin the campaign, it would be Alabama's lowest ranking for arguably Saban's finest team.
A second consecutive undefeated run through the regular-season was highlighted by wins over four ranked opponents. Every one of those victories was by multiple scores.
In a rematch with Florida — the second straight year Atlanta played host to No. 1 vs. No. 2 with the SEC on the line — this time the Crimson Tide ran roughshod over the Gators. Final score, 32-13. Tebow's sideline tears were no match for eventual Heisman winner Mark Ingram's trio of rushing TDs.
Another 1 vs. 2 matchup, 'Bama won its first national championship in almost two decades with a 37-21 takedown of Texas in Pasadena. With the ground game in total control, McElroy only needed to throw 11 passes.
That spring, multiple UA players were chosen in Round 1. That hadn't happened since the 2000 draft.
"Saban consolidated, if not seized, power at a time when Alabama was absolutely malleable. It had gone through a quarter century chasing Bear's legacy. Saban was a proven commodity. With that power, Saban answered to only a small group of people at Alabama. That allowed him to get the infrastructure, budget and coaches he needed to succeed. That and complete faith in his ability. Even with all that, it takes a special person to deal with the day-to-day. Remember, this is a job that ran Dennis Franchione out of town. This is a job that ground down legends like Ray Perkins and Bill Curry. Add in Saban's recruiting matrix, and he was the perfect coach for the perfect time at what is now the near-perfect program."

— Dennis Dodd, CBS Sports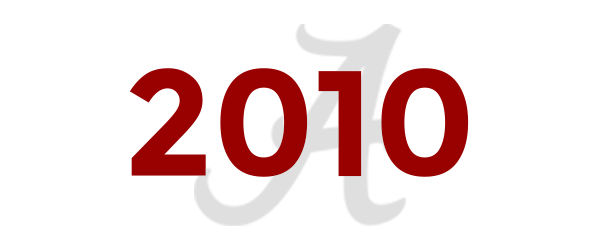 The unquestioned No. 1 nationally, Alabama was 5-0 in October and seemingly set on cruise control.
Along the way, the Crimson Tide went into Fayetteville and took down an Arkansas squad ranked 10th in the country. A week later, Saban and Co. ripped Florida limb from limb at Bryant-Denny Stadium.
However, another David-slays-Goliath situation awaited them in Columbia. Stephen Garcia played the game of his life, as South Carolina — not a Utah-sized David, but David nonetheless — won a 35-21 stunner. Garcia connected on 17-of-20 passes and found the end zone on three occasions.
Two November losses knocked 'Bama from the Top 10: first a 24-21 decision on the road to LSU, then a 28-27 heartbreaker at home to Auburn. Cam Newton pulled a gigantic rabbit out of his Heisman hat.
But this was a mild setback for Saban. He signed the top recruiting class in the land that February, which was becoming a rite of winter.
"Alabama's football program didn't necessarily need saving, but it did badly need stability. Every Tide coach since Bear Bryant had at least one 10-win season, but there were some lousy years in there, too. Saban has saved a really proud program from occasional mediocrity, that's for sure, at least as long as he's there to keep the ship sailing true."

— John Zenor, Associated Press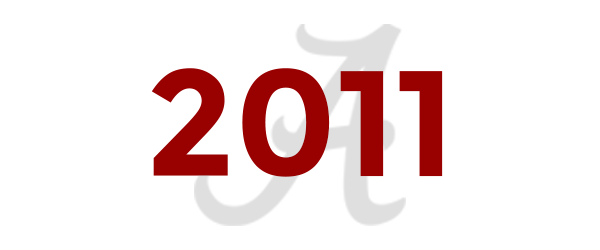 The entire campaign came down to Alabama-LSU. Both were ranked in the Top 4 in every poll.
The Crimson Tide finished October with a flawless record of 8-0, taking down No. 23 Penn State, No. 14 Arkansas and No. 12 Florida by an aggregate score of 103-35. The Tigers also marched to 8-0.
For the first time in history, two undefeated SEC schools ranked first and second in the country met in the regular season. It was Game of the Century time in Tuscaloosa. The ultimate defensive slugfest, neither team could muster 300 yards of offense. While the Bayou Bengals were 3-for-3 on field-goal attempts, the Tide converted only 2-of-6. LSU survived, 9-6.
Another 1 vs. 2 occurred in the rematch, this time in the BCS title game in New Orleans — right in LSU's backyard. But Alabama wouldn't be denied, holding the Tigers to 92 total yards in a 21-0 whitewashing.
Saban was basically running an NFL farm team. Four players were chosen in Round 1 of April's draft.
"Saban's genius lies not only with his coaching but his evaluation of prospects. While his track record certainly earns Saban more than his share of five-star recruits, he and his staff have done a remarkable job of identifying specific body types and playing styles among prep players to fit his schemes. Further, Saban's time in the NFL makes his schemes truly 'pro-style.' Some argue that this leaves players 'maxed out' prior to reaching the professional level. In reality, Saban's expectations and the complexity, physicality and technique expected now at Alabama leave players better suited to play immediately in the NFL."

— Rob Rang, NFL Draft Scout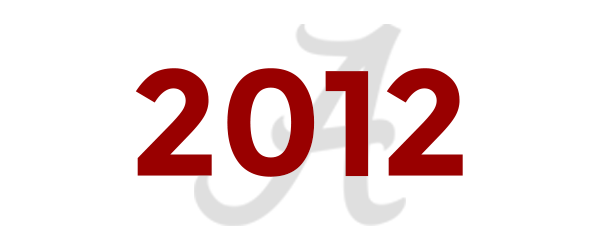 For the second consecutive season, Alabama was never ranked lower than No. 4 in the polls.
The Crimson Tide pitched four shutouts. Two were against directional schools — Western Kentucky and Western Carolina — but the other two were Arkansas on the road and then rival Auburn at home.
An unexpected slip-up happened in Tuscaloosa against SEC rookie Texas A&M, though. The legend of Johnny Manziel was born in a 29-24 upset, as the soon-to-be Heisman winner threw for 253 yards, ran for 92 more, didn't commit a turnover and looked to be the antidote for Saban's ferocious defense.
But nobody could replicate what the Aggies did. 'Bama outlasted No. 3 Georgia in Atlanta for another conference crown and then annihilated fraudulent No. 1 Notre Dame in the BCS Championship Game.
Three national titles in four years. Parity was supposed to be a thing, too. Saban had switched over to dynasty mode.
"I think he brought a lot of accountability to the people that were working there. He runs a tight ship. He expects everybody who's behind him to do their job in a highly efficient way. Over a period of time, you start believing in it yourself, and you become a highly efficient player or coach or what have you. He brings out the best in everybody, and when you have a person like that, no matter what they do, or how they say it, you already know that it's moving in the right direction. When he brought that to the program, it completely changed everything. That's why we have so much success."

— Chance Warmack, offensive lineman (2009-12)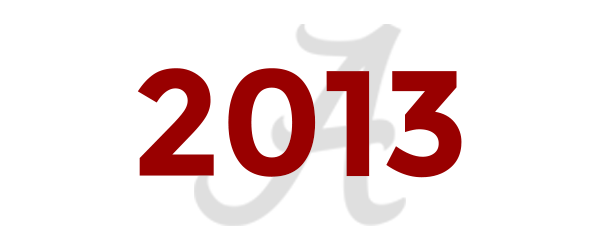 Another season, another preseason No. 1 ranking for Alabama. It stayed there for three months.
The Crimson Tide suited up for 13 games. Eight times, they held their opponent to 10 points or less — pitching three more shutouts, too. While the mercurial Manziel hung 42 on 'Bama, the Tide bounced back with 49 of their own.
However, the Iron Bowl saw Saban and Co. take the field against an Auburn team with destiny on its side for first-year coach Gus Malzahn. Tied 28-28 with 1 second left in regulation, UA watched Chris Davis turn a missed field goal into the Kick Six, one of the greatest plays in history. 34-28, War Damn Eagle.
Understandably, the Tide weren't particularly motivated five weeks later to battle Oklahoma in a meaningless Sugar Bowl. Freshman passer Trevor Knight took advantage and made a name for himself with the W.
Florida State defeated Auburn in the final BCS Championship Game. Most fans would have preferred FSU-'Bama.
"Saban came to Alabama with the intention of making that program his own. Not the boosters'. Not the fans'. Not the administration's. It's all his. For a program that had been struggling through mediocre seasons and probation, everybody was championship-starved enough to let him have his way. That freedom, coupled with the success he achieved in Year 2, got everybody on the same page. The sustained success since then has kept everybody there, and it doesn't appear to be changing any time soon."

— Barrett Sallee, Bleacher Report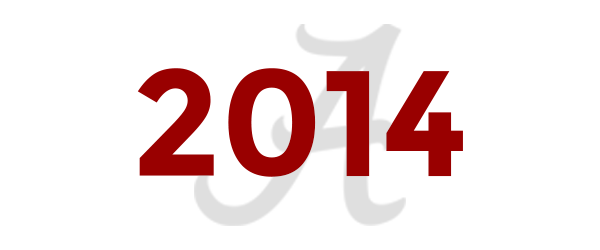 The end of the BCS begot the birth of the College Football Playoff. Alabama was a factor, naturally.
On a transcendent weekend in the Magnolia State, highlighted by Katy Perry's appearance on College GameDay, Ole Miss took down the Tide in Oxford. But 'Bama didn't lose again on its way to an SEC title.
Along the way, the Crimson Tide topped eight consecutive opponents — five of them ranked. Mississippi State, perhaps uncomfortable with its new role as No. 1 in the country, saw its storybook run end in Tuscaloosa. After beating Missouri for the conference crown, a CFP invitation awaited Saban.
No. 1 again and favored to win it all, he ran into his predecessor as resident bully of the SEC: Meyer. Now at Ohio State, Meyer's underdog Buckeyes proved they belonged in the Final Four by besting UA.
For 2013 and 2014, only the ensuing national runner-up and ensuing national champion derailed the Tide.
"He was the stability and glue that the sleeping giant named Alabama so sorely needed. The program had become moribund under Dubose, Franchione, Shula and Price (what a disaster that was). Gone were the days of the goal-line stand and the toughness that the Stallings and Bryant programs exuded. It took a while for Saban to get used to living in a fish bowl, and it took fans a bit to get used to Saban's brash demeanor. But once the two took to each other the sky was the limit, as is proven by four national championships. And there is no sign of stopping the machine that is Alabama football."

— Rachel Baribeau, SiriusXM College Sports Nation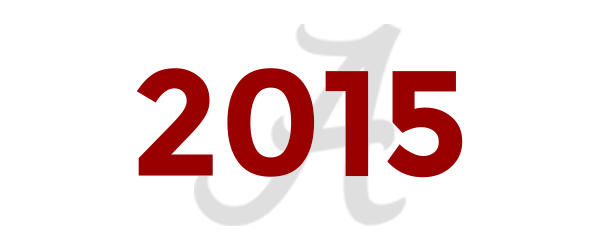 Rebuilding years were now a thing of the past at Alabama, even with first-rounders leaving annually.
For the second season in a row, the Crimson Tide were tripped up by Ole Miss. The Rebels had never pulled that off in school annals. But for the second season in a row, 'Bama refused to throw in the towel.
With forthcoming Heisman Trophy winner Derrick Henry getting stronger each week, Saban reeled off 12 consecutive victories to claim his fourth national title in seven years. Five of those wins came over Top 10 blue bloods: Georgia, Texas A&M, LSU, Michigan State and, finally, Clemson in the championship game.
While seemingly every other coach in the country could only go as far as his quarterback took him, Saban bucked the trend by continuing to run the rock and play D. No Jameis Winston? No Deshaun Watson? No problem.
Neither Blake Sims nor Jake Coker was drafted. The game's most important position is more important than ever, yet only Saban has found a way to lessen its importance.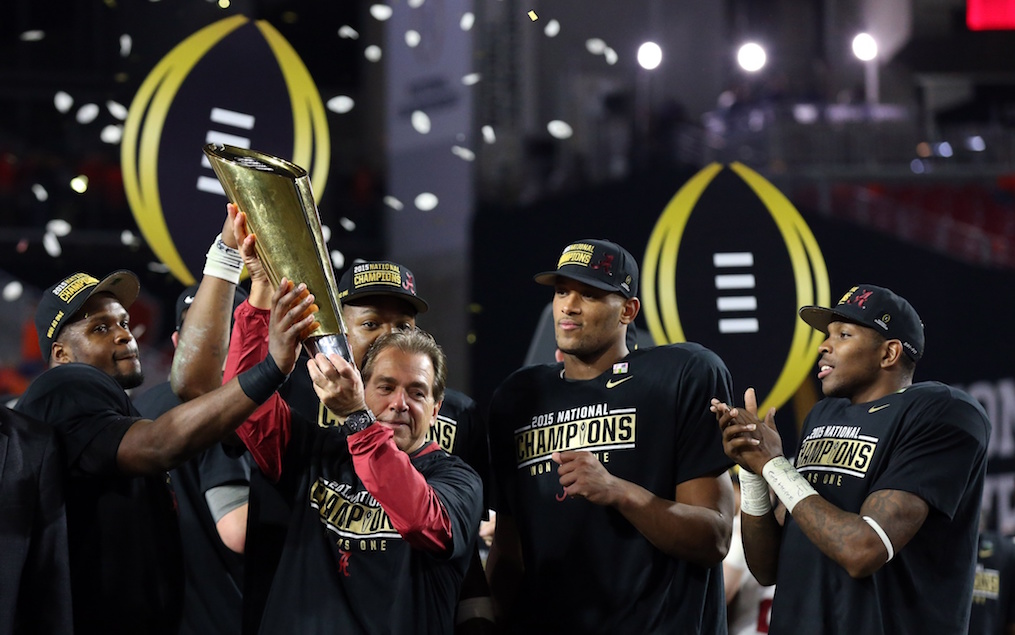 Photo Credit: USA TODAY SPORTS
Alabama is a college football machine, but it still takes a master engineer to run it at maximum overdrive.
Decades of tradition. Second-to-none facilities. Deep-pocketed boosters. Coast-to-coast recruiting footprint. Rabid fan base. You'd think a program like that is too big to fail. And yet it did.
DuBose was chewed up and spit out so viciously that he has spent most of the rest of his career at the high school level. Franchione grew frustrated with NCAA sanctions and quit. Price found out the hard way that however he conducted himself at Washington State wasn't the way to do things at 'Bama.
Shula was told to scram despite signing a six-year contract extension only the previous offseason.
However, to paraphrase Dodd, Saban was the perfect man for the perfect job at the perfect time. Part football coach. Part father figure. Part business leader. Part community activist. Part savvy politician. Part ruthless dictator.
If you're not a fan of the Tide, then you're probably not a fan of Saban. The seemingly joyless expressions on his face. The shameless belittling of reporters. The second and third chances for star players. The days of the big-teddy-bear coach are long gone, but Saban takes cold and prickly to dizzying heights.
And if your school had a chance to hire him, you'd giddily double your annual donation check in order to make it happen.
"Alabama has always had tremendous support for football," said McElroy, now an analyst for SEC Network. "But at the time of his arrival, the facilities had slipped a little. He was able to extend that financial support into facilities that rival anyone's in the entire country. Within the program, he's one of the best teachers I've ever been around. From an Xs-and-Os standpoint, you are taught a professional-level offense and defense."
"He brought back the Alabama spirit," said Kirkpatrick, who is about to begin his fifth season with the Cincinnati Bengals. "But it wasn't just the spirit to win championships. He also taught us how to be leaders and men in our personal lives."
Considering Saban's nomadic ways previously, only the hopelessly optimistic envisioned him in crimson this long. It's a job unlike any in the sport. Dubose, Franchione, Price, Shula — ask them about the pressure.
Every loss is criticized. Even wins are nitpicked if the spread isn't covered. You're expected to win every game and claim every national title, sign every five-star recruit and pose for every sycophantic-fan selfie. You can't upset another team. Another team can only upset you.
Saban has said that he doesn't love to win. But he MF'n hates to lose. When that's no longer the case, only then will he retire.
"Nick Saban saved Alabama football by chasing perfection. Saban doesn't coach to win games or to even win championships. When he arrived in Tuscaloosa, he was chasing the perfect college football season, the perfect recruiting class, the perfect staff, the perfect facilities, the perfect game, the perfect play call and the perfect championship. When Saban talks about the process, he truly means it. The process to achieve perfection. Will he ever change? Only his opponents can hope so, but don't expect it to happen any time soon. He is still chasing the perfect season."

— Peter Burns, SEC Network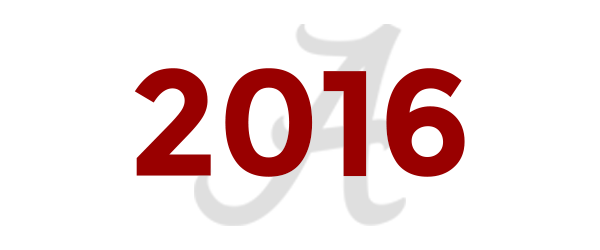 To the surprise of nobody, Alabama was picked to capture both the division and the conference.
No matter who Saban sees depart on offense, defense or the coaching staff, his program seems to come back stronger than ever. Even Henry, the SEC's single-season rushing leader, is relatively replaceable.
Coker is gone, so there will be a new trigger man for the third consecutive campaign. Four defenders were just selected in Round 2 of the draft. Kirby Smart, Saban's defensive coordinator since 2008, is now top dog for the very first time at his alma mater, Georgia. He's already building Tuscaloosa East.
Not one will be missed. And that's not an insult. It's like a lizard's tail: cut it off, another grows back. Look at the receiver position. Julio Jones, Amari Cooper, Calvin Ridley — National Signing Day might as well be Groundhog Day in Tuscaloosa.
The Crimson Tide are preseason No. 1 once again. In other news, Denny Chimes rings in the middle of the quad every 15 minutes.
* all quotes obtained first hand
** all poll rankings courtesy of the Associated Press
*** all recruiting rankings courtesy of 247Sports
---
John Crist is the senior writer for Saturday Down South, a member of the FWAA and a voter for the Heisman Trophy. Send him an e-mail, like him on Facebook or follow him on Twitter.