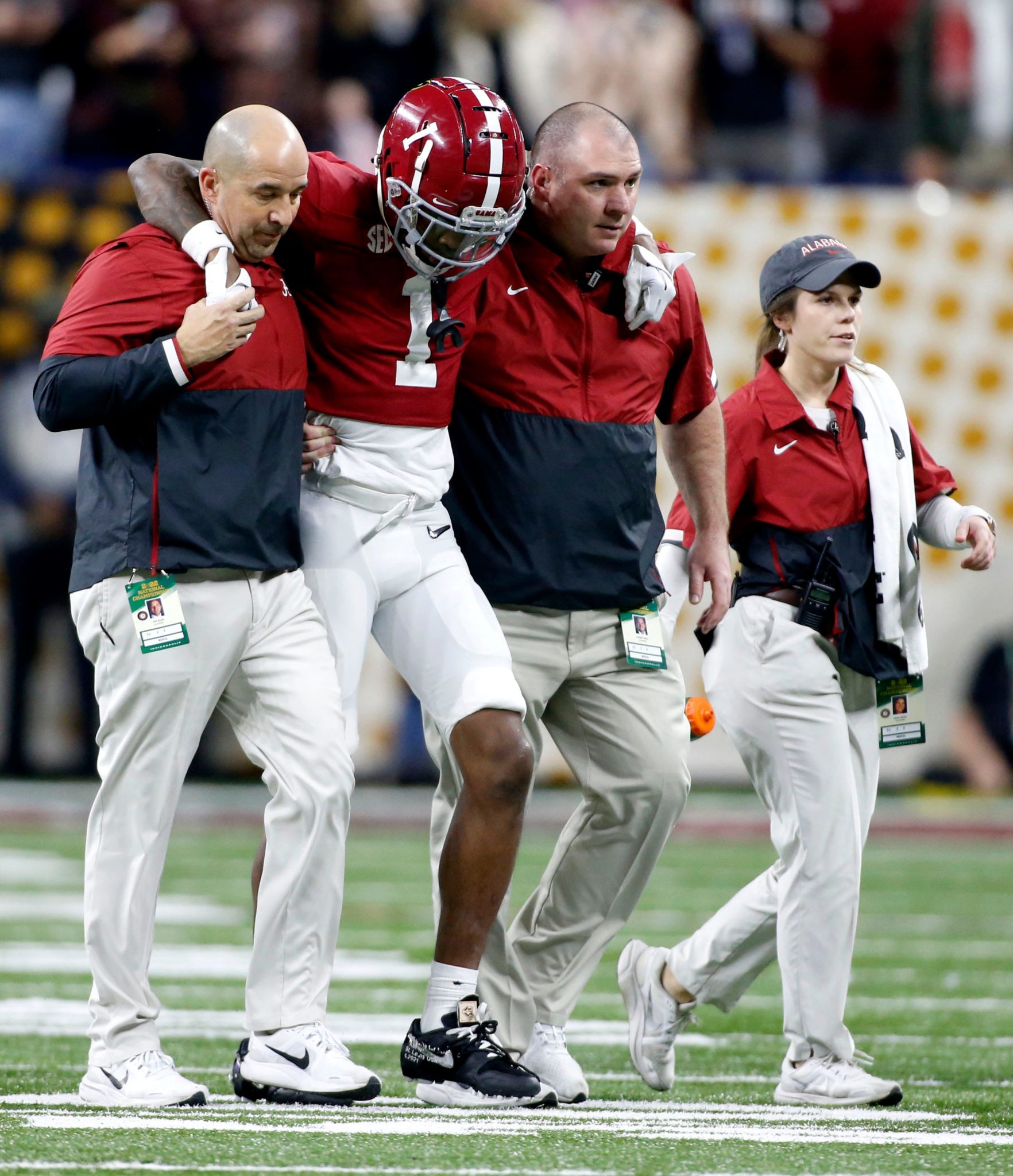 ALABAMA
Even Alabama, masters of plug-and-play, couldn't overcome all they lost this season
Plug-and-play took Alabama to the precipice of another national championship. However, it wasn't quite enough.
Any realistic hope that Bama had of beating Georgia in the College Football National Championship Game was extinguished in the second quarter when receiver Jameson Williams left the field with an injured knee in what eventually became a 33-18 loss to Georgia on Monday. Losing Williams was the two-by-four that broke the proverbial camel's back. Alabama had replaced so many players from its national championship team last season and so many injured players throughout the season that losing Williams was simply too much to overcome.
Williams was supposed to be the do-it-all receiver for the Crimson Tide against Georgia. He had to be. Once known as a deep threat who could stretch defenses and open up coverages for players underneath, Williams was asked to be that as well as the possession receiver that made the same plays that he once opened up for others. Williams and John Metchie III were the ideal combination. Metchie III was the perfect player to find open areas while Williams constantly threatened defenses downfield. That combo suffered its first hit when Metchie III was deemed out for the season with a knee injury in the first matchup against Georgia, the SEC Championship Game in December. Williams' injury Monday night was the final tilting point. Both teams seemed to realize it.
Williams went down after hauling in a 40-yard reception. To that point — early in the 2nd quarter — he already had 4 catches for 65 yards. Alabama ended that drive with a field goal to go up 6-3. But the injury to Williams opened the door for Georgia to assume control, retake the lead and take over the final moments of the game.
Alabama quarterback Bryce Young looked unsure for the first time all season as he was trying to develop on-the-fly chemistry with backups pressed into starring roles in the biggest game of his life. He had a pass flutter for an interception that was returned for a touchdown. That ended any opportunity that Bama had to retake the lead. It's easy to wonder how things might have been different had Williams not been sidelined.
Williams, along with Metchie III, was already asked to replace the Crimson Tide's most talented receivers from last season. To say they were pretty good was an understatement. Bama had to replace Jaylen Waddle and DeVonta Smith. Both were selected among the top 10 picks in the 2021 NFL Draft. They weren't the only ones asked to tote a new, heavier load for the Tide. Young was asked to replace Mac Jones, who was also selected in the first round. Running back Brian Robinson Jr. was asked to replace Najee Harris, who was also selected in the first round.
Noticing a trend here. In one year, Alabama lost its entire corps of starting skill-position players. That derails most programs, even elite ones. LSU, Clemson, Florida, Ohio State … they all have gap years. Not Alabama. The Tide plug in new faces and play. There was a plan in place to keep the national championship train on the tracks. However, even the best plans can be derailed by injuries.
The derailment began in the backfield. One after another Alabama lost its more valuable tailbacks to either season-ending injuries or ailments that severely hampered their play. Running-back-by-committee, which is an Alabama calling card, was out the window early in the season. That approach quickly turned into more and more of Robinson, who was also banged up throughout November. It was tough for Alabama to lean on defenses in the running game without a fresh group of tailbacks and an offensive line that also had to deal with various injuries throughout the season.
The one positive aspect of the great replacements of 2021 was Young. He seemed unaffected by the fallen around him — until that final interception on Monday. Other than that, Young steadfastly led his team all season with whatever he had around him. That led to a berth in the National Championship Game and a Heisman Trophy. Young might add another Heisman to his trophy case. He'll be the frontrunner to win the award heading into the 2022 season. If some of those injured players decide to return to Alabama instead of entering the NFL Draft, Bama could be the No. 1 team in preseason polls despite not winning the national title this season.
There was also an emotional body blow dealt to Alabama when Williams went down. His teammates and coaches knew how important he was to the game plan. Georgia knew as well. As Bama head coach Nick Saban and Georgia head coach Kirby Smart spoke after the game at midfield, Smart asked about Williams' injury, which Saban said was likely a torn ACL. Smart wasn't giving the national championship trophy back, but there was certainly a sense of empathy for his former coach. He mentioned the Tide's injuries during the championship celebration. Smart may have not known the extent of Williams' injury, but when it was obvious he wouldn't return, Georgia made adjustments with no proven threat to stretch the Bulldogs' defense as Alabama had done when it beat Georgia in the SEC Championship Game.
There has been plenty of debate about Saban and whether this is one of his best coaching jobs. Let the debate end here. This is certainly one of his best seasons as Alabama's head coach. Saban replaced almost an entire NFL offense and was a serious threat to win another national title. He developed a Heisman Trophy winner out of a first-year starter. He overcame as many injuries as possible along the way. The last injury, however, just proved to be too much.
Saban has shown no signs that he's headed elsewhere. In a college football world gone crazy, he could add players in the transfer portal like an NFL team can add free agents. That should help supplement what is already considered one of the most talented rosters in college football. Saban showed he could use the transfer portal to his benefit with Williams, who transferred from Ohio State.
Debate amongst yourselves if this is one of Saban's best coaching jobs. The notion that his efforts are being lauded as such are proof he can keep Alabama at a championship level as long as he wants to. No, the king is not dead. He just didn't have the pawns needed to take the board.