ALABAMA
Film review: How well did Jalen Hurts play against Florida State?
Florida State might have the best defense Alabama will play all season, even if the Tide make the Playoff. The expectations for Jalen Hurts going into this season were high, but starting off against the No. 3 team in the country was quite the task.
The Seminoles defense is littered with NFL prospects, including three projected first-round picks according to CBS Sports' most recent mock draft — S Derwin James, CB Tarvarus McFadden and DT Derrick Nnadi. True sophomore edge rusher Brian Burns will almost certainly be a future first-rounder as well.
It was a tough stage to put any offseason development on display, but while the improvements shown weren't major, Hurts was able to show that he had gotten better since the 2016 season.
Passing stats: 10/18 (55.6%), 96 yards passing, 1 touchdown
Rushing stats: 15 carries, 55 yards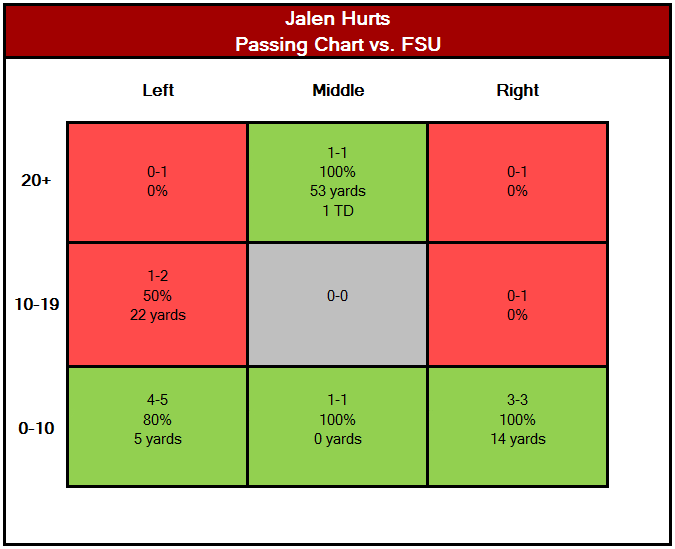 While passing charts like this are useful tools, they don't always tell the entire story. It most certainly doesn't in this particular case.
There are a few negatives being thrown around about Hurts' performance to build an argument that he struggled. Here are some of those arguments, and why they're wrong.
Hurts wasn't accurate
Some fans and analysts have pointed to Hurts' 55.6-percent accuracy as an argument that he wasn't very good this past Saturday. This might be the single most lazy argument that I've heard regarding the situation.
Hurts completed 10 passes. Granted, one of those was to himself, but there is so much to factor in when looking at the passing attempts and completions.
The stats say that Hurts had 8 incomplete passes, but consider:
3 were throwaways
1 was a sideline pass where the DB prevented Ridley from getting his feet down (18 yards)
1 was a dropped pass by Ruggs in the corner of the end zone (24 yards)
These 3 throws show how far Hurts has come as a passer.

2/3 of these counted as incompletions on the stat sheet while the 3rd didn't count pic.twitter.com/oS6WOqNbC1

— Clint Lamb (@ClintRLamb) September 6, 2017
The throwaways have absolutely nothing to do with Hurts' accuracy, and both of the other two were well-thrown balls. In addition, there's the play that got called back (13 yards) for a holding call on Lester Cotton — which wasn't holding, by the way.
Not counting the throwaways, Hurts easily could've been 13 of 16 (81.3 percent) with 151 yards passing and 2 touchdowns. If you include the throwaways in this scenario, he would've still completed 68.4 percent of his passes.
To put it simply, accuracy was not an issue, at all.
Hurts ran too much
First off, Hurts is a dual-threat quarterback. He didn't win the SEC Offensive Player of the Year award by standing tall in the pocket play after play. Could he learn to do more of that? It wouldn't hurt, but let's not act like the guy didn't sit in the pocket on multiple occasions Saturday night.
Hurts looked solid from the pocket. pic.twitter.com/2VcMPBj7vR

— Clint Lamb (@ClintRLamb) September 6, 2017
When evaluating the game, I recorded 31 pass plays called by new offensive coordinator Brian Daboll. Here is a breakdown of those: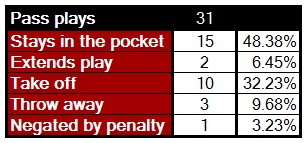 Two of the plays that are listed under Hurts "taking off" were sacks, and another one was a poor snap from center Bradley Bozeman. The argument could be made that on the majority of Hurts' improvisational runs, he made the correct decision.
While he only ended up throwing two passes downfield after extending plays, there were a couple of times where he attempted to find an open receiver — after he avoided pressure — before taking off.
Hurts needs to continue to get better maintaining the pocket on a more consistent basis, but he wasn't as bad as some people are claiming in this area.
Hurts targets Ridley too much
Calvin Ridley is one of the SEC's best receivers, so it would make sense for Alabama to ensure that he sees plenty of targets. As a result, he's considered the primary option on a majority of Alabama's passing plays.
When the primary read is open — like Ridley was in most cases — there's no need to go to your second and third options.
Ridley was targeted 11 times by Hurts against the Seminoles, bringing in seven of those. The rest of the team saw a combined five targets with three receptions — although, one of those receptions Hurts delivered to himself.
Like with the argument regarding the accuracy, if the plays by Ruggs (drop) and Jeudy (negated by penalty) happen, then that's 41.6 percent of Hurts completions to someone other than Ridley — compared to the 30 percent that ended up on the stat sheet.
Offenses are typically going to feed their best weapon when defenses allow it, and that's exactly what Alabama did in this game. Hurts did, however, look to other options in this game — even if the stats don't show it.