ALABAMA
Alabama is simplifying its offensive attack. The results are mixed
The end of the Lane Kiffin era was about as bizarre and scandalous as you might expect. Nick Saban sent him packing in between Playoff games and before the title match with Clemson, elevating fellow Pete Carroll USC-tree coach Steve Sarkisian to offensive coordinator. Then Sark went to the NFL to take the Atlanta Falcons gig and Saban took on New England Patriots tight ends coach Brian Daboll as the new OC.
That was a strange decision given that the Tide had been taking off on offense by increasingly mixing in spread-option tactics, particularly in 2016 when making the most of Jalen Hurts' athleticism was the key to a productive season. Daboll wasn't coaching spread-option tactics back in New England; he was coaching tight ends on the art of option routes in the Tom Brady-based Patriots offense. The Tide also promoted Mike Locksley from offensive analyst to Co-OC, and Locksley has more experience in the spread-option offense, but this was a strange fit overall.
Sure enough, the Tide have scaled back the option calls in favor of standard runs and dropback passing. The result? Alabama ranks 10th nationally in scoring, but it is not as scary schematically on offense as it was even in 2016, to say nothing of 2014 or 2015. Just ask Texas A&M, which started multiple freshmen in its big showdown with the Tide last Saturday and held Alabama to 355 yards and 27 points.
The Daboll Alabama run game
The Tide just aren't really about that spread-option life in 2017. Hurts is still leading the team in rushing yardage with 517 yards on 69 carries at 7.5 ypc, but those carries aren't coming the same way. The "bash" inverted zone-read plays and power-read schemes that defined Alabama's approach in 2016 have fallen away in favor of more straightforward RB runs.
Here's one of Alabama's better run calls this season: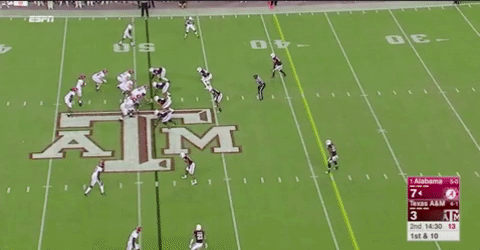 The Tide pillaged their 2016 right tackle Jonah Williams to man the left tackle spot meaning two new starters for that side of the line in 2017. However, RT Matt Womack and RG Lester Cotton are arguably a more punishing run blocking duo then the left side. Left guard Ross Pierschbacher is the best puller on the team, but that just makes the runs where they pull him behind the Womack-Cotton combo all the better, like they do on this counter run.
For Hurts there's ostensibly a read to pull the ball and throw a bubble screen, but even here the nickel is crashing to the line and they prefer to hand off if possible. It ends up being a nice gain because Womack caves in the tackle and Pierschbacher takes the end for a ride.
Against A&M the Tide weren't really running much QB run option save for zone-read, which they didn't execute particularly well.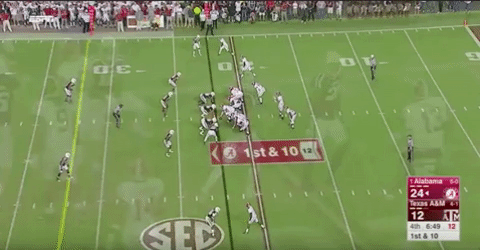 Whereas the 2016 Tide offense would mix up their zone read plays so that it might be the QB on the inside zone and the RB on the outside path, the 2017 Tide run zone read in the traditional fashion. When they want to mix things up, they run normal split zone runs where instead of arcing around to lead for the QB, that H-back kicks out the unblocked defensive end to create a lane for the RB to hit.
The problem is that in either event, the defense can respond by having the DE step inside laterally but stay square to the QB to discourage the keeper before closing on the RB after he's already taken away the natural cutback lane in inside zone. Additionally, the Aggies have double 3-techniques here to cancel out the B-gaps and clog up the interior lanes against inside zone so the play is in dire straits and leaving that DE unblocked doesn't really help the design.
Alabama still has a great run game obviously — it ranks No. 7 nationally at 301 yards per game — but it's more vulnerable to being schemed and in many ways is now similar to what Georgia has been running this season with Nick Chubb. The difference is that instead of Jake Fromm serving to constrain the defense with the passing game, at Alabama that duty falls on Hurts.
Hurts' job in the Daboll offense
The reason that Hurts still leads Alabama in yardage and is on pace for about 120 carries is how the Tide are executing their passing game. It's basically a game of "first read, second re … forget it, I got this" for Hurts in the offense right now.
Sometimes that works out great: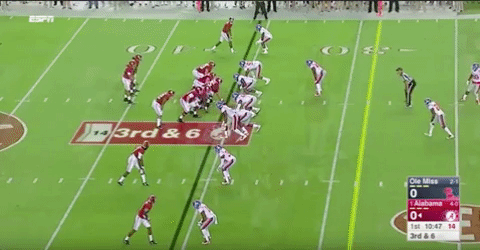 Hurts is thrown off by the late safety rotation by Ole Miss, he starts by looking to the field early, realizes he's facing man and tries to glance late back to the boundary, but the timing is off to try and throw the hitch route, so he just takes off. Hurts is a great athlete so when he's loose in space, it's generally a terrible thing for the defense.
But if the defense knows he can be easily frazzled by coverages and encouraged to run, that can become a problem: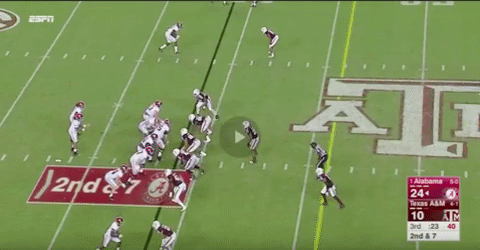 A&M has a five man pressure on and the outside guys have clearly been coached to focus on containing Hurts and channeling his runs into controlled spaces. Hurts doesn't like what he sees and abandons a clean pocket, only to run into tacklers. He had 14 "carries" in this game that went for 56 yards and a score. Three of those carries were sacks that cost the Tide yardage, but some of his scrambles weren't particularly productive either.
Now those aren't terrible numbers, for many QBs that'd be a significant value-add, but Hurts isn't much of a passer on these dropback calls. He was 13-22 for 123 yards at 5.6 yards per pass in this game so the scrambles weren't so much a "value-add" so much as essential production for the Alabama passing game.
Much like when Alabama was running more option, this approach limits the Tide's ability to attack the perimeter and to do so with all of the amazing athletes they have stockpiled at wide receiver.
Daboll has brought an approach to offense that re-emphasized the Alabama receiving corps and passing game, but Hurts hasn't shown yet that he can execute all facets of this more balanced vision. Texas A&M illustrated this in a loss but other teams on the schedule might demonstrate it further with a win.