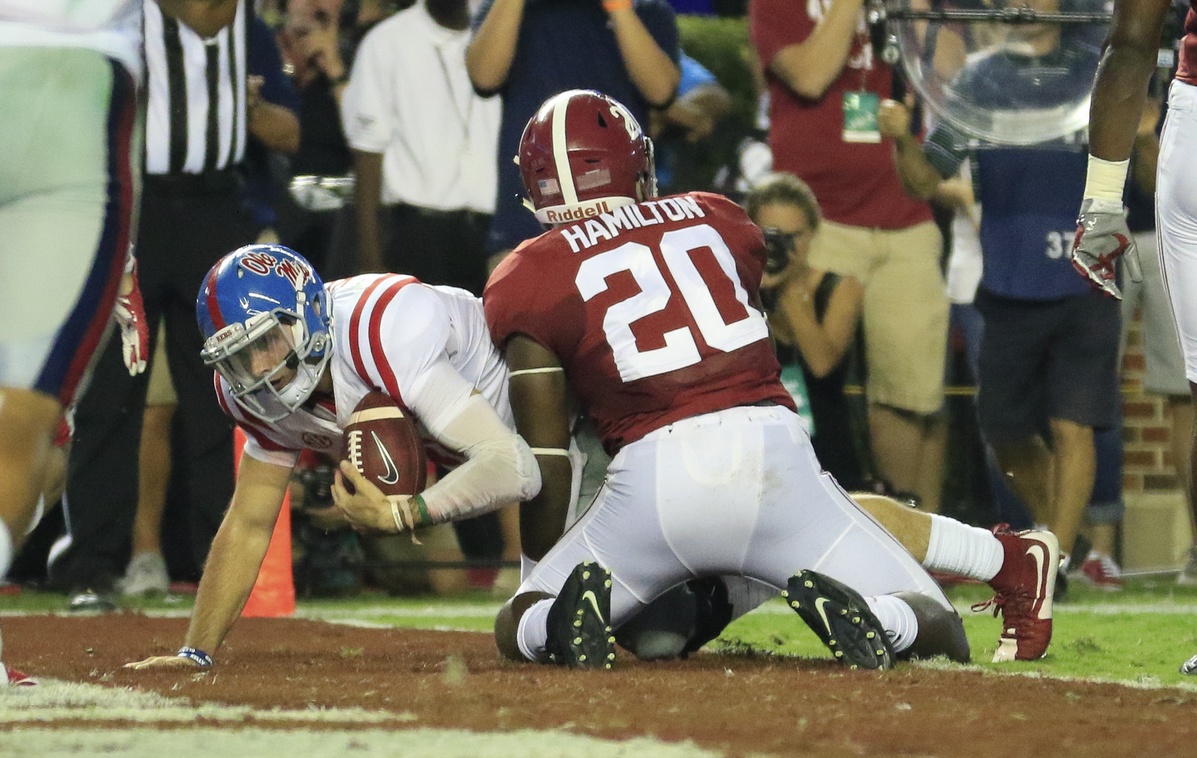 ALABAMA
Four best QBs Alabama will face in 2016
Alabama faces a number of challenging quarterbacks in 2016. Which ones are poised to give the Crimson Tide the most trouble? The quarterback question is a difficult one to tackle, primarily because so many teams wait to name a starting quarterback until the fall, Alabama included. However, that's not the case with these signal-callers.
Chad Kelly
Kelly began his career at Ole Miss with a phenomenal initial season, earning the starting job and proceeding to throw for more than 4,000 yards, tossing 31 touchdowns and leading Ole Miss to a 10-3 record.
The Clemson transfer had 346 yards, 4 TDs and no interceptions in Week 2 against Fresno State, but no one anticipated that he'd be able to follow up that kind of performance at No. 1 Alabama in Tuscaloosa.
However, he had a very strong game in a close 43-37 win against Alabama. He threw for 341 yards, had 3 touchdowns and 0 interceptions.
Later in the year, Kelly had his best effort in the season when he torched Arkansas with 368 yards passing, 3 touchdowns, 0 interceptions and more than 100 yards rushing, as well as 3 rushing touchdowns. Ole Miss actually lost the game in dramatic fashion, 53-52.
Still, Kelly will likely be the most feared quarterback in the conference again this season.
Trevor Knight
Knight was named the starting quarterback at Texas A&M by Kevin Sumlin following a strong spring after transferring from Oklahoma.
Knight is probably familiar to most Alabama fans because he led Oklahoma to victory over Alabama in the Sugar Bowl to cap the 2013 season. Knight threw for 348 yards and 4 touchdowns against the Crimson Tide.
Knight passed for 2,300 yards in 2014, but Knight had 12 interceptions against 14 touchdowns. In 2015, he lost the starting job to Baker Mayfield, who begins this season as an early Heisman contender.
While Knight has struggled with consistency, he still sports a 1-0 record against Alabama. When he plays at his best, he is definitely one of the best quarterbacks on this list.
Joshua Dobbs
Last season was Dobbs' first full season as a starting quarterback, although he received a number of starts in both his freshman and sophomore seasons. He returns for his senior season, the leader of a strong Volunteers team.
Unlike the previous quarterbacks who have success against Alabama, Dobbs has played in three games against the Crimson Tide and lost all of them, but he will have the luxury of facing the Tide in Neyland Stadium in 2016.
Dobbs beats opponents with his arm and his feet, having passed for more than 2,000 yards and rushed for 671 yards last season. Dobbs was seventh in the league in rushing touchdowns with 11. Interestingly, Kelly was tied for eighth with 10 rushing touchdowns.
Another element to Dobbs, Kelly and Knight is all three are entrenched senior quarterbacks, adding an important leadership quality against an established defense like the one Alabama will field in 2016.
AUSTIN ALLEN
Allen, the final selection, comes with a bit of a disclaimer. He's already been named the starting quarterback at Arkansas. However, should USC choose to name Max Browne the starter as expected, Browne could put up better numbers.
Better numbers don't automatically translate to being a better quarterback. For instance, Browne would have some of the most talented receivers in the country, starting with electric athlete Adoreé Jackson.
Browne served as Cody Kessler's backup last season, and coming out of high school, Browne was one of the most sought after quarterbacks in the country. The redshirt junior hasn't been able to seize the starting job yet, and the competition remains open.
Meanwhile, Allen earned the starting job after a solid spring. This will be his first season as the starter after serving as his brother Brandon Allen's backup his first two non-redshirt seasons.
Allen showed promise in Arkansas' spring game. If his background or his brother's numbers mean anything, he should perform well.
Brandon Allen threw for 3,440 yards and 30 touchdowns last season.Meanwhile, Austin Allen led Fayetteville High School to back-to-back 7A state championships and was named MVP in both games. He was named Arkansas' 2012 Gatorade Player of the Year following his senior season in which he threw for more than 3,500 yards and 29 TDs.
If the younger Allen is anything like his brother, he should definitely earn a spot on this list as one of the toughest quarterbacks Alabama will face in 2016.