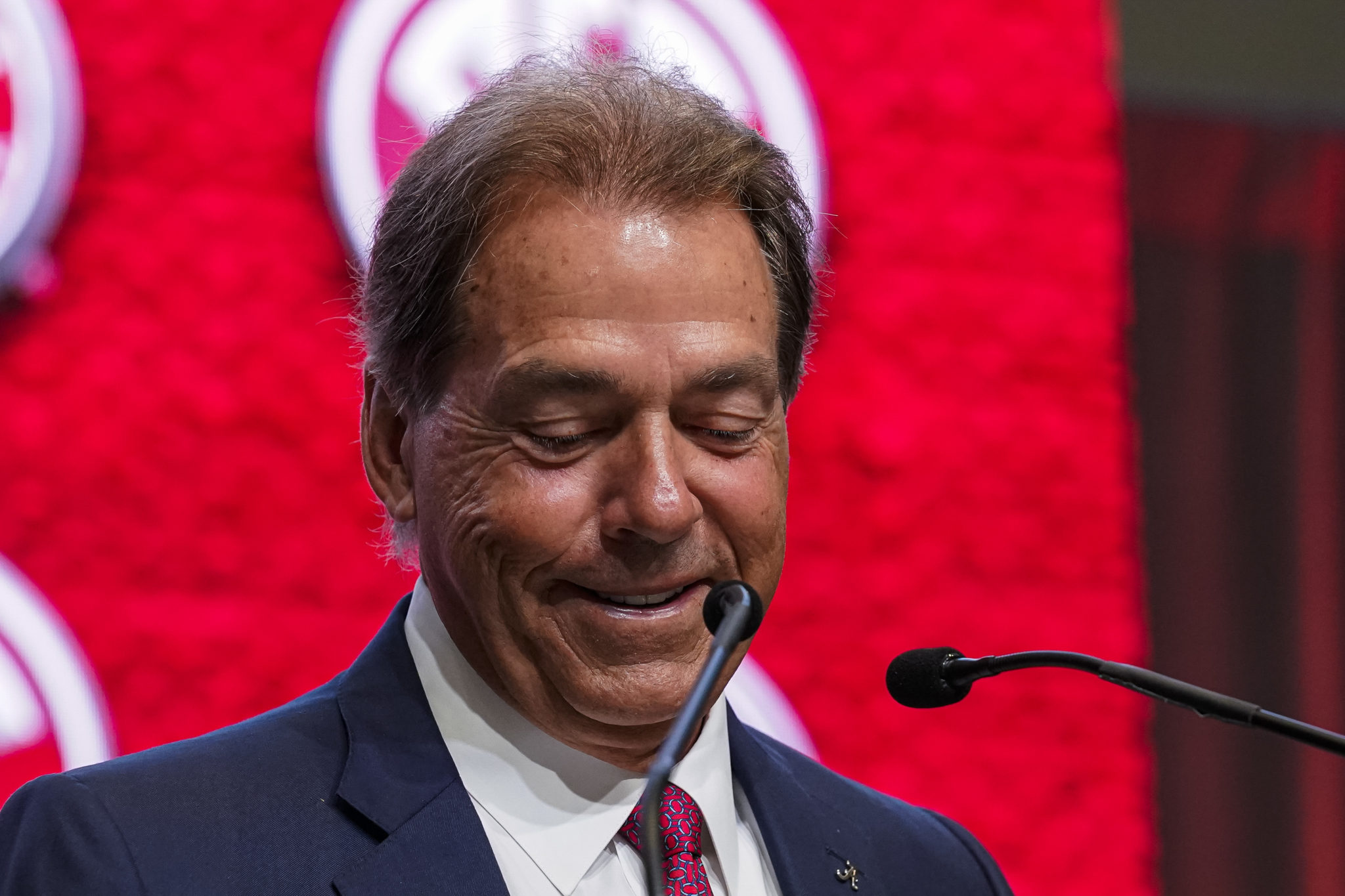 ALABAMA
Hayes: They're coming at the King ... and Nick Saban couldn't be happier about it
ATLANTA — He's not big on vacation. Never has been.
Nick Saban wanted everyone to know that he was done taking out the garbage and polishing the refrigerator and doing everything Ms. Terry asks.
Idle minds are the devil's workshop, you know.
"I'm not a leader when I'm on vacation," Saban said Tuesday during SEC Media Days. "It's refreshing to be able to get back to work so I can be the leader of an organization."
And turn the page on a humbling offseason of disorganization — one that showed a rare vulnerable side to the Death Star of a coach, and one that might eventually be a gift.
In 15 unthinkably successful seasons at Alabama, Saban has stressed one thing over and over as the key to growth and championships: dealing with adversity.
Growth comes when you're uncomfortable, when you're forced to work and adjust and change. Nothing good comes when you're comfortable.
Saban just spent the 8 most uncomfortable months of his coaching career, the fallout placing him directly in the crosshairs of his beloved coaching friend adversity.
— Lost to Georgia in the Playoff national championship, in part, because his two best receivers (Jameson Williams, John Metchie III) weren't available for most of the game because of knee injuries.
— Lost head-to-head recruiting battles for key, 5-star recruits to Texas A&M coach Jimbo Fisher — then proclaimed that Fisher "bought" his entire No. 1-ranked recruiting class.
— Proclaimed Name, Image and Likeness benefits for players will create a competitive imbalance for college football — even though it has clearly allowed non-blue-blood programs to recruit and sign elite players they never would have landed in the past. Players Saban typically would land because of his position as the best coach and the best program.
"I have no idea what he's talking about. It's the strangest thing," an SEC coach told me about Saban's NIL stance. "I don't know how anyone can see it as something other than leveling the playing field."
But there was Saban on Tuesday, again planting a flag on a hill he's willing to die upon. It began with the qualifier that he's all for players earning, and it quickly turned into how NIL affects Alabama.
Saban isn't alone in this battle, it's not unique to him or Alabama. He's just the biggest voice in college football who coaches the most dominant program in the history of the sport, so anything he says is magnified.
"This biggest concern is how does it impact and affect recruiting?" Saban said. "Everybody in college football cannot do the things relative to how they raise money in a collective, how they distribute money to players."
But more are now, and that's the rub. There are now more teams with more opportunity to challenge the blue-bloods of the sport. Case in point: Texas A&M.
Long considered the classic underachiever, the Aggies had 2 straight top-5 recruiting classes under Fisher in 2020-21, and in February signed what most recruiting analysts believe was the best class ever — by directly competing with and beating Alabama, Georgia, LSU and Florida.
Saban then said Fisher "bought" the class, a loaded word that for decades in college sports has meant cheating. Fisher was furious and publicly called out Saban, asking the media to find Saban's "skeletons in his closet" and calling Saban a "narcissist."
Saban began his time at the podium Tuesday by picking up where he left off during the SEC spring meetings in Destin, where he was more reserved — again, almost humbled — and introspective about the ugly public back and forth with Fisher.
He spoke about the trying times of the state of transition in college football, and how now more than ever, a sense of "object consistency, of belonging and family" are critical moving forward.
Away from the stage, he was asked about Fisher and their back and forth this summer, and said, "I always take criticism in a positive way. Is there anything I can do better?"
This, of course, should scare everyone. The coach who has won 6 national titles at Alabama — whose team has played in 6 of the 8 Playoff national championship games — who has had 113 players drafted in 14 years and a record 41 first-rounders, is embracing criticism.
He's standing knee-deep in uncomfortable, everyone — and there's history on his side.
— After his most trying season as a coach — the 2010 team full of NFL talent that underachieved and lost 3 games — he came back to win back-to-back national titles in 2011 and 2012.
— After losing to Ohio State and a third-string quarterback in the Playoff semifinals in 2014, Alabama won the national title in 2015.
— After losing to Clemson in the 2016 Playoff national championship, Alabama beat Georgia for it all in 2017.
— After failing to make the SEC Championship Game in 2019, Alabama won it all with a perfect run in the imperfect 2020 COVID season.
So here we are again, staring at another uncomfortable moment. Another season of adversity after losing to Georgia in the Playoff national championship, and after the self-inflicted wounds of the offseason.
There are questions on the offensive line, which in 2021 gave up 41 sacks and contributed to the offense allowing an SEC-worst 104 tackles for loss. There are questions in the secondary, where Alabama struggled in coverage last year, and needs LSU transfer Eli Ricks to grow into a lockdown corner.
But this is where Saban loves to be. Away from the monotonous nothing of vacation, and deep in the middle of the grind and glory of football.
He has the best offensive player in the nation (QB Bryce Young) and the best defensive player in the nation (DE Will Anderson), and he has added 5 critical impact transfers who have clearly made the haves greater than the have-nots.
Earlier this spring, Saban spoke to Young about pushing and growing after his Heisman Trophy season. A team, Saban said, is a direct reflection of its leaders and how they work.
"Success is not a continuum, success is momentary," Saban said. "So if you're going to continue to have success, you have to stay focused on the things you need to do to improve, to prepare, to lead, to impact and affect other people around you."
The humbling offseason is over, it's momentary.
The Death Star is, and always has been, the continuum.