ALABAMA
Here's hoping Nick Saban's quote about not recruiting high school transfers was taken out of context
I'm not sure that I've ever hoped someone was taken out of context.
But hey, there's a first time for everything.
This is that time. Hopefully, Nick Saban was taken out of context and that there's more to this quote than what it appears: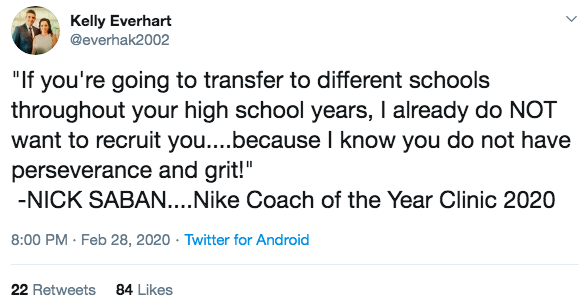 Again, I wasn't there to hear this. As far as I can tell, there's no audio of this quote. This didn't come from an Alabama beat reporter, either, though I'm not just going to assume it was made up.
I do know that respected people like Rivals National Recruiting Director Mike Farrell thought enough of that quote to break down whether Saban truly meant that he's done recruiting high school kids who transfer schools:
How serious was Nick Saban about not recruiting high school transfers? That, along with the recruitment of a four-star WR and the hottest team among recruits on the West Coast in today's Fact or Fiction: https://t.co/A6BxJrS1Q6

— Mike Farrell (@rivalsmike) March 3, 2020
Farrell had the same initial thought that I did — did Saban really mean that? Like, is he going to just stop recruiting high school kids who transfer or does he simply not like recruiting those kids? Are we missing some context here?
I ask because if that's what he meant, that would be like Joey Chestnut announcing that he's done with hot dogs. We've all watched him feast on hot dogs for more than a decade. The same could be said for Saban with high school kids who transferred. That's more relevant than the fact that Saban himself left the likes of Toledo, Michigan State, LSU and the Miami Dolphins in order to pursue other opportunities.
All 3 of the 5-star recruits in Alabama's 2019 class (Antonio Alfano, Trey Sanders and Evan Neal) transferred high schools at one point. So did Shane Lee, who started as a true freshman last year after the season-ending injury to All-American Dylan Moses … who also transferred to IMG Academy (Bradenton, Fla.).
You could find several more key Alabama players who transferred high schools. The likes of Bo Scarbrough and Reuben Foster transferred twice in high school. Shoot, even Taulia Tagovailoa transferred high schools. It's no secret that Saban relied on this in the past. Why wouldn't he?
High school transfers are usually not, as Saban as quoted as saying, lacking "grit and perseverance." They lack quality competition so they transfer to places like IMG or St Frances Academy (Baltimore). If anything, it shows that they want it that much more if they leave their geographically-determined high school to play somewhere that'll better prepare them for big-time college football.
None of that is news. What's news is Saban's quote voicing frustration with high school kids who transfer.
Could that comment be a result of how things played out with former high school transfers/ex-Alabama players Alfano and fellow former 5-star defensive lineman Eyabi Anoma? That's my best guess. We know the bizarre circumstances surrounding their respective transfers made for plenty of Saban headaches.
Saban on Antonio Alfano: "I just know that the guy basically quit. He quit going to class, he quit coming here. … Until he responds, you just have to assume the guy quit."

— Charlie Potter (@Charlie_Potter) September 18, 2019
And look, I get what Saban is doing here if that's really how he feels. It's something that college coaches are probably sick of dealing with, as are the coaches/fans/students of these high schools who are left out in the cold. By making a sweeping declaration like that, Saban is inevitably going to support from people like the coach who had that aforementioned quote.
There's some truth to the notion that it takes Saban speaking out on something in the sport for change to really begin to happen. If his goal was to inspire change, I get that.
But that's like getting a hangover and declaring that you're never going to drink again. In the moment, it sounds logical. In actuality, it's not always practical.
Is Saban really going to stop recruiting kids who transfer to places like IMG? Is he not going to offer a  South Florida kid who transfers St. Thomas Aquinas or American Heritage?
There are kids who have Alabama offers who Saban recruited even though they once transferred high schools. The No. 6 offensive tackle in the 2021 class, JC Latham, transferred to IMG in the middle of his sophomore year but he has an Alabama offer. The same is true of fellow IMG recruit Tunmise Adeleye. Does that quote mean that Saban is no longer recruiting them or that their offer is useless?
Even if Saban meant right by that quote, it seems odd to punish someone like Latham, who left the state of Wisconsin to go to IMG. Why? It wasn't because he lacked grit or adversity. It was because there was more blue-chip talent on his own team at IMG than there was in the entire state of Wisconsin.
Also, what's the difference between a kid who does that and someone like Bryce Young, who opted to go to powerhouse Mater Dei High School (Calif.) so that he could play some of the toughest high school competition in America? It doesn't make sense to not recruit a kid who made that realization a year or 2 later than someone like Young or even Mac Jones, who went to The Bolles School in Jacksonville all 4 years.
If Saban said anything resembling the "I'm not recruiting high school kids who transfer" thing, doesn't that send a weird message all around? The aforementioned guys already at Alabama might have some thoughts on that. It also sets a precedent that puts Saban on an island.
Do I think teams would follow in Alabama's footsteps if this were to be something that he stood behind? Maybe, but with the ever-increasing competitive nature of recruiting and the ever-quick triggers that athletic directors seem to have now, I'd be surprised if this became a new trend. The irony is that Saban's alleged comment suggests that he's attempting to stop a trend and start one at the same time.
Saban has every right to be frustrated with the way that things went down with Anoma and Alfano. If that's at the root of why that comment came to light, it would add up. Again, I don't want to assume that's exactly why it was said. I don't want assume I know the entire context of the quote. For all I know, Saban meant to say, "we really need to figure this transfer thing out with high school kids. I've seen some unfortunate cases first-hand that made me wonder about how we're going about all of this."
Does that still get the message across? Probably. Does it make Saban locked in to some sweeping declaration? Not at all.
There was a right way and a wrong way to address this issue. Saban, if he said that exact quote, accomplished the latter.
Here's hoping he didn't choose that hill to die on.