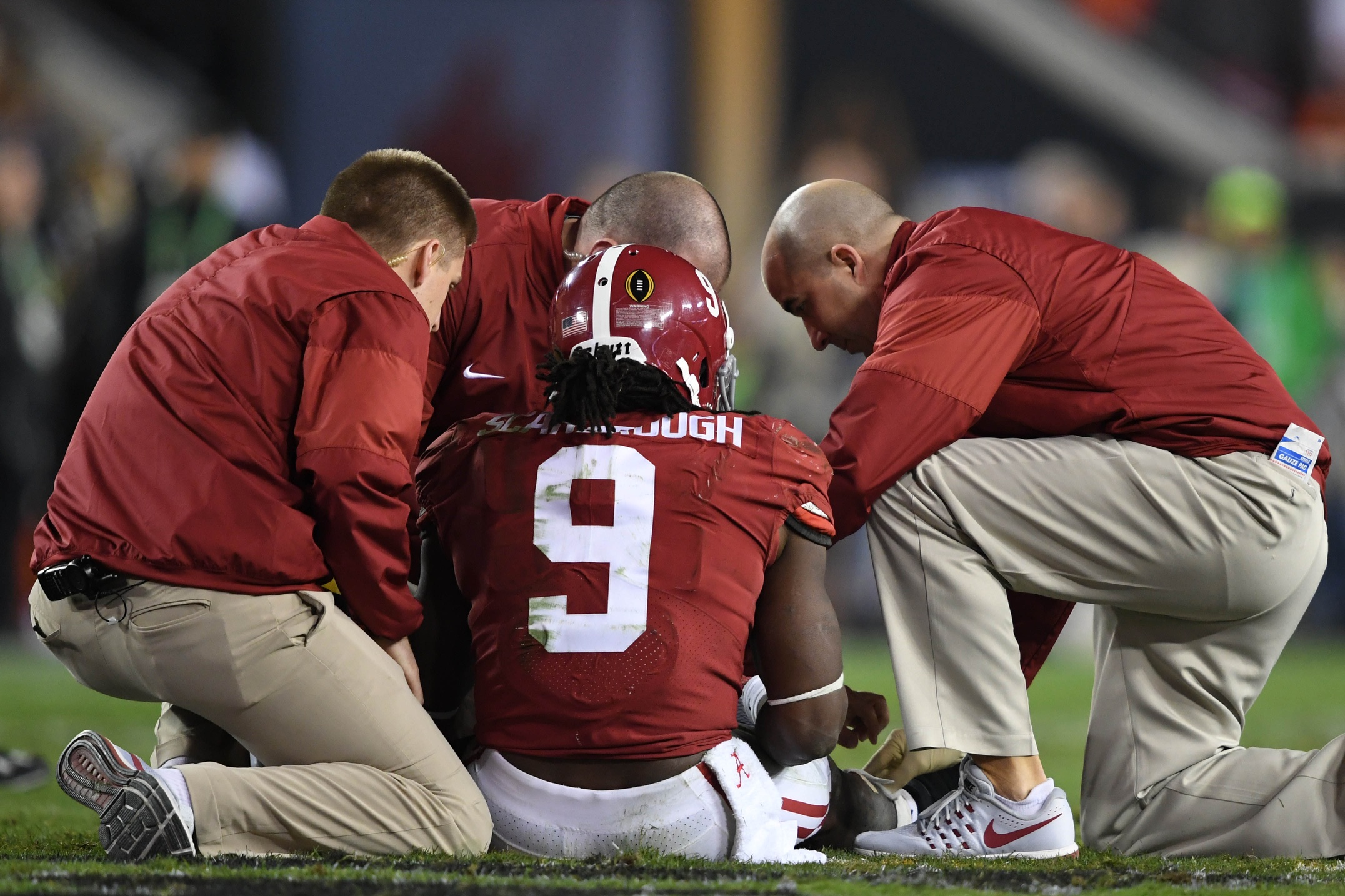 ALABAMA
Injured again, Bo Scarbrough in danger of never realizing his potential
The Alabama offense was at its best this season when Bo Scarbrough was the primary running back and relatively healthy.
Unfortunately, that didn't happen very often. A case can be made that the College Football National Championship against Clemson took a turn for the worse for the Crimson Tide once Scarbrough exited the game with a broken bone in his leg.
Prior to the injury, Scarbrough ran 16 times for 93 yards and ripped off a pair of long touchdown runs — the first from 25 yards out, the second from 37. But once he departed, Damien Harris and Joshua Jacobs combined for just 24 yards on 4 carries. 'Bama punted on three straight possessions and was outscored 21-7 the rest of the way.
Usually a ground-and-pound team in the second half when protecting a lead, the Tide clearly missed Scarbrough's between-the-tackles effectiveness.
New offensive coordinator Steve Sarkisian was forced to put too much of the burden on quarterback Jalen Hurts, who finally looked like a true freshman. He's much more dangerous on the read-option when the inside give is a credible threat.
With the offense unable to stay on the field, Alabama's vaunted defense ran out of gas down the stretch against Deshaun Watson and Co. The Tigers ran a ridiculous 99 plays — the Crimson Tide hadn't faced more than 84 in any game this year. As a result, Clemson was unstoppable in the fourth quarter of a 35-31 comeback victory.
There's no one reason why coach Nick Saban didn't win his fifth title in eight years. Still, losing Scarbrough was a big blow.
"Bo has really come on and played extremely well the last three or four games of the season," Saban told reporters during his postgame press conference. "He's certainly been a bell cow for us. And he has, certainly, because of his size and durability, he makes it difficult when the defense gets worn down a little bit. Not to have him was probably a little bit of a disadvantage for us."
This latest setback is hardly career-threatening for Scarbrough. That being said, it's fair to call him injury prone at this point. Going back to high school, he's seemingly never been 100 percent for any significant length of time.
Expected to be the No. 1 option in the backfield with last season's Heisman Trophy winner, Derrick Henry, moving on to the NFL, Scarbrough instead finished fourth on the team in rushing — behind Harris, Hurts and Jacobs — when the regular-season schedule was completed. Only once in 12 games did he crack the 100-yard plateau.
But then the regular season became the postseason. Given a clean bill of health, Scarbrough did a legit Henry impression for about 10 1/2 quarters.
He shredded Florida for 91 yards and 2 TDs on only 11 carries in the SEC Championship Game. Four weeks later, Scarbrough destroyed Washington with 180 yards and 2 more scores on 19 attempts in the Peach Bowl.
For a little more than a half, it was much of the same in the CFP final. The Tigers have sent as many defensive linemen to the pros as any program in America — yes, even 'Bama — the last few years. Nevertheless, Scarbrough ran over, through and around them repeatedly. He was on his way to MVP honors in Tampa.
Leading up to kickoff, there was chatter that Scarbrough, a third-year sophomore, might make himself available for the draft.
The 6-foot-2, 228-pounder immediately shut down any such speculation at Media Day. As a matter of fact, he answered the question as if the thought had never even crossed his mind. He'll be back in Tuscaloosa come 2017.
Assuming everything goes fine with his rehab and he's the Alpha dog of the Tide's ground game this coming year, he's capable of being the third ball carrier — following the aforementioned Henry and Mark Ingram — to win a Heisman for Saban. While Harris and Jacobs are great backs, Scarbrough has the most upside of the bunch.
That being said, no team employs the next-man-up philosophy more than Alabama. Five-star studs like Scarbrough are plentiful.
Harris, as a matter of fact, was a five-star signee himself. Relatively quietly, he rushed for 1,040 yards in 2016 and averaged 7.2 yards per carry. His four 100-yard rushing games came against USC, Ole Miss, Arkansas and Texas A&M.
The biggest threat to Scarbrough being all he can be for the Crimson Tide — aside from a possibly brittle body — could be early enrollee Najee Harris. The top-ranked high school player in the land for this recruiting cycle, the product of Antioch (Calif.) High School was rated higher than Scarbrough at the prep level.
If Jacobs, an unheralded three-star kid, can work his way into the rotation as a frosh, then Harris will be given every chance to contribute.
There are few things more unpredictable in the game of football than injuries. Some players are genetic freaks and manage to never get hurt. Others are fixtures in the trainer's room due to the vicious nature of the sport.
Injuries happen, though. For whatever reason, they continue to happen to Scarbrough at an alarming rate. He's running style isn't dissimilar from Henry, who set SEC records for carries, yards and touchdowns on the ground last season — the tailback Triple Crown, if you will — while his backups watched in awe from the sideline.
It's easy to see Scarbrough racking up 1,800 yards next year. Unfortunately, it's just as easy to see him fourth on the team in rushing again.
---
John Crist is the senior writer for Saturday Down South, a member of the FWAA and a voter for the Heisman Trophy. Send him an e-mail, like him on Facebook or follow him on Twitter.