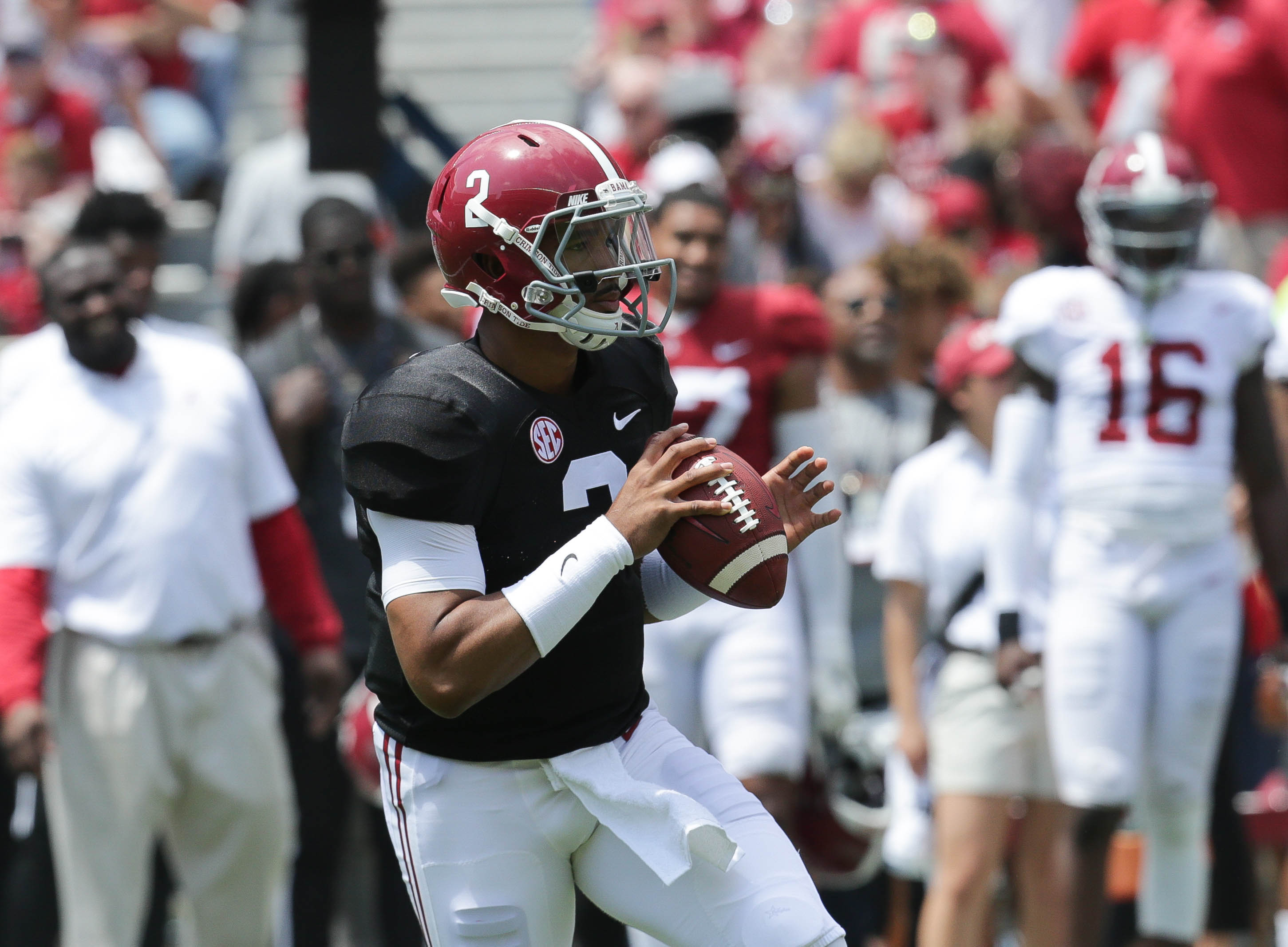 ALABAMA
Jalen Hurts just missed his best chance to secure starting job, once again opening door for Tua Tagovailoa
A-Day? Or Audition Day?
Under normal circumstances, a two-year starting quarterback with a 26-2 record and one national title on his resume could enter a spring game with absolutely nothing to prove and even less to lose.
Saturday was anything but normal for Jalen Hurts.
Earlier in the week, Hurts' father told Bleacher Report writer (and SDS contributor) Matt Hayes that his son would transfer if he isn't Alabama's starting quarterback.
Needless to say, that unavoidable storyline dominated Alabama's A-Day, from pregame build-up to in-game commentary.
Nick Saban tried to calm the ensuing storm, praising Hurts' improvement this spring, but the film never lies.
And what we saw from Hurts on Saturday is what we've seen from Hurts for two years. A lot of pre-snap reads, a dearth of deep completions and that familiar instinct to flee the pocket when the initial look isn't there.
Playing against Alabama's overhauled starting defense, Hurts never directed a touchdown drive.
He went 0-for-2 on his first possession, the quick three-and-out ending when Mack Wilson batted down Hurts' short pass over the middle. Most observers noted the pass could have been intercepted.
His second drive wasn't much better. He was sacked on his first attempt before completing a swing pass to Najee Harris.
The lack of a deep ball was noticeable — but not necessarily shocking. That's never been Hurts' strong suit.
"I'm surprised we haven't seen anything downfield," ESPN's Joey Galloway said.
The first time Hurts tried to throw deep, he left it short and it was intercepted. It didn't count because officials ruled Hurts was sacked first.
QB Jalen Hurts holds onto the ball too long and then lofted an under-thrown pass that was intercepted by CB Trevon Diggs, but it sounds like the "refs" called a sack on the play so no INT. Another punt for the White team.

— Alex Byington (@abyingtonTD) April 21, 2018
With national title game hero Tua Tagovailoa injured and watching on the sidelines, Hurts had an opportunity Saturday to put an exclamation point on his starting bid, to remind folks that he led the Tide to two consecutive national championship games. Instead, his performance reinforced the same question: How much, really, has he improved as a passer?
The answer? Not much. Not enough. This was the exact same Hurts we've seen, much more dangerous, elusive, electric running outside the pocket than slinging the ball from inside it. This was the quarterback who was pulled at halftime of the national title game, the one who opened a door for Tagovailoa to steal his job.
"It's not the scramble plays," ESPN's Kirk Herbstreit said in explaining who was going to win the starting job. "(Hurts is) going to have to find the second and third options on a consistent basis."
He didn't Saturday.
The stats didn't deceive. The film didn't lie. Hurts didn't have an effective day throwing the football, and that's putting it kindly. He was 6-of-14 for 32 yards in the opening half, outplayed by backup Mac Jones. Hurts completed a few more short and intermediate throws in the second half. Late in the fourth quarter, he finally hit DeVonta Smith for a 59-yard completion after overthrowing him earlier in the back of the end zone, but even that drive failed to produce seven points.
He had a last chance to win the day, but his fourth-down pass was off the mark. Jones then sealed the Crimson's 24-12 victory with a 46-yard TD pass.
4th and 5 form the 46 with 47 seconds left. Hurts' team with ball fall down 5. pic.twitter.com/6raCHw0STX

— Michael Casagrande (@ByCasagrande) April 21, 2018
There's only one way Hurts' Audition Day could have gone worse.
"He's lucky 13 is not out here throwing darts, because then it would look really bad," Herbstreit said. "And we know 13 can throw darts."
More important, so does Nick Saban.
Saturday wasn't the end of this quarterback competition, but it certainly felt like it. Saban already has chosen Tagovailoa over Hurts once. Hurts gave him plenty of reasons to do it again. This time, permanently.