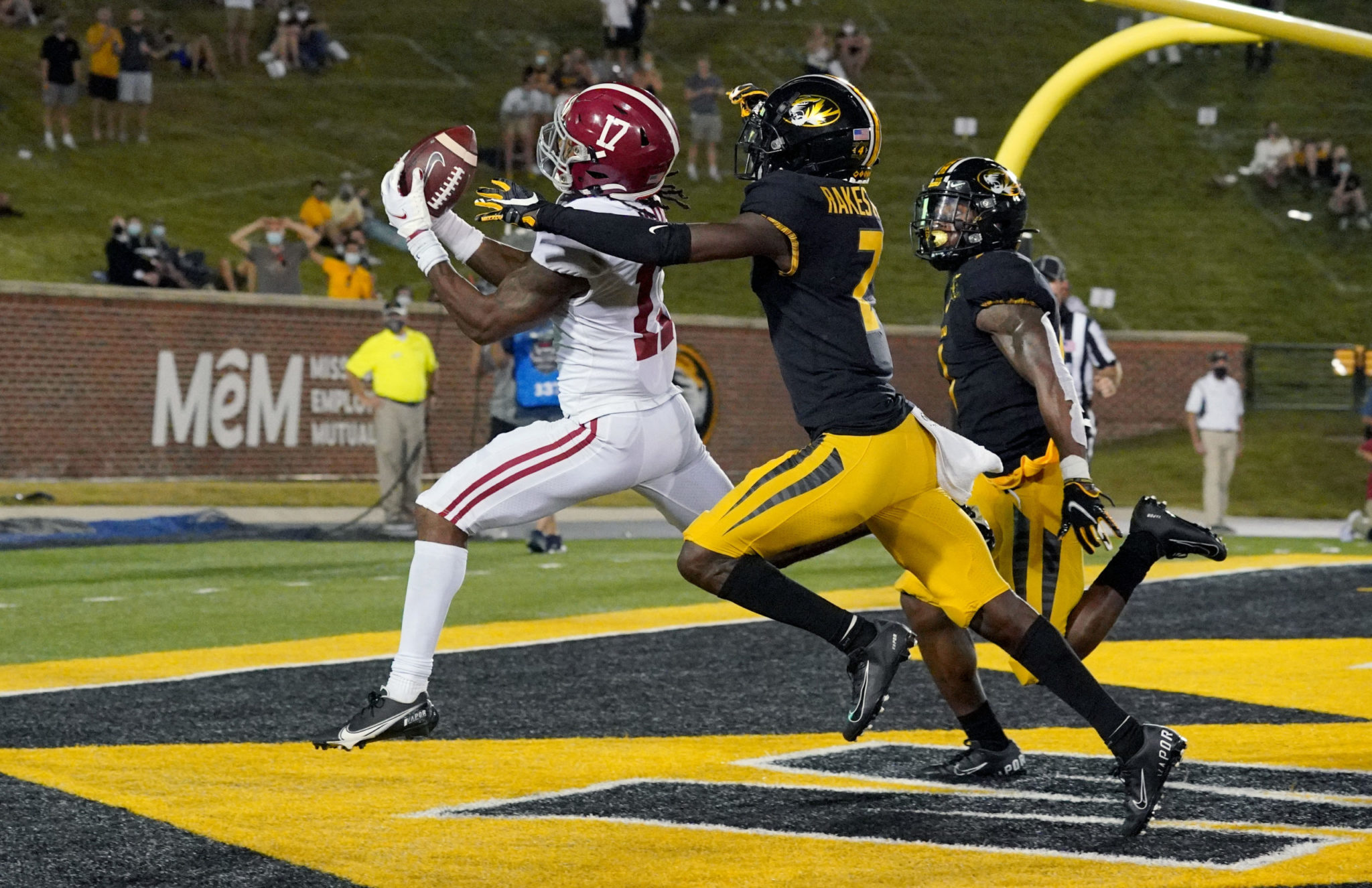 ALABAMA
Jaylen Waddle goes from the Fifth Beatle to lead singer in Tide's multi-platinum offense
Ever heard of Pete Best?
Odds are, unless you're an audiophile, that name likely doesn't ring a bell unless we tell you that he was known for pretty much his entire life as the "Fifth Beatle." Best was John Lennon and Paul McCartney's drummer in The Beatles before he was fired from the legendary band about 12 seconds prior to them selling a zillion albums and changing the way music is made.
In 2019, the Alabama Crimson Tide had superstar receivers Henry Ruggs III, Jerry Jeudy and DeVonta Smith. Those 3 receivers caught a combined 185 passes for 3,165 yards and 31 touchdowns, and both Ruggs and Jeudy moved onto NFL fame and fortune — with Smith opting to return for his senior season.
And while Waddle wasn't booted from the Tide receiving corps like Best was The Beatles, the junior speedster from Houston was seemingly relegated to background vocals as Ruggs, Jeudy and Smith played the hits from coast to coast all season long.
But that was 2019. In 2020, Waddle has moved from the wings to the spotlight. And through 1 game this season, the hits just keep on coming: 8 receptions, 134 yards and 2 touchdowns in a 38-19 romp over Missouri.
Waddle caught 18- and 23-yard touchdown passes from quarterback Mac Jones in the first half Saturday, and also made a leaping 46-yarder between two Tigers defenders on a play that was the Tide's longest offensive of the night. On that play in Alabama's 3rd offensive possession, Waddle was the recipient of hard contact from Missouri safety Tyree Gillespie before becoming the lone Crimson Tide player to generate a play of more than 35 yards.
"He makes plays," Jones said postgame of Waddle. "We took a downfield shot I think on that play. He tracked the ball well. The defender actually made a pretty good play as well. Impressive that he came down with that catch."
Nick Saban was impressed by Jones' play, as well as that of both Waddle and Smith.
"I think (Jones) has got really good chemistry with Waddle and Smitty both," Saban said.
Waddle's 8 catches were a career-high, and his 134 receiving yards were second only to the 138 yards he recorded as a freshman against Louisiana. In his past 2 SEC games, Waddle has caught 12 passes for 232 yards and 5 touchdowns, and he had a kick return touchdown against Auburn.
"He gets open, that's his job, and I think he does a great job doing it," Jones said. "We've had a great relationship since he stepped on campus, going back to summer 7-on-7s, getting that chemistry with him, all the late nights at the indoor (practice facility)."
Perhaps Waddle's only misstep of Opening Night of the Tide's 2020 Nationwide Tour came in his couple of strides after the 2nd touchdown grab of the night. Waddle slipped on the asphalt track surface surrounding the edge of the Faurot Field artificial turf — hitting hard on his backside but avoiding the brick and concrete steps inches beyond.
Even with Ruggs and Jeudy in the NFL, Waddle still shares the main stage with Smith. Both were named to the coaches' All-SEC first team, and Smith (first team) and Waddle (second team) were part of the Associated Press' preseason All-American lists. Smith finished Saturday with 8 catches on 12 targets for 89 yards.
Just as last season, and the seasons before that, Alabama has more options at wide receiver than just Waddle and Smith, who were the intended target on 22 of Alabama's 32 pass attempts against Mizzou. John Metchie III made 2 catches for 42 yards and Miller Forristall had a 34-yard reception.
"Obviously it's a new group, so you have to look around and adjust to people we don't have on our team anymore," Jones said. "It's the first time we've all put it together in a game. Obviously a little bit of a slow start, we'll fix that, but I felt like we gelled as the game went on."
Not only was Waddle a star when the ball went his way, he was also an integral part of the Alabama offense when it didn't. The scheme designed by offensive coordinator Steve Sarkisian had Waddle in pre-snap motion several times in an attempt to keep the Tigers guessing. Waddle also was effective in creating space when a play broke down, a hallmark of a standout every-down wide receiver.
Waddle is clearly ready for the every-down position, a role for which he was a capable understudy when Jeudy, Ruggs and Smith were on lead vocals last season. And even though he was often double-teamed by Missouri on Saturday night, Waddle proved he is no Pete Best.
Instead, Waddle is another John Lennon or Paul McCartney — or, in Alabama's case, another Jerry Jeudy or Henry Ruggs or Amari Cooper or Calvin Ridley — ready to grab the proverbial mic and belt out the hits. Singing the blues in Missouri was the opening act, and Waddle is primed to climb the charts even more in the weeks to come.