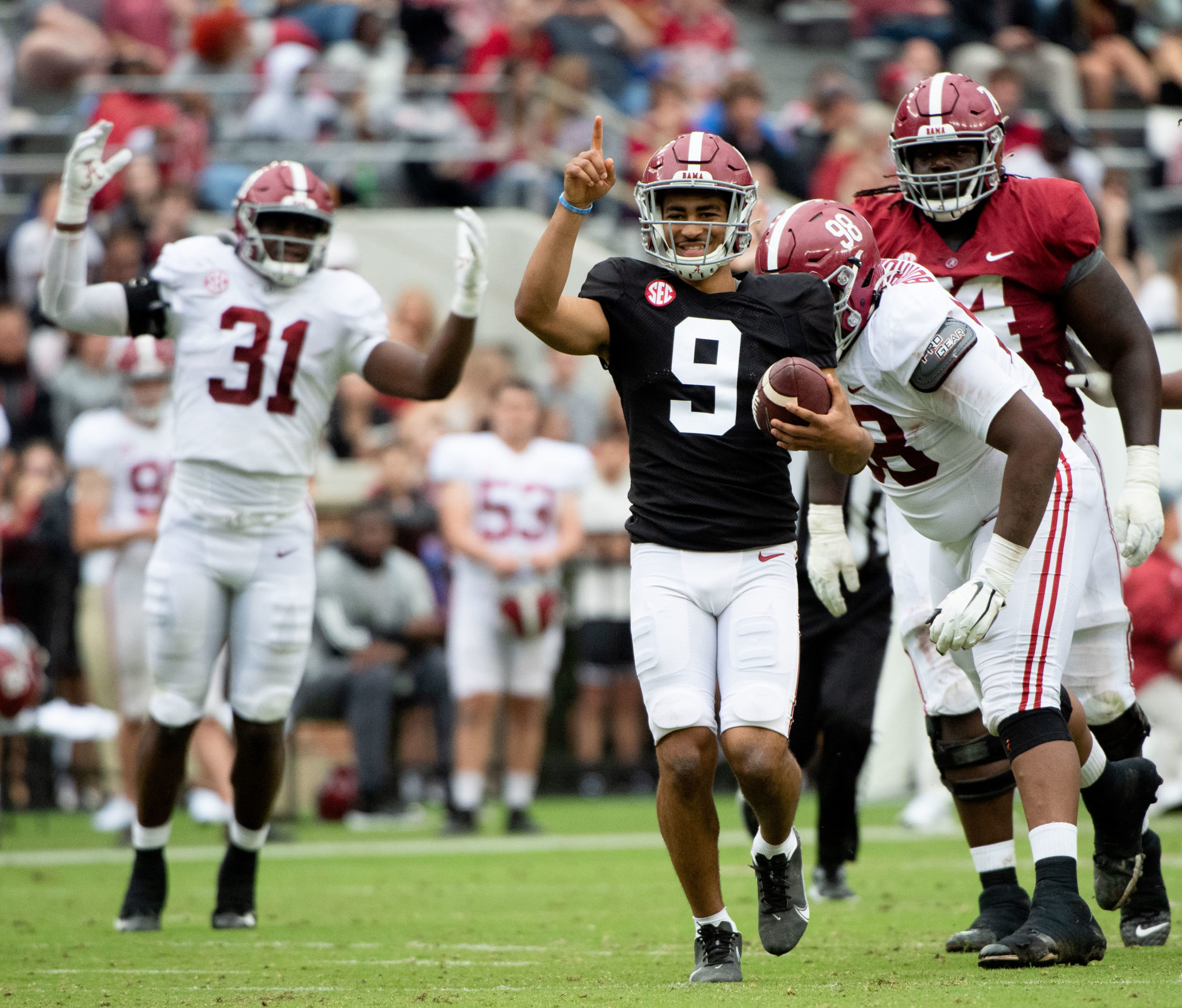 ALABAMA
Key takeaways from Alabama's A-Day game: Will Anderson is still a monster
The weather certainly didn't help. A dreary, rainy backdrop provided no hope of an Alabama spring game turning national media attention to Tuscaloosa. Still, there were boxes to be checked for Crimson Tide fans who were all too ready to render judgment.
There was no national title to be won on a chilly intra-squad scrimmage on Saturday afternoon. However, this is traditionally one of the more significant steps that a team must take together. Spring is over. Coaches are limited in how much they can engage with the players on a day-to-day basis. This is when Alabama will develop its collective character or not.
Here are some particular aspects of Alabama's A-Day spring game I was looking at:
Any chance Bryce Young doesn't continue improve? No.
In his second year as a starting quarterback, Young looks far better this year than he did last spring. He's the perfect example of a player that any coach would like to build around. Young can also throw from multiple angles after multiple scrambles when his offensive line struggles. That's not the design but we've seen Young change from a negative to a positive that usually resulted in a change of momentum.
Young looked even more precise than he was last season — and that's saying something. He continues to grow more comfortable with a shaky pocket. Young completed 14-of-29 passes for 153 yards. His first pass? A completion to Georgia transfer Jermaine Burton.
Is Alabama's pass protection any better than last year? No
Things can certainly change as injuries and illness have been a factor for Alabama's offensive line, but, for now, Bama's offensive line looks like a potential liability. Caveat: The group you saw Saturday won't be the group that starts the season-opener. However, there would have been a baker's dozen of sacks if they were keeping count on Saturday. (Granted, everybody is going to have problems keeping Will Anderson and Co. in check, but ….) It's certainly just spring practice and the starters could improve over the summer, but Bama looked disorganized up front. Why?
Is Alabama being trendy with its RBs? Yes
In a recent move I've seen by SEC offenses in spring games this year, running backs are catching more passes farther down field. That's intriguing as defenses have gotten so much lighter. A bigger tailback could certainly win some battles on the second and third level. Alabama toyed with the concept on Saturday. Jahmyr Gibbs, who transferred from Georgi Tech, caught 1 pass downfield that seemed to surprise Alabama's defense. Fellow running back Trey Sanders also caught a mid-range pass on Saturday.
Of course, Gibbs also provided a highlight running the ball, too. His 73-yard TD run helped him win offensive MVP honors.
Jahmyr Gibbs with a 73 yard TD pic.twitter.com/l5BrOx9leG

— Kyle Henderson (@Rivals_Kyle) April 16, 2022
Will Will Anderson Jr. win the Heisman Trophy this season? Yes
No, I'm not looking for credit when it happens nor do I want to jinx anyone. However, now another opportunity for fans to realize just how good Anderson is. He deserves the Heisman. It doesn't matter if he plays defense popcorn vendor, Anderson should win the Heisman as long as he's healthy. Stats were hard to come by as plays were blown dead quickly, but Anderson certainly would have had a huge impact on Saturday if allowed.
Fortunately for Bryce Young, Anderson wasn't able to hit QBs and finish sacks Saturday.
"I think this year is gonna be something special," Anderson told reporters afterward. "You guys talk about the 2016 defense's pass rush, I feel like you guys are definitely getting ready to see that again because we have a lot of talented young guys on the edge and the D-line room."
Anderson isn't perfect, though. Apparently he still needs to improve a bit on the rare occasions he drops into coverage.
"Somebody asked me the other day, 'What's Will's weakness,'" Nick Saban told reporters after the game. "I said, 'Well, he's got to learn more about pass coverage because he plays a position where every now and then he's supposed to drop.
"But you all are gurus of the game. Should we spend a lot of time on him dropping or let him rush? So his weakness is pass coverage, but he's also best on pass defense when he sacks the quarterback."
Does Alabama still have elite talent? Absolutely
Alabama may be pushed to the brink — or even defeated — more than they have been during its historic run. However, there is no question that this Tide team has elite talent. It has become normal for teams to catch Bama, but for never too long. Clemson made a strong run. Georgia may be doing the same, but Alabama is in no downward trend because of talent.
Alabama's main focus during this offseason has to be within the coaching offices. Alabama's offensive coaches will want to score as quickly as possible. Alabama's defensive coaches will want more time to catch a break. Not just in Alabama, the next college football champion may well succeed by melding those two philosophies together.
That did not happen on Saturday.