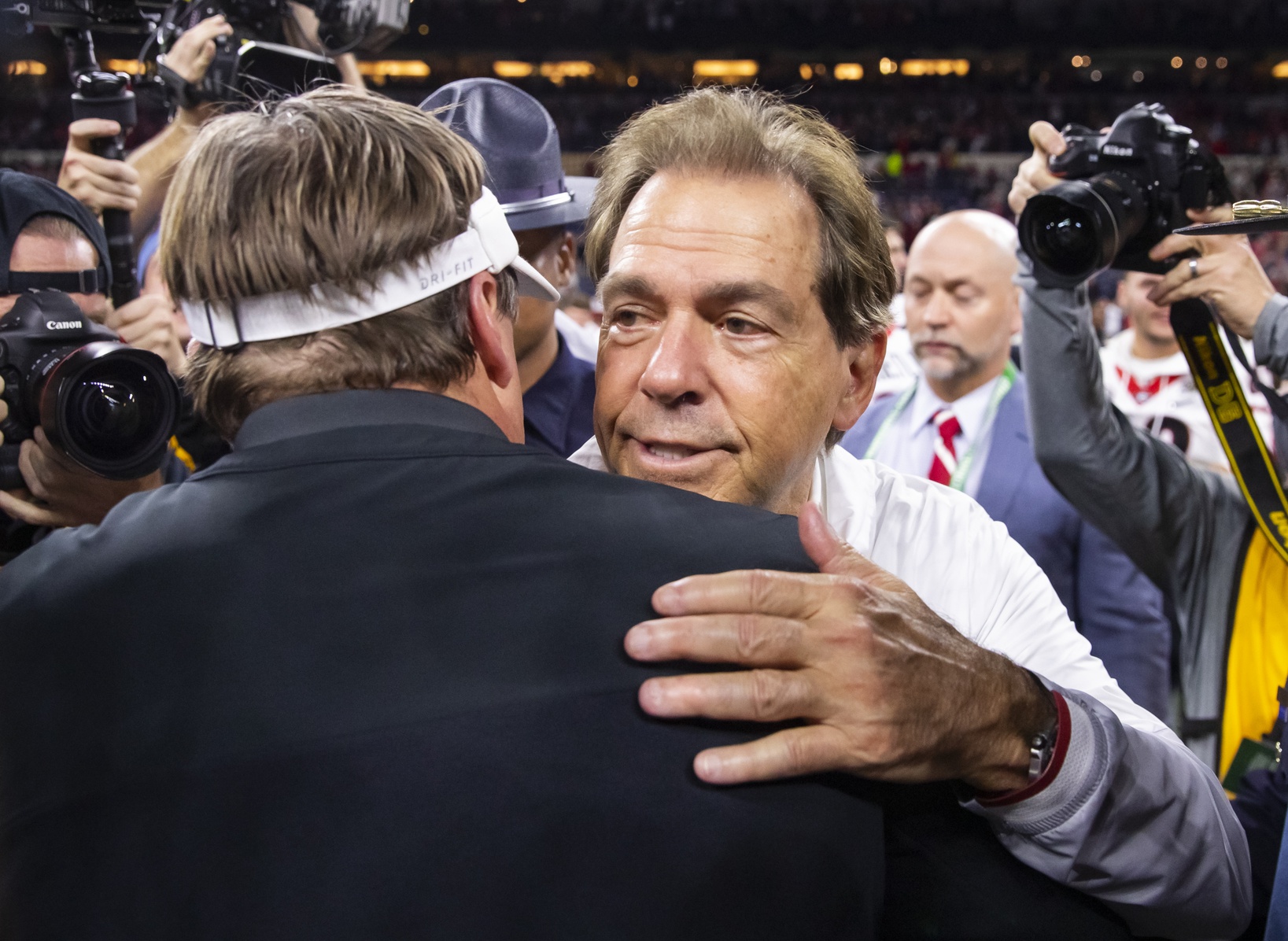 ALABAMA
Why Nick Saban calling 2021 "a rebuilding year" doesn't have to be a threat or an excuse
Nick Saban's words carry so much weight that jabs turn into haymakers.
This type of thing tends to happen to people who reach "G.O.A.T." status. Words are dissected differently and treated as calculated. Any time Saban voices concern about something, it's treated as a warning. That's why some interpreted his summer spat with Jimbo Fisher as more of a reflection that Alabama is about to dominate the new unenforced world of NIL. You know, just as it did before NIL was a thing.
In reality, though, Saban admittedly misspoke. He apologized for calling out Texas A&M because, by his own admission, he shouldn't have singled out anybody. Calculated? Not so much. If anything, Saban's bigger point about wanting NIL regulation was muted because of his rare misstep in front of a microphone.
So when Saban went on "Mac and Cube" with Greg McElroy and Cole Cubelic on WJOX and said that 2021 was a "rebuilding year," the takes were flying:
Nick Saban just told us on @macandcube that

"Last year was a rebuilding year"

Alabama won 13 games, won their division, won their conference & the QB won the Heisman🤯

— Cole Cubelic (@colecubelic) August 3, 2022
You can see the 300-plus quote-Tweets of that and get some strong reactions. Or you could just see what my guy Paul Finebaum said on "Get Up" the other day.
"This is very predictable if you follow Nick Saban closely," Finebaum said. "Whenever he loses a game, like a national championship game, here comes the excuse. Here comes the 'Nick Saban Grievance Tour.' I mean, sometimes I don't know if whether Nick Saban is trying to continue to be the greatest head coach of all time, or he wants Jimmy Kimmel's job. I don't really understand it. Quite frankly, at some point, it's not a great look. I know that's not a popular thing to say where I live, because Nick Saban can do no wrong. But first it was NIL that he was complaining about over and over, and now he's quibbling about what happened last year.
"By the way, in the past — you can go back into the record book — every time he loses one of these games, he called the Sugar Bowl a couple of years ago a consolation game. He blamed the NFL Draft on the loss to Ohio State when Ezekiel Elliott was there. There's always something with Nick Saban, but we still love him, don't we?"
I get what Finebaum is saying. He actually left out what I thought was Saban's most egregious post-loss complaint when he blamed Alabama's 2018 blowout defeat against Clemson in the national championship on having a coaching staff full of guys who had already moved on to their next opportunity. Dare I say, a 44-16 result was the byproduct of Clemson being better than Alabama in 2018.
It's possible that rooted in Saban's latest comments coming off a title game loss is neither unaccountability nor a warning.
Let's remember that Alabama's 2020 squad went undefeated with one of the most dominant seasons we've ever seen. Florida was the only team that stayed within 14 points of that squad, which boasted 2 Heisman Trophy finalists (including winner DeVonta Smith) and 10 players who were selected in the 2021 NFL Draft. Oh, and Alabama tied Miami's record with 6 players drafted in Round 1.
Even almighty, "reload, not rebuild" Alabama was facing significant questions. Don't forget that the Tide ranked No. 120 out of 130 FBS teams in percentage of returning production.
UPDATED 2021 CFB RETURNING PRODUCTION

Now that I've got all G5 rosters updated, we've got new teams at No. 1-2. 12 of the top 13 are G5 teams; that'll change a smidge once I've updated P5 rosters, but this is going to be a fascinating year. pic.twitter.com/SSRVMnX1Jf

— Bill Connelly (@ESPN_BillC) April 28, 2021
On top of the fact that nearly half of Alabama's offensive starters were picked in the 1st round, Steve Sarkisian left to take the Texas job after leading the 2 most prolific offenses in program history.
To recap, the 2021 offense had to replace:
The best OC in school history (Steve Sarkisian)
A Heisman winning-receiver (DeVonta Smith)
A Heisman finalist QB (Mac Jones)
A 3-year starter and 1st-round WR (Jaylen Waddle)
The school's all-time leading rusher (Najee Harris)
3 NFL offensive linemen (Alex Leatherwood, Landon Dickerson, Deonte Brown)
Yep, that checks out as a rebuild. And at times, with a less than vintage Alabama offensive line, it absolutely felt like a rebuilt offense.
But because it's Alabama, AKA the team that reached its 6th national title game in 7 years, we don't allow for the word "rebuild" to ever be used. After all, the Tide started as the No. 1 team in the country. How could the preseason No. 1 be going through a rebuild?
What Saban tried to show was that last year's team was in a different spot than this year's. He admitted that he's never had 2 returning players as accomplished as Bryce Young and Will Anderson, both of whom surpassed even the wildest 5-star expectations last year. Saban didn't feel like it was a given that his 2021 squad would tee off on the competition, and even though the season ended in the national championship, he's sort of right. The Tide were in a 1-score game in the 4th quarter in 6 of 8 SEC games.
Go back to the Auburn game when Saban stunningly said in the postgame interview that he told the team at halftime to "have fun" and to "quit worrying about the result and just have fun playing." Mind you, that was facing a 7-0 deficit as a 3-touchdown favorite without a loss to give.
"I told the guys to go have fun at halftime." – Nick Saban. #RollTide pic.twitter.com/KSgfUfkTEE

— CHRIS TORELLO (@TorelloSports) November 28, 2021
The reaction to that was "oh my gosh. Who kidnapped Nick Saban because this guy ain't him."
Alabama reaching the national championship masked just how much of a grind 2021 was at times. It was vastly different from 2020 when "close" was only winning by 3 scores.
This 2022 squad will be treated differently than his 2021 group. There's a chance the Tide will be the second unanimous preseason No. 1 in AP Poll history. That could yield a version of Saban that wasn't as patient as he was with his inexperienced 2021 group. They're experienced now.
Does highlighting that experience compared to his 2021 squad mean he's sending a warning to the rest of college football? No, but that's how it gets interpreted. If anything, I thought Saban showed up at SEC Media Days and diagnosed the uphill climb his team faces to win it all. His only team to ever start as an AP No. 1 and finish with a title was the 2017 squad. That's the lone instance that happened anywhere in the last 17 years.
If Alabama doesn't win it all this year, you won't see Saban claim it was "a rebuilding year." Granted, you might see him cite another reason his star-studded team couldn't get it done, but that doesn't have to be treated as an excuse.
Maybe the heavily scrutinized offensive line will hold Alabama back. Perhaps those question marks at corner will surface against a prolific offense in a win-or-go-home game. Shoot, for all we know, Saban will get out-coached in a title game and he'll have nobody to blame but himself.
Alabama's 2021 rebuild is in the rearview mirror. Here's hoping the takes about it are, as well.