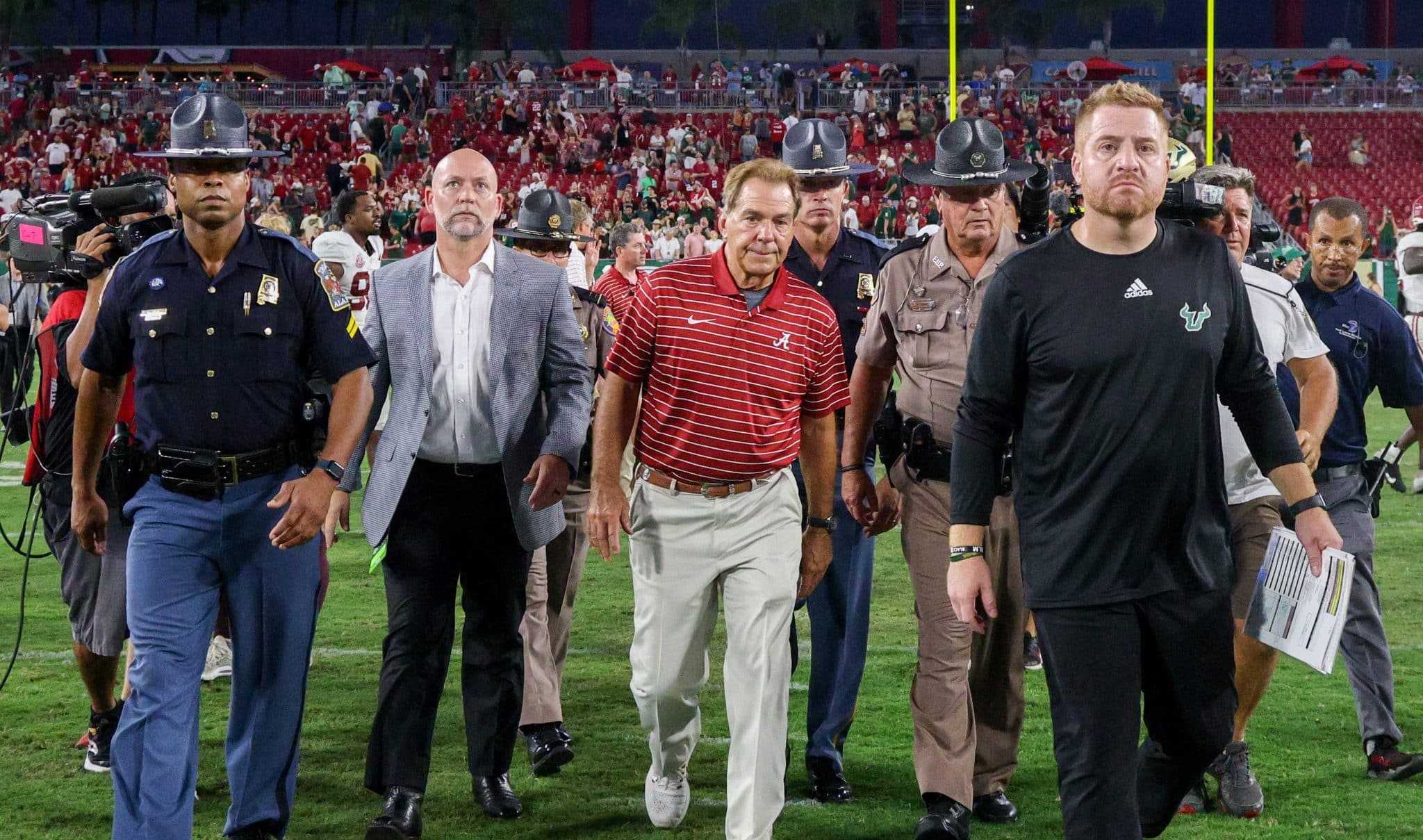 ALABAMA
Hayes: Nick Saban always had the right answer. It's clear he doesn't anymore
This isn't about a dead dynasty. Oh, no. This is much worse.
What happened Saturday for college football king Alabama during a rainy, muggy and disgustingly ugly 17-3 win over a truly putrid USF team, calls into question something much deeper and disturbing.
What in the world is Nick Saban doing?
Every decision made over the past 10 months, every move to take a team Saban insisted was 1 of the best 4 in the nation in 2022 and prove it in 2023, is open to scrutiny.
This is what happens when a horrific win over the worst team in FBS since 2000 doesn't just feel and look like a loss, it pulls back the curtain on Saban's famed "Process" and leaves a significant, must answer question.
Is 1 of the top 3 talented teams in the nation — some would argue the most talented team — still listening to the greatest coach in the history of college football?
There's no other way to explain it, no other logical deduction.
The most talented team in the nation doesn't need the worst program in FBS to throw a horrible 4th-quarter interception in the end zone and jump offsides on a 4th down to seal a victory.
The most talented team in the nation doesn't play 3 quarterbacks in 3 games — 2 QBs against lowly USF — and none of the 3 looks like he could start for any other team in Power 5 football, much less the SEC.
But understand this: What we've seen the past 2 weeks in a home loss to Texas and a godawful win over USF, has shaken the college football world to its core.
Because every decision of the past 10 months, every move, every adjustment and anticipation will be scrutinized like never before.
We've gone from death, taxes and Alabama covering the spread, to the shadow of death hanging around the program that produced the greatest run in college football history.
All great things have to end. But like this?
Against a USF team with 1st-year coach Alex Golesh, who inherited such a mess in Tampa — the Bulls had lost 17-of19 games, and 33-of-37 — he gutted the roster and added 53 new players (36 from the transfer portal, 17 high school signees).
From blaming offensive struggles and/or breakdowns on former offensive coordinator — and former NFL and college head coach — Bill O'Brien, to hiring 29-year-old Tommy Rees to replace him.
From waiting too long to address potential quarterback problems, to scrounging through the spring transfer portal to find a throwaway to join the shaky competition.
From throwing NIL money at elite college quarterbacks (hello, Drake Maye) to get them to transfer to Alabama, to missing (again) with high school recruits.
From being the benefactor of an unthinkable run of elite quarterbacks — Jalen Hurts, Tua Tagovailoa, Mac Jones, Bryce Young — to starting the season with untested project Jalen Milroe.
Then turning on him after the first sign of adversity after the loss to Texas.
This isn't the Nick Saban we all know and love. These are the moves of a desperate coach who can see something is seriously wrong with the nearly flawless program he built in Tuscaloosa — and he can't figure out how to fix it.
Nothing illustrates this more than what played out in Tampa against USF. In a stadium full of Alabama fans, in the ultimate get-right game, all the wrongs of last season — the problems that were covered up by the flawless execution of the best player in college football (Young) — were exposed again.
Alabama is average on the offensive line, the foundation of the unrelenting monster Saban built. The Tide don't have elite players who can win individual battles at wide receiver, and most important, the quarterback room is an absolute mess.
If Milroe was the problem against Texas — and what else can we take from Milroe not even playing against USF when the offense desperately needed help? — Tyler Buchner and Ty Simpson weren't any better in 60 mosh pit minutes Saturday.
Think about this: The most successful passing play of the game for Alabama — the program that defined the recent evolution of the passing game over the past 5 years — was a 45-yard completion from a 3rd-string quarterback (Simpson) to a tight end from the transfer portal (CJ Dupree).
But it doesn't end there. This is a disturbingly undisciplined program — not team, program.
Because you don't go consecutive seasons of unthinkable penalties and not question if players are hearing the message. If players, after all these ridiculously successful seasons, have tuned out Darth Vader.
Alabama had 2 touchdowns negated by penalty against USF, and had another critical interception negated, too. In the past 2 weeks, Alabama has had 15 penalties — a trend that dates back to the past 2 seasons when the Tide was 124th (2022) and 127th (2021) in the nation in penalty yards.
Alabama didn't score its first touchdown against USF until there were 4 minutes remaining in the 3rd quarter. The offensive line can't decipher simple twists and stunts, and gets beat off the edge by smaller, quicker rushers.
The quarterbacks can't complete simple throws, leaving the offense in a predictable, defensible mess.
At the center of it all is Saban, the man who always had an answer for every move by every other coach. They played checkers, he played next level chess.
But this is what it has come to at Alabama: There's only 1 offense in college football worse than Alabama.
And it's USF.
All great things have to end — and it's never a pretty sight.