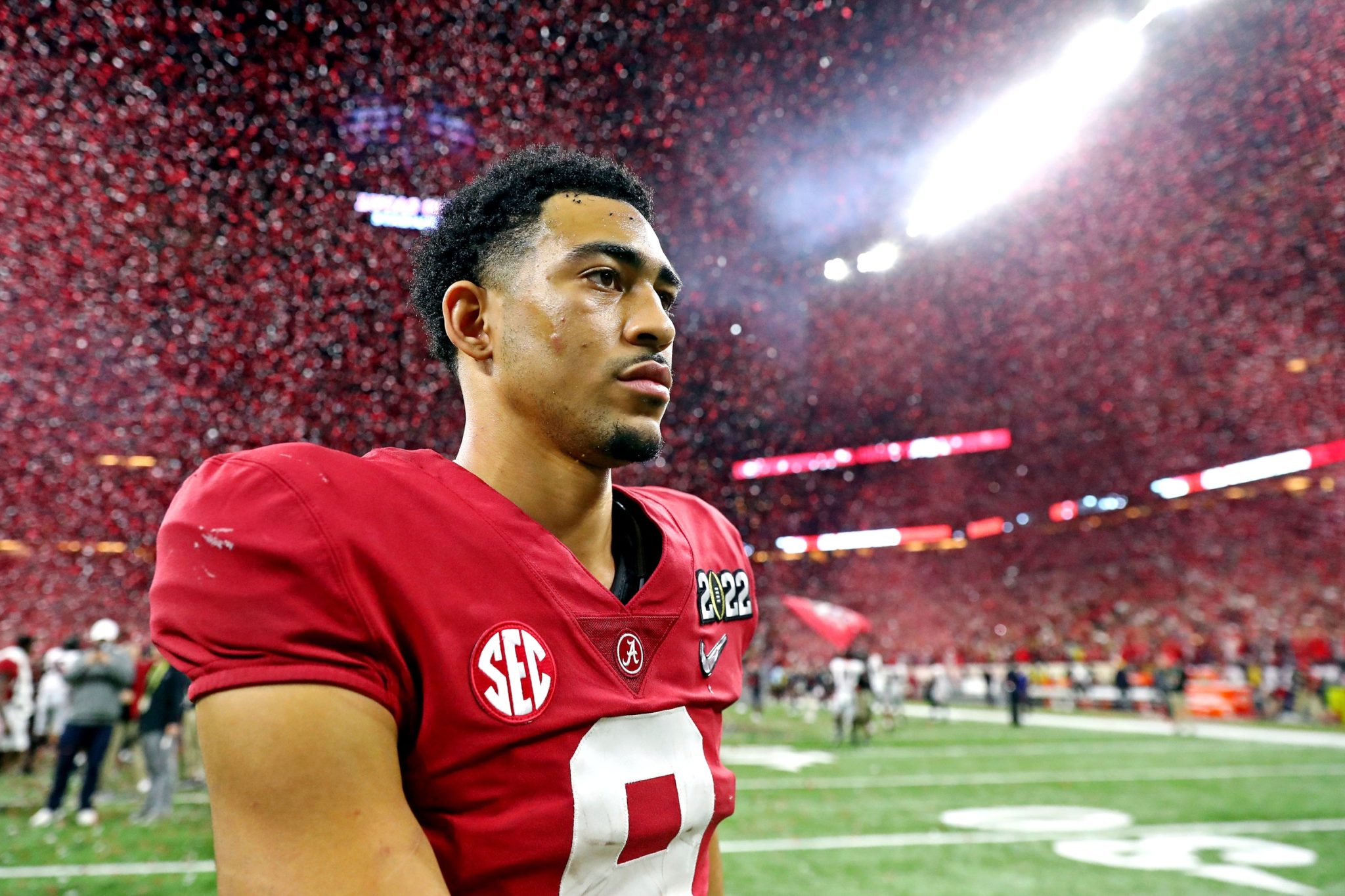 ALABAMA
Now that the 2022 NFL Draft is over, let the Bryce Young conversation begin
When Mr. Irrelevant was announced on Saturday, it meant 2 things. The obvious was that it was the conclusion of the 2022 NFL Draft.
The other thing was that it officially turned the page to the 2023 NFL Draft, and specifically where Bryce Young fits in it. Could "Bomb for Bryce" become a thing? Maybe "bottom for Bryce" would work? We have time to work on that.
That's no disrespect to Will Anderson, who figures to be the No. 1 overall pick in a bunch of the way-too-early 2023 mock drafts. With Anderson, who dominated the sport each of his first 2 years and possibly could've been No. 1 overall had he been draft-eligible in 2022, the conversation is pretty cut and dry. He's an elite edge rusher who impacts the game like few have in the 21st century.
With Young? It's a bit more complicated as it relates to his 2023 NFL Draft outlook. Questions about his frame and long-term durability will be at the forefront of every Young-related NFL discussion for the next year. It'll be similar to what we had with Kyler Murray during the pre-draft process in 2019.
The difference, of course, is that Murray won the Heisman as a first-year starter, which happened to be his pre-draft season before going No. 1 overall. With Young, he's entering 2022 as the reigning Heisman winner. That comes with a different type of scrutiny that'll last for 12 months as opposed to 4-5 months with Murray. He's the sport's first returning Heisman winner since Lamar Jackson in 2017.
Jackson didn't ultimately repeat, but his NFL future was a constant topic of discussion because of his shortcomings as a passer. Longtime NFL general manager Bill Polian infamously suggested that Jackson switch to wide receiver ahead of the 2018 NFL Draft. Of course, Jackson still became a first-round pick and he won an MVP playing quarterback in his second season in the league.
Young is neither Jackson nor Murray. He's not involved in the running game the way that they are. Young uses his mobility to keep his eyes downfield and throw, more like Baker Mayfield. Speaking of Mayfield, remember when his size was debated in the pre-draft process? He ended up being 6-1 and he went No. 1 overall. Young is listed at 6-0. Some will still insist that his official height at the NFL Combine matters even though we're living in an era wherein shorter quarterbacks can thrive both in and out of the pocket.
Murray came in at 5-10, 207 pounds. Russell Wilson was 5-11, 204 pounds. Young isn't built the way that they are at his current listed weight of 194 pounds. It'd be surprising to see him tip the scales at sub-200 pounds. From a durability standpoint, I'd argue that carries more weight (pun intended) than whether he measures on the right side of 6 feet.
If Young is going to operate the way that he currently does by extending plays with his legs and taking those extra hits, the weight critique is a fair one. He took 39 sacks last year. The only Power 5 quarterback who took more than that was Sam Howell, who is a stockier 218 pounds. That total doesn't include the times when Young took a hit as he was releasing a throw:
Went back to look at some Travon Walker tape.

Man, the National Championship was a damn war.

– Walker (44) & Jalen Carter (88) body four Bama linemen.

– Brian Robinson (4) delivers a blow as a pass blocker.

– Bryce Young (9) hangs tough in the pocket. pic.twitter.com/koh6LpCs8n

— Christian Goeckel (@goeckelespn) April 25, 2022
Young does hang tough. He's got a Joe Burrow-like ability to not fear an oncoming hit … but Burrow was 221 pounds. I wouldn't expect Young's frame to put on weight to reach much over 200 pounds. Remember, Young gained 20 pounds as an early enrollee just to get into the 190s.
If we're being honest, there's not a physical comp for Young's frame AND skill set at the NFL level. That's what'll make this conversation go back and forth. Well, that and the fact that the defending Heisman winner is going to have his decision-making scrutinized like the Zapruder film.
It's become rare to see quarterbacks actually become top-3 NFL Draft picks after being slotted there in the way-too-early mock drafts. Trevor Lawrence is actually more of the outlier by accomplishing that feat. Even decorated guys like Tua Tagovailoa and Justin Herbert didn't go on to become top-3 picks after getting that initial billing before their pre-draft seasons. In the past 5 NFL Drafts, I'd argue the only quarterbacks who got top-3 love in way-too-early mocks and ended up getting picked there were Lawrence and Sam Darnold (2018).
In other words, it's hard to do what Young is attempting. Then again, so was being a 5-star quarterback who somehow exceeded the hype in Year 1.
A lot was made about Young saying in his Heisman Trophy speech that "I've always been ruled out."
Bryce Young wanted to prove it to himself 💪 pic.twitter.com/pl9706B8To

— SportsCenter (@SportsCenter) December 12, 2021
Say what you want about a former 5-star recruit from Southern California claiming he was always "ruled out." I'd consider that more about him finding unique ways to stay motivated and humbled.
The irony is that now, Young will have some doubters who push back when he shows up high in the way-too-early 2023 mock drafts. It could turn into a debate about production vs. traits with the college-focused crowd arguing for the former and the NFL-focused crowd arguing for the latter.
Young is about to enter a different phase of his career. Fair or not, anything less than his 2021 Heisman campaign will raise concerns. Shoot, even repeating as the Heisman winner would probably still leave some skeptics. That's reality.
Let the discussion begin.