ALABAMA
Two Alabama players arrested on drug possession and weapons charges
Alabama junior offensive lineman Cam Robinson and junior defensive back Laurence "Hootie" Jones have been arrested on possession and weapons charges.
Here are the screen grabs of the arrests from the Monroe (Louisiana) Police Department for Robinson and Jones: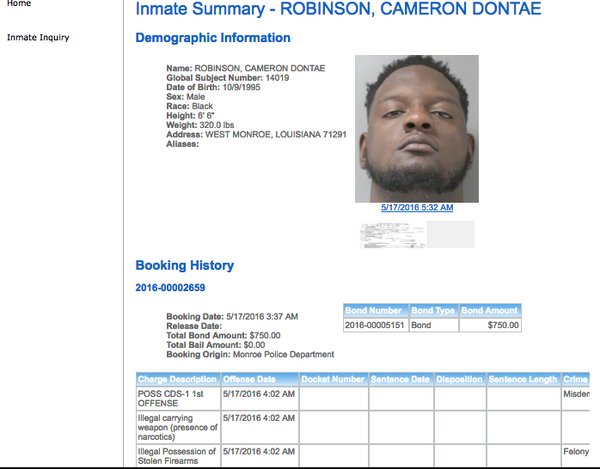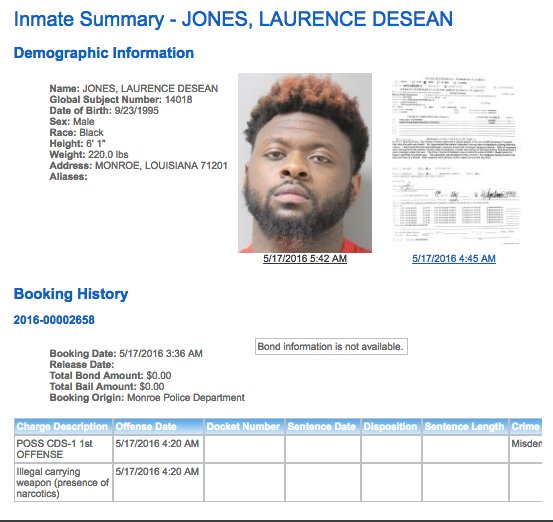 According to the Monroe (Louisiana) Police Department, Robinson and Jones were found parked in their vehicle in Forsythe Park after hours, where officers recovered a bag of marijuana along with two handguns – the latter is believed to be stolen. Both were arrested and booked in the Ouachita Parish Correctional Center and have since been released.
Both were booked just after 3:30 a.m. this morning. Robinson's bond was set at $750. Jones' bond is not listed at this time.
Charges listed for Robinson include possession of a controlled dangerous substance and, more importantly, illegal possession of stolen firearms, which is a felony. Jones is being charged with possession of a controlled dangerous substance and the illegal carrying of a weapon.
Robinson, who missed spring practice because of injuries, is set to begin his third season as the Crimson Tide's starting left tackle and projects to be a strong candidate for All-American honors and could be a potential first-round selection in the 2017 NFL Draft.
Jones is a backup safety who has been competing for a starting position.
In case you missed it, Alabama came in at No. 1 in our post-spring predictions for the SEC West division heading into the 2016 season. One way or another, Robinson's fate — which is now in the hands of coach Nick Saban — could have a huge impact on the Crimson Tide's quest for a second straight national title.