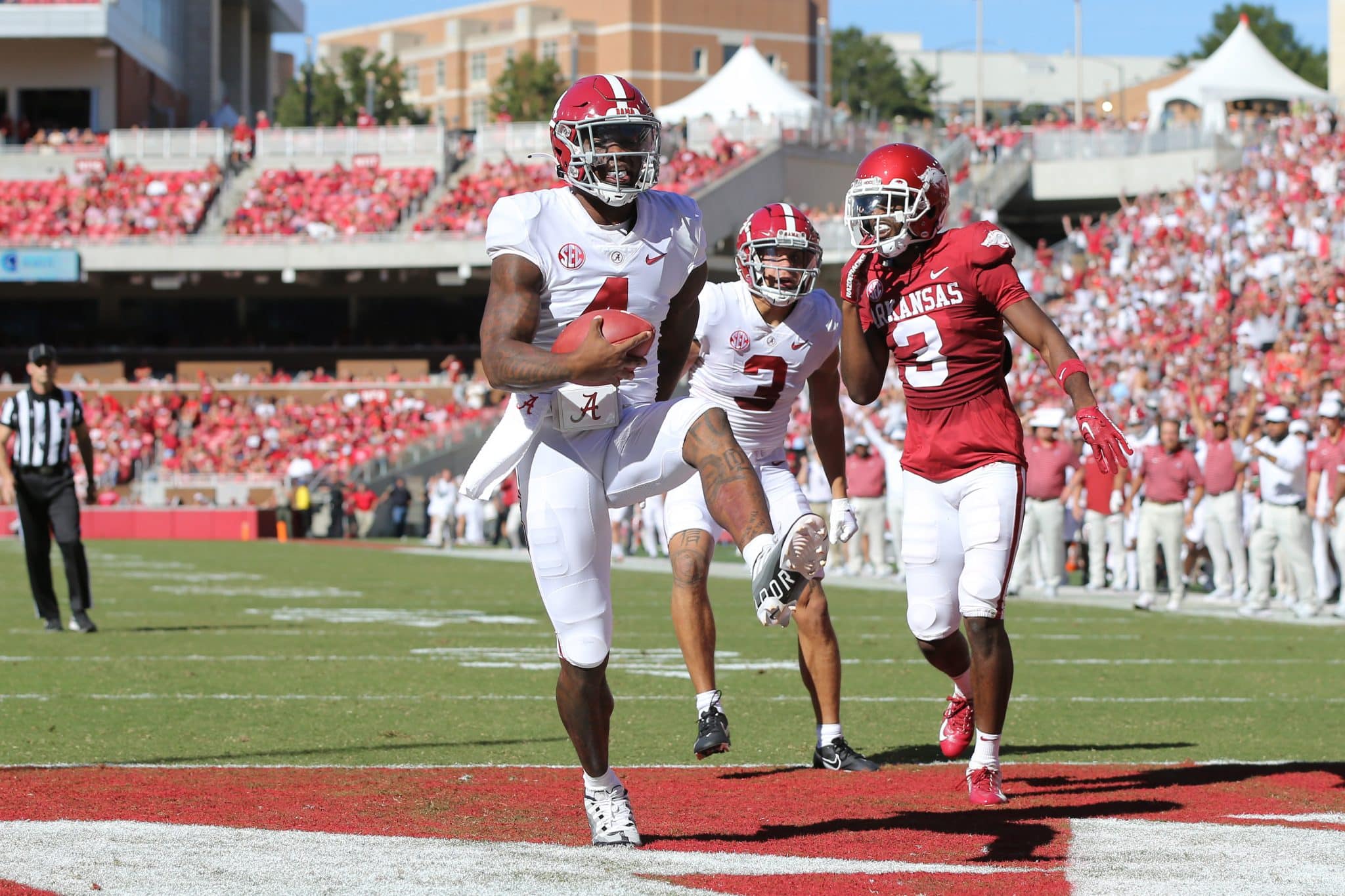 ALABAMA
Rapid Reaction: Alabama gets massive road win over Arkansas despite losing Bryce Young to shoulder injury
Bryce Young was given 2 chances to put his signature stamp on Saturday's SEC West showdown in Fayetteville.
On the 1st one, he misfired badly.
On the 2nd one, he connected with freshman Kobe Prentice on a beautiful 47-yard touchdown pass, and 2nd-ranked Alabama seemed off to the races amid the Red Out at Razorback Stadium.
And it was.
On the scoreboard, at least, where Bama would ultimately roll to a 49-26 victory over No. 20 Arkansas that kept its SEC and national championship dreams firmly intact. The Tide was 5-0 with everything in front of it, as it was 3.5 hours earlier.
But after a dominant 1st quarter in which the Tide piled up over 200 yards of total offense and all seemed right with the world, everything was wrong, because Alabama's all-world quarterback was in the medical tent being checked for a right shoulder injury he suffered early in the 2nd quarter.
Young was heard screaming in agony before heading into the tent, and the entire college football world, from Tuscaloosa to Tacoma, held its collective breath and maybe did a little screaming itself. And though Young returned to the sidelines for the 2nd half, with his jersey on and his helmet in his hand, everything seemed up in the air on an afternoon when most everything else was going right for the Tide.
There was the freshman Prentice giving the Tide early life on the road with that touchdown catch.
There was fellow freshman wide receiver Isaiah Bond's electrifying emergence in that dominant 1st half, when he had 2 catches for 76 yards.
There was Kool-Aid McKinstry's latest electrifying punt return, 45-yarder that set up Bama's 3rd touchdown that made it 21-0 midway through the 2nd quarter.
And there was a ferocious defense that gave up 65 measly yards on Arkansas' first 6 drives before allowing a score with 21 seconds left in the half.
Alabama had a 28-7 lead at halftime, and yet there was a black cloud over the Crimson Tide without their being so much as a single cloud in the sky in Fayetteville. The uncertainty over Young's future status this season was the nightmare that nobody wanted to deal with on Saturday or any day, but the Tide ignored their recent road struggles and played with a laser focus and dominance in those white jerseys that had been missing.
And in the end, incredibly, Young became a cheerleader on the sidelines, roaring time and again for his backup, Jalen Milroe, who made the game-turning and possibly season-saving play with his feet after Arkansas had clawed back in the 3rd quarter to within 28-23. On a 3rd-and-15 at the Tide 20, with Razorback Stadium roaring and a historical comeback from down 28-0 becoming a distinct possibility, Milroe improvised, took off and went 77 yards to the Arkansas 3 to quiet the crowd and give Alabama life with everything slipping away.
Jase McClellan scored a few plays later on a 3-yard TD run to make it 35-23, and the Tide had stemmed the tide on a day when adversity could've gotten the best of them. They had weathered the injury to Young and the Hogs' 3rd-quarter onslaught that included an onside kick that led to a field goal that made it 28-17 followed by a botched punt by Alabama that set Arkansas up at the Tide 3-yard line. Raheim Sanders scored 1 play later to make it 28-23 and, suddenly, with 1 full quarter left, the game was teetering.
But then Milroe, the man forced into action when the Heisman Trophy winner went down, dug Bama out, and the Tide defense was revitalized again. They forced a quick punt, and 1 play later Bama was back in the end zone when Jahmyr Gibbs tore through the Hogs defense for a 72-yard TD run that suddenly gave Bama a 42-23 bulge. After the defense again held strong and forced a Hogs field goal after a 13-play drive, Gibbs went back to work again, ripping off a 76-yard touchdown run that made it 49-26 and sent some of that sea of red to the exits.
On 3 straight electrifying possessions in the 4th quarter, with Young helplessly standing on the sidelines and with a 28-0 lead coming undone in hostile territory, the Tide answered the bell with a show of incredible resilience. Gibbs finished with 206 yards rushing, highlighted by the 2 long TD runs, and Milroe had saved the day with his legs and with his poise.
Tide head coach Nick Saban, who probably gained some gray hairs while improving to 16-0 against Arkansas during his reign in Tuscaloosa, challenged his team this week to come out in a massive road environment and dominate, like his teams had done forever before the road struggles hit last year and continued into this season with that 20-19 nail-biter last month at Texas. His players heard Saban's call loud and clear, and they went to work, seemingly from the start.
After Young's interception on the 1st possession of the game on a bad throw at the Arkansas 1-yard line, the Tide tore up the Hogs every which way, in every phase of the game. The 1st half was everything Alabama could've asked for, including Milroe coming in for the injured Young and keeping the train on the tracks amid the anguish.
Milroe took it himself on a 3-yard TD run on the Tide's first possession after Young exited, a score set up by McKinstry's punt return to the Hogs' 17-yard line. After the smothering Tide defense forced a 3-and-out, Milroe went back to work, leading a 10-play, 59-yard drive that featured the versatility of Gibbs and ended with a 22-yard scoring pass to sophomore JoJo Earle, who was making his 2022 debut after suffering a foot injury in preseason camp.
It was 28-0 at the time. But an afternoon of adversity was just getting started.
In the end, Milroe made emotionally exhausted Tide fans scream again — for joy, this time.