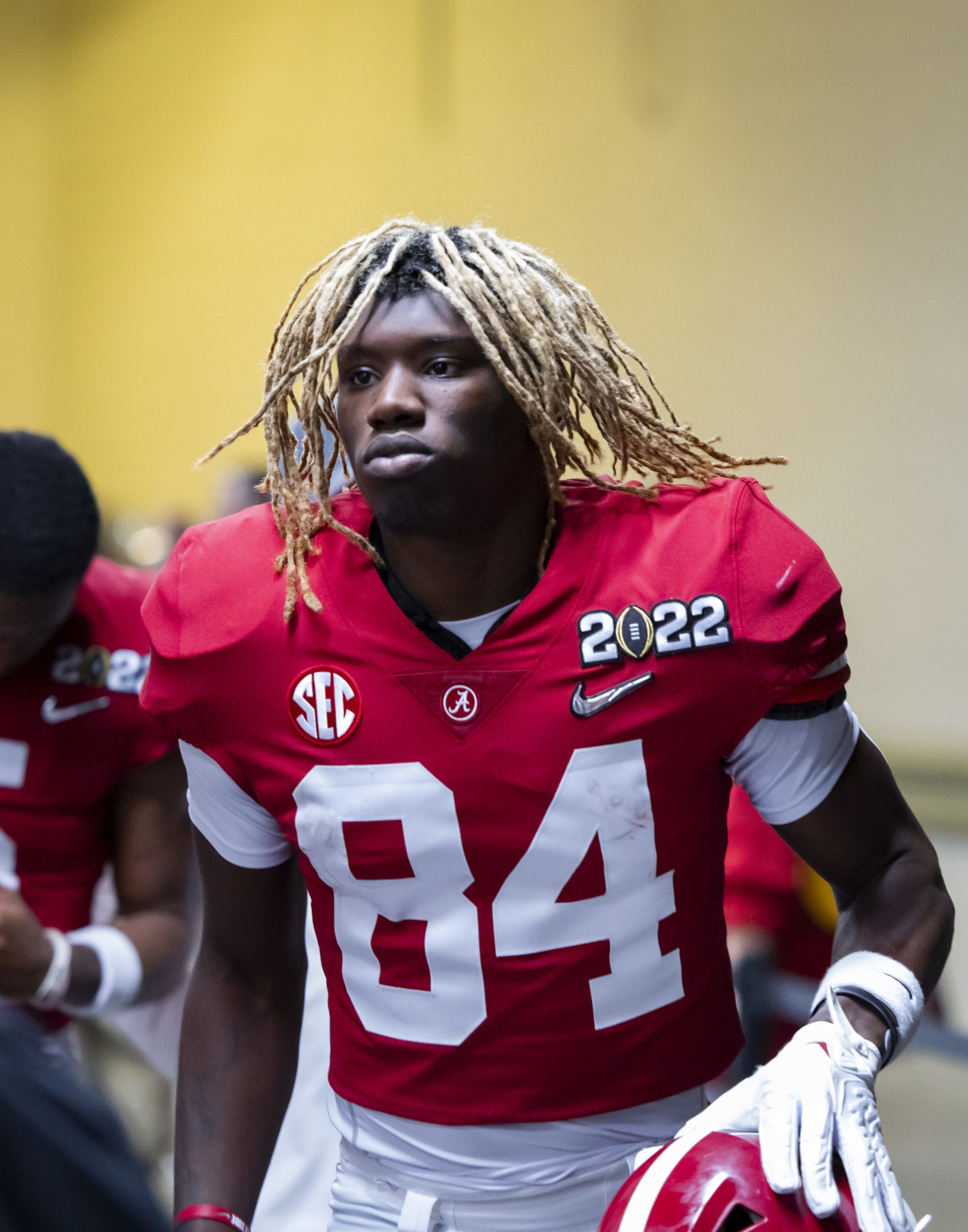 ALABAMA
The Agiye Hall situation is exactly why we should take spring games for what they are
I don't blame Joe Tessitore for getting excited.
Agiye Hall made a ridiculously impressive catch backpedaling deep down the left sideline. Sure, it was Alabama's 2021 spring game, but it was the play of the day to that point.
"This is the true freshman who has opened eyes this spring, Agiye Hall!" Tessitore said on the ESPN call.
That prompted some commentary from a mic'd up Nick Saban, who said that Hall was "one of the most explosive players on this team."
In the second half, Hall made another grab on the sideline wherein he somehow stayed in bounds while hauling in a dart from Paul Tyson. Tessitore said "Man oh man. I don't want to make too much, Kirk (Herbstreit), out of an early enrollee freshman … " which then led to Herbstreit saying "why not?"
Well, here's why not. As it turned out, the highlight of Hall's Alabama career was that spring game. After a bizarre few days wherein Hall was reportedly unknowingly suspended from team activities, he entered the transfer portal.
A year after he was the true freshman who stole the show at Alabama's spring game, he's searching for another team. Academic issues were at the center of Hall's absences in 2021-22 (he didn't suit up against Tennessee). In all, he caught 4 passes for 72 yards in 78 total snaps at Alabama.
It's too bad that Hall didn't turn into the next great Alabama receiver, as many expected he would following his spring game showing. But it should serve as a reminder this month with spring games should be treated as that.
It's easy to get excited. We haven't seen live action for 3 months. Unlike performing well in the regular season when a new game and a new storyline comes the following week, a stellar spring game showing is the lasting impression for the entire summer.
Instead of just hearing rumors about what someone did in a spring game like we did 10 years ago, now we get to see it on ESPN airwaves. And with decorated early enrollees like Hall, which has become more of the norm in the last decade, the hype train tends to get going a bit faster.
My advice? Don't come to any sweeping generalizations based on a spring game performance.
Look. I'm guilty of this, too. I remember the first time I watched Derek Stingley in LSU's 2019 spring game. I made the "he's gonna be a star" declaration that day just watching his ball skills:
Derek Stingley, football player. pic.twitter.com/0torrUGfog

— Connor O'Gara (@cjogara) April 6, 2019
I didn't just call him "a football player." I wrote an entire column about him being destined for greatness.
Even though I ended up being right about that takeaway, I did fall for the dangerous trap. That is, letting a spring game cloud my judgment of someone I hadn't seen in live action in a real game.
With a guy like Hall, we obviously can't predict academic issues. But I did remember trying to slow down the Hall hype train because he caught some nice contested plays against backup defensive backs. Shoot, Bryce Young wasn't even the guy targeting him. Three impressive catches in a spring game didn't necessarily show that Hall could get separation against first-string SEC defensive backs. That's always the biggest hurdle for young pass-catchers like him. Even DeVonta Smith only averaged 1 catch per game as a true freshman.
But confirmation bias is a tough thing to ignore. Seeing a decorated recruit look the part in that setting — that controlled setting — can often trick us.
Remember Joey Gatewood? Like, the guy who was supposed to be the next Cam Newton?
Gatewood had a rough showing in his first spring game, but that entire true freshman season, we kept hearing about his improvements as a passer in Auburn's offense. We saw him look much more comfortable in his second spring game heading into his redshirt freshman year. Suddenly, that buzz built back up. Naturally, that meant Gatewood became a star, right?
Not so much. Gatewood never started a game at Auburn, he never started a game after transferring to Kentucky and he most recently transferred to UCF for a reunion with Gus Malzahn … and then also switched to receiver.
I'm not saying that to dog Gatewood. I hope he and Hall still find success. For all I know, they'll do just that. But dial back the spring game excitement for guys who haven't really shown it on the field yet. Treat an impressive spring game performance like you would hearing that a player had a guy had a nice practice.
Do literally the opposite of this:
Quinn Ewers to Casey Cain 🤯

IS @TexasFootball BACK?? 🤘pic.twitter.com/kC14CYoRgN

— PFF Draft (@PFF_College) April 5, 2022
Could Quinn Ewers become a star? Absolutely. The guy was one of the highest-rated recruits ever. But it won't be determined based on how he looks in a controlled scrimmage.
By the way, that tweet wasn't even from Texas' spring game. But hey, narratives!
Consider this an important reminder as we get into the meat of the spring schedule about not letting your eyes deceive you. It's great if that former 5-star recruit makes a jaw-dropping play. That's not a bad thing. It certainly beats the alternative of watching them get smoked and look years away from being able to compete at an SEC level.
Just understand that a lot can change between a spring Saturday and a fall Saturday. Unfortunately, they did for Hall. Go figure that his first and only time playing more than 20 snaps in a game at Alabama in 2021 came in the title game. Half of his 2021 catches came on that night with Alabama depleted at receiver with both Jameson Williams and John Metchie out with season-ending knee injuries. Hall appeared in less than half of Alabama's games.
Nobody could've convinced Tessitore or Herbstreit of that last April. And to be fair, it's not their job to predict doom and gloom. They reacted in the moment.
Let's all maybe contain our spring excitement and save that for the fall.