ALABAMA
Faith. Family. Football: The Making of Tua Tagovailoa
Alabama quarterback Tua Tagovailoa is on the journey of his life. Since arriving from Hawaii in 2017, he has captivated the world with his rise in the college football landscape. But there's a difference between the journey and the mission. And for Tua, the mission is much bigger than football.
"You know, first and foremost, I'd just like to thank my Lord and Savior Jesus Christ. With Him all things are possible, and that's what happened tonight." – Tua Tagovailoa in an interview with ESPN's Maria Taylor after the 2018 National Championship Game versus Georgia.
Every night on the tiny Pacific island of American Samoa, a bell rings. Balls stop bouncing, children stop playing, and entire villages fall silent. The evening bell signals a time for prayer, or sa, when Samoans bow to God.
The bells are not expensive productions; they are unsightly oxygen tanks that hang from posts. Yet the bells have a critical significance on the island. They tell townsfolk when severe weather is approaching, when to pray, and when to turn in for the night. Children are excused from school to ring them and disrespecting the bells is severely frowned upon. As one writer observed, "Bells are a way of life here."
Sa is a sacred time, a time for reflection and reverence when Samoans pause to give thanks and glorify the One above who is the source of boundless blessings. This has been a way of life for generations, and the foundation on which Alabama quarterback Tua Tagovailoa grew up.
Though Tua was raised in Ewa Beach, Hawaii, a picturesque 1.9 square mile stretch on the island of O'ahu, both of Tua's parents follow Samoan customs and have raised their children to respect and maintain these customs. Tua's mother, Diane, was born in Hawaii but her parents were originally from the island of American Samoa. Tua's father, Galu (pronounced "Na-loo"), is originally from American Samoa but moved to Hawaii with his parents when he was 3 years old. Galu makes it clear that although Tua was raised in Hawaii, his ancestry is Samoan, not Hawaiian. "Our parents were born there and they moved to Hawaii and raised all of us," Galu said. "The culture never left. It was kept alive. The language and traditional customs. Weddings, funerals, it's not lost. It's what's been passed on from our parents. It's what I want to pass on to our kids."
American Samoa, a 5½-hour flight from Hawaii and a diminutive dot in the wide blue expanse of the Pacific, is an intensely spiritual place. A territory of the United States, American Samoa is approximately 98 percent Christian, and with over 90,000 adherents, the Congregational Christian denomination is the largest on the island. Christians first arrived in the area when island-hopping Congregationalists, known as the London Missionary Society, and Roman Catholic missionaries, known as the Marist Fathers, began arriving in the mid-1800s and converting the polytheistic natives to Christianity.
"Faith, church, Christianity — it's a very important part of the Samoan culture," Diane Tagovailoa said. "Everything ends and starts with prayer, ends and starts with God."
In nearby Samoa, a sovereign nation not to be confused with the territory of American Samoa, Christianity has permeated so far into public life that in June of 2017, its parliament passed legislation to amend the territory's constitution, declaring in the body of the document that, "Samoa is a Christian nation founded of God the Father, the Son and the Holy Spirit." If there was any question of whether the country is a Christian nation or a secular one, this legislation removed all doubt.
Galu and Diane did their best to instill Christian values and Samoan traditions into their children's lives. Early on, Tua didn't have a good grasp on either. "When we'd go to church, we really didn't understand the Word of God that well," Tua said in a video for AL.com.
It wasn't until church camp that the Gospel began to sink in.
As the story goes, Tua and his younger brother, Taulia, were prone to fight like young brothers do. One summer Tua was invited to church camp but had to miss due to football obligations. Taulia, on the other hand, was able to attend. Once camp was over, Tua rode with his parents to pick up his little brother, and when Taulia saw his older brother, he ran to him and embraced him, a gesture that had profound implications on Tua. Later, Taulia began serving his brother and was seen reading his Bible. Shocked, Tua perceived these actions to be fleeting and not a soul-level change, and believed that this newfound selflessness and brotherly adoration would last only briefly. But that wasn't the case. Tua thought to himself, "If God can do this to my little brother, I want to see what He can do for me."
In January of the following year, Tua gave his life to Jesus Christ.
Like Tebow, something different about Tua
It wasn't long before the branches of that faith began to bear fruit as Tua boldly shared the Gospel and prayed with those around him. At high school football practice, he would volunteer for the team prayer, and often, he jumped straight in without having to be prompted. In other instances, Tua would quote passages from the Bible when his team needed more than just token encouragement. Although he endured some lighthearted joshing, his teammates and coaches referring to him as "Reverend Tua," his overall impact engendered mad respect. "The words that came out of his mouth were pretty amazing. It was like having a pastor on your team," said Tua's quarterback coach, Vince Passas. "I looked forward to his prayers and blessings. He was one of those leaders who made the people around him so much better as a person and as a player."
After the National Championship Game against Georgia, when Tua unleashed his unrestrained fury on the Bulldogs' secondary, everyone wanted to know Tua's secret to remaining calm. After all, he was thrown into the hottest college football furnace imaginable — down 13-0, reeling, championship hopes fading. Knowing what he knew about Tua's faith, it wasn't surprising to Passas when Tua revealed his strategy for the second half.
The strategy? He prayed.
Down 13, Alabama head coach Nick Saban looked for number 13. And when his number was called, somewhere in the catacombs of Mercedes-Benz Stadium, Tua thanked God for the opportunity and said a quick prayer. "All my anxiety and all my nerves calmed down," Tua said in the AL.com video. "Nothing was too big for me. I think I was more focused on praying than anything else in the game."
As the game unfolded and Alabama mounted a comeback for the ages, Tua continued to pray. "Every time, before series, during series, after series, the biggest thing that helped me was my faith," Tua said. "Praying through series kept me calm."
Later, when Tua revealed his methodology for enduring the circumstances, Alabama fans responded with a collective "whoa." It was at that point that they realized there was something different about this young man. An anointing, if you will. Rare as it may be — a talented footballer who gives praise and glory to God — it was something that they had seen a decade before, in the form of another quarterback, on the other side of the ball: Florida's Tim Tebow.
Andrew Bone, who has been covering Alabama recruiting for Rivals.com for the past 15 years, noticed this parallel, and, like Tebow, that there was something different about Tua. "I would say in terms of quarterbacks, probably the closest comparison — and I'm not saying their skill levels are the same — but in terms of their respect they have for other people, how humble they are, he was right up there with Tim Tebow," Bone said. "And I think Tua is very similar to him in a lot of ways. Always very nice, very humble, and very respectful. You see that a lot, but there was always a different feeling with him than just about everybody else."
Since the 2nd-and-26 walk-off chunk to DeVonta Smith, Tua Tagovailoa has absolutely exploded. But his platform has grown, too. Last February, only a few weeks removed from the national championship, Tua gave his testimony at a Disciple Now event at First Baptist Church in Tuscaloosa. "Tua was a surprise guest speaker … so to say our students were excited would be an understatement," said Jody Gambrell, who is the student minister at the church.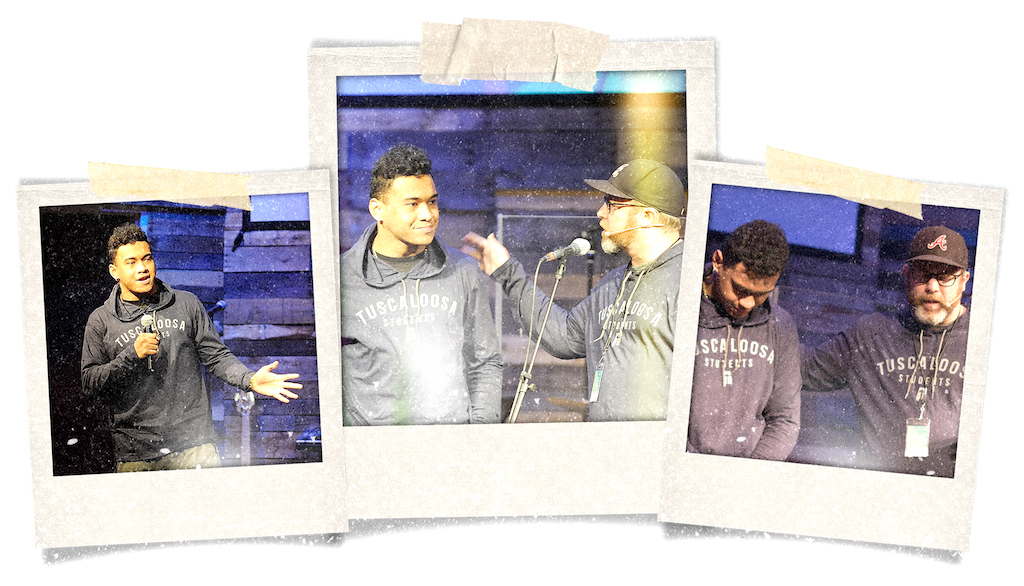 According to Gambrell, Tua gave his testimony and talked about the importance of faith and family in his life. Then the students chatted about the tremendous platform for the Gospel that God had given Tua, being the quarterback at the University of Alabama, and concluded by having a special moment of prayer for Tua. "We prayed that God would continue to use Tua's platform to point people toward Christ while bringing God the ultimate glory," Gambrell said. "It was a special night that our students will never forget."
Forasmuch hype as Tua has received for his football exploits, he's also getting high praise for his witness. Two weeks ago, Tua got props from Rev. Franklin Graham, son of the iconic Baptist preacher, Billy Graham. After congratulating the team on its win over Tennessee, Franklin stated via Twitter: "Tua is such a talented athlete & I appreciate that he's not shy about his faith. The eye black on each side of his face was in the shape of a cross to communicate Who he lives for & what Christ did for him."
"Every time, before series, during series, after series, the biggest thing that helped me was my faith. Praying through series kept me calm."
-- Tua Tagovailoa on overcoming the pressure against Georgia
It's all about Family
In American Samoa, the Christian faith exudes from believers in manifold ways. From an early age, children are taught to respect and honor others, including their parents and grandparents. During many of his speeches, one of the first things Tua does is extend honor to both his parents and spiritual mentors who have guided him. And while many of Tua's peers are probably doing their best to avoid their parents during their college years, often not worrying about honoring them on hazy nights on the Tuscaloosa strip, Tua uses his platform to encourage others to honor their father and mother.
Overall, Galu has been impressed with his sons' obedience and loyalty to their family. Sure, there are times when Tua doesn't call back right away and his father gets worried, but over time Galu has learned to expect that Tua is probably at a church small group — something Galu has learned is "so important to him" — and not off somewhere knocking back a bottle. "We're just grateful and thankful that the Lord has blessed us with the kids that we have," he said. "They are just obedient. Very obedient. Like if I tell them something, they are going to listen. They are not going to shy away from things like that. I tell them, 'I need you to call me at this time, I need you to get with us,' they'll do that."
At times, that sense of loyalty and obedience seems uber, but for the Tagovailoas it's a way of life. After most ballgames, while others are piling into cars to hit the town, younger brother Taulia chooses to stay home with his family. The same goes for Tua. "After his game, he spends time with us. I'm looking at him like, 'Son, you don't go out with your friends?' 'I'm OK,'" Galu says.
There have been times, his father says, when Tua has gone back to the practice facility after a game to get in more reps. "Later on at about 10 at night, we come home. And he's getting ready to go train again. He goes to that facility and does training. I mean, after a football game! And I'm thinking 'wow,'" Galu says. Like most other virtues in his life, Tua's commitment to discipline and hard work stems largely from his faith, and he strives for excellence and perfection over stardom. The long hours, the unceasing reps, the hours of studying film and asking the hard questions — these are all extensions of his life of faith.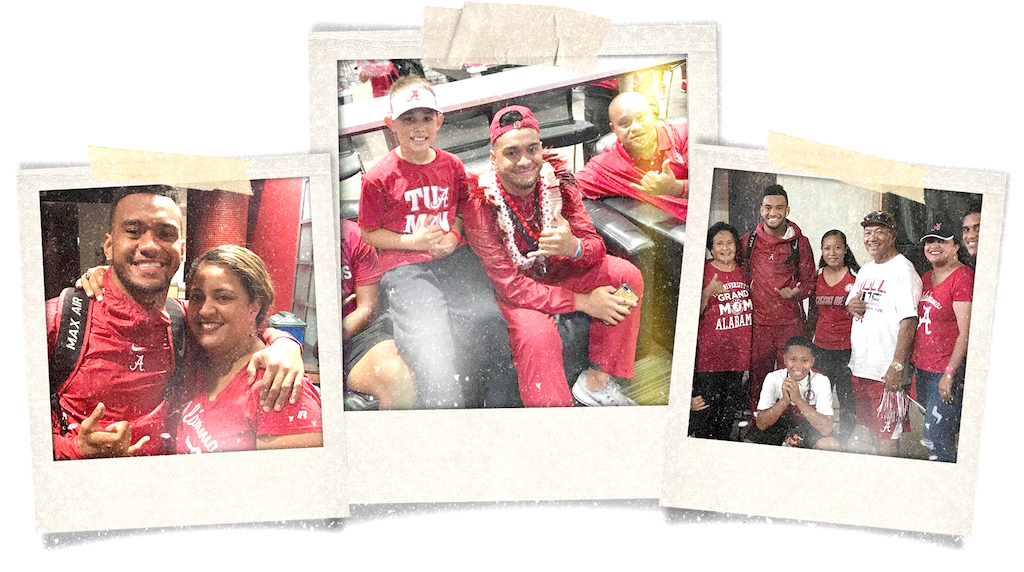 In addition to these venerations, music, dancing, and speaking in tongues — cultural staples in the lives of Samoans — are expressions that have held a major theme in the lives of the Tagovailoas. Tua grew up in a family that sang together, and even now when the Tagovailoas converge from their scattered lives, they sing songs of praise and worship. "There's a song we love that's called 'Jesus at the Center,'" Diane said. "That's basically what we wanted our kids to envision. Put Jesus at the center and everything else is around it. Football, family, friends, school, whatever it may be, Jesus is placed at the center of all of it."
Prayer is another important discipline in Samoan culture, and the Tagovailoas believe firmly in its power. Diane and Galu understand the temptations inherent in college life, the daily buffet of tantalizing inducements that could almost effortlessly lead to compromise. So they continue to dig their heels into the soil of prayer. "I think that's why it's important as parents to always continue to pray for our kids," Diane said. "We've been praying for them since they were young. So that they would just have godly people around them all the time. We are so grateful that (Tua) does. From what we know and what we see, he does have people that hold him accountable with his faith. That accountability with his faith and his walk with Christ is very important for us and it does seem that he has people helping him with that."
"After his game, he spends time with us. I'm looking at him like, 'Son, you don't go out with your friends?' 'I'm OK.'"
-- Galu Tagovailoa
As parents observe how the Tagovailoas have raised their children, they solicit advice for their own family. One of Diane's co-workers recently asked her the secret to raising such respectful and honorable boys. "I said there is no secret. It's the Word," Diane says, speaking of the Word of God. "It didn't happen just overnight … it happened because of a lot of hard work, a lot of sacrifice, and a lot of prayers, not only from us as his parents, but from our parents and their parents. Those who come before us — Tua's great-grandparents and their pastors. A lot of prayer warriors out there intercede and pray for us.
"There's no secret. It's the Word."
He's a pretty good quarterback, too
Alabama has been waiting on a quarterback like Tua Tagovailoa for 50 years, and not since Kenny Stabler has a Crimson Tide quarterback been so prolific. Any Bama fan who suffered through the mediocrity of the 2000s, having to go to battle with middling QBs under center — a gallery of "game managers" if you will — more than appreciates what Tua is doing.
It's as if Tuscaloosa — heck, the whole state of Alabama, for that matter — has been happily drenched with the tidal wave of this young quarterback from Hawaii. You know there's something special going on when grown men fish floral-print Tommy Bahama shirts from their closets to wear on game day. Leis, ringing the necks of coeds sipping from Solo cups, are now dotting the streets of T-town, clever social media memes with his likeness are being created, "Roll Tua" T-shirts are being printed, and starched-shirted businessmen fill their mundane lives with discussions of whether Tua Tagovailoa is the greatest to ever wear crimson — greater than Namath? — as they chat at coffee pots.
It is not enough for Alabamians to know their quarterback. They must observe him, twist him, turn him over, shake him up. They dissect him like a frog in a junior high Biology lab. The position of quarterback for the University of Alabama has its rewards, but it is also dang hard. And if you can survive being an Alabama quarterback, you can do almost anything.
As sublime as the expectations are (with no room for mercy), Tua, in just a handful of games, has blown these expectations out of the water. He has won a national title. He has thrown 25 touchdowns this season without an interception. He's the engine behind the highest-revving Alabama offense in program history. (Ironic, isn't it, that Alabama's golden arm did not arrive in the form of the 6-4 fair-haired Skoal-dipper with a cannon arm from some place like Anniston or Remlap, but rather a 5-11 Samoan surfer kid with eye black resembling war paint and a bleached cone of hair.)
While the attention is all well and good, Tua recognizes that while he might be a pretty doggone good football player, he isn't the Savior of anything. And while it must be awfully tough not to get puffed up when 101,000 crimson-and-white shakers are snapping, when Heisman dialogues center on you, when everybody under the sun is telling you how amazing you are, Tua stays humble by deflecting the credit to his Lord. "I believe that this is just something that happened throughout the years that God has prepared and I'm here right now on this platform because of Him," Tua said in a recent press conference.
The Bell
Just like folks don't understand Saban's Process and why his method of coaching yields the kind of results it does, the same goes for Tua's ultimate mission for the Gospel. As much as fans want to praise him and slap him on the back, it really isn't about football or the acclaim that comes with it for Tua. Sure, football is the medium by which Tua Tagovailoa delivers his message, but it's about sharing the Gospel with the world. And it's about having the biggest platform to be able to do that. Alabama football has provided him such a podium.
Galu and Diane have instilled in Tua the belief that his mission transcends the game itself. They are careful that this is done, not in a self-important way or a way that says, "I'm better than you," but rather by offering a lost world an invitation to something better than it's currently offering them. Simply put, Tua wants others to taste the sweetness of things eternal.
Just as he might describe the unmatched beauty of Hawaii to someone who's never been there before, he wants to share the splendor of paradise that's possible only through God's son with others. He wants to tell others the type of abundance that's readily available in this life, if they only believe. And his mission is to use his podium to affect as many lives for the Gospel as he can.
When the Tagovailoa family moved from Hawaii to Alabama in 2017, they were purposeful in that decision, and certainly football played a factor. But in an interview with WBRC's Rick Karle in mid-October, Galu publicly stated the family's main purpose in being in Alabama is to have a platform to praise Jesus Christ. "We're here because it's bigger than football," Galu said. "It's so much bigger than football."
Every day, win or lose, the Tagovailoas keep their eyes fixed on that purpose. Accolades and the shiny accouterments of football success may inevitably come, but the mission, invisible, remains steady. "Football is not everything, it's a part of what the mission is," Galu told SDS. "The mission is the platform. To praise our Lord and Savior. What Tua has done or is doing is nothing compared to the real reason why we are here."
As Galu points out, this is not something that is of recent manufacture. In terms of giving credit to God, Galu says that Tua, "always does. We always have. It just never was on public TV, during the National Championship Game. He knows that's where he gets his talent from, so why not use it in a way to glorify and magnify His name?"
In a world that pedestals the accomplishments of self, isn't it refreshing to hear of a young man who simply does not want the credit to fall on him? While others may glorify themselves and boast of their greatness, Tua heralds the poor carpenter from Galilee who came to rescue the world. While others crave fame and the applause of the masses, Tua eschews personal acclaim and performs for an audience of one. While others may desire to rack up trophies, Tua wants to store up hardware of the more lasting variety — souls impacted for Christ.
Last January when Tua Tagovailoa gave a postgame interview with ESPN reporter Maria Taylor after the National Championship Game against Georgia, his praise was not a random outlier or a chance event, but rather a culmination of over a century of prayer.
Indeed Tua's Christian heritage threads back generations, to his great-grandparents who were devout believers from the island of American Samoa. Their staunch conviction in the Great Commission and passing the Gospel down familial lines was a stabilizing family force and the impetus for Tua's own acceptance of the Christian faith.
Somewhere tonight, a villager on the tiny Pacific island of American Samoa will lay down everything, will pause from the bustle of his life to give thanks to his Creator. Inside his home, his knees will hit the cold floor, his fingers will clasp, his head will bow.
For a long while, he will remain in silence as peace rolls in and washes over him.
The bells are ringing. Can you hear them?
Al Blanton is the owner of Blanton Media Group, publishers of 78 Magazine and Hall & Arena.